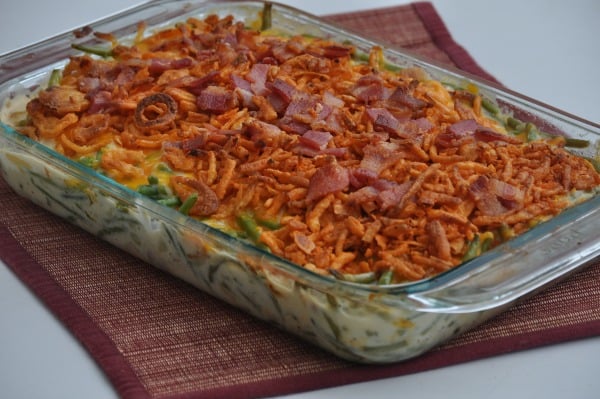 A staple on everyone's Thanksgiving table, the classic Green Bean Casserole with a cheesy bacon twist.
This week the New York Times set out to feature each state's signature recipe in their article, The United States of Thanksgiving. Oh yes! Us Minnesotans cheered as went to go check out the article sure to find one of our state's most loved and notorious recipes featured.
And then this happened. Grape Salad.
Grape Salad!
Grape Salad?
Grape Salad!
Minnesotans across the state winced when they read those words.  First of all, what the heck is a Grape Salad? Surely this dish is not emblematic of our state-fair, hotdish-loving people.  Jello salad, sure. Grape Salad? I don't think so. In fact, Minnesotans were so charged up, there's a conversation now under the hashtag #grapegate and #embracethegrape Needless to say, this Minnesota gal won't be serving grape salad at Thanksgiving this year.
What will I be serving? Green Bean Casserole, thank you.
Cheesy Green Bean Casserole.
Now that's Minnesota.
This Green Bean Casserole doesn't use mushroom soup.  I actually hate canned mushroom soup so I decided to create bacon soup.  The green beans are covered in this bacon soup and then are topped with cheese and cheesy french fried onions.  Yep, that's Minnesotan. You betcha.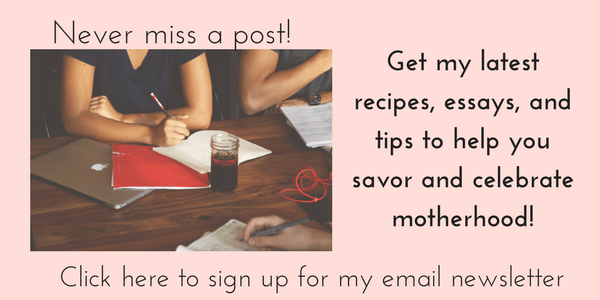 Cheesy Bacon Green Bean Casserole
Ingredients
1.5 lb Thick-Cut Bacon
1 stick (8 TB) Salted Butter
1 medium Yellow Onion (finely chopped)
1 tsp Minced Garlic
1 cup Flour
3 cups Beef broth
2 cups Heavy Cream
½ tsp Fresh Ground Black Pepper
1 tsp Salt
3 lbs Frozen French Green Beans (defrosted)
2 cups Shredded Cheese
1 container (6 ounces) French Fried onions (cheddar if available)
Instructions
Preheat oven to 375.
Arrange bacon on a lined cookie sheet and bake 20 minutes or until bacon is starting to brown. Once cooled, chop into pieces.
In a French oven or stock pot, melt butter over medium heat and add onions and garlic. Cook until onions are soft (not browned). Add flour and stir, the mixture will form a paste. Add beef broth, bring to a low boil and with a whisk, begin mixing until combined. Then add heavy cream, pepper and salt. Once combined add ¾ of the bacon pieces.
In a large bowl combine green beans and bacon soup mixture. Stir to mix.
Add beans and soup mixture to a 9x13 greased pan. Top with shredded cheese and fried onions and remaining pieces of bacon. Top with tin foil.
Bake 50 minutes covered and 5 minutes uncovered (let onion pieces lightly brown)
SaveSave