Creamy Vegetarian Wild Rice Soup with portabella mushrooms and sweet potatoes. This vegetable soup is a great winter or autumn soup. One of the best soup recipes made vegetarian!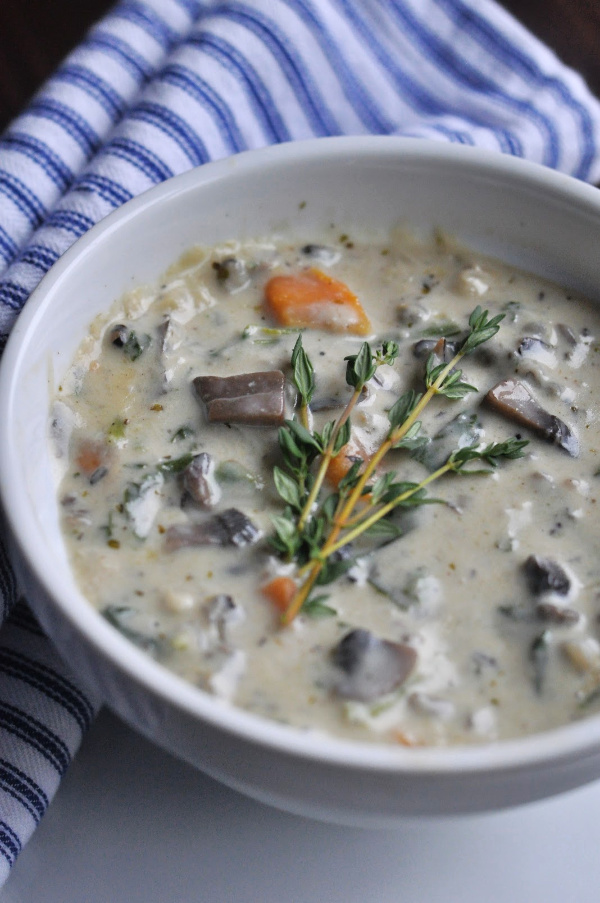 If you're trying to get more plant-based meals into your family's meal plan, this creamy vegetarian wild rice soup is a super yummy way to do it! This vegetable soup is packed with portabella mushrooms, onion, sweet potato, and spinach!
Creamy Wild Rice soup is a Minnesota classic and one of our favorite soups to enjoy in the winter. One of our goals this year is to eat more plant-based meals.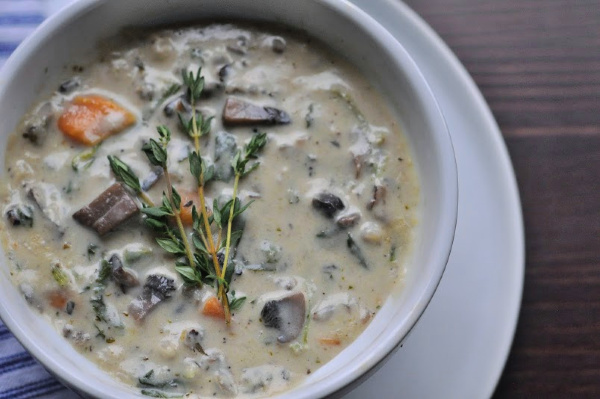 My husband asked if I could start getting more vegetarian meals into the rotation but not just packaged veggie burgers, but some of our favorite family meals made vegetarian. Oh yeah, and they have to be delicious, and our kids need to be willing to eat it.
Challenge accepted.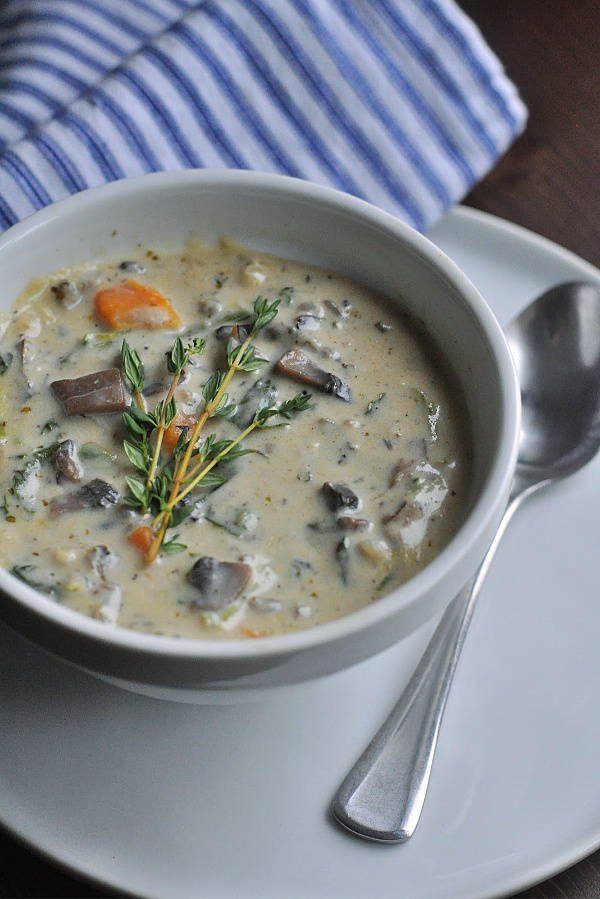 Because it's still cold. Hello, I live in Minnesota. I thought a vegetarian version that combines what we love about my creamy wild rice soup and salmon wild rice soup would be a perfect winter or autumn soup!
If you follow my blog regularly, you know that mushrooms are a new feature in our house. I overcame my fear of mushrooms in my beet and black bean burgers. And now I've been trying out new ways I can get them in family meals. I recently made a chili with portabellas as the "meat" and NO ONE in my house noticed!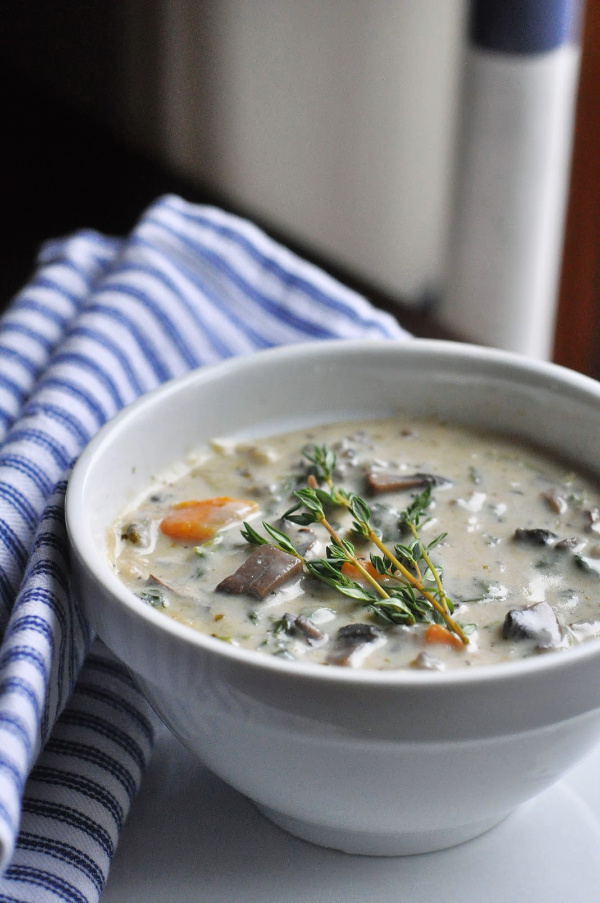 This vegetarian wild rice soup starts with portabella mushrooms.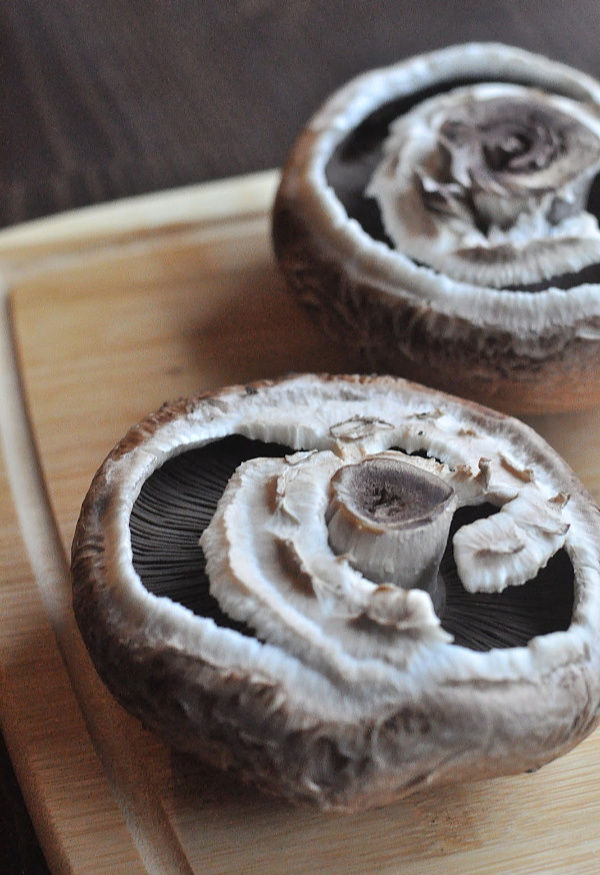 I like to chop the Portabella into small pieces for the soup.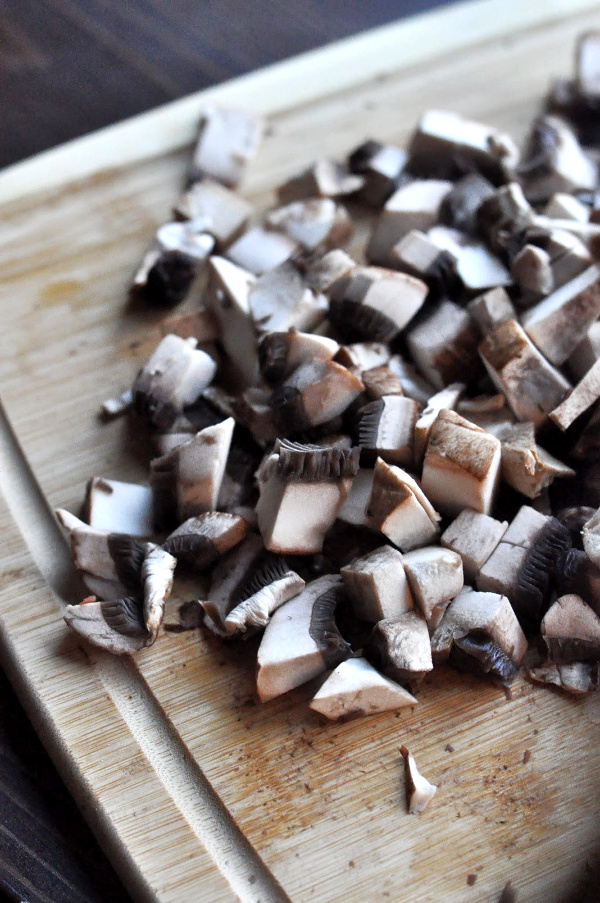 The mushrooms are going to cook with the seasonings. Once cooked, we are going to set the mushrooms to the side.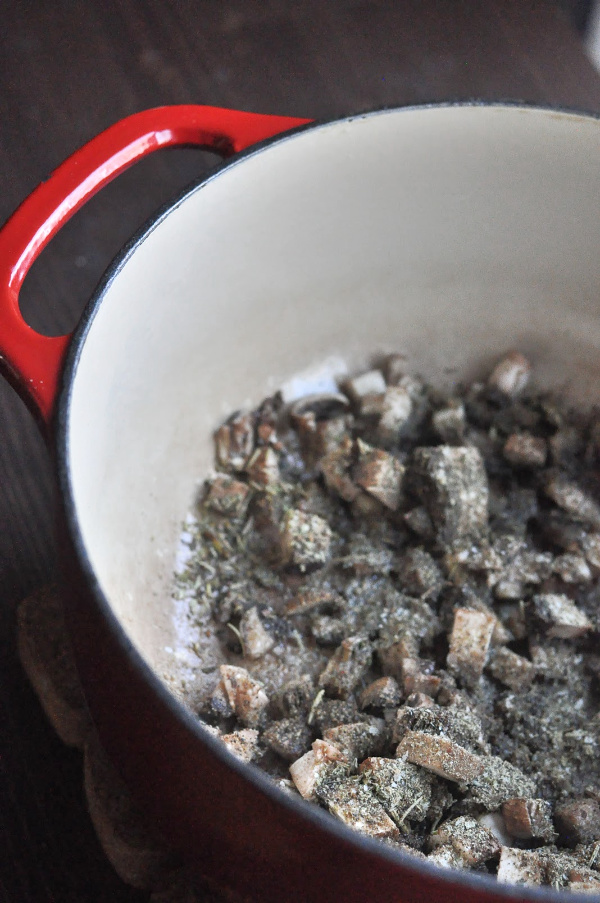 Next, we'll cook the butter, onion, and black pepper. You'll notice the onions are cooked until they are soft, not browned or burned.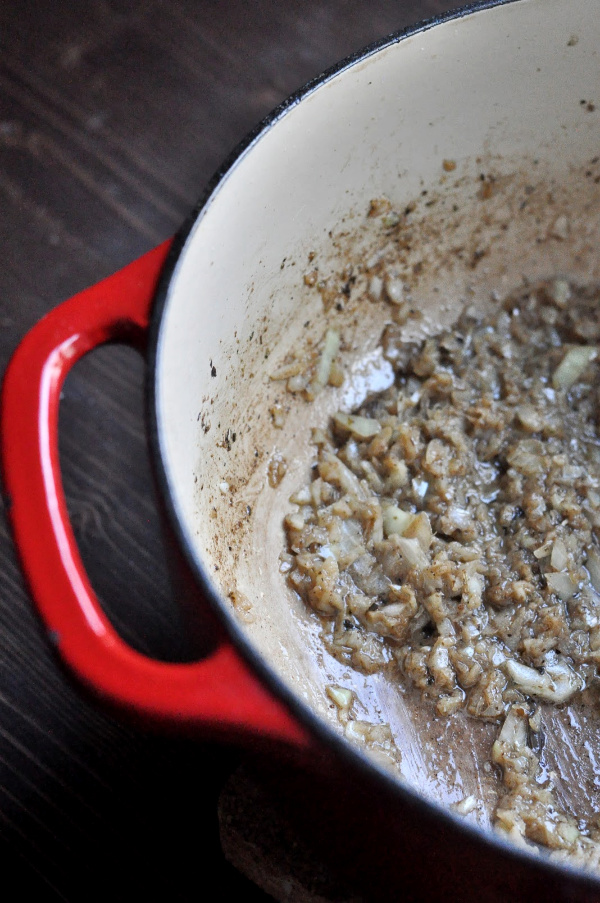 This is what the mixture looks like when you add the flour mixture. This is key for a good, creamy wild rice soup! Then you'll add your favorite vegetarian stock.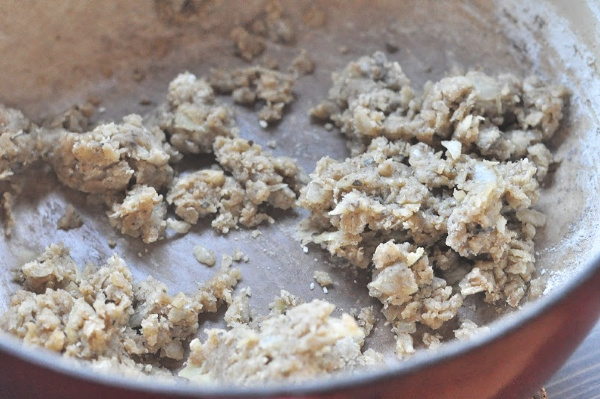 Once you whisk that flour mixture and vegetarian stock, you'll add cubed sweet potato, cooked wild rice, and those yummy mushrooms you cooked up earlier.
Add the half and half cream and spinach. For the spinach, you can use fresh (larger pieces) or frozen chopped spinach. The frozen chopped spinach will add very small pieces/strings of spinach. Add whatever kind of spinach you and your family like.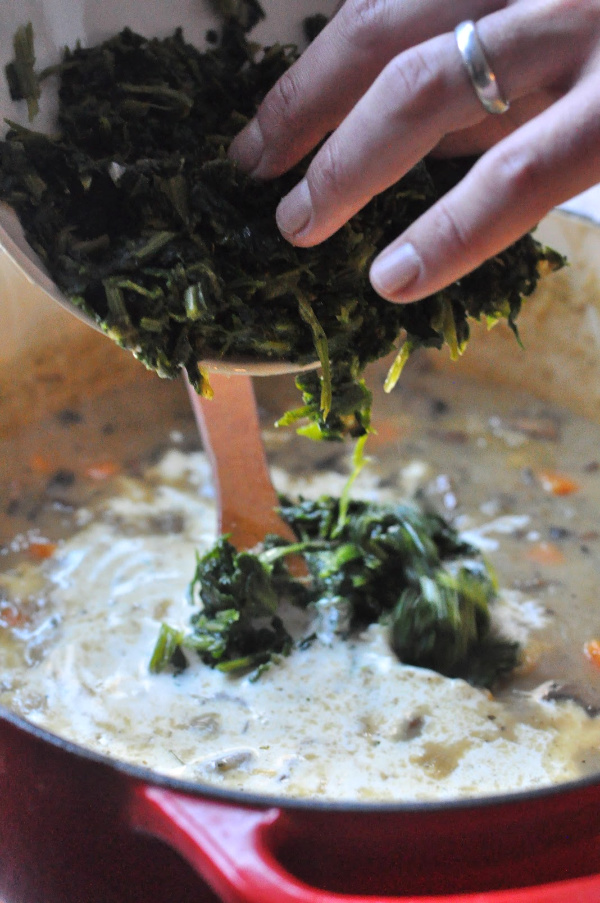 I know everyone is super excited about the portabella and wild rice in this soup, but I love the surprise of sweet potatoes and so do my kids!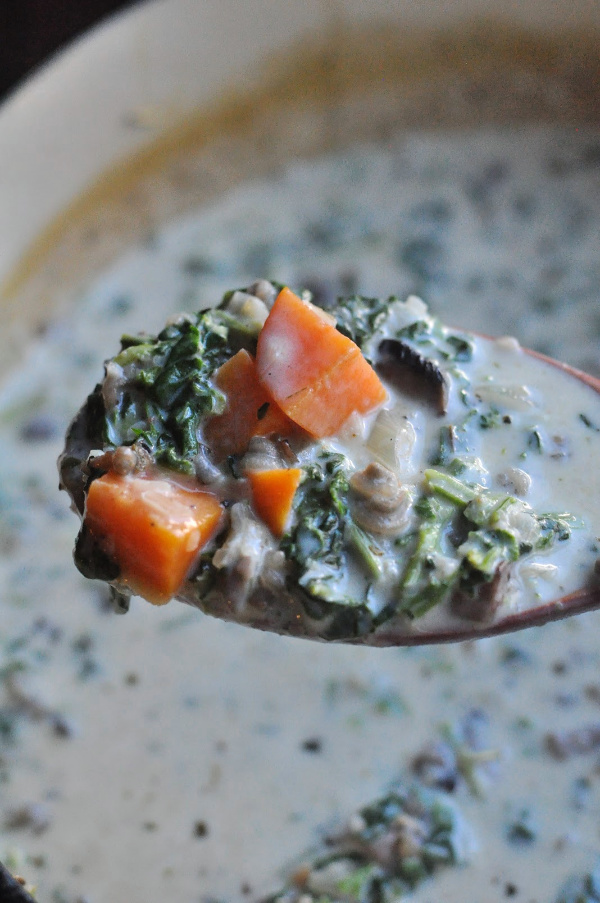 Get this cozy winter or autumn soup on your stove this weekend! I've tucked away a gallon bag of it in my freezer and just add a bit of half and half when reheating!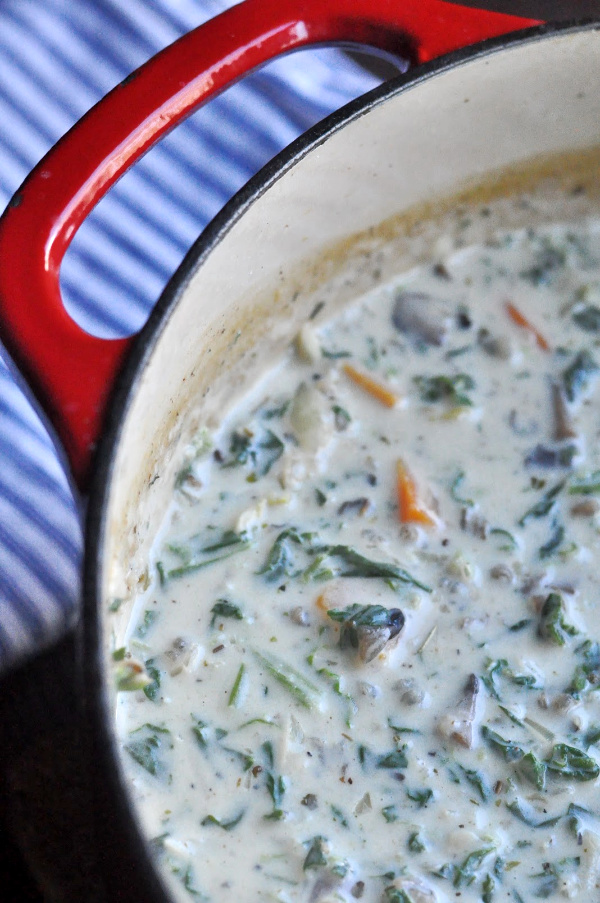 Eating more plant-based foods? Here are some other great veggie recipes:
Mushroom and Beet Burger recipe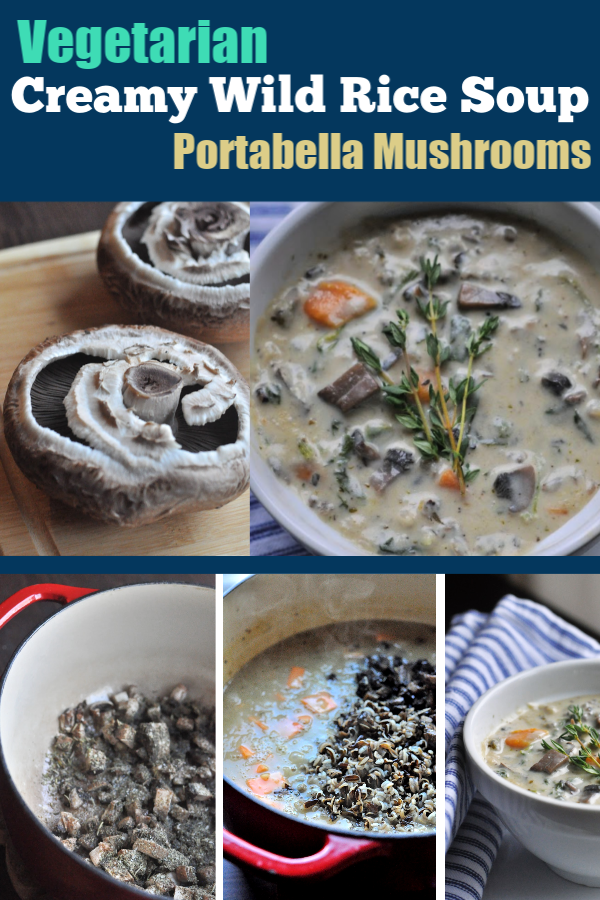 Yield: 8-10
Vegetarian Wild Rice Soup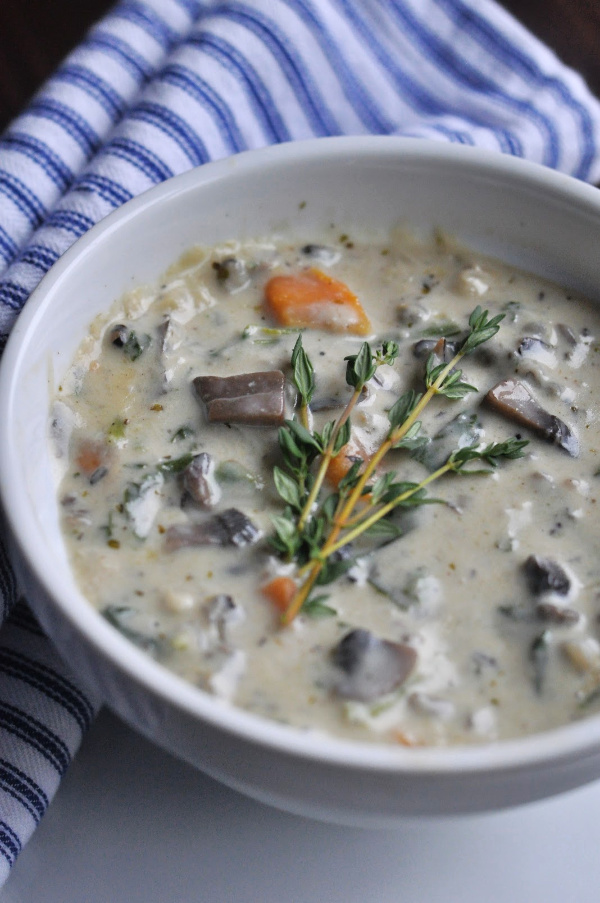 Creamy Vegetarian Wild Rice Soup with portabella mushrooms and sweet potatoes. This vegetable soup is a great winter or autumn soup. One of the best soup recipes made vegetarian!
Ingredients
6 TB Butter (divided)
2 Portobella Mushroom Caps (approx. 6-ounce package)
1 tsp Ground Coriander
1 tsp Garlic Salt
2 tsp Italian Seasoning
1 medium Sweet Onion (approximately 3/4 cup chopped)
1/2 cup Flour
1 tsp Ground Black Pepper
1 (32-ounce box) Vegetable Stock
2.5 cups chopped Sweet Potatoes (approximately 1 large sweet potato)
1 (15 ounce) can of Cooked Wild Rice (approximately 2 cups)
1.5 cups of Chopped Spinach (fresh or frozen, drained)
2 cups Half and Half Cream
Garnish: crackers and fresh herbs
Instructions
Chop Portabella mushrooms (I like to chop my mushrooms into small, bite-sized pieces).
Melt 2 TB butter over low heat in a Dutch Oven or soup pot, and sauté the mushrooms with the coriander, garlic salt, and Italian seasoning. Cook until the mushrooms start to soften. Remove the mushrooms from the pot.
Add the remaining 4 TB of the butter and add the chopped onion, and black pepper. Cook until the onion is soft.
Blend in flour. The flour mixture should stick together and be clumpy.
Gradually add the vegetable stock and whisk into the flour mixture until blended.
Add sweet potatoes, cooked wild rice, and mushrooms into the soup. Stirring constantly, bring the mix to a boil. Once bubbling, keep stirring regularly and cook 10-15 minutes or until the sweet potatoes are soft.
Turn heat down to low and add the chopped spinach. Add half and half and turn heat up to warm soup.
Continue stirring, let stand 10 minutes to thicken.
Notes
Wild Rice in a can is an easy time-saver and works great in this recipe. I like Canoe Wild Rice.
For the spinach, if you like small pieces of spinach, use a small box of frozen spinach, defrosted, and drained. If you use fresh, you'll have larger pieces. Add as much spinach as you like.
Recommended Products
As an Amazon Associate and member of other affiliate programs, I earn from qualifying purchases.
Nutrition Information:
Yield:
10
Serving Size:
1
Amount Per Serving:
Calories:

233
Total Fat:

13g
Saturated Fat:

8g
Trans Fat:

1g
Unsaturated Fat:

4g
Cholesterol:

36mg
Sodium:

318mg
Carbohydrates:

26g
Fiber:

3g
Sugar:

8g
Protein:

6g
Nutrition information is estimated. Please use a validated nutrition tool to verify the information.