This easy Strawberry Rhubarb French Toast Bake recipe is made with fresh strawberries and rhubarb and this breakfast casserole is topped with homemade strawberry rhubarb syrup!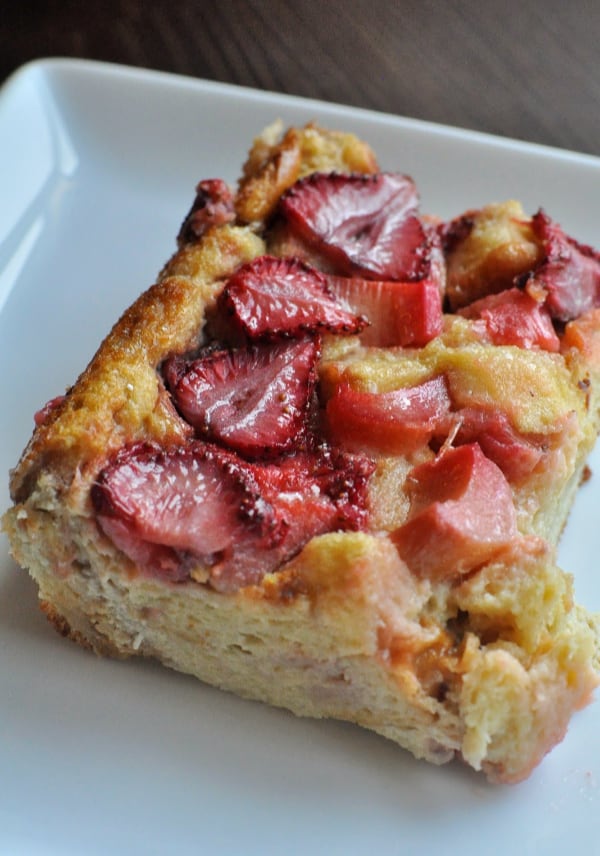 I shared a teaser of this recipe over on my Instagram and Facebook pages and I know you are ready for it! I have been dreaming about this recipe. I started calling my local Kowalski's produce department each week asking if Rhubarb had come in yet. "Hello, just your friendly local food blogger calling AGAIN to see if that magical Rhubarb is in?!?"
My mom, knowing about my desperation for rhubarb, texted last weekend and told me rhubarb was in at her store! She picked me up some and I quickly got to work on this Strawberry Rhubarb French Toast Bake!
It's spring in Minnesota and I always celebrate with Rhubarb. I've even figured out how to make Rhubarb Syrup and turn it into a Rhubarb Cosmopolitan. What I love about this Strawberry French Toast Bake recipe is that the fresh rhubarb is featured as a filling, topping, and then cooked down into syrup! I first made this for my family (we are four people and a rabbit, the rabbit did not eat this, but he did eat the strawberry greens) anyway, I digress, four people and there were only about four pieces left after brunch last weekend. I brought it into work for my coworkers and it was an absolute hit and people started asking for the recipe before I could even get this post up. 
So friends, enjoy. This one is going to be making many rotations in your breakfast and brunch routines. Fantastic for Mother's Day, a baby or wedding shower, or just a lovely spring brunch at home with your family. The flavors are delicious and that homemade strawberry rhubarb syrup is amazing. You'll be getting asked for this recipe!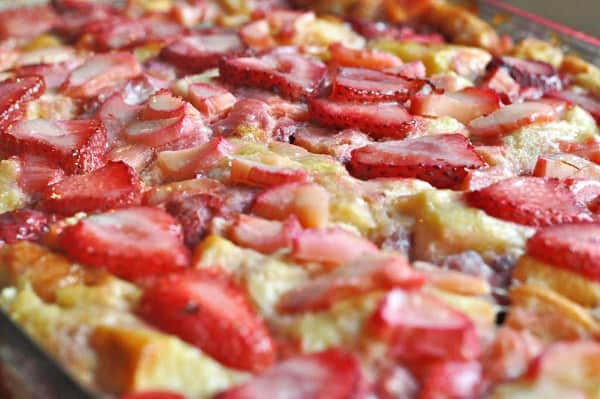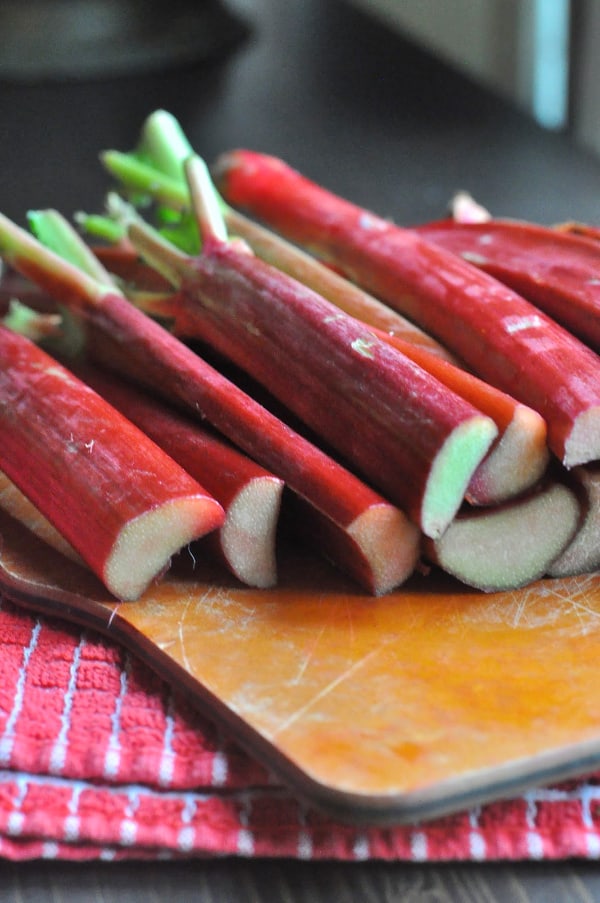 You want to get fresh rhubarb for this recipe. Specialty grocers like Kowalski's in Minnesota always have a great selection of produce and soon, when the farmer's markets open, they will also carry it. When I get the chance, I always buy as much rhubarb that I can because when it is gone out of season, it is gone! I love making rhubarb syrup (add it to your favorite bubble water) and strawberry rhubarb applesauce for the kids with my Apple Cider Brined Pork Chops.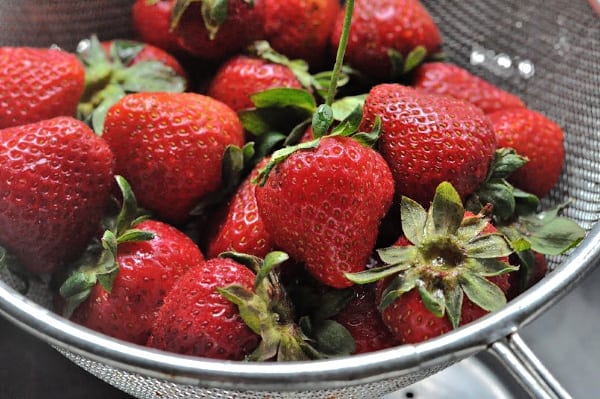 I'm also using fresh strawberries for this recipe. I use my fine mesh strainer for washing strawberries and for straining the strawberry rhubarb mixture later.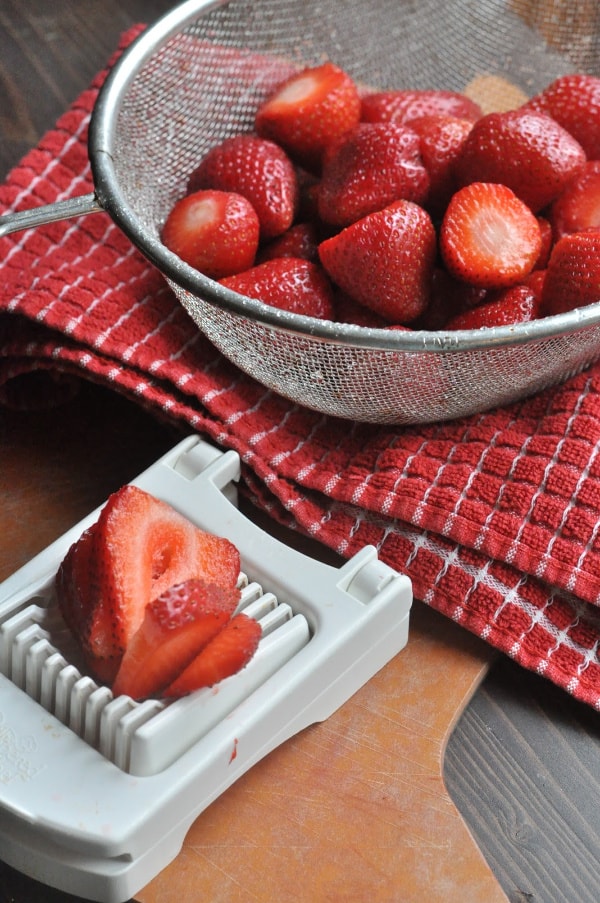 One of my favorite kitchen tricks is to use my egg slicer to slice up strawberries. This makes the prep for this dish super easy and even the kids can help!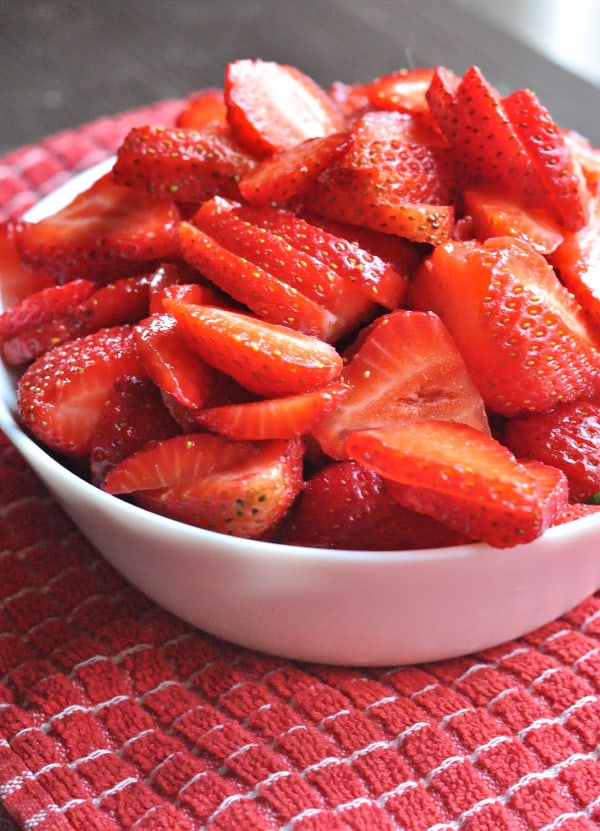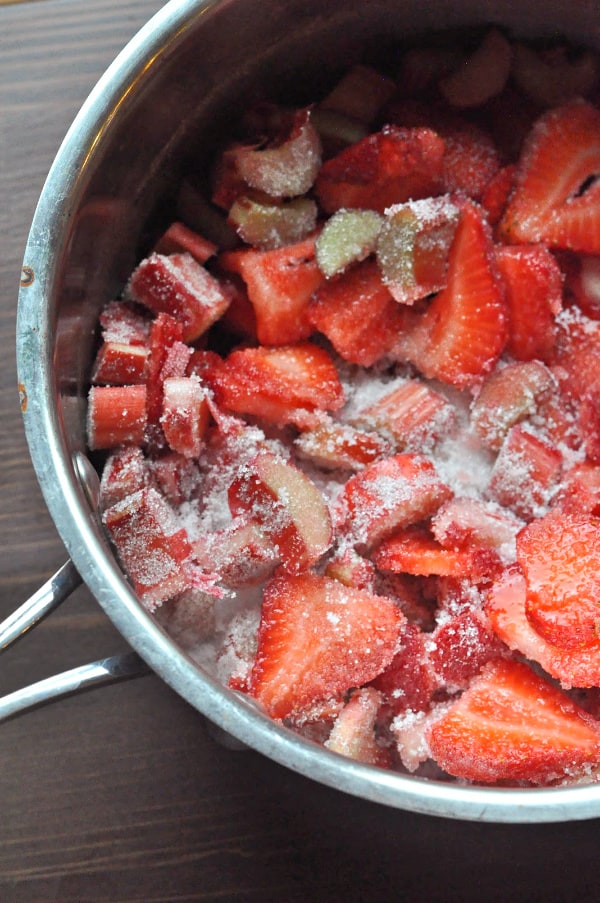 The strawberry rhubarb french toast bake has both fresh strawberry rhubarb filling, strawberry and rhubarb topping, and a strawberry rhubarb homemade syrup! You make it by combining rhubarb, strawberries, and white sugar!
Just a quick cook and it looks like this.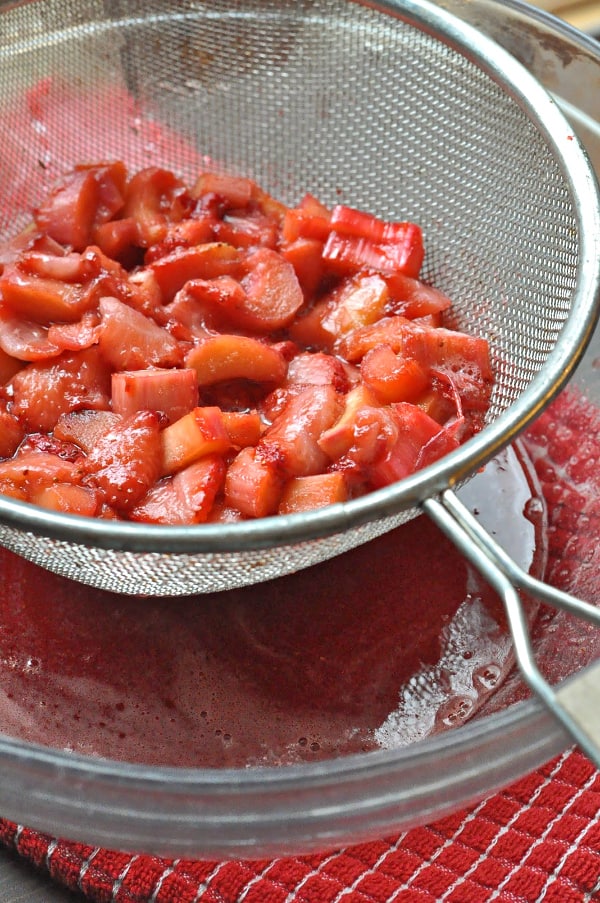 I get that mesh strainer out and place it over a glass bowl. Strain the strawberry rhubarb mixture and watch that beautiful syrup appear!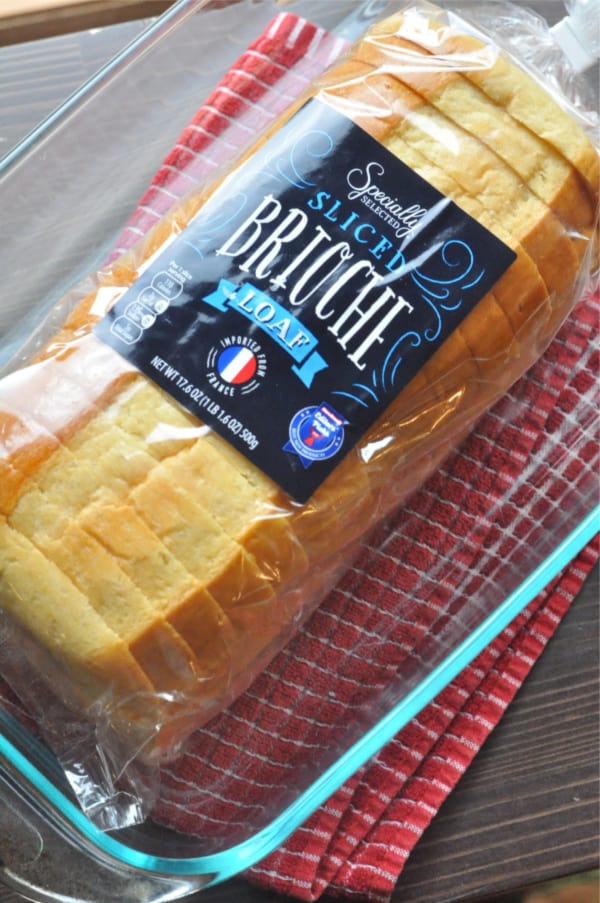 For this Strawberry Rhubarb French Toast bake, I use brioche bread. It is my favorite bread to use for breakfast casseroles.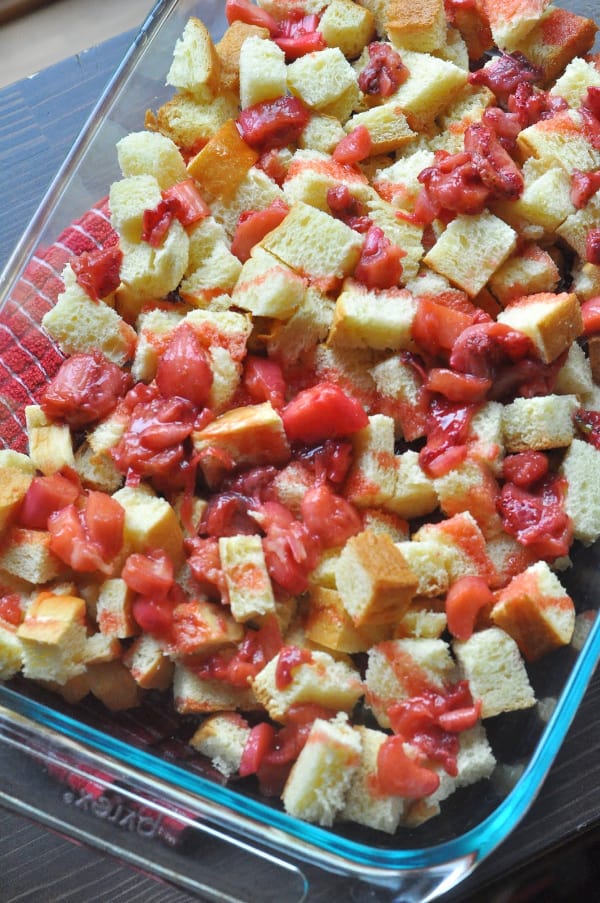 We're making a breakfast lasagna of sorts and starting with cubed bread and strawberry rhubarb mixture. You can add a bit (no more than 1/4 cup) of homemade strawberry rhubarb syrup if you'd like as well.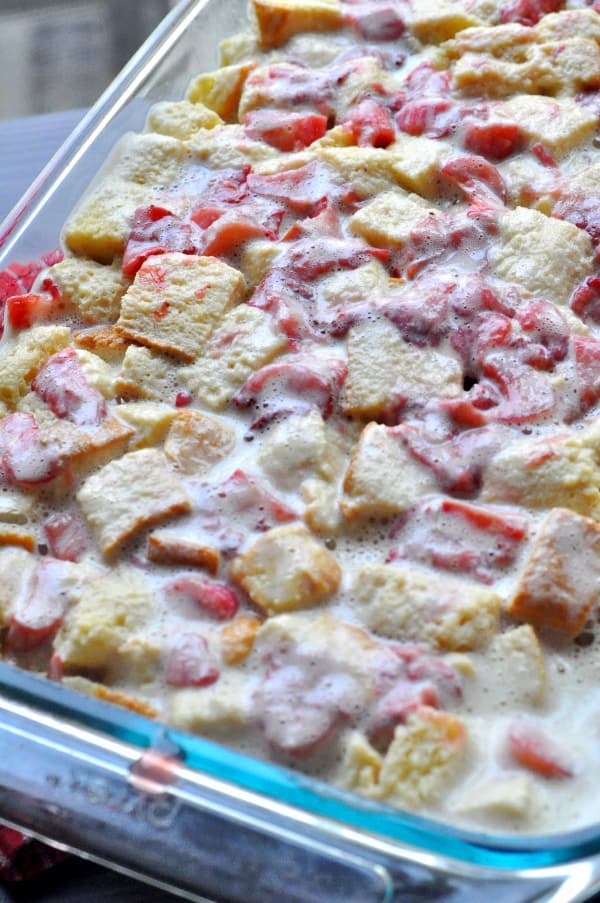 Next, we're blending up eggs, almond milk, and maple syrup.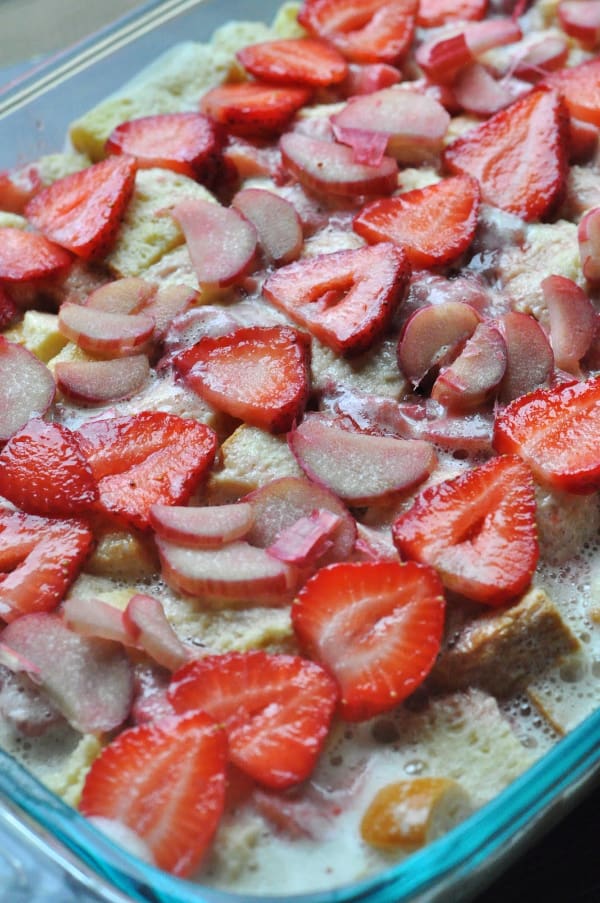 Top the casserole with strawberries and rhubarb. Cover and bake!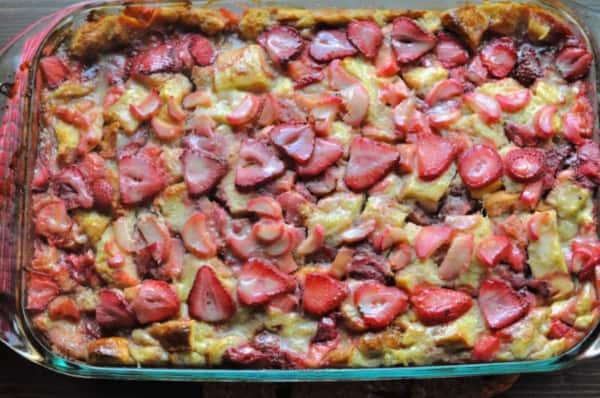 When the Strawberry Rhubarb French Toast Bake comes out of the oven it is puffy, bubbling, and oh so beautiful! I first brush it with butter. I like to let it cool a bit and then I serve it with powdered sugar and the homemade strawberry rhubarb syrup.
Tools for Making Strawberry Rhubarb French Toast Bake
These are affiliate links for my favorite tools for making this recipe. You can also visit my Amazon store to see all my kitchen gadget recommendations.
Tips for Making Strawberry Rhubarb French Toast Bake
Use Brioche bread, it is perfect for french toast. Can't find it? Check the bakery of your local grocery store or call your local baker to see if they carry it. 
I love Almond Milk because of the protein and flavor. You could substitute half and half and add 2 tsp of Vanilla for the Vanilla Almond Milk in the recipe.
I like using a blender to blend up the eggs, maple syrup, and Almond Milk.
Love this bake? Try my Blueberry or Lemon Raspberry versions of french toast bakes!
This is freezer friendly and makes a good meal for a future weeknight (breakfast for dinner).
I like to let mine cool for just a bit right out of the oven but you can totally eat it right away! It will be softer right out of the oven.
Strawberry Rhubarb French Toast Bake
Ingredients
1 lb Fresh Strawberries
3 cups Fresh Rhubarb (chopped)
⅔ cup White Sugar
1 lb loaf Sliced Brioche Bread
10 Eggs
2 cups Vanilla Almond Milk (sweetened)
½ cup Real Maple Syrup
2 TB Butter (melted)
2 TB Powdered Sugar
Instructions
Preheat oven to 375.
Wash strawberries and remove the green leafy part. Use an egg slicer to slice all of the strawberries. Place two cups of the sliced strawberries in a medium-sized saucepan. Reserve one cup of the sliced strawberries for the topping of the french toast bake.
Wash and remove any dirt from rhubarb. Chop into three cups. Add two cups to saucepan and reserve one cup of chopped rhubarb for french toast bake topping.
Add the sugar to the saucepan and heat the sugar, rhubarb, and strawberries over medium heat. Stir constantly and cook for five minutes.
Remove from stovetop and place a fine mesh strainer over a bowl. Place the cooked strawberry rhubarb on top and let the strawberry rhubarb syrup drain into the bowl. You will have approximately ¾-1 cup of syrup. Let strain while you prepare the bread for the french toast bake.
Spray a 9x13 pan with non-stick spray. Cut the bread into small cubes. Put half the bread in the pan.
Sprinkle the bread with half of the cooked strawberry rhubarb mixture. Drizzle this layer with ¼ cup of the rhubarb syrup (reserve the rest of the syrup for serving). Then top the casserole with the remaining bread and cooked strawberry rhubarb mixture.
Crack eggs one at a time into a large glass measuring cup and then add to a blender.
Then to the blender, add the almond milk and maple syrup. Blend until combined.
Pour the mixture on top of the bread and strawberry rhubarb mixture. Press down with your hands to ensure bread has soaked up the mixture. Arrange the remaining sliced strawberries and chopped rhubarb on top of the french toast bake.
Cover the pan with tin foil. Bake 40 minutes. Take off the tin foil and return the pan to the oven and bake 15 more minutes.
Once baked, brush with melted butter and sprinkle with powdered sugar. Serve with the remaining rhubarb syrup.