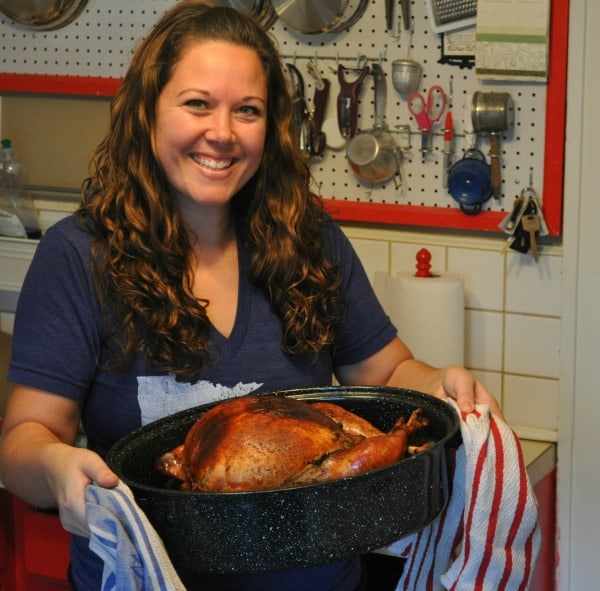 Last year I had the opportunity to try an Original Turducken and shared my experience in my 2013 Thanksgiving Recap. I admitted I was nervous experimenting on Thanksgiving. My family was there and you know what people most look forward to on the Thanksgiving table?
The Bird.
I was so nervous while that bird cooked last year-would it turn out, would my family like it, surely Thanksgiving was not the day to experiment!?! The bird emerged from the oven a beautiful golden hue and my family was over the moon about it.
Our family enjoyed the Original Turducken so much, this year I'm partnering with Echelon Foods, the maker of the Original Turducken and sharing with you some tips for preparing your Original Turducken and ideas for drink pairings on Thanksgiving.
First, let's talk Turducken.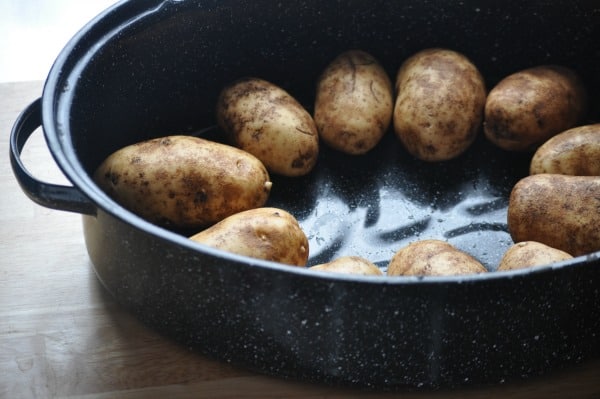 Wait, that doesn't look like a Turducken, you say. Well this is the first step in preparing to roast your Turducken. Make it a potato bed.  Put 11-12 baking potatoes on the bottom of the roasting pan and top with two cups of beef broth.  This keeps the Turducken off the bottom of the pan, but it also does most of the work for your side dish of mashed potatoes and creates the base for your gravy.
Ok now for the Turducken.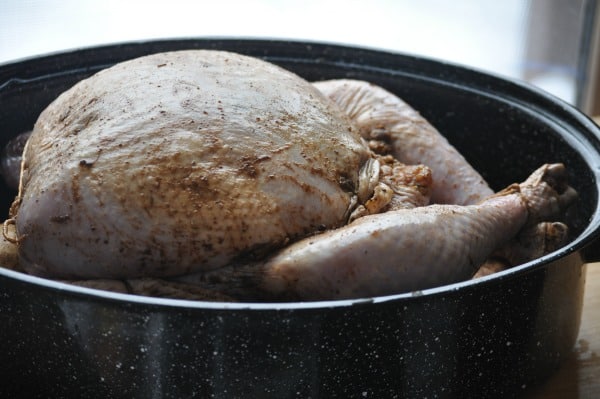 One of the biggest surprises I had when I originally unwrapped my Turducken was that it was already seasoned. Listen, friends-no brining or seasoning, that is the ticket. No work for you.  All I had to do was unwrap the Turducken from the package and place it in the roasting pan.  If you want you can careful cut the wrapping so you can refer to the cooking information but Echelon Foods has already put it on their web page so you can use it there too.
Ready for the oven, right? Well, hold on one second. I recommend one little thing for this bird.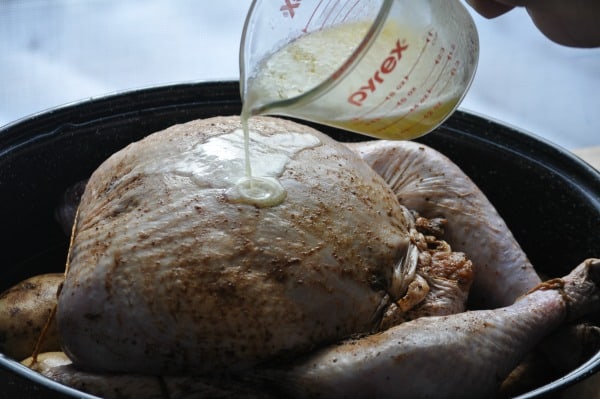 Butter. Now she's ready.  I roasted my Turducken for 3 hours at 350 and every hour basted with 1/4 melted butter. I use the Land O'Lakes half sticks-these are the perfect amount for basting the Turducken. Your Turducken is ready when the internal temp reaches 165 F.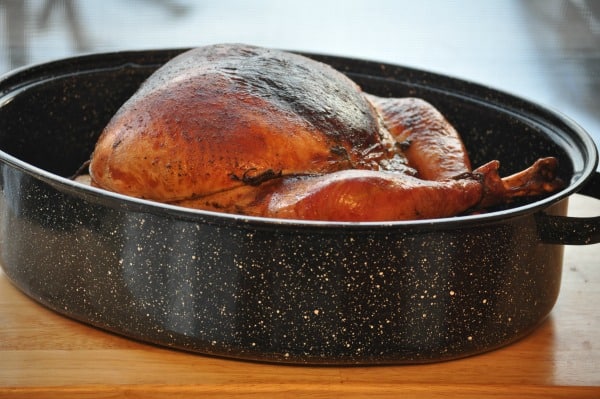 Out of my oven emerged this beauty. Perfectly golden brown and delicious.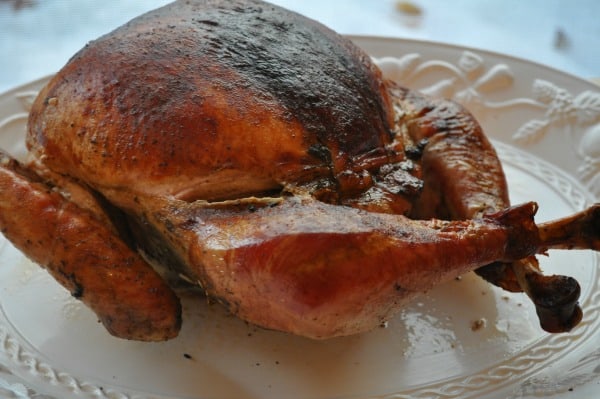 All that work makes a girl tired. So let your Turducken rest before you cut into it.  Give it between 20-30 minutes.  Here's my bird relaxing, but cover yours up before it gets cold.
So while that Turducken is resting, let's talk drink pairings.  Drink pairings can be a fun element to the Thanksgiving dinner.  It can be drinks people never would have other wise have tried but it can also be a really good part of the meal to assign or bring if you are the guest. So if you are hosting, assign each guest with a certain wine or craft beer and do a tasting. Or as a guest, offer to the host to bring some wine or beer that will compliment the meal.
My first step when thinking about drink pairings is to ask the experts. So for me, that meant talking to my friends at my neighborhood wine and beer store, Wine Thief & Ale Jail.  Don't be afraid to ask the experts at your liquor wine and beer store.  Most love working with you on drink pairings.  I wanted my drinks to pair well with the Turducken but you can also do a fun pairing with side dishes or even desserts.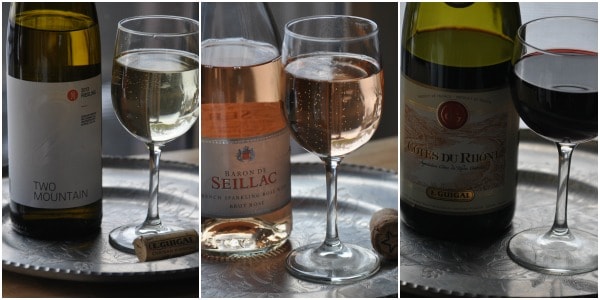 I spoke to Nathan at the Wine Thief and he was really excited to give me some recommendations. From talking with Nathan I learned that Turkey in general goes very well with sparkling wines as well as dry Rosé. With a Turducken, there is duck included, so you want to offer a red. Here's my take on his recommendations:
Wine Pairings for an Original Turducken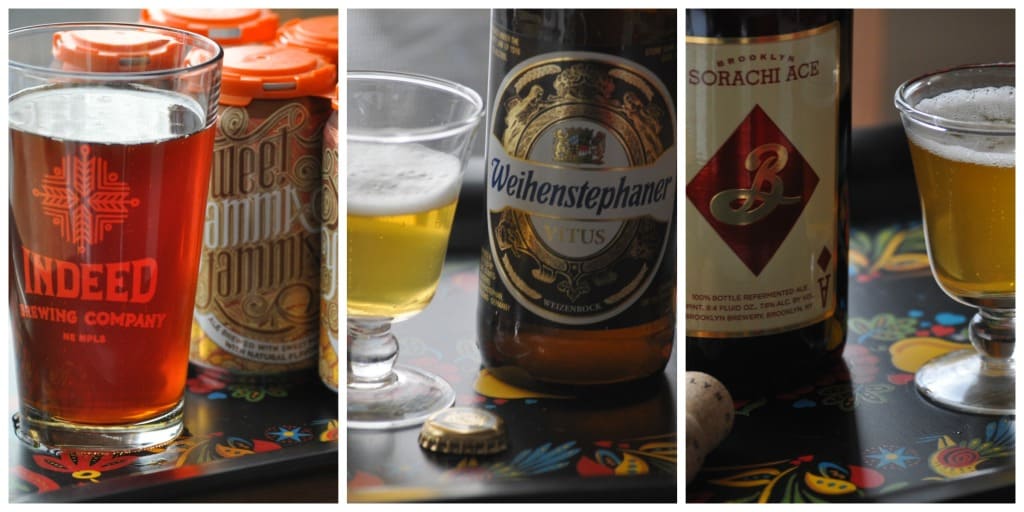 We can't talk about drink pairings without offering some craft beer options too.  For the very best recommendations, I went to my craft beer expert, Mark at the Ale Jail and he gave me some excellent recommendations. Here's my take on his suggestions:
Craft Beer Pairings for Turducken
For a truly creative and unique Thanksgiving, I highly recommend making a Turducken.  It really is simple and completely wows the crowd! For more information on where you can purchase an Original Turducken, check their web page, if you are in the Twin Cities, you can find Turduckens at Lunds and Byerly's and Kowalski's.
Ok I know you've been waiting! I have something special for you! How would you like to win an Echelon Foods Turducken Premium Roast?
Here's the web page description: "De-boned duck and chicken breasts are wrapped up with sausage stuffing into a whole turkey, also deboned. In this case: the turkey's wings and drumsticks are removed, and it is then formed into a football-sized roast. (Serves: 8 – 10 Adults) Thaw, pop it into your oven, bake without basting, and then serve it to your guests with no need to carve or throw away bones!"
Yes! You want to win one? Enter to win by following the Rafflecopter instructions and for a blog comment entry, tell me your favorite Thanksgiving tradition.
Dining with Alice Disclosure and Privacy Information. I was compensated by Echelon Foods for this post.