Tater Tot Hotdish with a bacon and creamy chicken alfredo twist.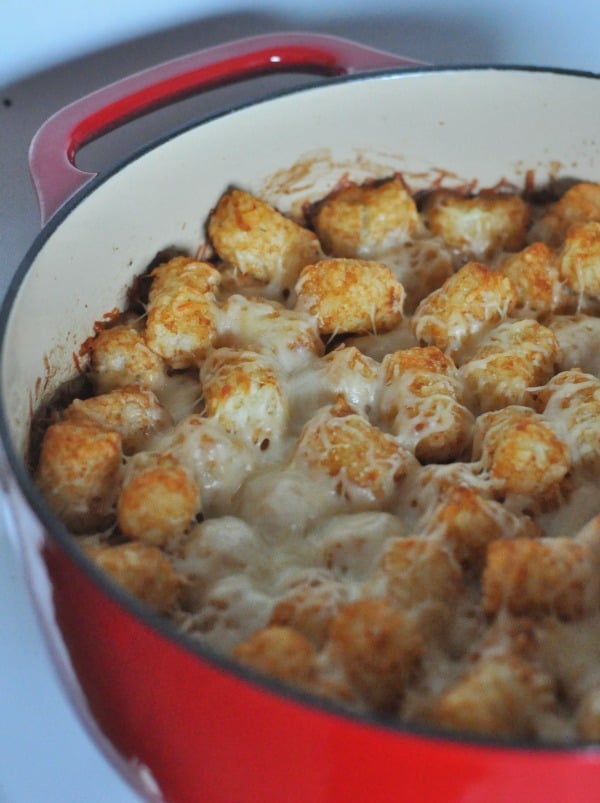 There are so many things to love about Minnesota and tater tot hotdish is one of them. It's the Minnesota love language. We love food and we love to make, give and eat tater tot hotdish. For this new version, I've given it a twist with smoky bacon, creamy alfredo sauce and ground chicken. It's simple to prepare, just make it in your dutch oven and pop in the oven. It's a marriage of tots, bacon and creamy alfredo. Now that's Minnesota nice. Let's get started cooking the bacon.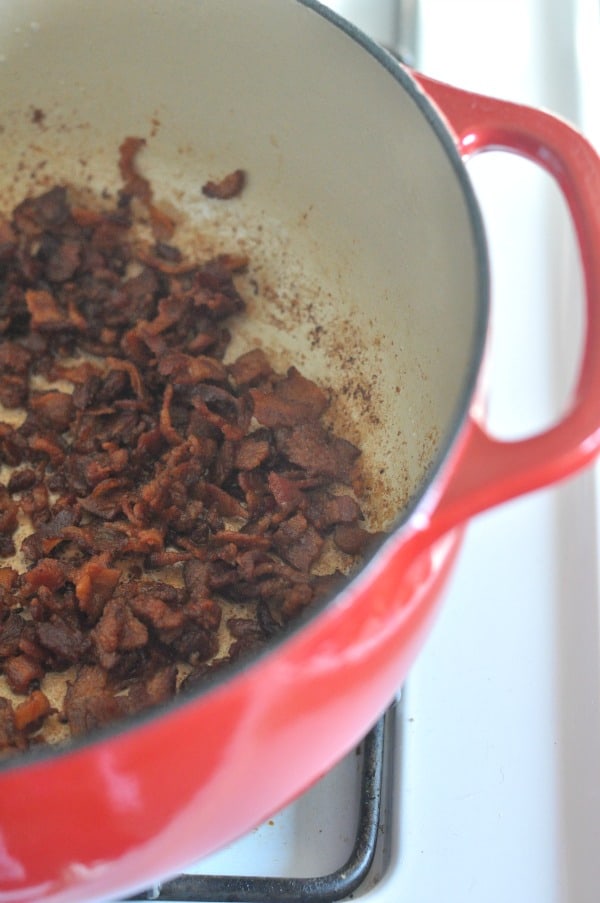 I love using thick-cut bacon for recipes. It's easy to cut up with my food scissors for recipes and I love the thicker pieces for texture in everything from soups to casseroles. And if you want to save some money, buy bacon ends, really it's just ugly bacon and you can cut it up the same way. For this dish and really anytime you are adding bacon to recipe, I always recommend cooking it until it is very brown. This way it brings smoky flavors and holds up to cooking and doesn't get limpy. We don't want limpy bacon. Thick, big, and juicy. Yes. That's how I like my bacon.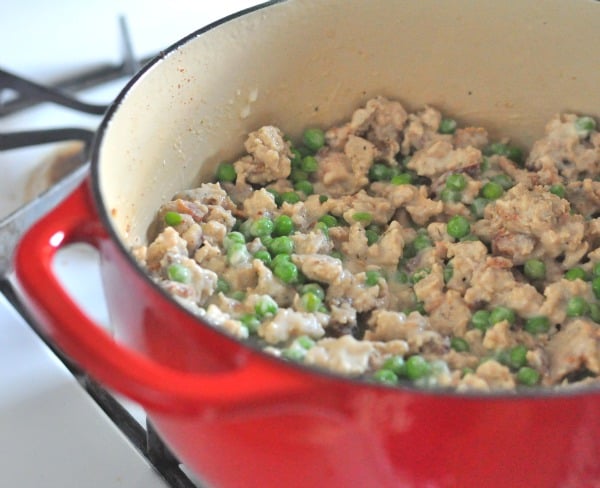 Once your bacon is cooked, drain the fat and then add the chicken and seasoning. Once the chicken is 3/4 of the way cooked, add in the peas, alfredo sauce, top with half the cheese and then tots. Wait, what about the 9×13 pan?!? A casserole must be cooked in a pan, right? Friends, I'd like to introduce you to the newest member of my kitchen family, my beautiful red Lodge Dutch Oven (affiliate link because I LOVE it and want you to get one too). This beauty has done outstanding work since she arrived at Christmas and yes, she makes excellent Tater Tot Hotdish. So no need to put it another pan, just put this dutch oven right in the oven uncovered.
Once you let it bake for 45 minutes, take it out and put the rest of the cheese on top, put it back in the oven for another 15 minutes and here my friends, is a new, improved, creamy Bacon Chicken Alfredo Tater Tot Hotdish. Bring some to your neighbors, bring some to a friend, just be Minnesota nice.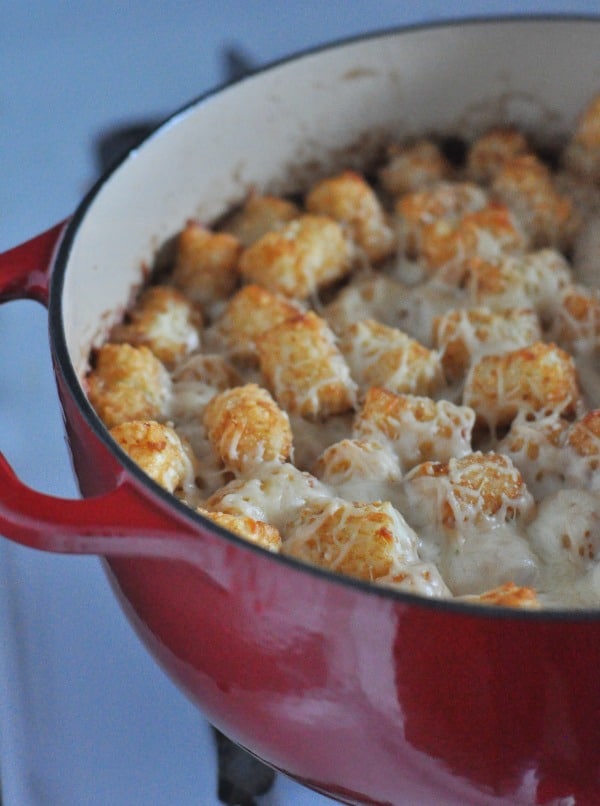 Bacon and Chicken Alfredo Tater Tot Hotdish
Serves:
8-10[url:1][img:1][/url]
Ingredients
16 ounces Thick-Cut Bacon (chopped)
2 lbs. Ground Chicken
1 tsp Garlic Salt
1 tsp Onion Powder
1 tsp Italian Seasoning
12 ounces Frozen Peas
15 ounces Four Cheese Alfredo Sauce
8 ounces Mozzarella Cheese Blend
32 ounces Tater Tots
Instructions
Preheat oven to 375.
In a large pan or Dutch oven, sauté chopped bacon over medium-high heat until browned, about 10-15 minutes. Drain and return bacon to pan.
Add chicken, garlic salt, onion powder and Italian seasoning. Once chicken is cooked almost all the way through, add peas and alfredo sauce.
If planning to cook right in your Dutch oven, top with half of the cheese. Add tater tots.
If cooking in a 9x13 pan, transfer mixture to pan, top with half of the cheese. Add tater tots.
Bake for 45 minutes. Top with remaining cheese. Return to oven and bake an additional 15 minutes.