This Bacon Cheeseburger Pasta Bake recipe is an easy and cheesy casserole made with ground beef that is kid-friendly and a perfect family weeknight meal with leftovers.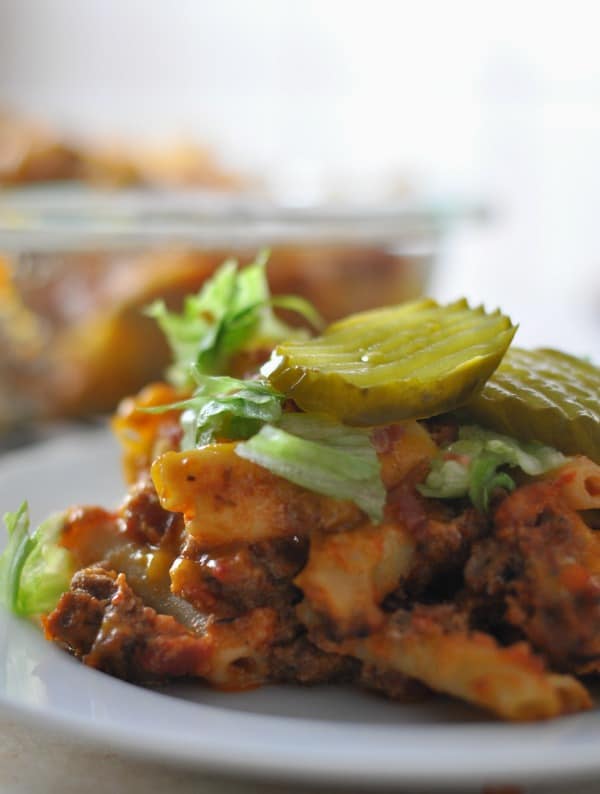 Post-vacation reentry is the worst. We got home from a weekend away with the kids and it was a rush to unpack suitcases, pack backpacks and lunches, and create a meal plan for the week. I know all too well that if I don't spend time on the weekend meal planning the meals during the week take an "interesting" (that's Minnesota speak for not so great) turn.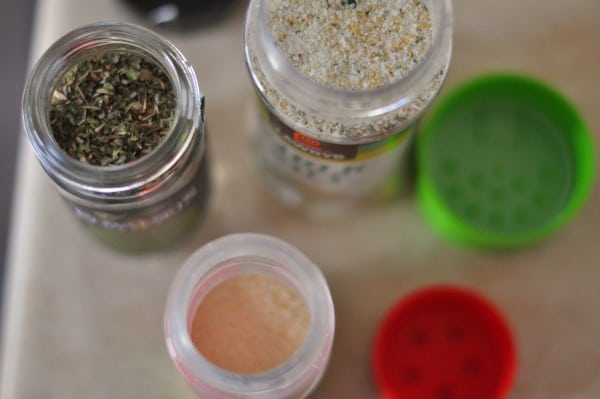 My first step is usually doing an inventory of our pantry, fridge and freezer. And I'm on a kick right now trying to clean out my deep freezer. Winter is coming, right? Once I have a list of any extras I need and a plan, I try and convince my husband to do the grocery shopping.
I love making casseroles on the weekend because they can cook and I can get other stuff done and there are always leftovers which make great lunches and easy meals to heat up on the weeknights. This Bacon Cheeseburger Pasta Bake recipe was one of the last recipes I made in our St. Paul house so you'll see some of my old kitchen in the background. It has become a family favorite and a super easy casserole to make.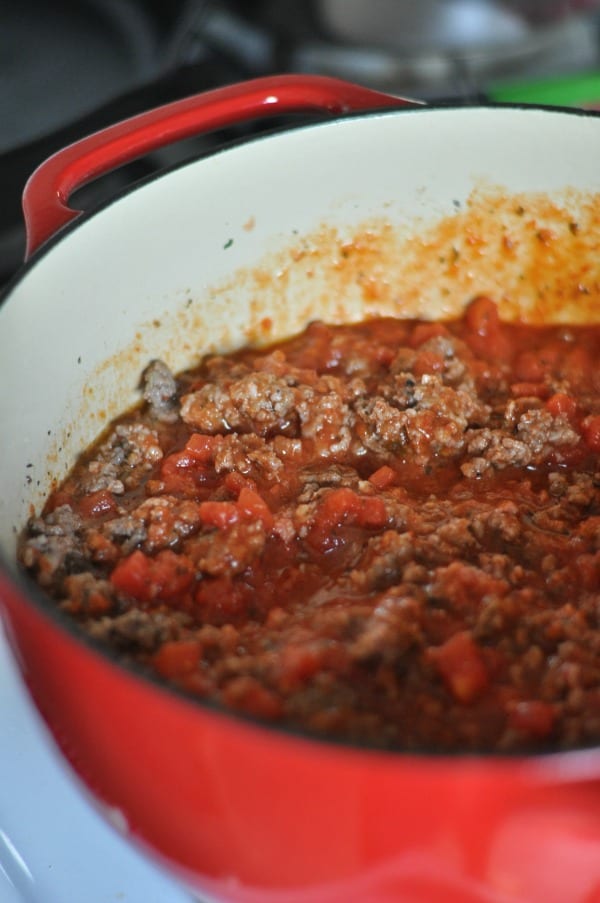 For this bacon cheeseburger pasta bake recipe, you start with a meat and seasoning mixture and then add pasta sauce and diced tomatoes. I like using Red Gold tomatoes because they are a family-owned company that works with family farms and right now they have a Help Crush Hunger campaign that for each Red Gold product you buy, they donate a meal to Feeding America.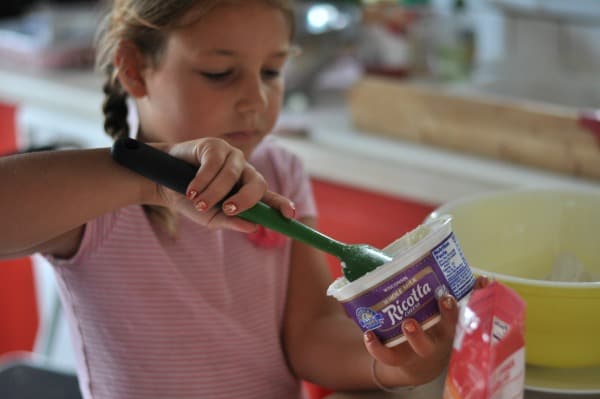 My meal planning assistant. My daughter is old enough now to measure and assemble ingredients and I just give her the recipe instructions. Below is the egg, ricotta and cheese mixture.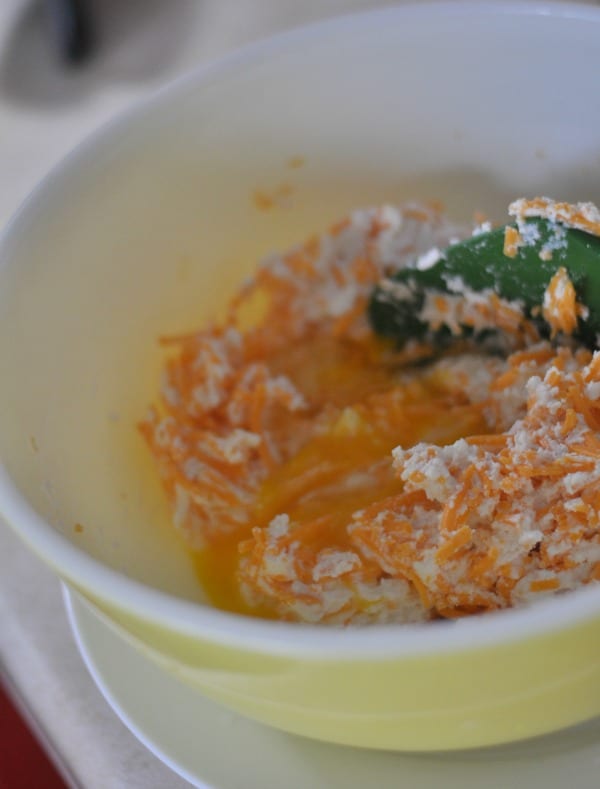 I add the egg, ricotta and cheese mixture to the meat mixture and then add in cooked pasta.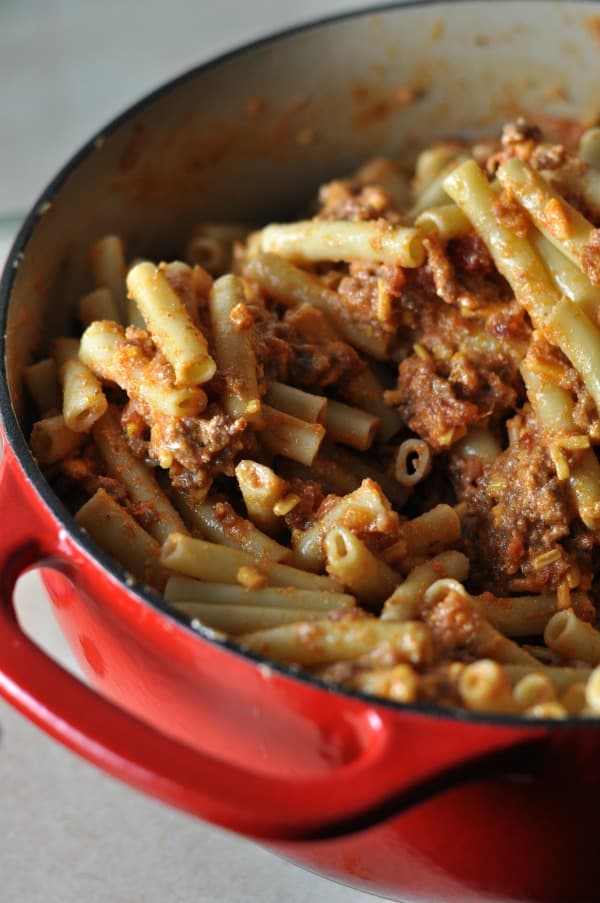 My Lodge brand cast iron six-quart Dutch oven is my very favorite pot (yes, even better than my fancy french cast iron pot). It is a workhorse in my kitchen and totally worth $60. I use it for soups, mac and cheese, one pot meals and casseroles. Get one here (affiliate link).
Pour your mixture into a 9×13 pan and top with cheese and bake.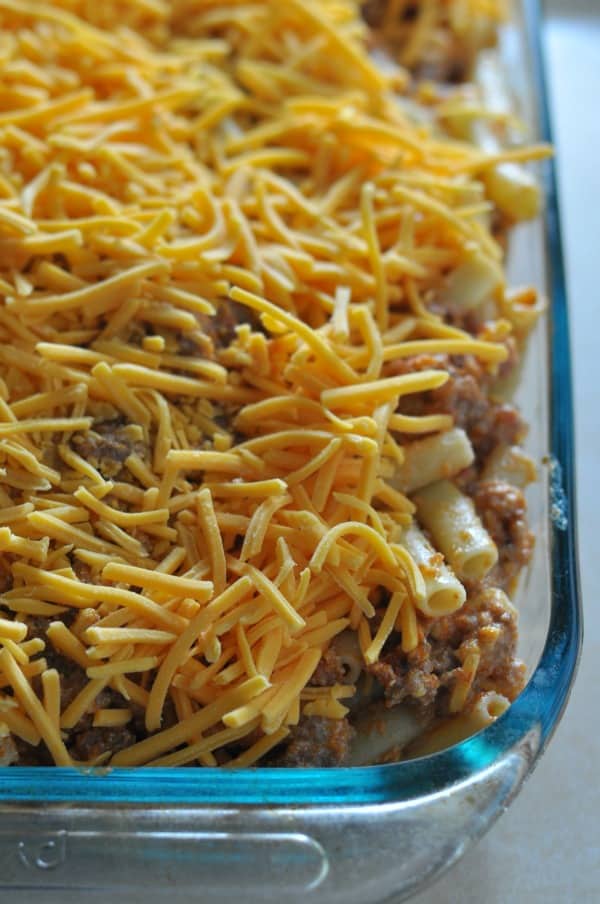 Once cooked, top your Bacon Cheeseburger Pasta Bake with all of your favorite cheeseburger toppings. We like cooked bacon pieces, lettuce and pickles.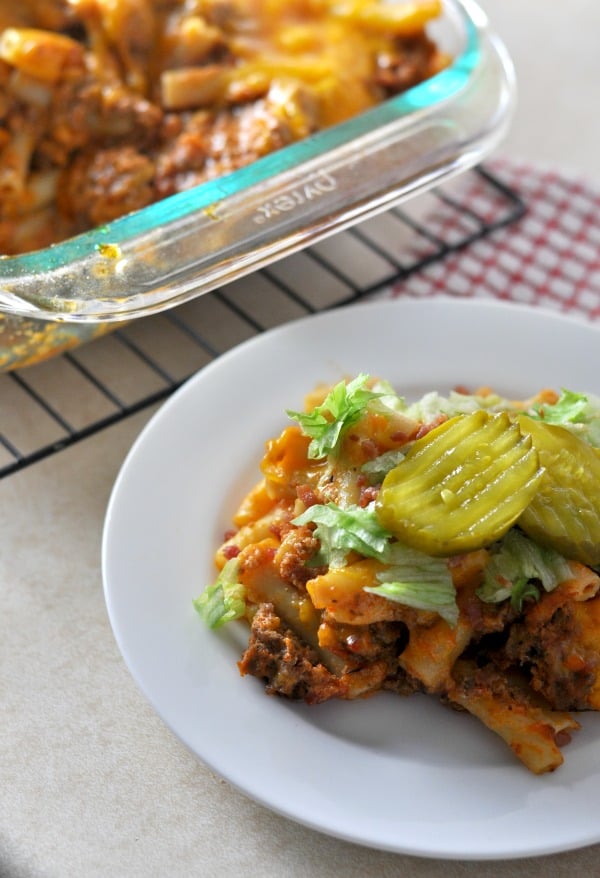 Good luck with all your meal planning this week and for more easy family-friendly meal ideas, check out my book, Freezer Meals for Moms.

Bacon Cheeseburger Pasta Bake
Ingredients
1 lb Boxed Ziti Pasta
1 lb Mild Italian Sausage
1 lb Lean Ground Beef
2 cups Cooked Bacon Pieces, divided
1 tsp Minced Garlic
1 tsp Italian Seasoning
1 tsp Garlic Salt
1 tsp Onion Powder
1 tsp Smoked Paprika
1 TB Brown Sugar
1 24 ounce Jar of Pasta Sauce
1 14.5 ounce can Red Gold Diced Petite Tomatoes (drained)
1 Egg
1 15 ounce container of Crystal Farms Ricotta Cheese
4 cups Shredded Mild Cheddar
Garnish: Chopped Lettuce, Pickles, Bacon Pieces and Tomatoes
Instructions
Directions:
Preheat oven to 375.
Prepare pasta according to box directions and set aside.
In a Dutch Oven or large pot, combine sausage, beef, 1 cup of cooked bacon pieces, garlic, Italian seasoning, garlic salt, onion powder, smoked paprika and brown sugar. Cook over medium temperature until meat has cooked. Then add pasta sauce and diced tomatoes, cook for twenty minutes.
In a large-sized bowl, combine egg, ricotta and 2 cups of shredded cheddar cheese. Combine this mixture with meat sauce and cooked pasta. Put mixture into a 9x13 pan. Top with 2 cups of remaining shredded cheese and cover with tin foil. Bake for 25 minutes covered and 10 uncovered. Garnish with lettuce, pickles and bacon pieces.