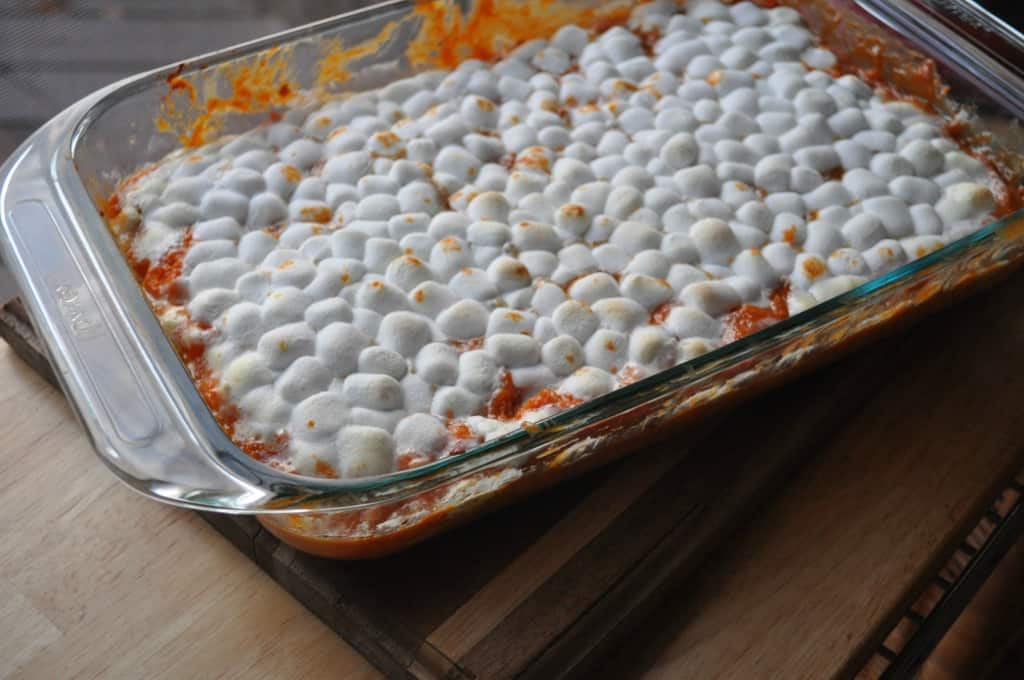 These Caramel Sweet Potatoes get a sweet spin with the addition of Annie B's Caramels-one of Oprah's 2014 Favorite Things.
When Annie B's, a Minnesota company contacted me and asked me to create a recipe with their award-winning caramels, I knew the perfect fit: sweet potatoes.
The day their caramels arrived, I snuck the box away from family.  In it was baking caramel for me to experiment with and also tucked inside were their handcrafted caramels. I examined each one: butter rum, amaretto, maple, sea salt and pumpkin spice.  It was like Thanksgiving dinner-where do you even start with so many yummy flavors!
Away from my kids, I enjoyed a sweet moment of quiet-just me and my caramels.  I saved the rest for my next moment of zen and took a peek at the baking caramel.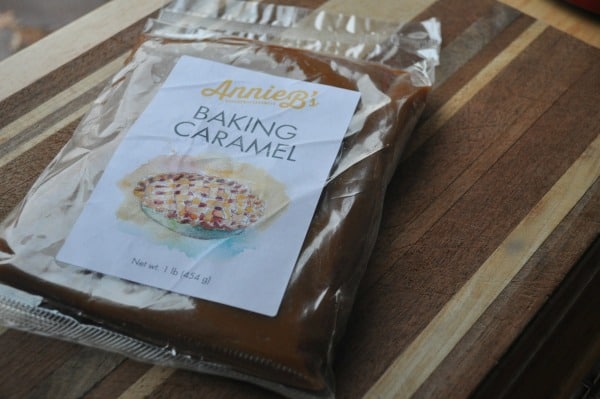 Yes.  You will do just perfect my friend.  You are about to complete a Thanksgiving marriage that people will ooh and aah about.  You will outshine dessert and perfectly compliment the bird and all of it's fixings. Now let's meet your partner in crime, sweet potatoes.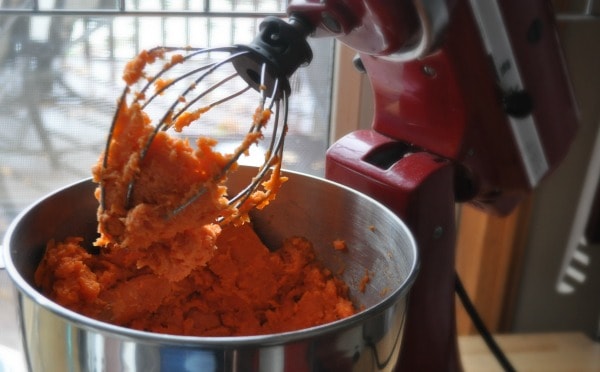 Well hello there beautiful.
What's that you're lonely?
Well let me introduce you to some friends.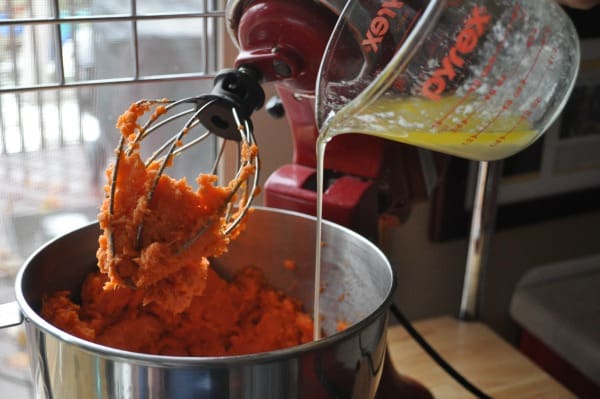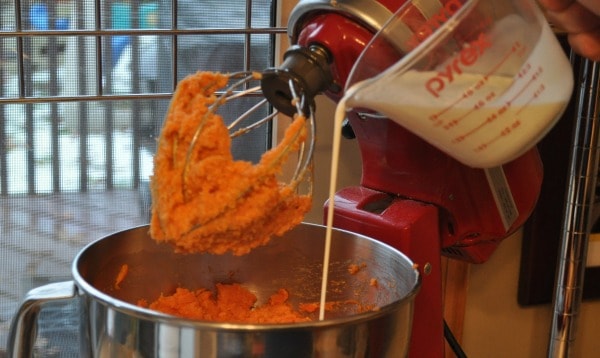 Now everyone is happy.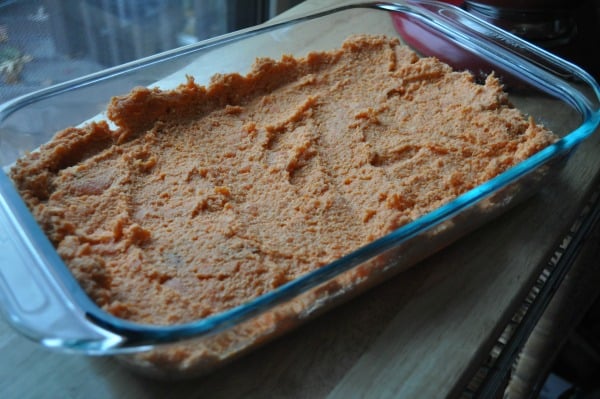 Spread in a 9×13 pan and get ready for our new friend.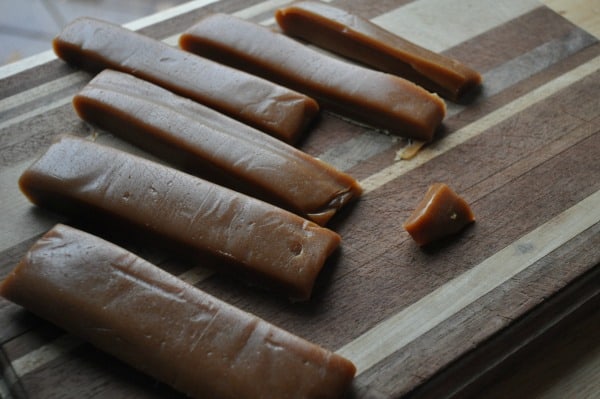 Slice that baking caramel into six large pieces.  If you aren't feeling like you can handle the sweetness, go for three pieces but I won't really respect you. This is Thanksgiving and this is not about moderation. This is about the oohs and aahs, remember?
Oh you are wondering about that little piece? Well, that's my snack piece.  I deserve a reward for working so hard in the kitchen, don't you think?
Press those pieces right into the sweet potatoes. Caramel Sweet Potatoes. BFF.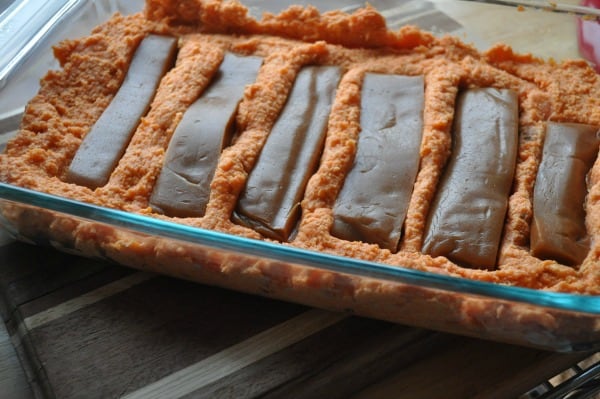 Then we're going to bake it for 20 minutes.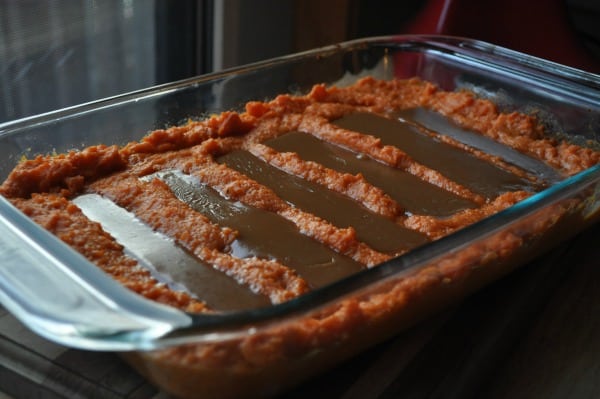 Now get that melted caramel all mixed in.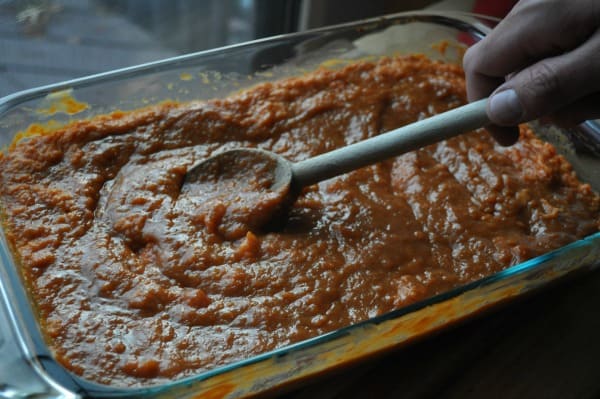 We're not done yet.  You can quit if you want to.
Yep we're doing this. 3 cups of those magical little puffs of sugar. Get it back in the oven until those marshmallows start to get nice and melty.
Now you're ready. Go on and outshine the dessert, compliment that Bird, Caramel Sweet Potatoes, I love you.
To purchase Annie B's caramel, buy online, search for a retailer near you or if you are in the Twin Cities, visit their Pop Up Shop in St. Paul. Enter the code OPRAH for 20% all of their wooden box caramels. Follow Annie B's on Facebook and on Twitter.
This post was sponsored by Annie B's and I received their product for this recipe. My disclosure policy.

Caramel Sweet Potatoes
Ingredients
3 lb Sweet Potatoes
½ cup Butter (melted)
½ cup Heavy Cream
½ tsp Cinnamon
Annie B's Baking Caramel (1 lb)
3 cups Mini Marshmallows
Instructions
Preheat to 375.
Roast sweet potatoes with skins on for 45 minutes or until fork-tender.
Remove skins of sweet potatoes and place potatoes in stand mixer. Add melted butter, heavy cream and cinnamon. Mix until creamy.
Spread potato mixture in a 9x13 pan.
Slice baking caramel into 6 large pieces and press into potato mixture.
Bake at 375 for 20 minutes.
Remove from oven, with a spoon, swirl around caramel until combined.
Add marshmallows. Return to oven for 4 minutes or until marshmallows begin to melt.