Original Turkey Tetrazzini recipe with leftover turkey and a cream cheese sauce! A traditional Turkey Tetrazzini recipe great for a crowd! Made with leftover Thanksgiving turkey and a cheesy cream sauce baked into a spaghetti casserole. No mushrooms and no canned soup!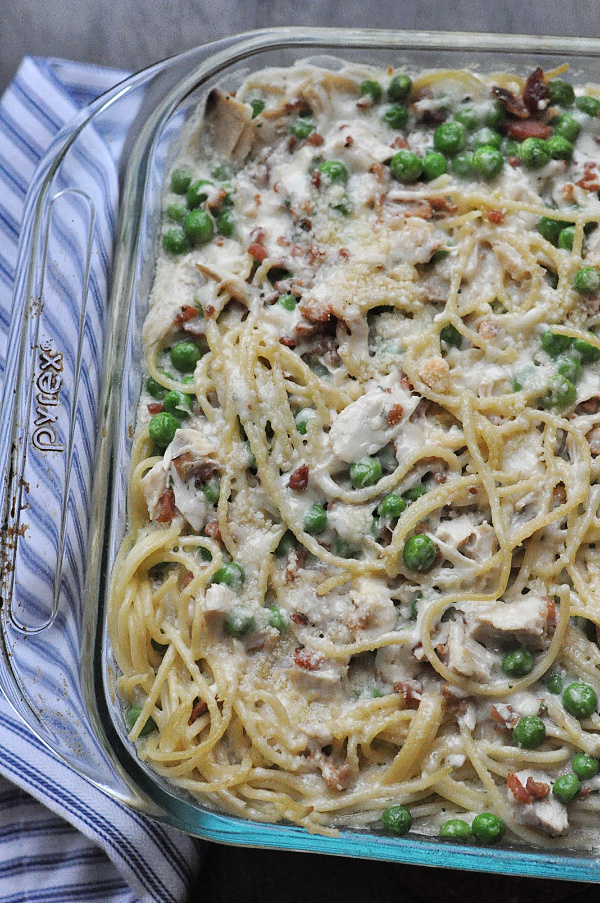 If you have extra turkey from Thanksgiving and you are looking for a way to use it up this traditional Turkey Tetrazzini recipe is a perfect meal to make!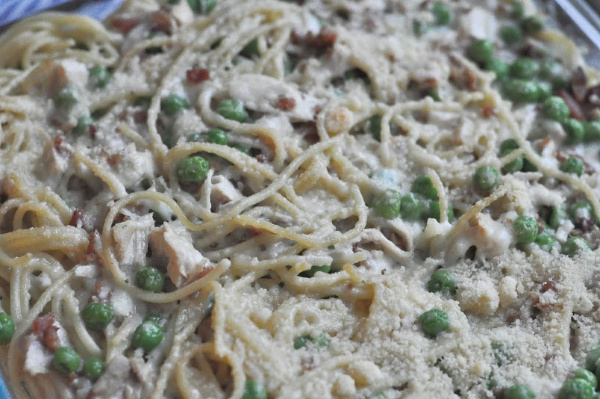 This Turkey Tetrazzini recipe will give you step by step instructions to make this classic comfort food casserole!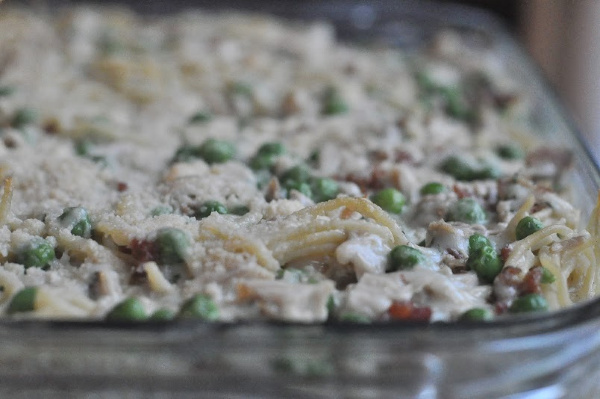 It's a big casserole of Turkey Tetrazzini so you can make this for your guests after the Thanksgiving holiday or for your family as you get ready to get back of the swing of things with meal planning and need a good weeknight meal for the week!
I picked up a turkey on sale this weekend and we're enjoying a lazy Sunday with more turkey, cornflake potato casserole and cheesy bacon green bean casserole.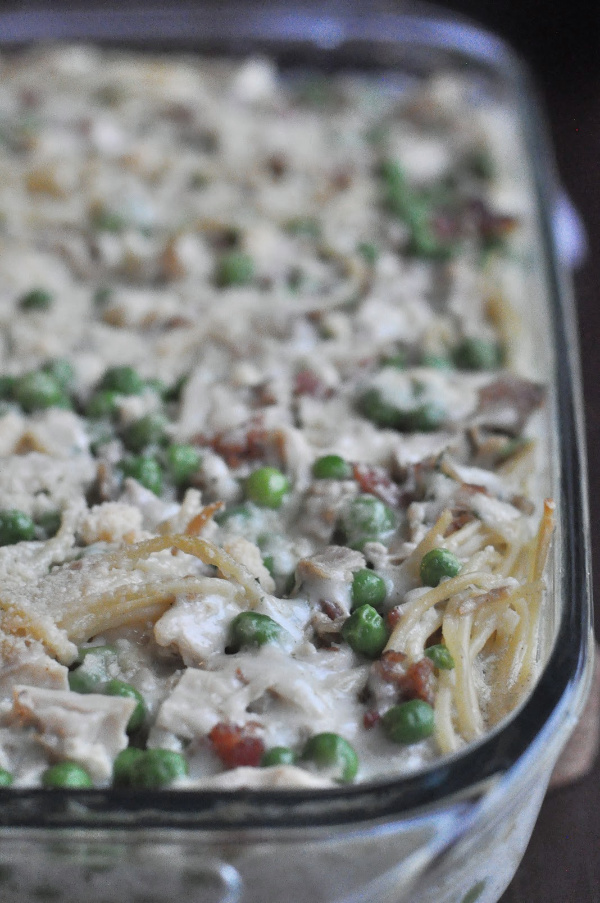 One of the reasons I love this Turkey Tetrazzini recipe is that it is creamy. The last thing I want to eat is a dried out casserole. I want a saucy, flavorful way to enjoy turkey and this is a perfect way to do it!
Whether you were sent home with a tupperware of leftover turkey or you got yourself a post-Thanksgiving turkey on sale, this is a great way to enjoy turkey!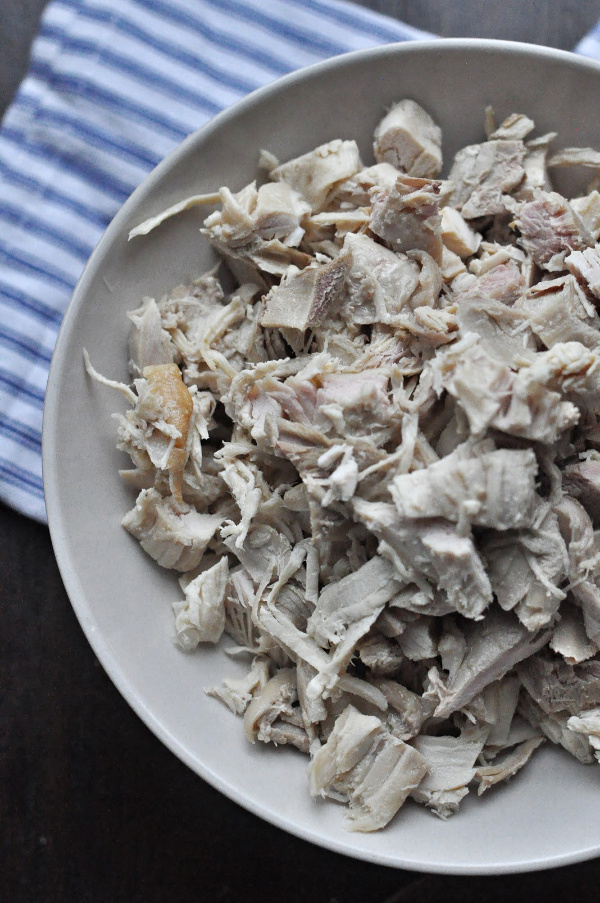 This year, we celebrated Thanksgiving at my sister's house. She'll probably kill me for posting this picture but gosh she's beautiful inside and out and I made her take a picture in front of her table before we sat down for dinner.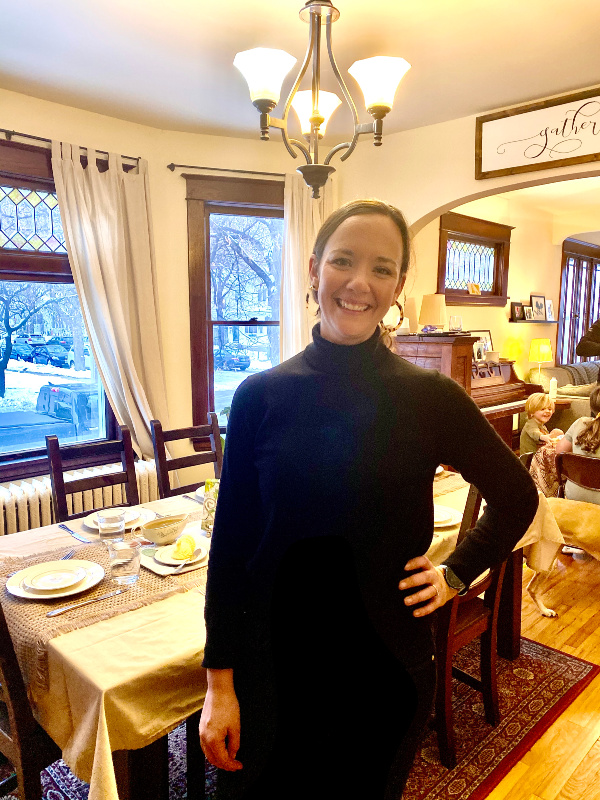 The holidays can be a hard time for many, truthfully, including myself. However, instead of focusing on the brokenness and absence, I will myself to see the joyful and loving people who show up in my life and my children's life and love us unconditionally. My sister is one of those people and I'm so grateful for her and the wonderful meal and time we shared together.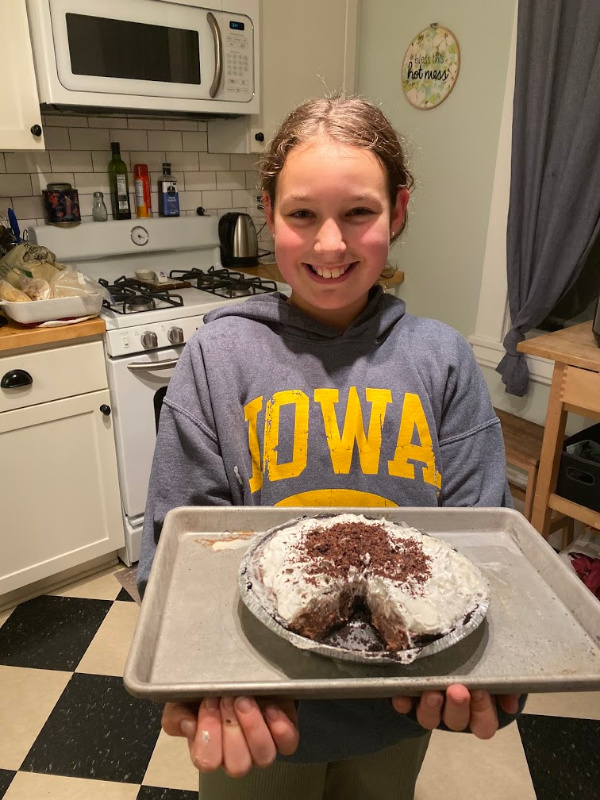 My daughter is very into baking right now and contributed to the Thanksgiving meal with a homemade chocolate pie she made herself!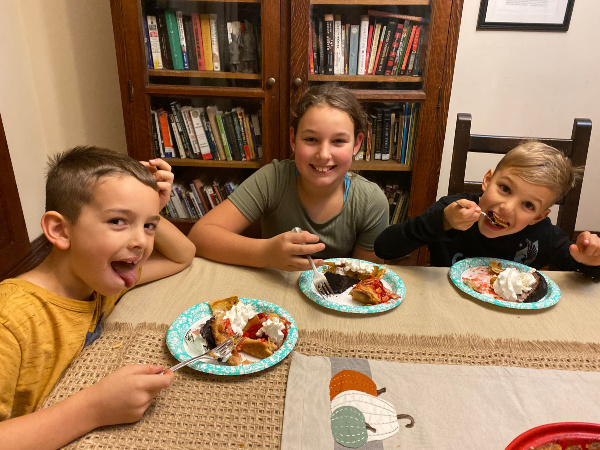 The kids enjoyed the dinner at a kids table and after dinner enjoyed a trifecta of pies! The adults enjoyed lots of laughs, relaxing on the couch, and catching up. It was a really great Thanksgiving. I'm thankful for the time together and the large sandwich bag of turkey my sister sent me home with that I used to make this recipe! I hope your family had a wonderful Thanksgiving and you were surrounded with love and kindness.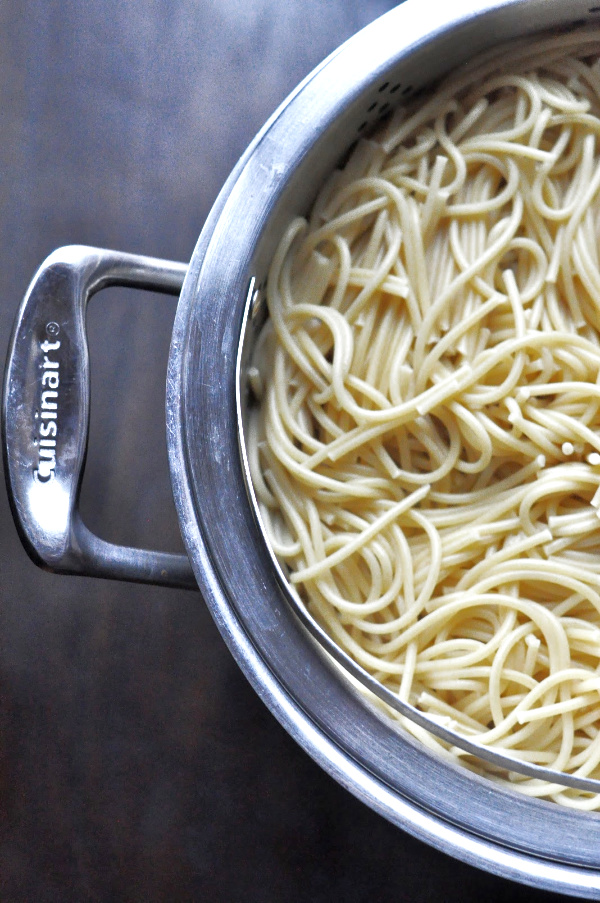 For this Turkey Tetrazzini recipe, I start with cooked spaghetti.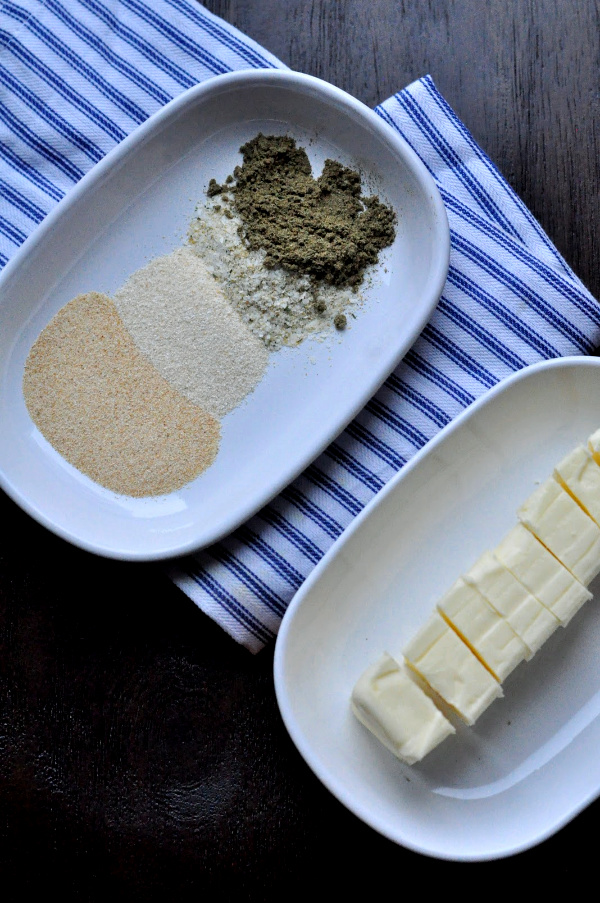 The cream sauce base starts with butter and seasonings.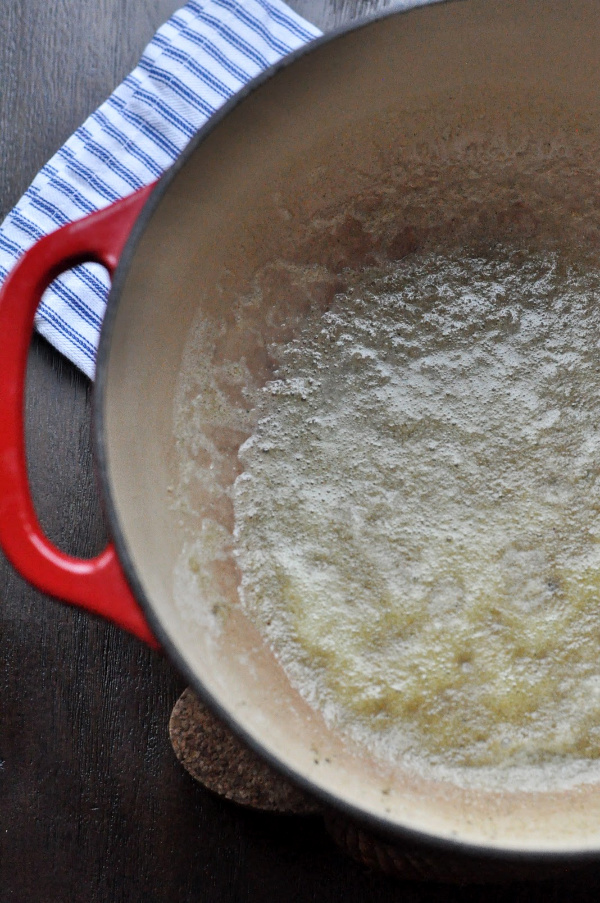 Once the butter and seasonings are melted together, add cooked bacon pieces. I never have a few pieces of bacon left when I make bacon so I usually pick up the packages of bacon you can find in the salad dressing area (look for pieces, not bits).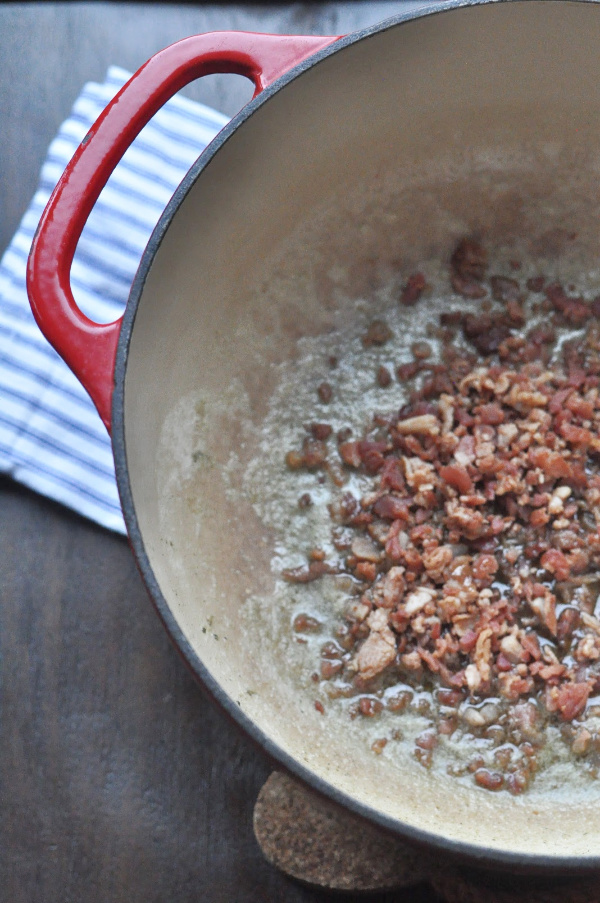 Add chicken broth to the bacon.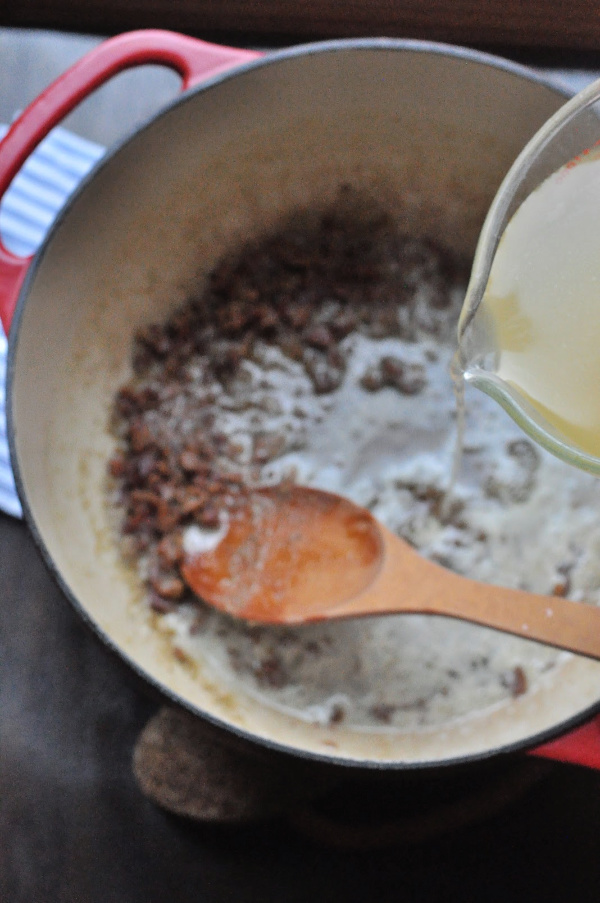 Whipped cream cheese is used in this traditional turkey tetrazzini recipe. I use it instead of sour cream and the whipped cream cheese is my favorite because it can be creamed right into the sauce.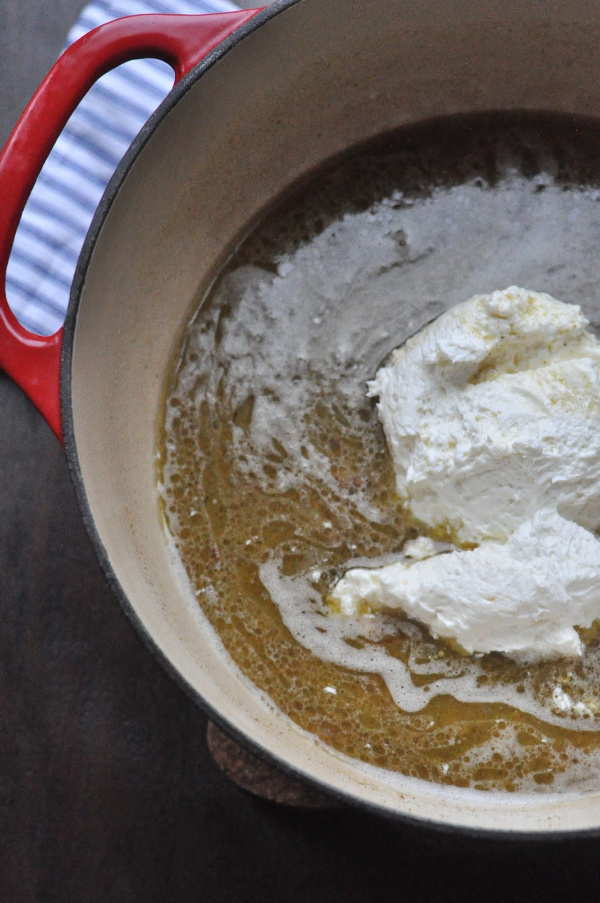 Then I add half and half and the peas. You'll see no mushrooms or canned soup were added to the recipe! It's super simple and something my kids love!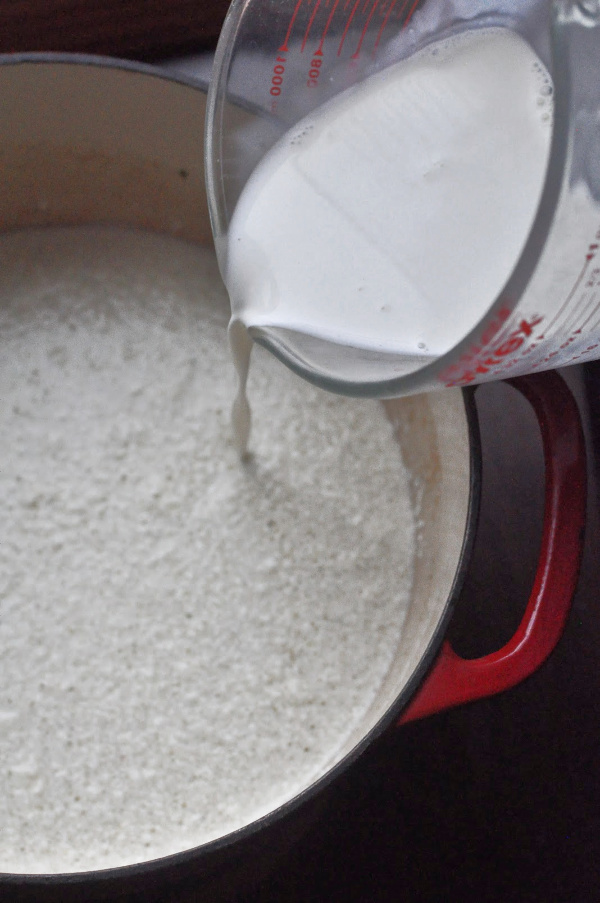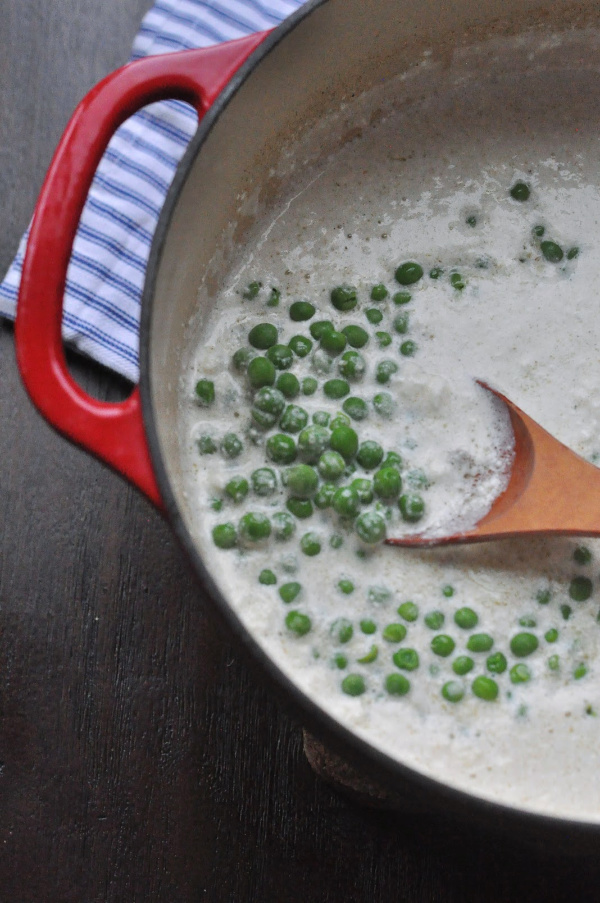 Now the leftover turkey!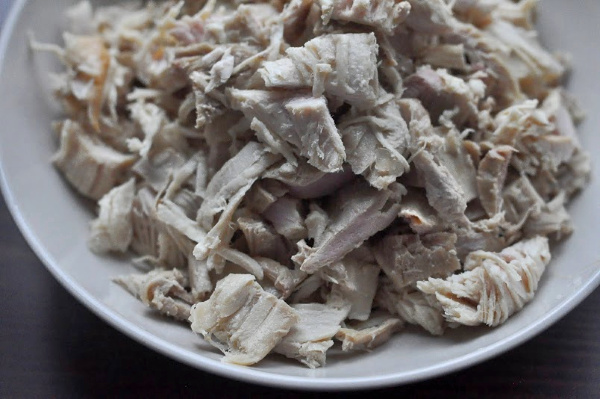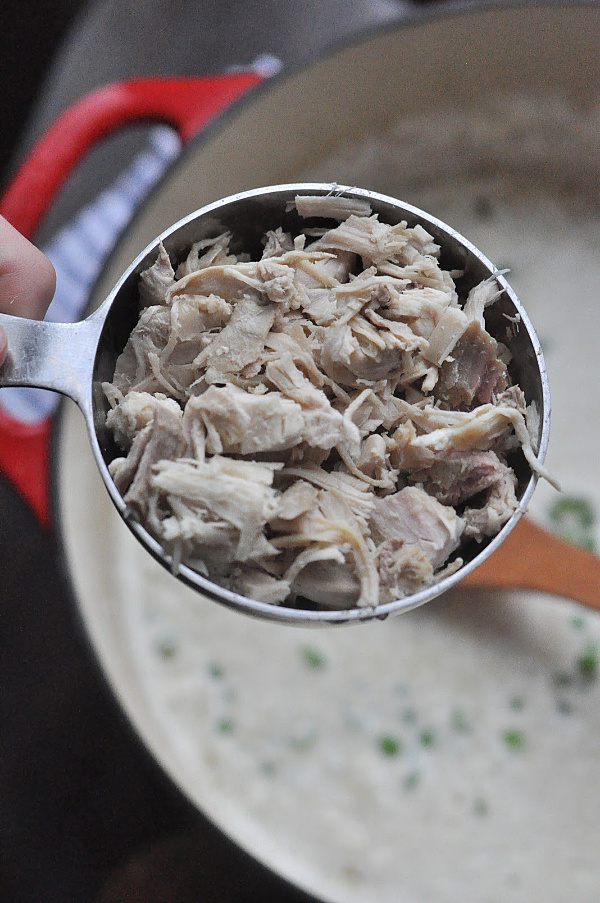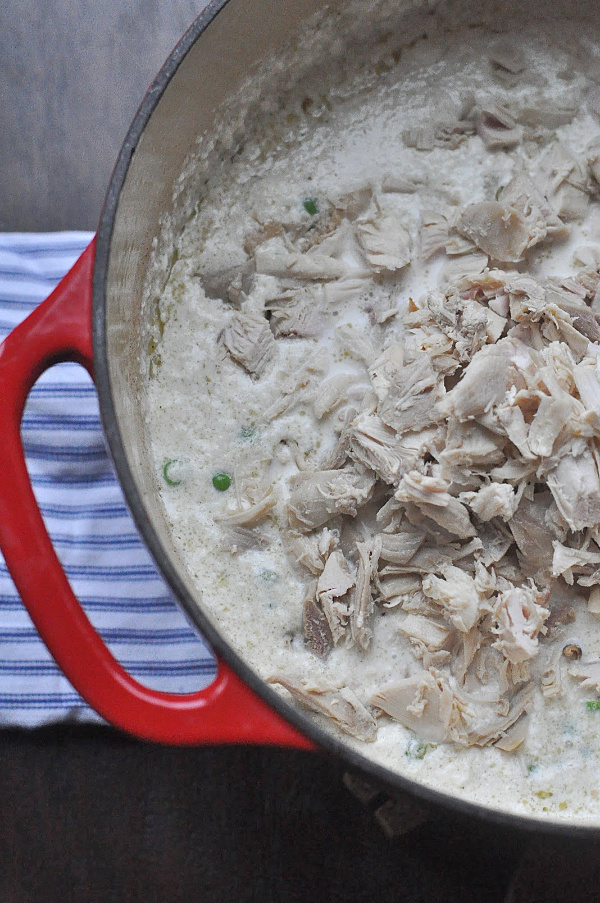 Add shredded mozzarella to make it a nice cheesy sauce!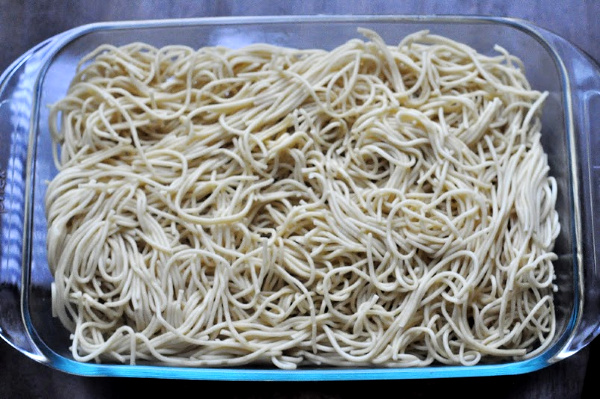 Put the noodles in a 9×13 pan and pour the turkey mixture right on top and mix up with a pasta spoon.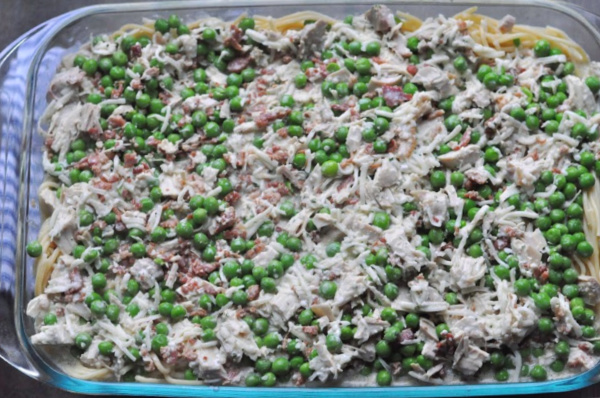 I like to add parmesan to the top and you could also add bread crumbs or cracker crumbs if you like.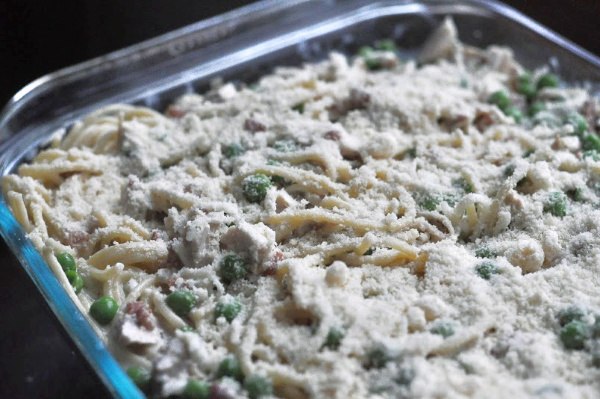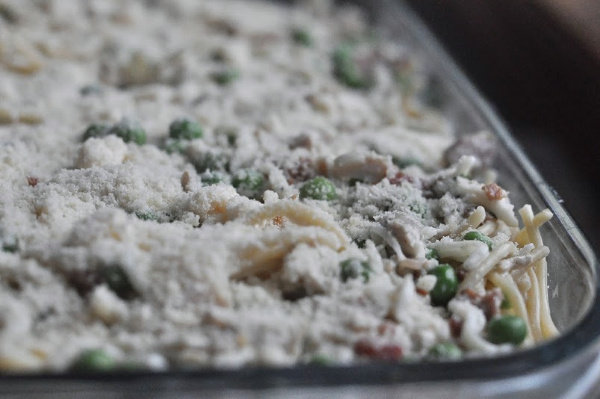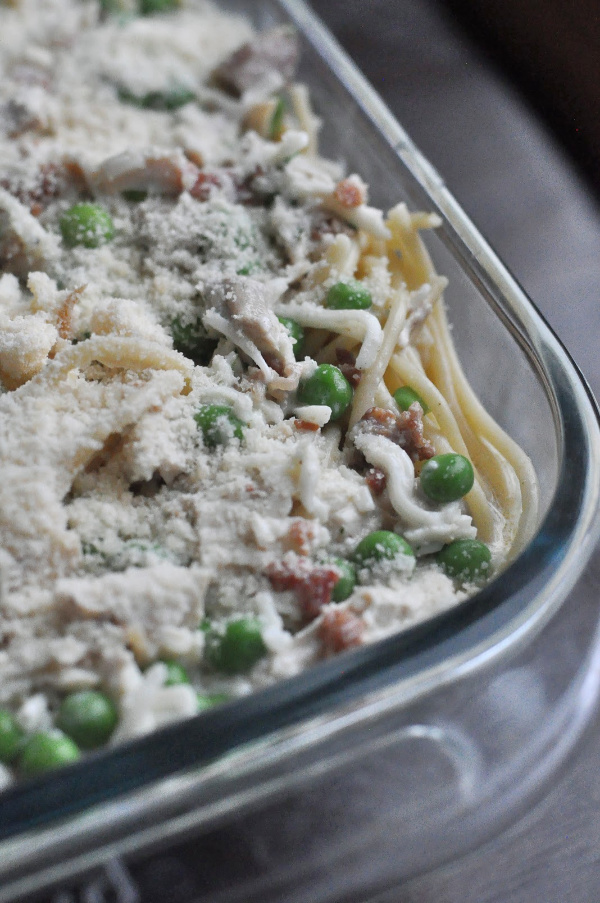 Bake the Turkey Tetrazzini until it is nice and bubbly! And enjoy with fresh ground pepper!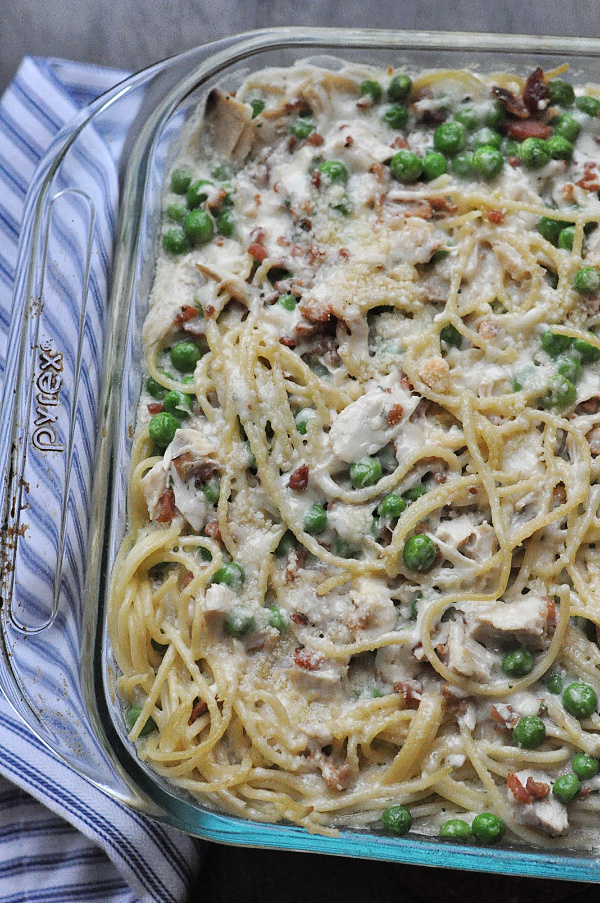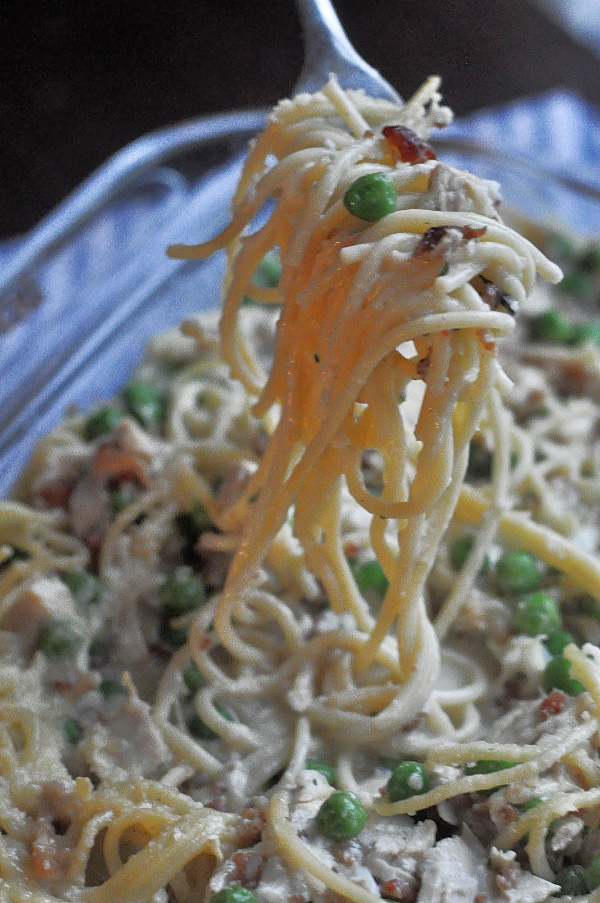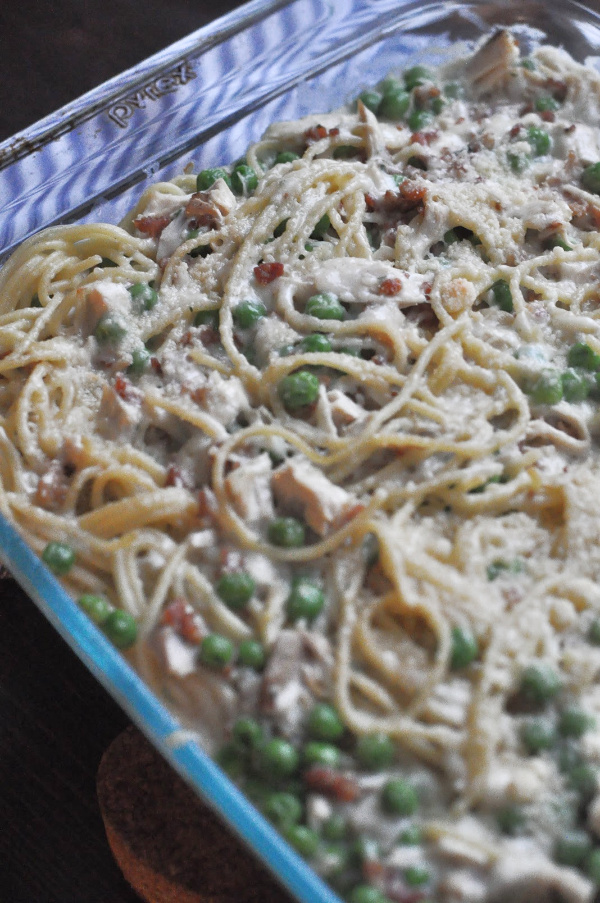 Yield: 8-10
Turkey Tetrazzini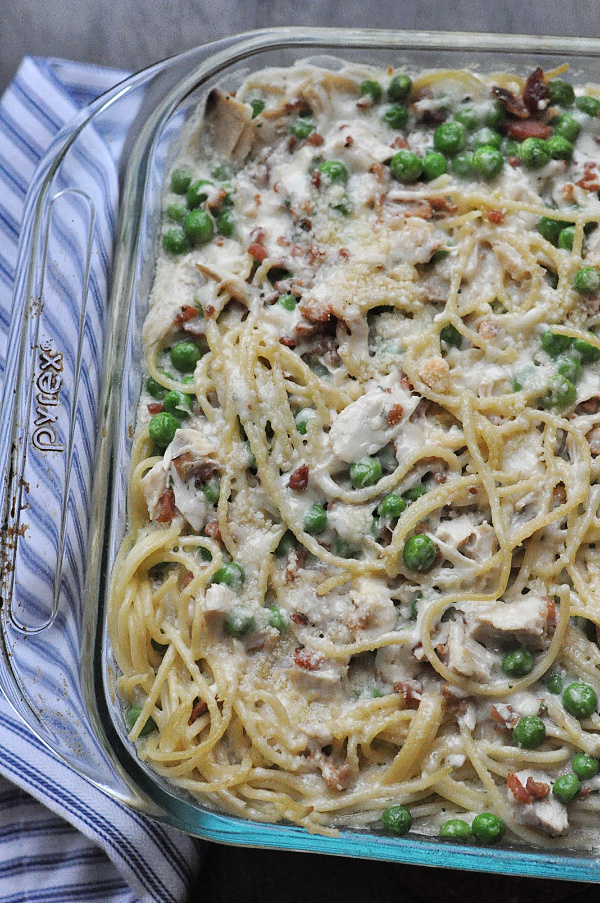 Original Turkey Tetrazzini recipe with leftover turkey and a cream cheese sauce! A traditional Turkey Tetrazzini recipe great for a crowd!

Prep Time 15 minutes

Cook Time 25 minutes

Total Time 40 minutes
Ingredients
1 (16 oz) package of Spaghetti pasta
8 TB Butter
1 tsp Onion Powder
1 tsp Garlic Powder
1 tsp Garlic Salt
1 tsp Poultry Seasoning
1 (2.8 oz) package Cooked Bacon Pieces
3 cups Chicken Stock
1 (8 oz) container of Whipped Cream Cheese
1 cup Half and Half
1 (12 oz) package Frozen Sweet Peas
3 cups Cooked Turkey (chopped into bite-size pieces)
1 tsp Dried Parsley
2 cups Shredded Mozzarella
1/2 cup Grated Parmesan Cheese
Fresh Ground Pepper to taste
Instructions
Preheat oven to 350 degrees.
Break spaghetti noodles in half and prepare pasta according to package directions for al dente (cook approximately 10 minutes).
Once noodles have cooked, drain, and set aside.
In a Dutch Oven or pot, melt butter over medium-low heat.
Once the butter is melted, add onion powder, garlic powder, garlic salt, and poultry seasoning. Stir to combine.
Add bacon pieces to the mixture. Stir until bubbling and add chicken broth.
Add whipped cream cheese and half and half. Stir and then add in peas, turkey, dried parsley, and shredded mozzarella. Set aside.
Add cooked spaghetti pasta to a 9x13 pan.
Pour the turkey mixture over the pasta. Use a pasta spoon to mix up the pasta and turkey mixture.
Sprinkle the grated Parmesan cheese over the pasta.
Cover with aluminum foil and bake for 20 minutes.
Remove the aluminum foil and bake for 5 additional minutes.
Season to taste with fresh ground pepper.
Notes
You can substitute the cooked turkey for chicken in this recipe! Feel free to add a bread crumb or cracker crumb to the top before baking!
Recommended Products
As an Amazon Associate and member of other affiliate programs, I earn from qualifying purchases.
Nutrition Information:
Yield:
10
Serving Size:
1
Amount Per Serving: Calories: 337Total Fat: 22gSaturated Fat: 12gTrans Fat: 1gUnsaturated Fat: 8gCholesterol: 98mgSodium: 626mgCarbohydrates: 13gFiber: 1gSugar: 4gProtein: 22g

Nutrition information is estimated. Please use a validated nutrition tool to verify the information.