I'm Here to Help You Savor and Celebrate Motherhood
Hi! I'm Alice, the creator of Dining with Alice. I'm a mom to two school-aged kids (Stella and Wes) and I've turned my passion for food and writing into a blog where I help moms savor and celebrate motherhood.
Our kids are growing up fast and we can't stop them from growing up but we can slow down, savor, and celebrate our lives with our families.
I want to help you conquer the kitchen, be the mom you want to be, and make room for who and what you want in life.
In my kitchen, I have a huge sign that says, "Gather." To me, that sign means we gather together to celebrate good food and have meaningful conversations together. That's what I hope for your experience here on Dining with Alice, moms gathering together to find great recipes for your families and honest conversations about motherhood.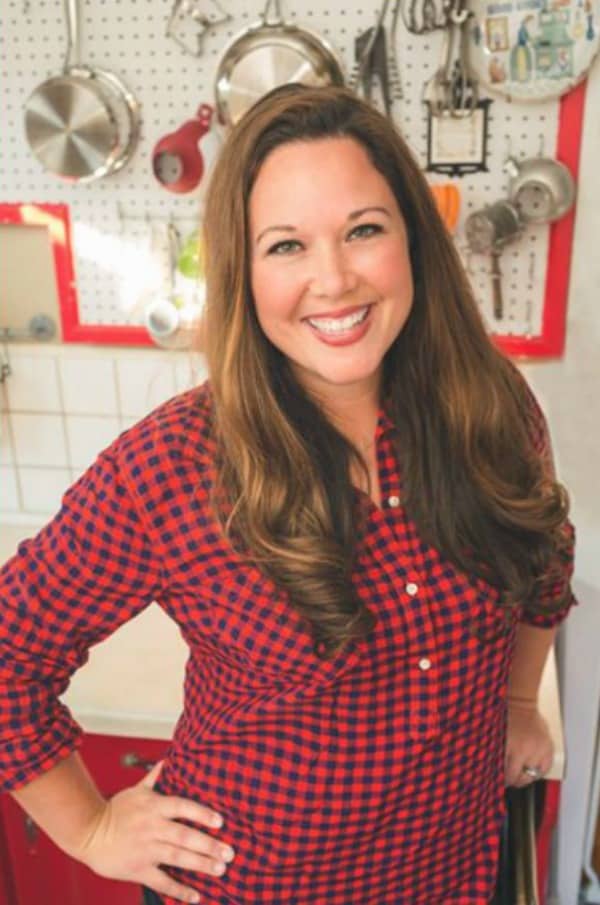 My Cooking Credentials
I've been sharing my recipes on Dining with Alice for over 10 years. I was inspired to start cooking because of my Granny Alice. Granny Alice was a lunch lady in school cafeterias in Minnesota. She cooked classic comfort food and her food was the center of our family celebrations.
My cooking is inspired by this idea of bringing family and friends together to celebrate with fun, feel-good food that isn't complicated but is full of flavor.
I love to be the person who gets asked for the recipe for their dish at a potluck or party. I super love when my dish is the first to get finished! So that's how my blog was born, I was always getting asked for my recipes and I was sick of always emailing them out so I started a blog!
I cook for moms who love easy recipes that taste awesome. I've been cooking on television for over nine years (I've even appeared on the Rachael Ray Show) and I always hear from viewers that my recipes are family-friendly and easy. In fact, here's what my readers say about my cooking:
"You always have the most practical and delicious recipes!"
"Cook these about 2x a month. My boys love them and now my 14-year-old makes them on his own. Thanks, Alice!"
"Loved this recipe. It was so easy and delicious! Thank you!"
"Alice once again a knockout recipe! Thanks! My husband had to restrain himself from licking his plate clean. This is a keeper!"
"This was awesome! I made it last night and both my husband and I give it two thumbs up. Yummy!"
"I just made this for my family for Thanksgiving dinner and we all LOVED it! We'll definitely be making this again! Thanks!!"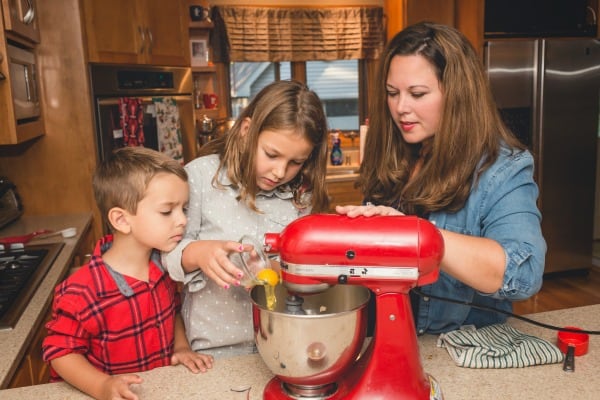 My Experience in Motherhood
I'm a mom to two young children. Honestly, becoming a mom has completely changed me. My heart, mind, and body have changed. Here on my blog, I talk about those changes and feelings.
For many years, prior to having children I struggled with my body image, you'll find in the essays that I share, talk about my body image struggles and the journey I'm on to find body acceptance in motherhood, and then teach that body love to my children.
I am a mom who works outside of the home, so I share my experience and thoughts with trying to find balance. How do we make time for it all? Is that even possible? Those are some of the questions I try and answer with my writing.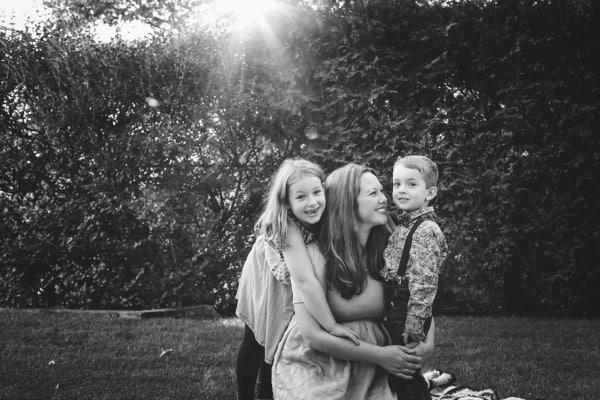 Finally, one of my biggest realizations as a mom is that life is just so short and our kids really do grow up so fast. How do we emotionally stay present and support our kids as they grow older? I'm a self-declared recovering perfectionist who wants to seek out happiness and savor motherhood, in all its messy and joyful parts. I talk about the joys and challenges here because moms need to be surrounded by friends who welcome imperfection and talk about it openly. Being the mom you want to be, means shedding some of the stereotypical motherhood expectations we've been spoon-fed. Motherhood is messy, beautiful, and hard all at the same time, and I'm here to talk about that.
Here's what my readers have to say about my essays on motherhood:
"Thank you so much for sharing your story! I am relieved to know that I'm not the only one having feelings like these, which have really hit me over the last month."
"Thank you for writing this; it brought tears to my eyes. It is nice to know this is normal, and that this feeling is a form grief, not craziness. May motherhood continue to bring you all great joy and may you find new avenues for growth."
"So wonderfully written. Your words are always so powerful. This is the internal conversation that I have been having with myself lately. It was a hard year, filled with so many responsibilities. But we just keep swimming and we just keep trying to do better every day. "
"Oh, my heart hurts. My eyes hurt. No, I will not cry! but this was so beautiful. You take the words of a wonderful mother and make other mothers feel them verbatim."
"That was a really beautiful post, Alice. It made me think about all the times my daughter has told me how pretty she thinks I am and I've responded in my head, "Are you kidding me?" because she sees me in every possible disheveled state. This post reminds me that our children probably think we're the most beautiful people in the world."
"Your writing lately has just nailed the entire motherhood experience! So beautifully written and full of truths! Thank you for spreading truth and sisterhood about motherhood. Love and peace!"
"I love how honest you are. Three kids later and I also "haven't lost the baby weight" and I can be so hard on myself about it. I need your picture and quote on my bathroom mirror so I can see it every day!"
"This blog article should be submitted to a magazine. Your writing is both on-spot and reads like poetry. "
"You continue to be real. To be honest. To be vulnerable. And even across an impersonal platform like the internet, you continue to share emotion and truth and encourage others to do the same. Every time we read one of your stories, Alice, we are thankful again to know you. You are such a blessing."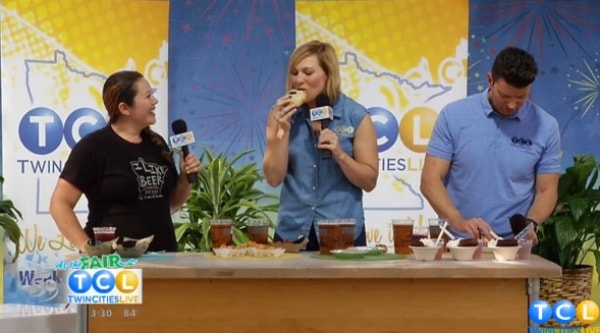 My Drive for Living An Inspired Life
I started my blog in 2007, in 2009 I started cooking on a local cooking show, in 2010 I tried out to be the Twin Cities Live home-cook, Kitchen Star. And in the mix, I became a mom and I started writing about my motherhood experience on my blog and was later picked up as a regular contributing writer for Scary Mommy and HuffPost. I've cooked on national television programs and my tips and tricks for savoring and celebrating motherhood have been shared across the globe.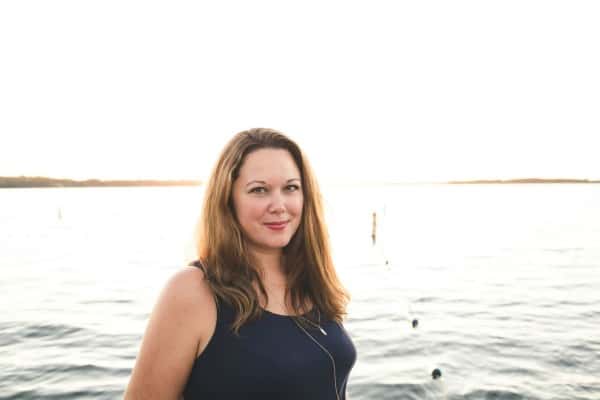 That is all super awesome and amazing, but when I get down to it, I live an inspired life because I am inherently connected to the joys and passions in my life. I make time for the people and things that matter most to me. I also have figured out the tips and tricks that will help me make those special connections happen.
Who do you want to spend the most time with in your life?
What activities do you want to take up your time?
What passion projects, hobbies, or activities do you love the most?
What have you been saying, "I'd love to.." but haven't yet figured out a way to get there yet? Is it a trip? A class? Or maybe just taking time for yourself?
I want to use my experience living an inspired life to help you find your inspired life.
Here's what my readers have to say about my posts on living an inspired life:
"Thank you for this. In a way, I needed to hear it. We'll plant some flowers, have a simple meal with minimal cleanup and just BE TOGETHER. In the end, that's what every day is all about. Duh! Why didn't I think of that!"
"Thank you for the useful tips. I'm a huge fan of Target cartwheel, so far I humbly save about $543. I'm so glad that we actually can save a lot while spending our dollars."
"Alice, this is exactly what I needed! You are that grace, and your words are a much-welcomed gift and much needed "lift" out of this mamas head under water!"
"Alice – Since that first contest on TCL to your FB page to this post, you've done such a great job at sharing innovative recipes, your family values and the things that are important to you. And for your fans, we're right there enjoying it along with you."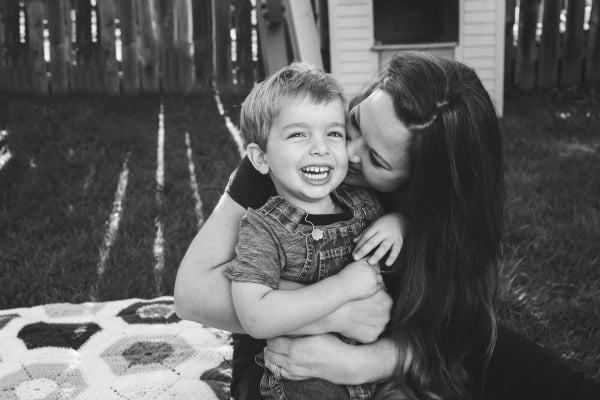 Let's Get Started
We only have one life, let's fill it with what matters most to us. I believe in doing what makes you happy and surrounding yourself with the people and activities that you love the most. I'm here to help you get more quality time with your kids and show you which tips have saved me considerable time, I'm here to talk openly about the joys and struggles of motherhood, and finally, I want to help you also lead an inspired life. What passions and hobbies do you have? How are you making time for self-care? Are you allowing the things you love to take up the most space in your life?
I'm giving you recipes that are easy but will have your kids, family, and friends asking for more. You are going to be the lady at the potluck who has the best dish.
I'm going to be real and vulnerable about my thoughts on motherhood. I speak from my own experience and hope you can take that experience and be the mom who you want to be.
I'm going to help you find the connection to the people and things that matter most to you. Often in motherhood, we put ourselves last and we forget about the importance of savoring and celebrating life through friendship, travel, hobbies, and especially, self-care. I'm going to help you remind you what matters most and help you make those connections.
That's me. I'm glad you're here. Now, let's do this motherhood thing!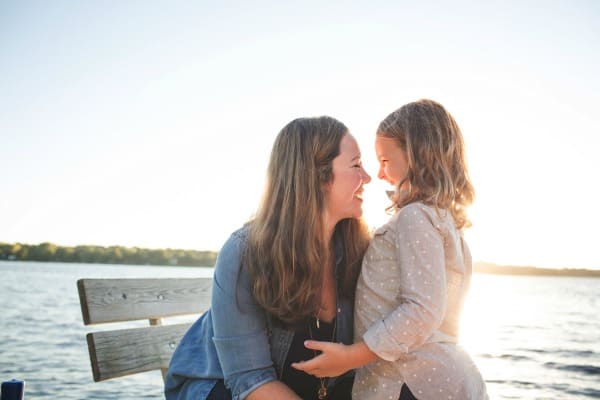 Photos on this page: Sarah Hudson Photography
Disclosure and Privacy Information for Dining with Alice