Roasted sweet potato salad made with figs, pomegranate seeds, lentils, and drizzled with a maple balsamic dressing. This vegan roasted sweet potato is delicious cold or warm.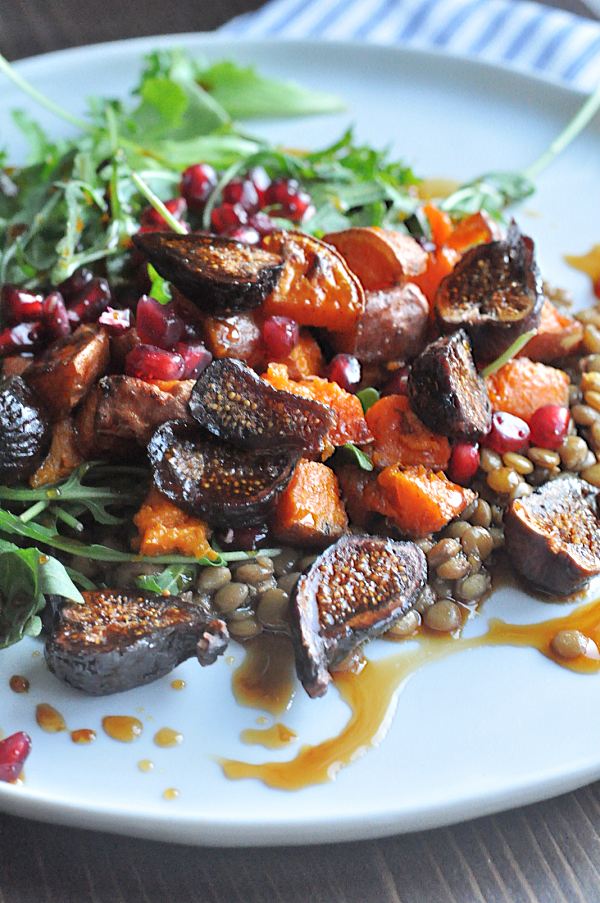 It's a new year and a great time to pack your menu with more plant-based foods! Whether you are vegetarian, like to practice Meatless Mondays in your house, or just trying to get more veggie-based meals, this roasted sweet potato salad is a really great salad that can be a family weeknight meal or something you can prep and pack away for lunches during the week.
After the holidays, it is HARD to come off all those cookies, appetizers, and heavy meals. For the new year, I wanted to create a salad I was excited about! This roasted sweet potato salad is packed with lots of yummy ingredients that totally make me feel excited about a salad meal.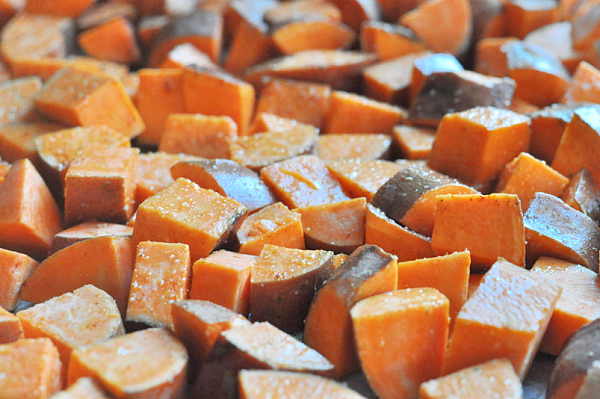 To start the recipe, I'm using 3 lbs of sweet potatoes and roasting them. This recipe makes a large batch that you can use for to prep the salad through the week or add to other meals like your morning eggs.
For these sweet potatoes, toss them in Olive or Avocado Oil, then season with garlic salt and smoked paprika.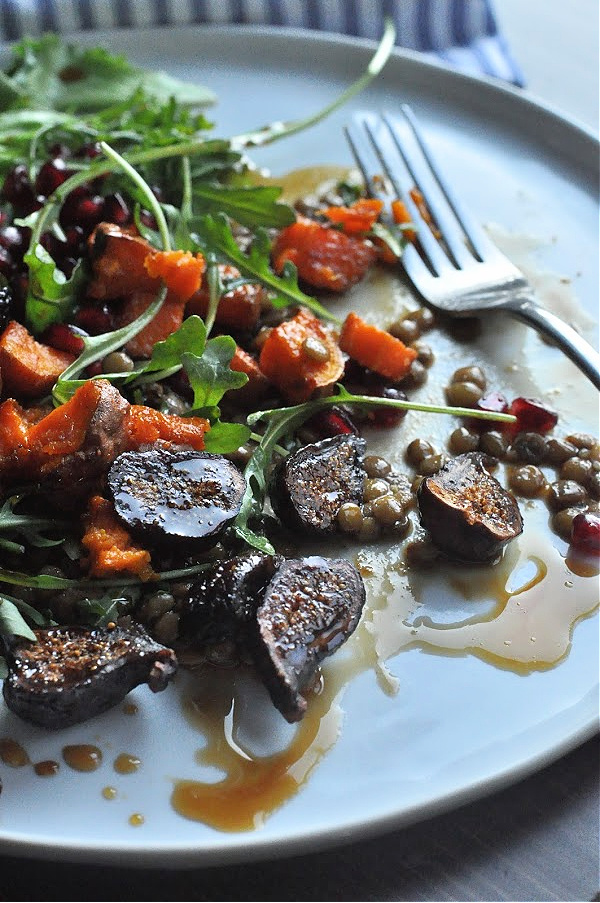 You'll notice in this roasted sweet potato salad, I've also included some green/brown lentils. This is a vegetarian/vegan salad and instead of adding a meat to the salad I've used lentils. If you're worried about protein without meat, no worries because lentils are a great source of protein and bonus, fiber too!
I make my lentils in the Instant Pot (directions in the recipe card). You can also buy cooked lentils (these are usually black lentils) which work perfectly fine. You may also make your lentils via the stove top and that's fine too.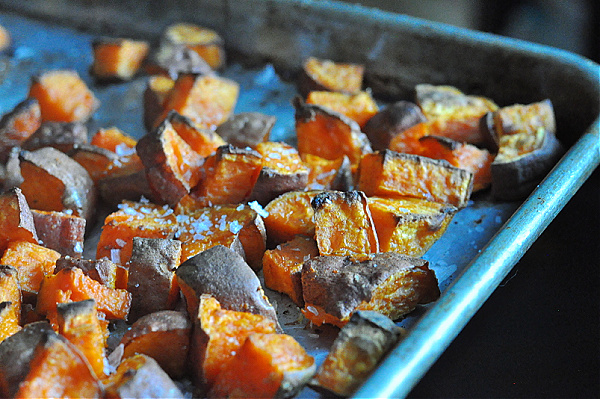 Once your roasted sweet potatoes come out of the oven, I dare you not to snack on a few pieces. The sweetness comes out in the roasting and they are so good! I like to add Maldon sea salt flakes after cooking. Regular salt works too!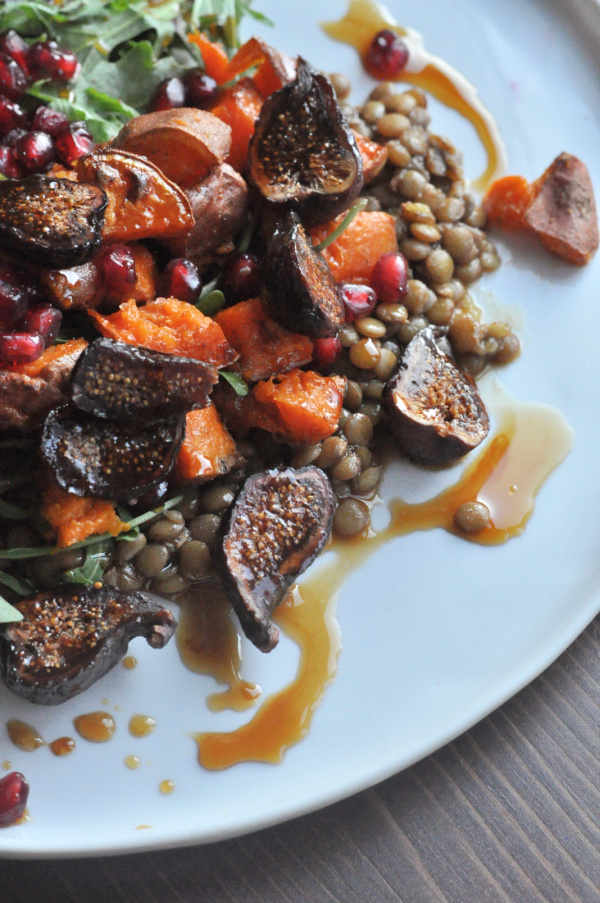 The two fun additions to this salad are figs and pomegranate seeds. For me, this is one part that makes the salad exciting. I love the pops of flavor from the pomegranate seeds and the figs make me feel like I'm enjoying a restaurant salad but right in my cozy home.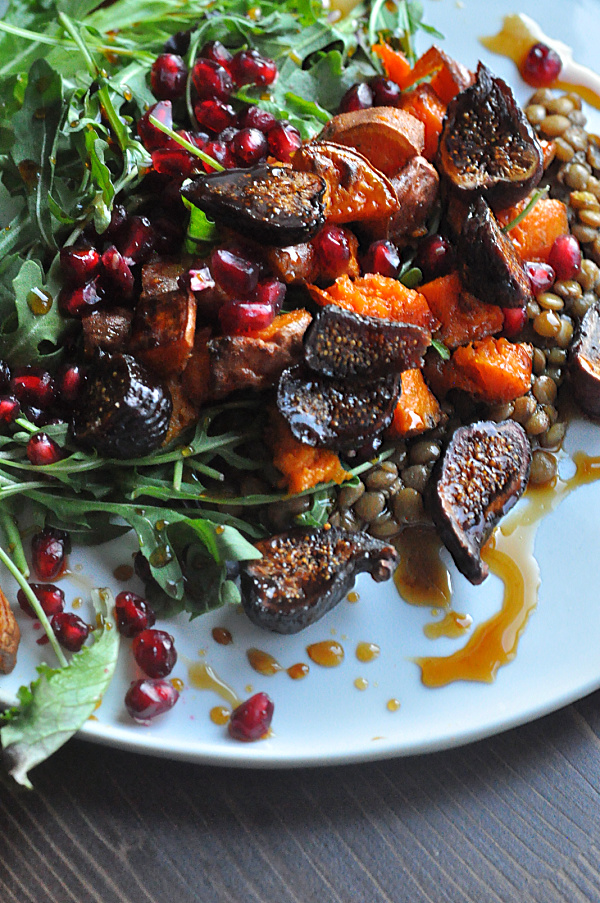 For this roasted sweet potato salad, I use both mixed greens and arugula. Use whatever you like. I love the peppery flavor and I think it's great mixed with other greens. Finally, the dressing! This is a super simple Maple salad dressing I use on my Roasted Pumpkin Salad.
You can meal prep this salad or serve it as a family meal!
Enjoy!
If you are looking for some other tasty salads, try my Taco Salad or my Thai Steak Salad.
For more vegetarian meals, try my Vegetarian Wild Rice Soup or my Mushroom and Beet Black Bean Burgers.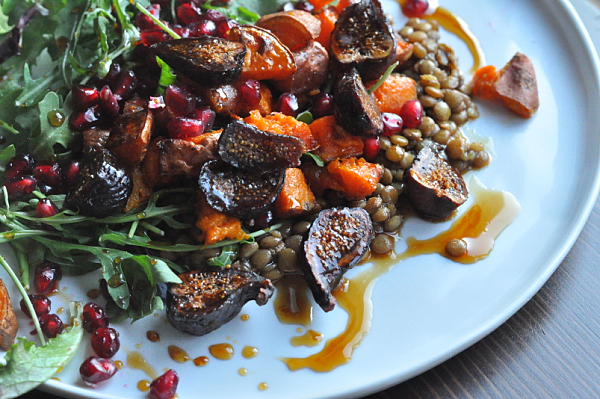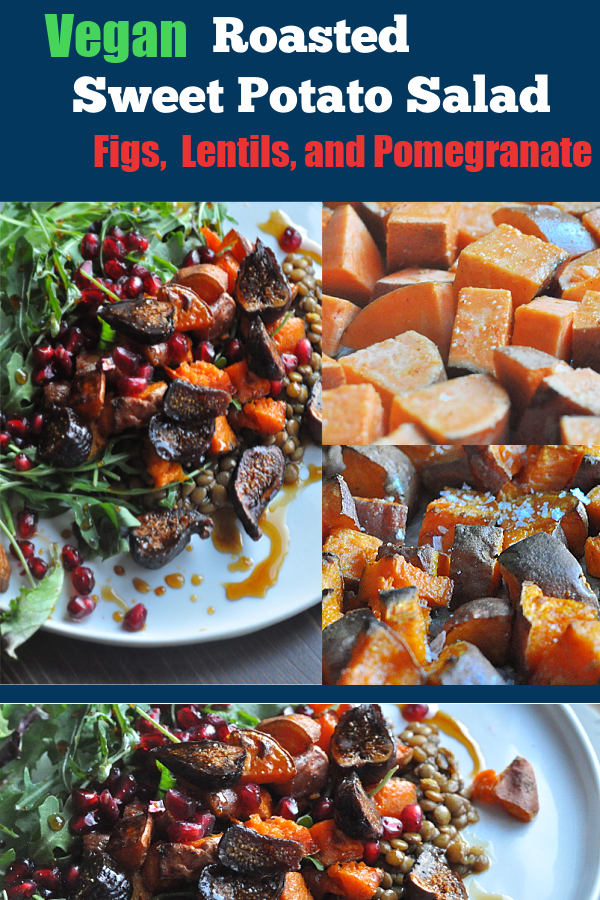 Yield: 4-6
Roasted Sweet Potato Salad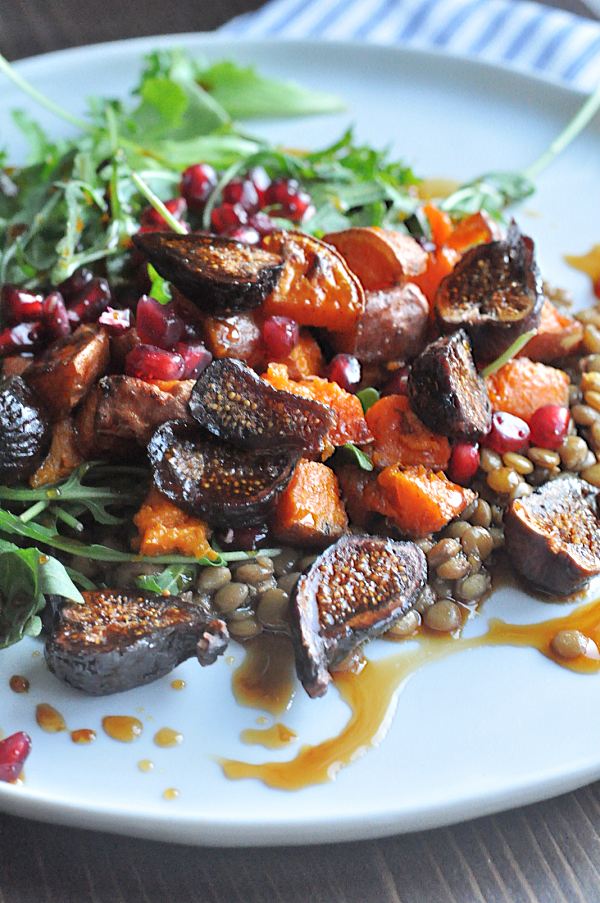 Roasted sweet potato salad made with figs, pomegranate seeds, lentils, and drizzled with a maple balsamic dressing. This vegan roasted sweet potato is delicious cold or warm.
Ingredients
3 lbs Sweet Potatoes
2TB Olive Oil
2 tsp Garlic Salt, divided
2 tsp Smoked Paprika, divided
Salt to taste
1 cup Green/Brown Lentils (Dried)
1.5 cup Vegetarian Broth
1 (7 ounce package) Sun Maid California Mission Figs
1 Pomegranate
1/2 cup Maple Syrup
1 TB Balsamic Glaze
1 TB Apple Cider Vinegar
4-6 cups Mixed Greens, Arugula, or favorite lettuce
Instructions
Preheat oven to 450 degrees.
Cube sweet potatoes (no need to peel) and arrange on a jelly roll pan. Toss cubed potatoes with Olive Oil, 1 tsp of garlic salt and 1 tsp of Smoked Paprika.
Roast sweet potatoes for 15 minutes, then flip potatoes and roast an additional 15 minutes. Change oven setting to Broil and broil potatoes for 5 minutes.
When sweet potatoes are roasting, prepare the lentils in your Instant Pot. To the Instant Pot, add lentils, broth, 1 tsp of Garlic Salt, and 1 tsp Smoked Paprika. Stir to combine and cook in your Instant Pot for 9 minutes on manual. Once cooked, do a quick release.
Season the roasted sweet potatoes with salt (I like Maldon salt).
Slice figs and seed the pomegranate. Set aside.
For the Maple salad dressing, combine Maple Syrup, Balsamic Glaze, and Apple Cider Vinegar. Set aside.
Once the lentils are cooked, drain the liquid.
For each salad, add the lentils, favorite mixed greens, cooked sweet potatoes, sliced figs, pomegranate seeds, and drizzle with maple salad dressing.
Notes
You can meal prep this salad by packaging up all the ingredients and assemble the salad through the week.
Recommended Products
As an Amazon Associate and member of other affiliate programs, I earn from qualifying purchases.