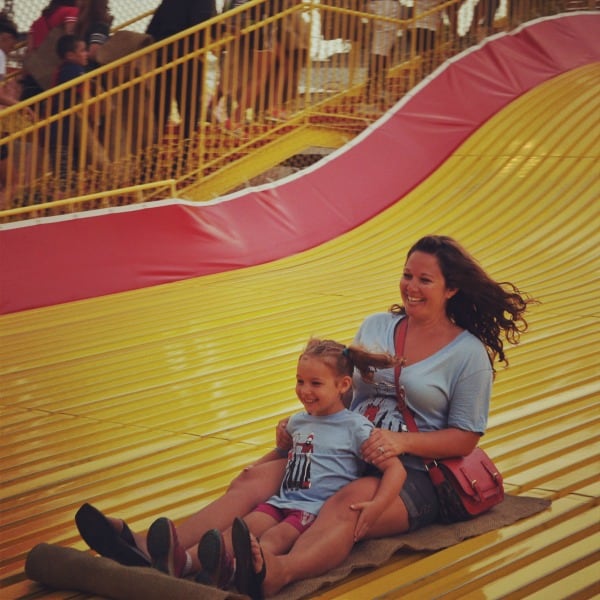 Oh guys!
Remember summer?!?
What the heck! Where did it go?
This is one of my very favorite pictures from the summer. You know where it was taken right?
You guessed it, the Giant Slide at the Minnesota State Fair!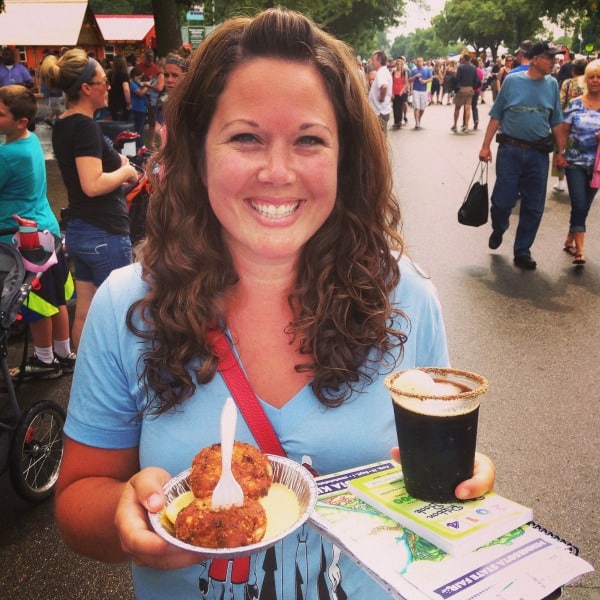 I had to sneak in a picture of Minnesota State Fair food. Remember the S'mores beer? Look at me-beer, walleye cakes, guidebook and map in hand-holy moly that's a happy camper!
I love Minnesota. I grew up here, live for the Minnesota State Fair and genuinely love all things Minnesota.  Before the Minnesota State Fair this year I was looking for some matching family shirts. Yes, we wear matching family shirts and it's awesome.  We have matching family jammies, shirts with our last name and my husband doesn't want you to know but I've even bought our family matching superhero outfits.  This year I wanted matching Minnesota shirts.  Not as easy as you might think friends, and then I found the MPLS/STP Clothing Co web page. I called Paperhat in Minneapolis and checked to see if they had sizes for our whole family and when they did, I got in my minivan and drove right over (yes, I drove to Minneapolis).
Our whole family loved the Paul and Babe shirts.  I also found a super cute Minnesota'N shirt that I had to have too. I even wore that on Twin Cities Live during the fair because I loved it so much!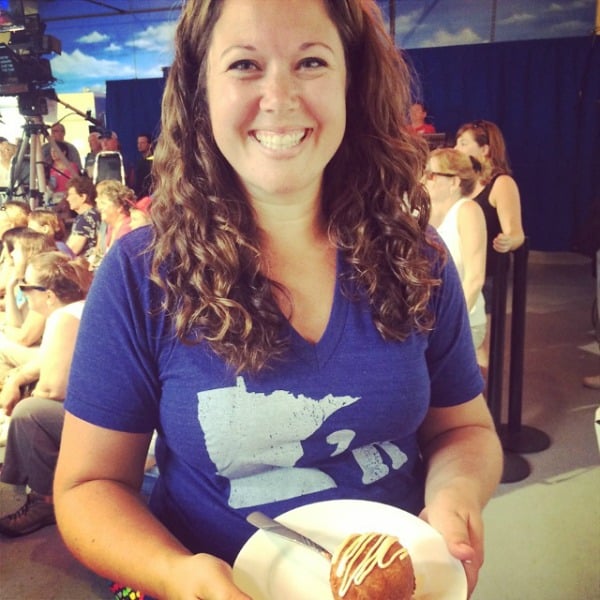 I totally love the colors, styles and fit of these shirts and what an awesome matching family shirt!  But here's the really cool part: they make community-inspired & socially conscious Minnesota t-shirts. Their shirts are about what we love best-Minnesota and our community! Their shirts are designed by a local Minnesota artist and printed in St. Paul!  With every t-shirt you buy, they donate a portion to their non-profit partner, Minnesota Computers for Schools, a Minnesota-based non-profit that provides technology access for lifelong learning. The organization trains Stillwater Correctional Facility inmates to refurbish computers donated by local businesses and then the computers are shipped to K-12 schools across the state!
I was so excited that Clint from MPLS/STP Clothing agreed to give my readers a chance to win two shirts for my Birthday giveaway!  Follow the Rafflecopter instructions for a chance to win and for a blog comment tell me your favorite birthday memory.
Have you read my Why Birthdays Matter post? Check it out and enter to win some of my favorite Minnesota products and services!
Go give MPLS/STP Clothing Co. some love on social media too!
MPLS/STP Clothing Co. Facebook Page
MPLS/STP Clothing Co. on Instagram
MPLS/STP Clothing Co. on Twitter