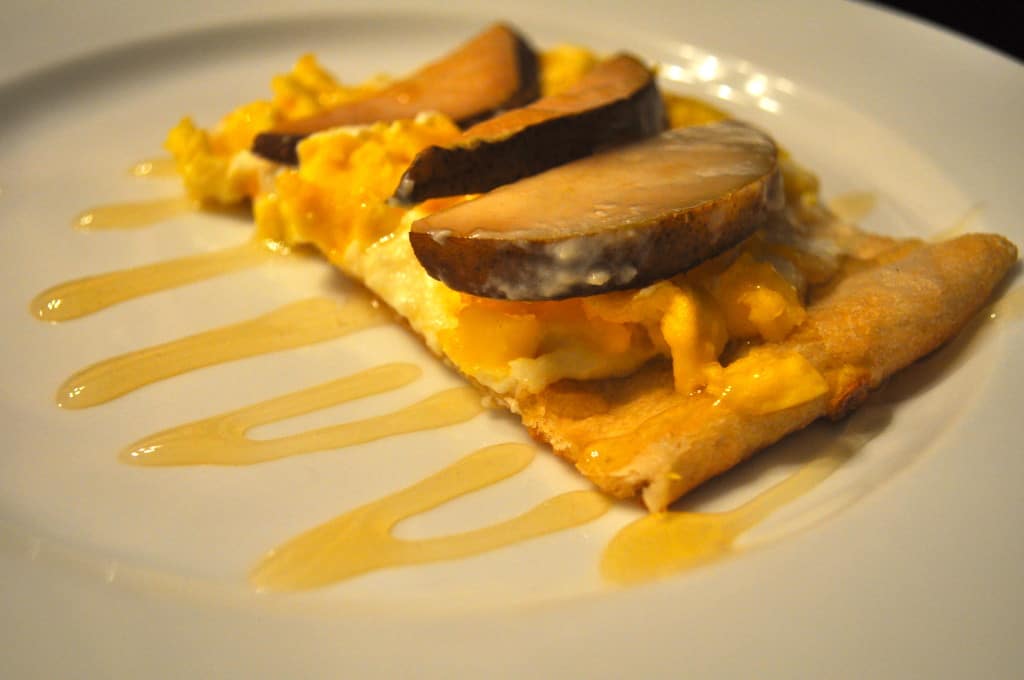 Pizza for breakfast? Sure! But don't reach for those soggy tomato and cheese leftovers! Check out this beautiful pizza adorned with eggs and pears!  This is an easy recipe that takes less than 30 minutes to complete and has only 5 ingredients. Team up with your kids to make a special breakfast for mom on Mother's day or make this for a special brunch event.
I made this recipe and Grilled French Toast Breakfast Sandwiches on KARE11 News at 4pm on Tuesday, May 7, 2013.  Click here to watch that segment.
Ingredients:
1 Pillsbury Thin Crust Pizza (11 ounce container)
2 cups Crystal Farms Scrambled Eggs
8 ounces Whipped Cream Cheese
½ cup Sweet Orange Marmalade
1 Pear (thinly sliced)
Directions:
Preheat oven to 400.  Spread pizza crust into a cookie sheet and bake for 10 minutes.
Pour Crystal Farms Scrambled Eggs into a greased nonstick skillet over medium heat and stir gently until set.
In a medium-sized bowl, mix cream cheese and orange marmalade.  Spread marmalade mixture over pizza crust.  Top with scrambled eggs and pear slices.
Return to oven and bake an additional 10 minutes.
Drizzle with honey if desired.
Serves 8 (2 slices each)