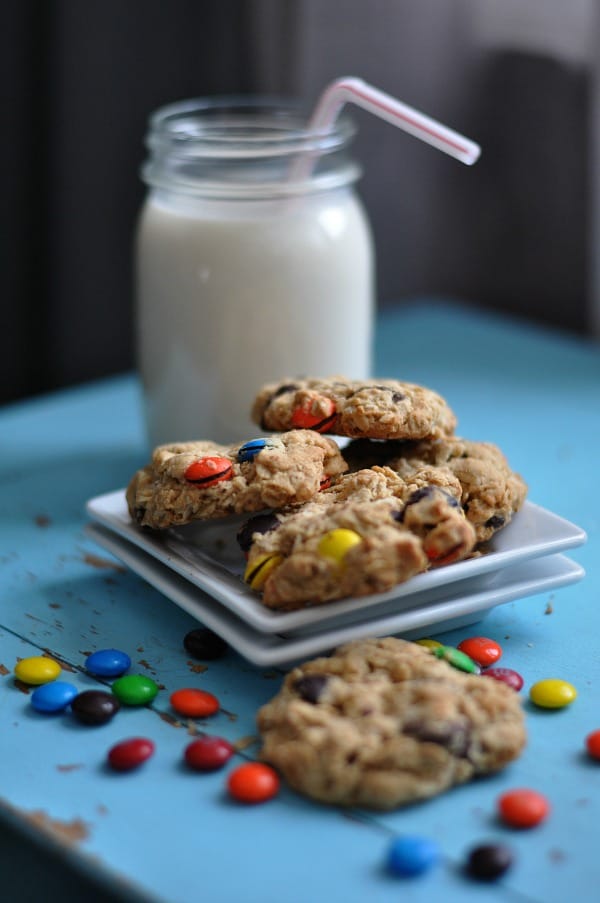 One of my very favorite comfort foods, Monster Cookies have it all-chocolate chips, oatmeal, peanut butter and rainbow candies.
I was one of those ladies that really loved being pregnant. With both babies I had morning sickness but around the 20 week mark I emerged a new, happy woman. I was ready to take on any and every dessert food group. Maybe that's why I was so happy.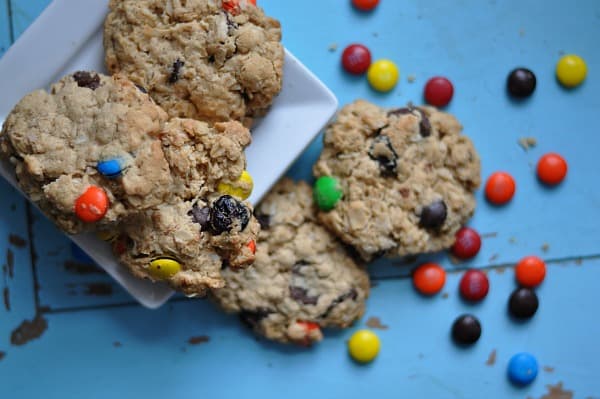 The doctor's appointments were nerve-wracking for me with my first baby. I had miscarried before this pregnancy. I'd sit there in my paper dress getting measured and assessed; hoping everything was checking out OK and constantly asking for feedback if the results were normal. I felt like I was under a magnifying glass, actually. A friend told me that after each of her doctor's appointments she would buy a box of diapers to stock up for baby's arrival and celebrate the appointment. What a planner, but stocking up diapers in the empty nursery didn't excite me. After each of my appointments I felt a sense of relief and a forward step of momentum. You know what I did after my doctor's appointments? I rewarded myself with Monster Cookies.
The doctor's office I went to with my first baby was in a hospital that had a snack shop in the office building basement. They made Monster Cookies the size of a salad plate. Checkered with rainbow candies and just slightly underdone, they were the perfect gift to myself for enduring the latest prods and pokes at my appointment. I'd sit there alone in the snack shop, just a few minutes by myself soaking in the future life to come.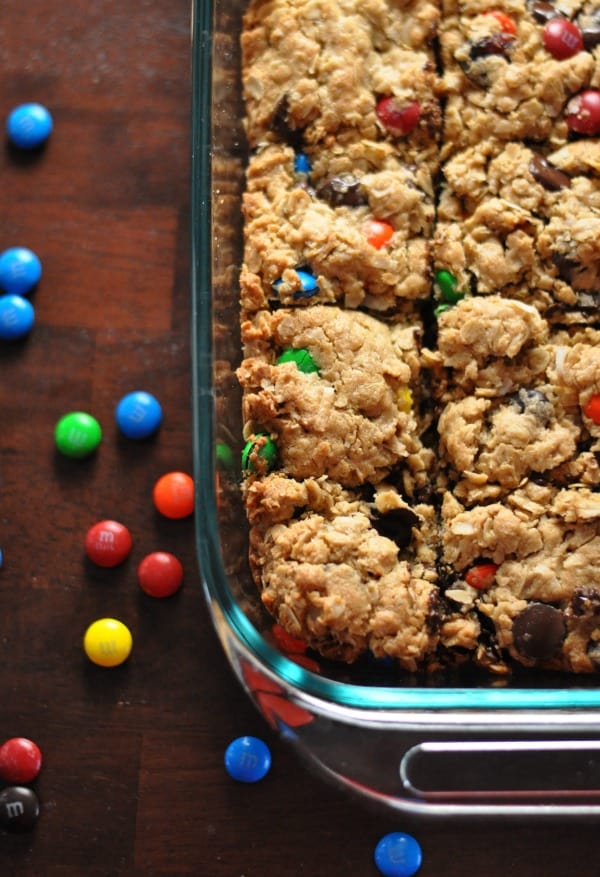 I had my baby at the hospital that housed the Monster Cookie snack shop. I laid in the hospital bed, exhausted after enduring what seemed like endless labor (25 hours). Staring back at me, there she was, my baby swaddled tight in a clear plastic bed. "What can I get you to eat?" My husband, feeling overwhelmed at what he just saw and trying to find some way to show his appreciation. "A Monster Cookie," I responded. "They have really good ones downstairs." A Monster Cookie always reminds me of the relief following appointments and the peacefulness that surrounded us in that hospital room. I make these cookies to feel good and make them for others when life is feeling overwhelming or challenging. The Monster Cookies have brought me comfort when life was both uncertain and then when life was full of joy.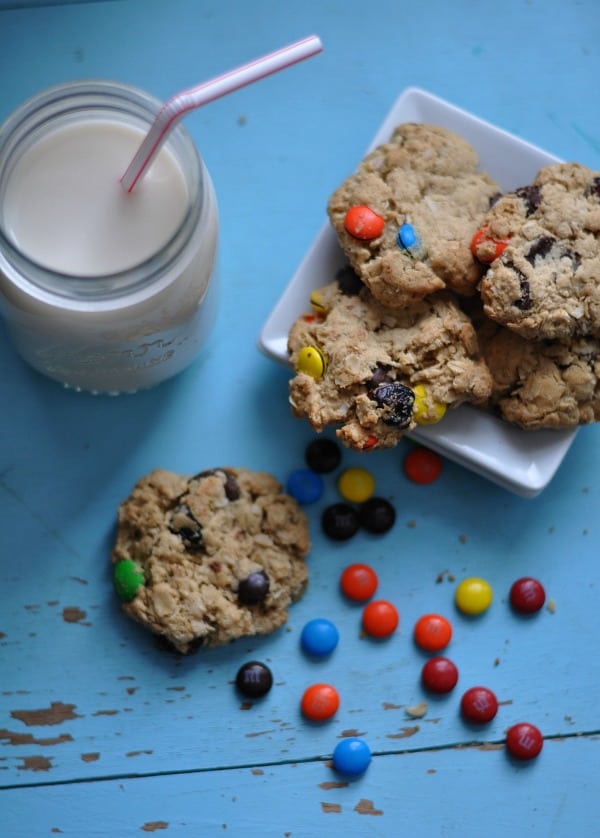 Yield: 3.5 dozen
Monster Cookies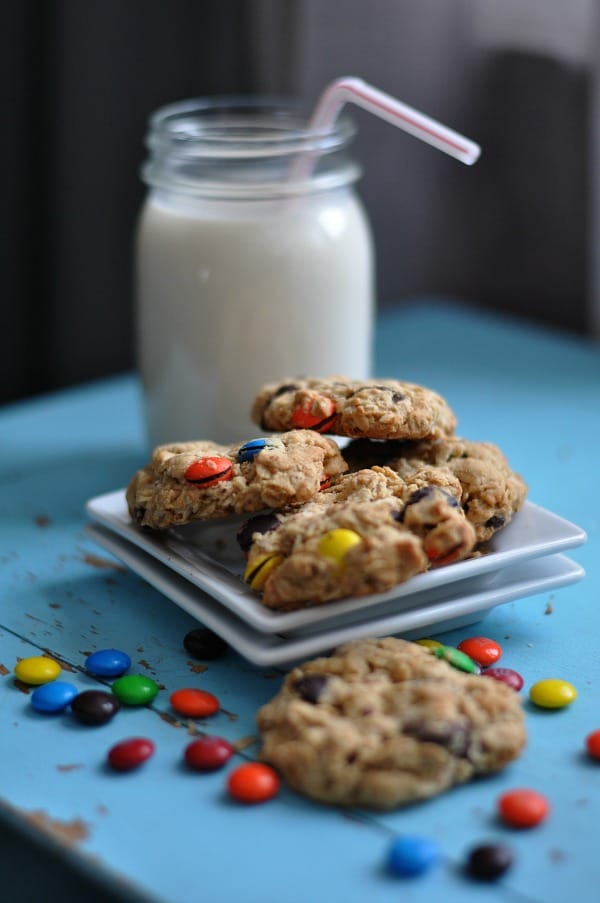 Ingredients
Ingredients:
4 cups Oatmeal
1 cup Flour
2 tsp Baking Soda
3/4 cup (12 TB) of Land O'Lakes Butter-Unsalted
¾ cup Brown Sugar
¾ cup Sugar
1 tsp Vanilla Bean Paste
2 eggs (room temperature)
1 cup Peanut Butter
1/2 cup Shredded Coconut
1/2 cup craisins or dried cranberries
1 cup M&M chocolate candies
1 cup Ghirardelli 60% cacao/chocolate chips
Instructions
Directions:
Preheat oven to 375.
Mix oatmeal, flour and baking soda together and set aside.
Cream butter, brown sugar, sugar and vanilla. Add eggs one at a time. Add peanut butter. Gradually add in oatmeal mixture and mix until combined. Add coconut, craisins, M&Ms and chocolate chips.
Divide into 42 cookie balls, fill 12 per greased cookie sheet. Press cookies down flat. Or for Monster size cookies, use a 1/2 cup measuring cup per cookie and adjust the baking time.
Bake for 8-10 minutes for cookies based on how chewy you like the cookies.
You can also make these into bars by putting the batter into a 9x13 glass pan and baking for 24 minutes.