This easy Taco Salad is a quick recipe and is layered with Doritos, ground beef and your favorite taco toppings! Make this Taco salad for a crowd or your family for a weeknight dinner!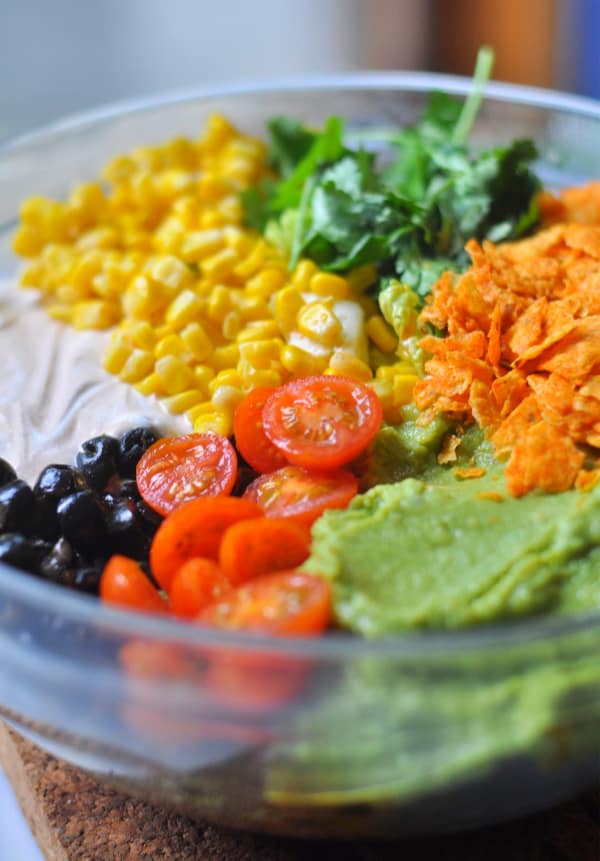 This post may contain affiliate links for my favorite tools for making this recipe. You can also visit my Amazon store to see all my kitchen gadget recommendations.
Our family loves tacos and I knew they would love a twist on tacos with this Taco Salad. I was not prepared for how much they loved it! My family devoured this recipe! I intended this to be a potluck recipe and found that it would also make an awesome weeknight dinner, especially when the weather is hot and you want something that is quick and easy and doesn't require turning on the oven!
If you make tacos all the time, you are well versed in browning meat and using taco seasoning. It's important that you take the time to really get the beef browned and even let some of the pieces get nice and crispy!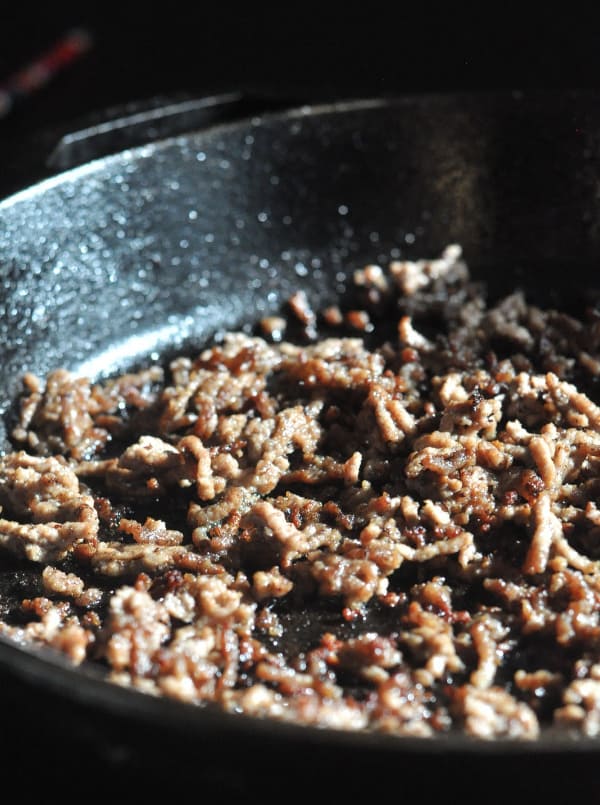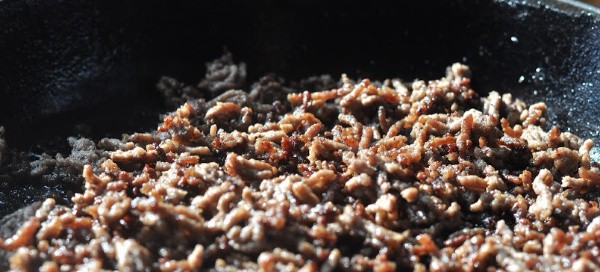 My cast iron pan is really heavy and I have a hard time holding it with one hand so my trick to drain the fat is by patting the meat with a paper towel to remove the fat instead of trying to pour it out!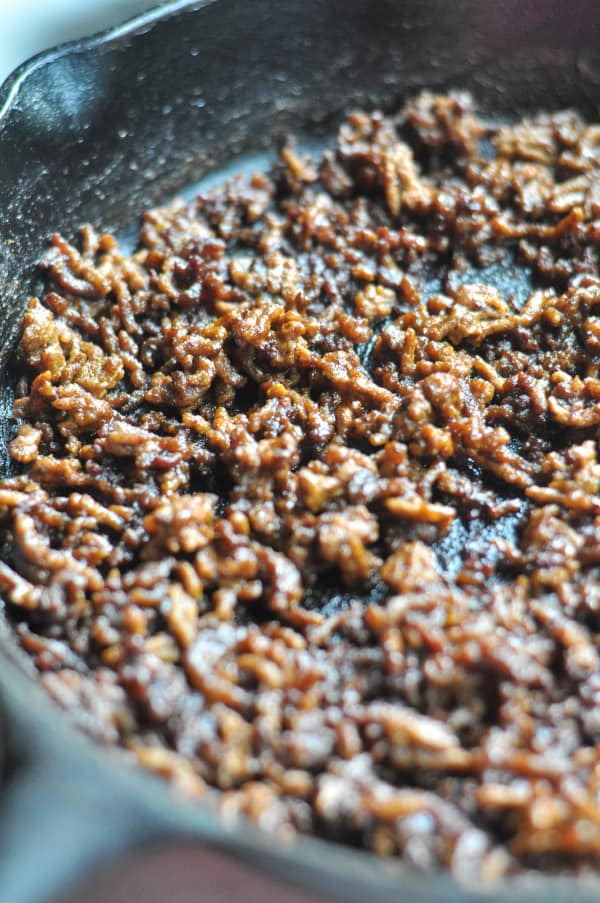 I like using the Aldi brand Taco Seasoning (not too spicy for my kids' tastebuds) and I add water and let it thicken up.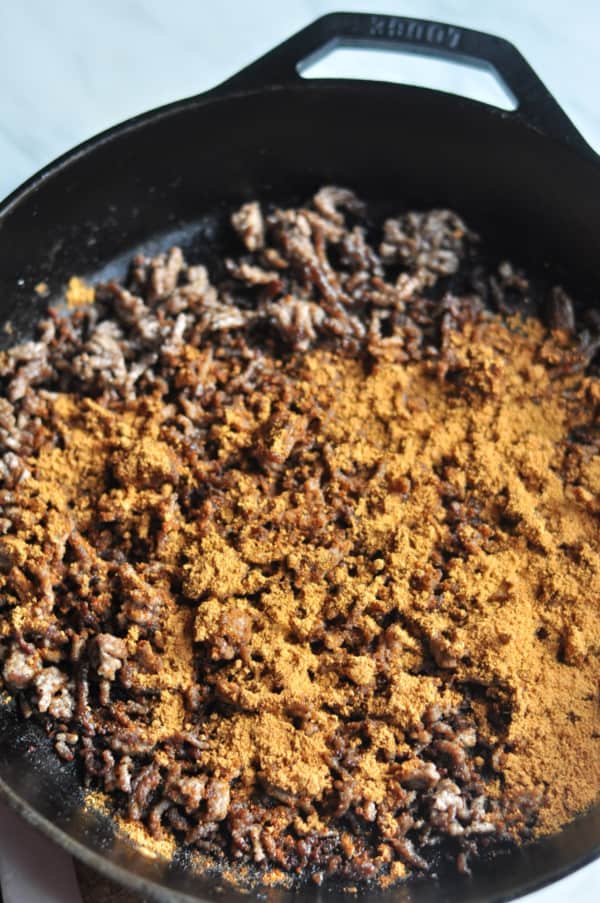 The beef looks fantastic once the sauce thickens and you could totally stop there but I have another tip for you. My sister taught me this one. You can easily extend the amount of your taco meat by adding beans! She taught me to use this trick with black beans but for this recipe, I'm using drained and rinsed pinto beans.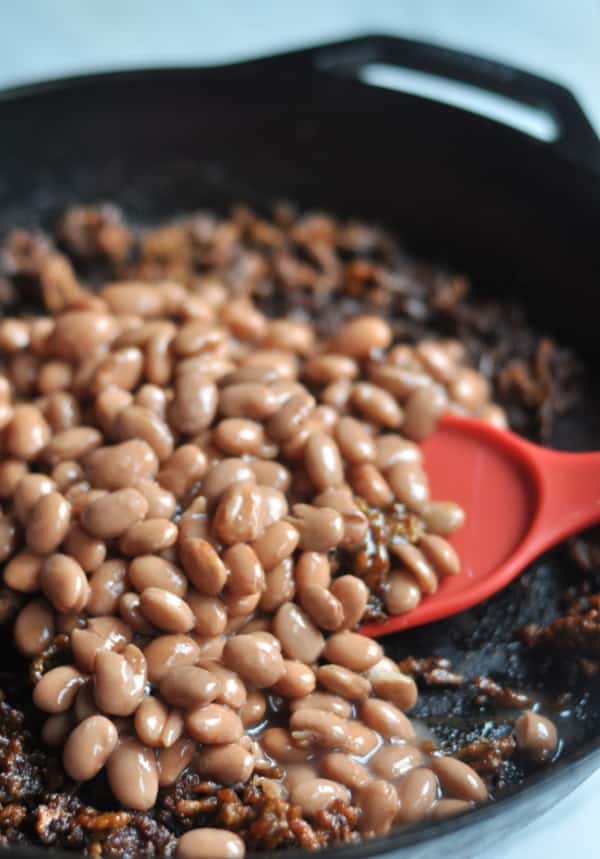 The beef and bean mixture will be the bottom layer in our taco salad.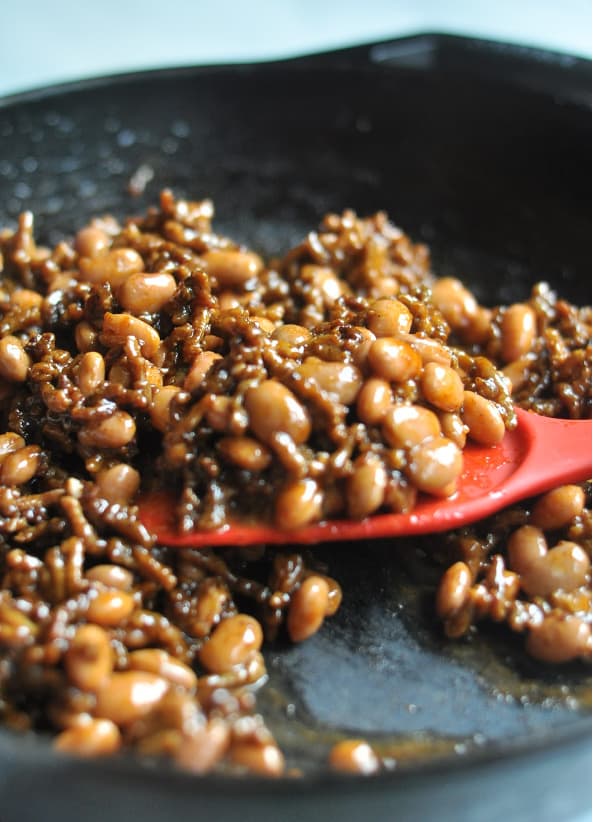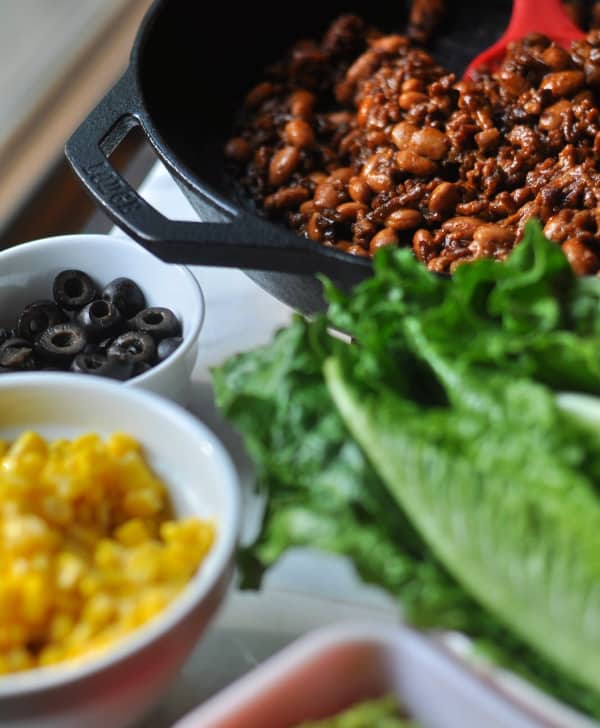 Then add your cheese and top with Romaine lettuce (it is the best to hold up with all these toppings) and your favorite dressing. We love Western but you can also use Catalina (more on that below).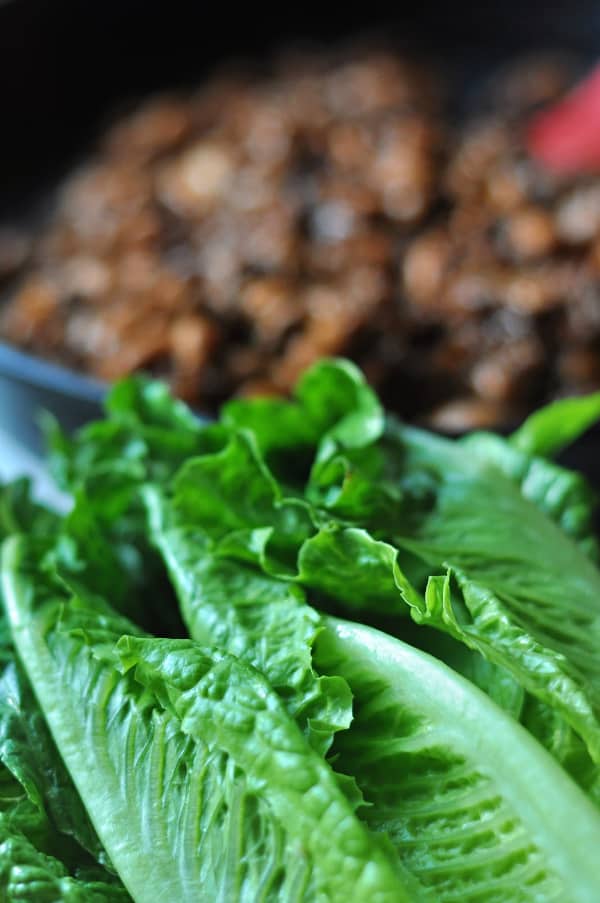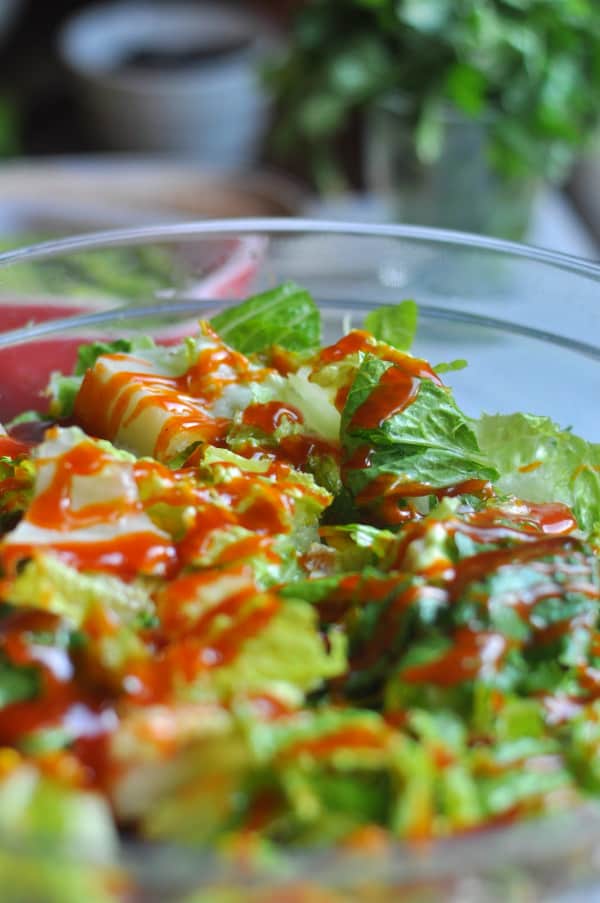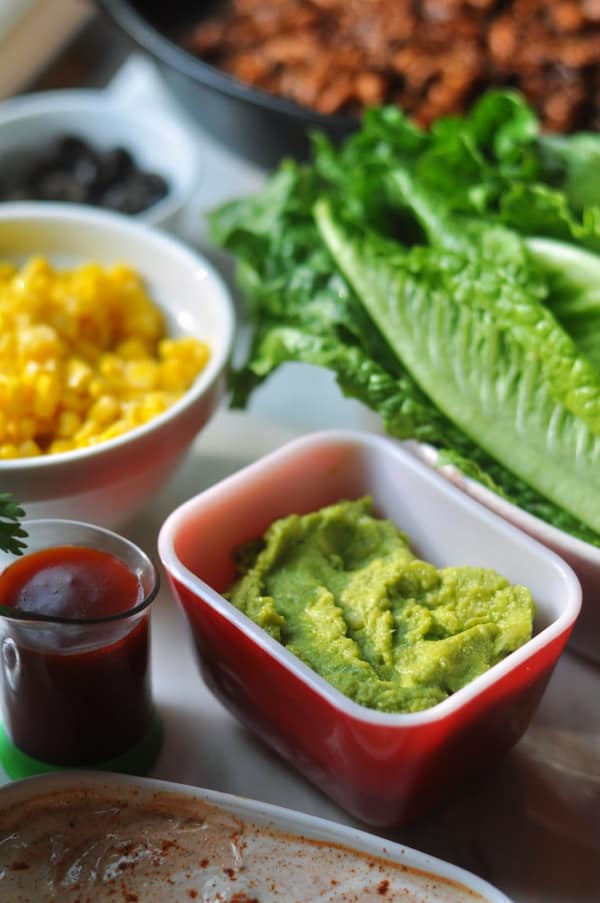 I think the toppings are my favorite part. I've included notes to make my taco seasoned sour cream and I also love black olives, guacamole, corn and of course, Doritos!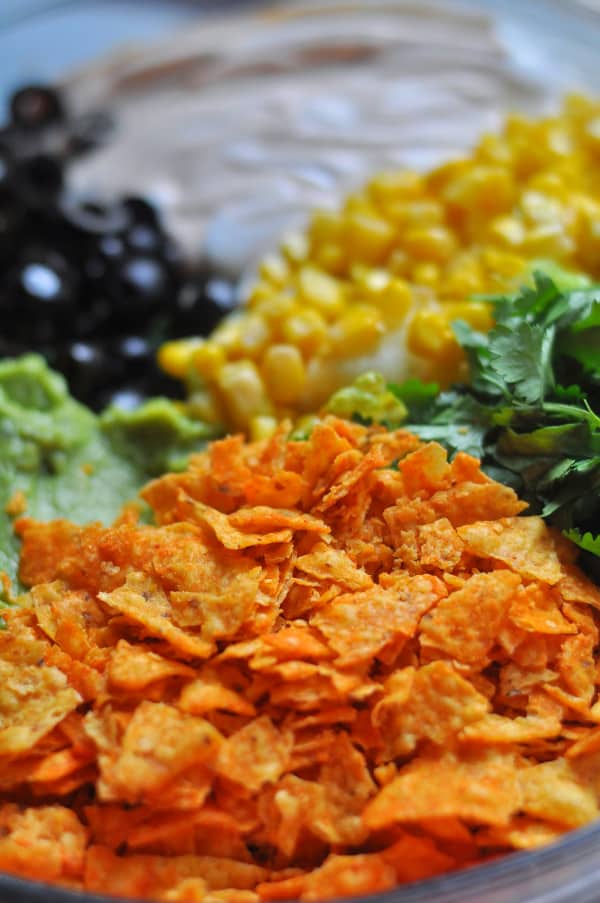 This taco salad is great for a crowd or weeknight dinner! I've included some great questions and answers about making this recipe below. I hope your family enjoys it as much as we do!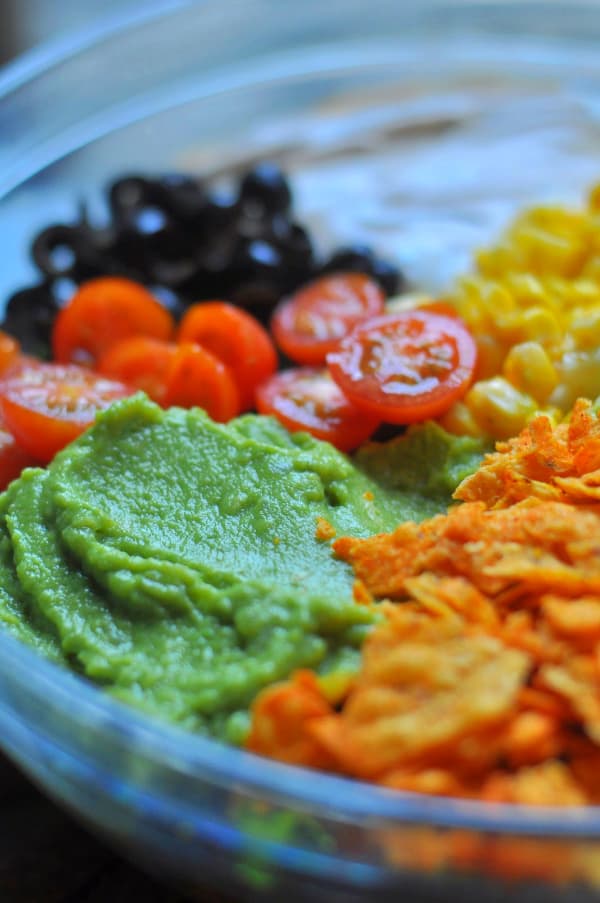 What is Taco Salad made of?
Taco Salad is made of Doritos!! Ok, that's one ingredient and seems to be the one everyone is so excited about (well, my family was anyway). In all seriousness, Taco Salad is made of ground beef with salad and your favorite taco toppings. It is really the combination of tacos and salad. The really fun part of this salad is that it has crushed Doritos (Nacho Cheese) on top. For the salad part of the recipe, I like to use Romaine because it is a lettuce that can hold dressing and will keep it from being a mushy or wet salad.
Taco Salad with Catalina or Western Dressing?
Taco Salad with Catalina dressing is the tradition for this potluck favorite, however, our family loves Western dressing. I grew up on it as a kid, using it on salads and dipping my fried chicken in it. My son also may sort-of think he has his own dressing with his name and that likely fuels our use of it too. I will say that it was key in getting my kids to eat bowls of salad in the summer. Western dressing is a thick, tangy, and sweet tomato dressing and it is my pick for Taco Salad.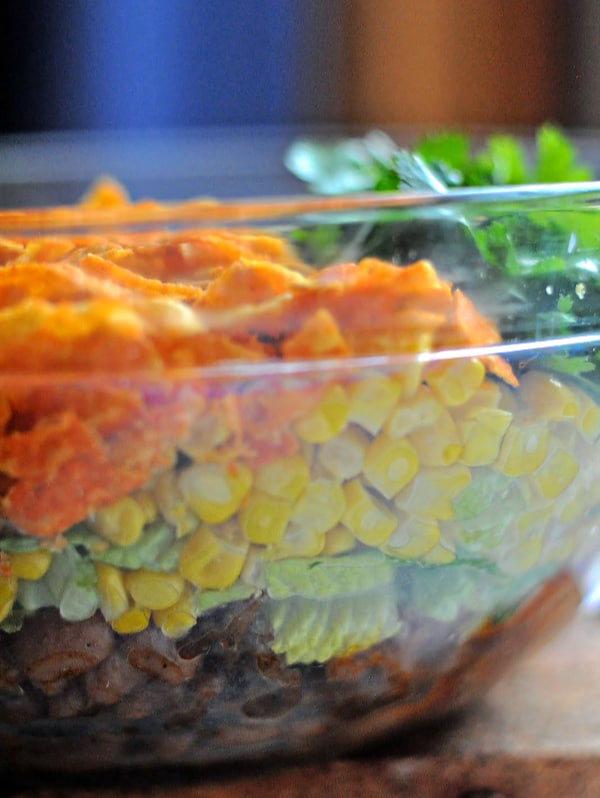 How do you assemble Taco Salad?
Taco salad is a quick and easy recipe that is made by layering all your favorite taco ingredients into a salad. I like to layer the bean and meat mixture on the bottom. Topped then with cheddar cheese, lettuce, dressing, and my favorite taco toppings like seasoned sour cream, guacamole, black olives, and corn.
Is Taco Salad served cold or hot?
Taco salad is served cold. The beef is cooked with beans and added to the bottom of the salad. While tacos are traditionally served hot, this taco salad is cold and everything combines really well for great flavor!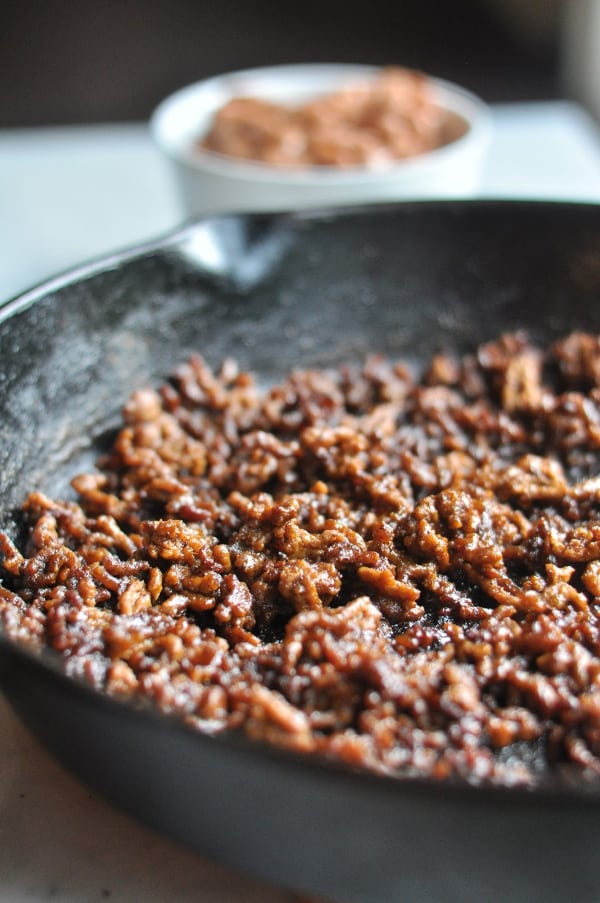 Tips for Making Taco Salad Using Ground Beef
I use 80/20 ground beef for this Taco Salad recipe. I always say that fat has flavor and it is very true for this recipe. I find draining fat super tricky with ground beef. I always use a cast iron pan and most times I'm cooking alone and don't have an extra hand to help me prop that heavy pan up to drain the fat. My solution is to cook the ground beef until it is really browned. You should see crispy dark pieces emerge, then I shut off the heat and blot the excess fat out of the pan and off the meat with a paper towel! It is a super simple solution and does a great job of removing the fat. You don't want your meat to be really greasy because it will make your taco salad greasy so this is a perfect solution!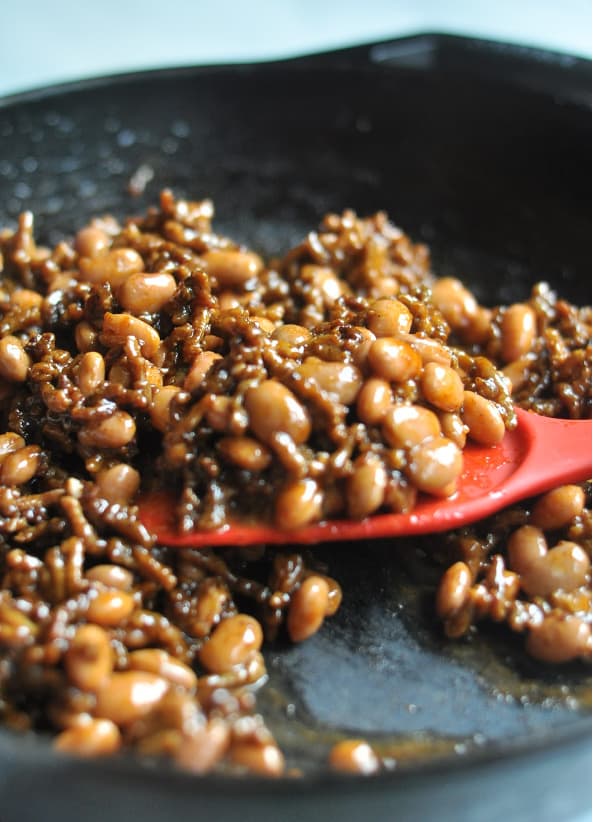 Taco Salad Using Ground Beef and Weighing It
Meal Planning Tip: I like to buy larger packages of meat to save on my grocery bill. For this recipe, I bought a larger pack of ground beef and I use my Escali scale to measure the exact weight I need for the recipe. Then I freeze the remaining amount, but first, I weigh that amount and note the type of meat and weight on the resealable bag. Need more freezer meal or meal planning tips? Check out my ebooks, Freezer Meals for Moms and Family Meal Planning.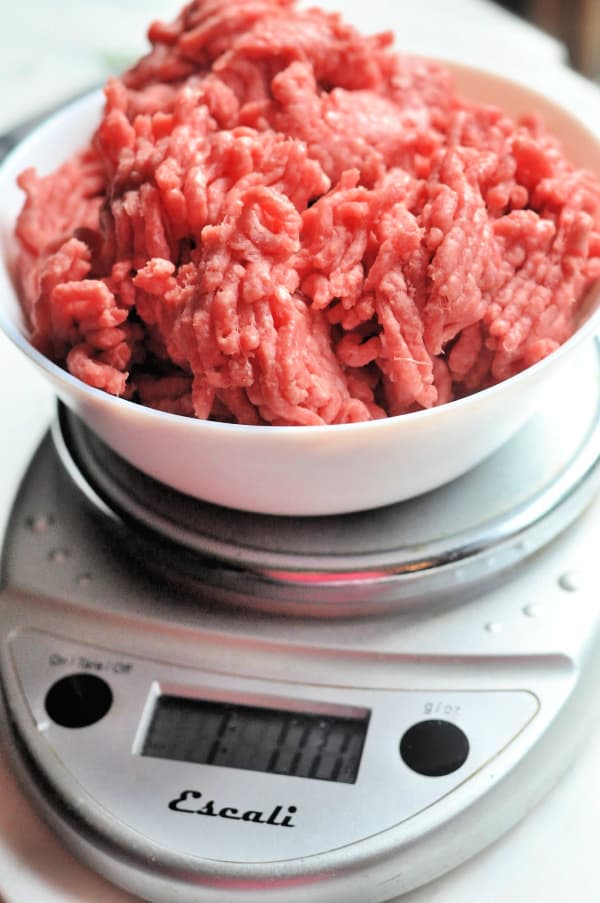 What do you serve with Taco Salad?
I recommend enjoying this Taco Salad with my Motito (Vodka Mojito) recipe. In terms of food, this Taco Salad has so many components and flavors it really is a great all in one dish, however, if you were wanting to add more sides, you could serve chips and queso, Elote corn, or cilantro rice on the side.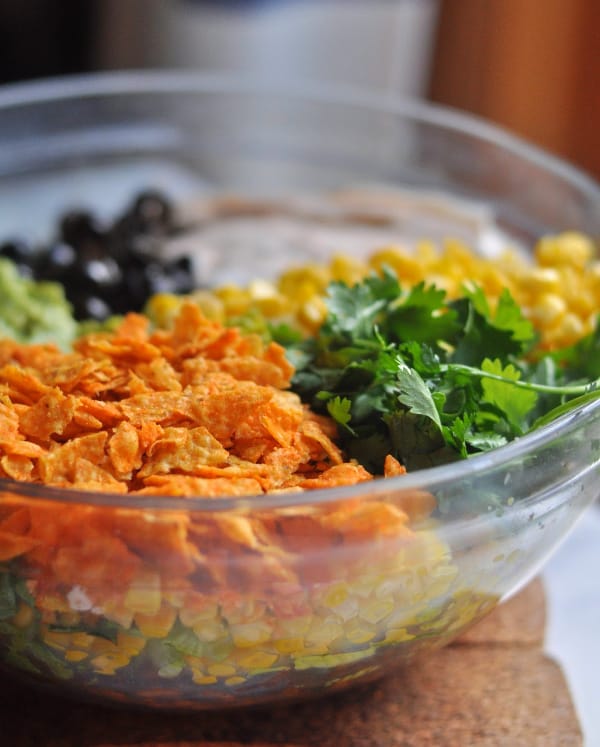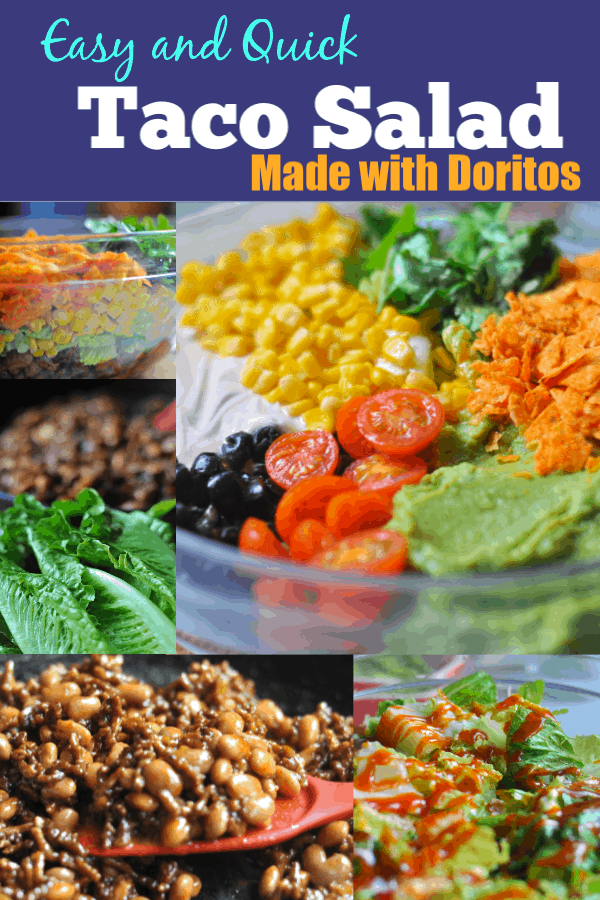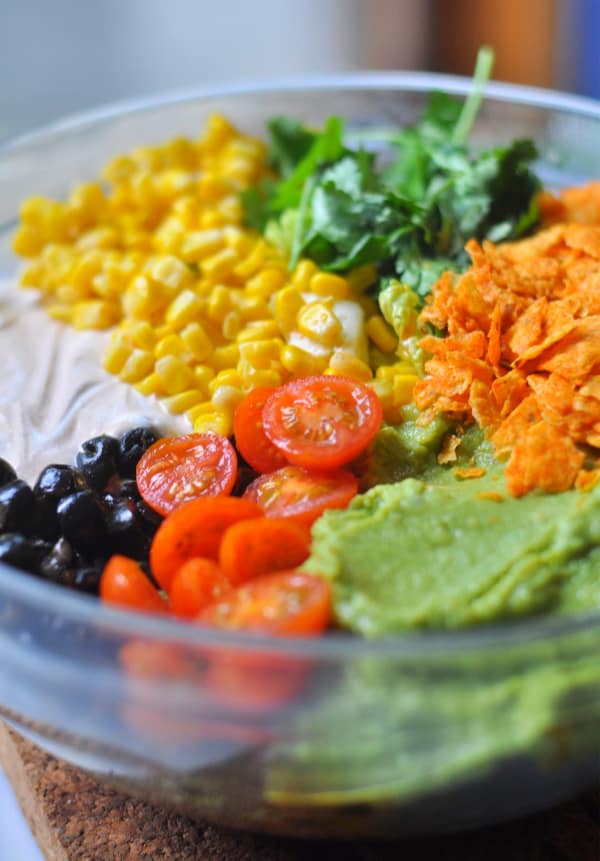 This easy Taco Salad is a quick recipe and is layered with Doritos, ground beef and your favorite taco toppings! Make this Taco salad for a crowd!
Ingredients
1 lb Ground Beef (80/20)
2 (1 oz) packages Taco Seasoning, divided (I use the Aldi Brand, Casa Mamita)
1 (15.5 oz) can Pinto Beans (drained and rinsed)
1 cup Cheddar Cheese (shredded)
1 Romaine Heart (chopped)
1/4 cup Western or Catalina Dressing
1 cup Sour Cream
1 (15.25 oz) can Whole Kernel Sweet Corn (drained)
1 cup Guacamole
1 cup Doritos (Nacho Cheese, crushed)
Cilantro
1/2 cup Black Olives (sliced)
1/2 cup Fresh tomatoes (chopped)
Instructions
Preheat cast iron pan over medium heat. Once the pan is heated, add ground beef.
Cook the ground beef until the meat starts to brown and some of the meat becomes crispy. Use a paper towel to carefully pat around the meat to remove excess fat. Add one taco seasoning packet and 2/3 cup of water bring to a boil, then reduce to a simmer 3-5 minutes until the sauce has thickened. Add the rinsed and drained beans to the beef mixture. Set aside.
Combine 1 cup of sour cream and 1 TB of Taco Seasoning from the second seasoning packet. The remainder of the seasoning packet will not be used for this recipe (save to season meat or sour cream in the future). Set seasoned sour cream aside.
In a large serving bowl, add the beef and bean mixture, then the cheddar cheese.
Chop the Romaine Heart into bite-sized pieces. Add lettuce to the salad and drizzle on the Western or Catalina dressing.
Add your favorite taco toppings in sections on the top (not mixed up). Think of the top of your salad like a pie graph and add in your favorite sections. I like to add the seasoned sour cream, corn, guacamole, crushed Doritos (Nacho Cheese), cilantro, black olives, and chopped fresh tomatoes.
Keep in the refrigerator until serving.
This recipe is best served soon after preparation. If you wish to make ahead, prepare the meat and bean mixture, chill the mixture, and on the day of the event, right before serving, assemble the salad.
Recommended Products
As an Amazon Associate and member of other affiliate programs, I earn from qualifying purchases.