This mushroom and beet black bean burger recipe is made with sauteed Portabella mushrooms in a cast iron pan and then baked in the oven. These smoky veggie burgers with a bit of sweetness will make both vegetarians and meat-eaters happy!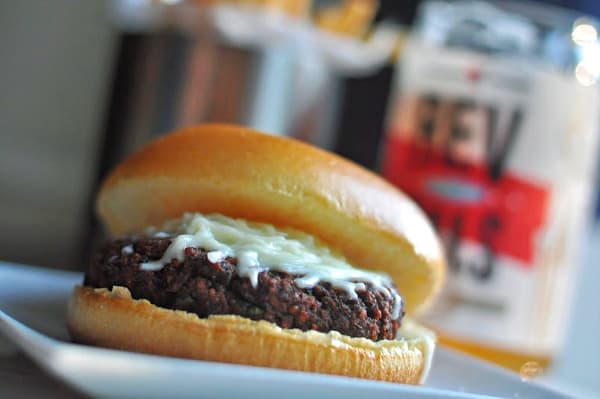 Buckle up, friends! You are about to see something you've never seen on Dining with Alice before…Mushrooms! Admittedly, I haven't been a huge fan of mushrooms. Seriously, I hated them as a child and as much as my husband loves them (I still cook them for him), even in adulthood, I haven't been able to find the joy so many others find in fungi.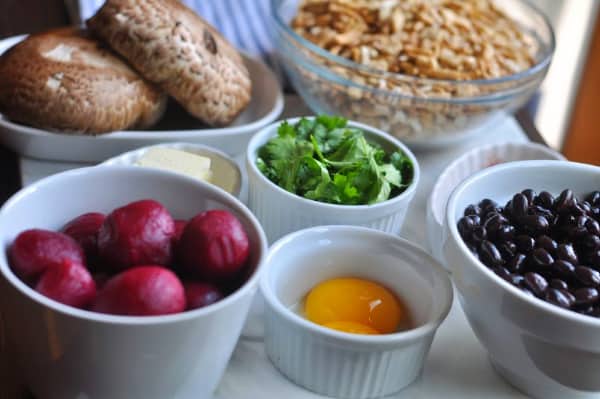 However, that changed with this Mushroom and Beet Black Bean Burger. Not only did I love it, but my kids also did too (did I mention that they too are not smitten with mushrooms?).
So how did I even get to the point where I would make a mushroom-focused burger AND put it on my blog? I went to the Mediavine blogger conference in Chicago (check out my Instagram for some pictures) and toured Revolution Brewery and they had food and beer pairings.
And guess what food they had? You got it. Mushroom and Beet burgers.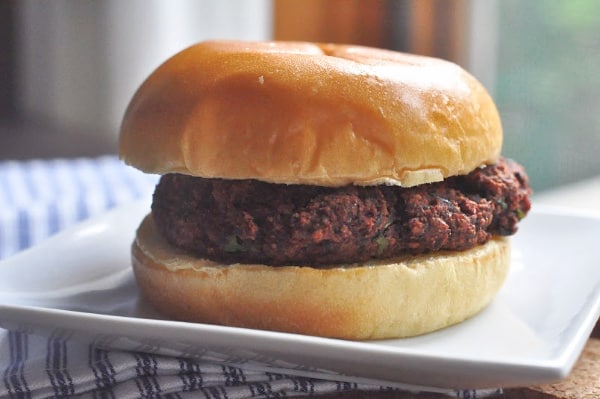 I ate a Mushroom and Beet burger and loved it. I wanted to shout out to the room, "I am eating mushrooms and LOVING it!" However, I probably would have been cut off from the free-flowing craft beer and being that I didn't know anyone at the conference, I was trying to play it cool and make foodie friends. So I silently admired my accomplishment.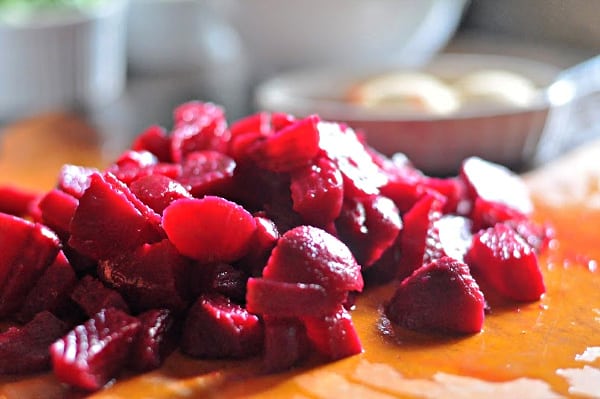 Inspired by the meal I just had, I spent the next few days brainstorming the recipe in my head and got to work on it when I was still in Chicago. I was staying at my friend Copper's house and guess what? She's a vegetarian and likes mushrooms!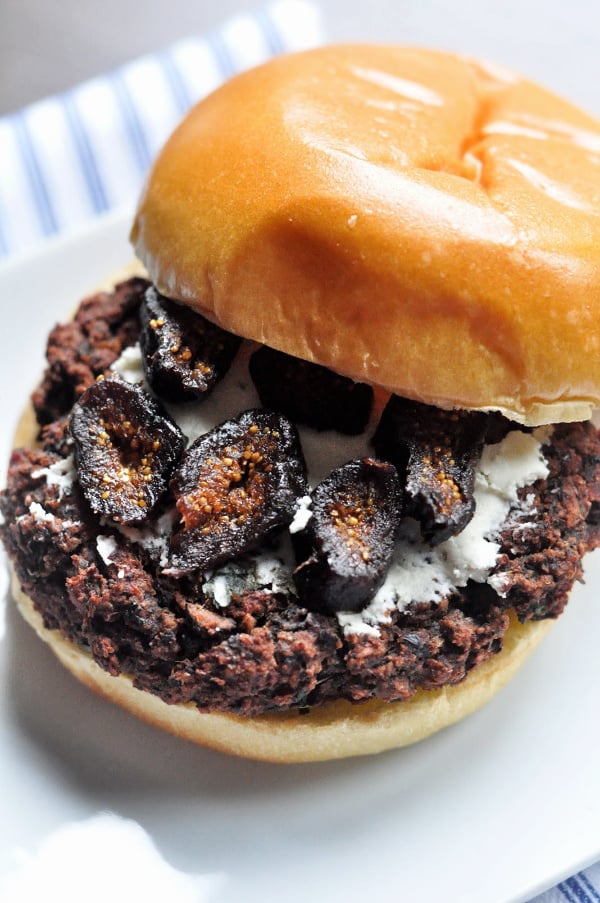 She also likes when people cook for her so it was a perfect environment for the first round of testing out my idea! When I was trying to figure out a binder for this recipe, Copper had Kashi GO original cereal in her cabinet and I decided to give it a try. Turns out it when you put it in a food processor it is great as a bread crumb and I also love that it has a significant amount of protein, fiber, and whole grains.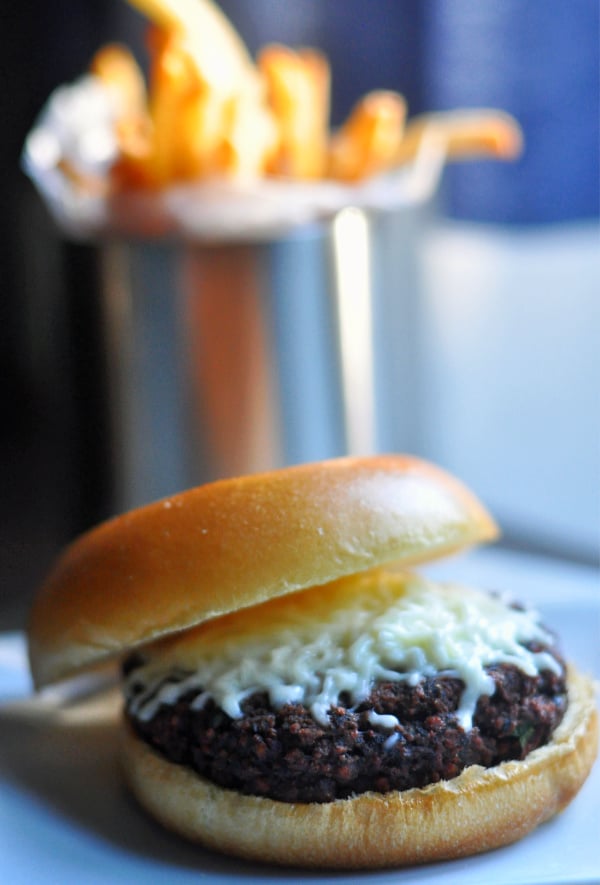 When I returned from Chicago, I continued recipe testing and one of my coworkers also sampled it and gave me the advice to test it out on non-vegetarians so I put the burgers in my kids' lunches for camp. My daughter (extremely adverse to the thought of mushrooms) ate her whole burger without a peep of commentary after camp. My son was admittedly skeptical. He ate about half and then after camp said, "What's in that burger?" "Is it beets?!?" Later in the week, I made another batch for family dinner and made some french fries (balance, right?) and we had clean plates without any dessert bribery.
So if you love mushrooms, give it a try! If you hate mushrooms, give it a try! Perfect for vegetarians and great for meat-eaters too. I think this would be an awesome addition to your meal plan if your family does meatless Mondays.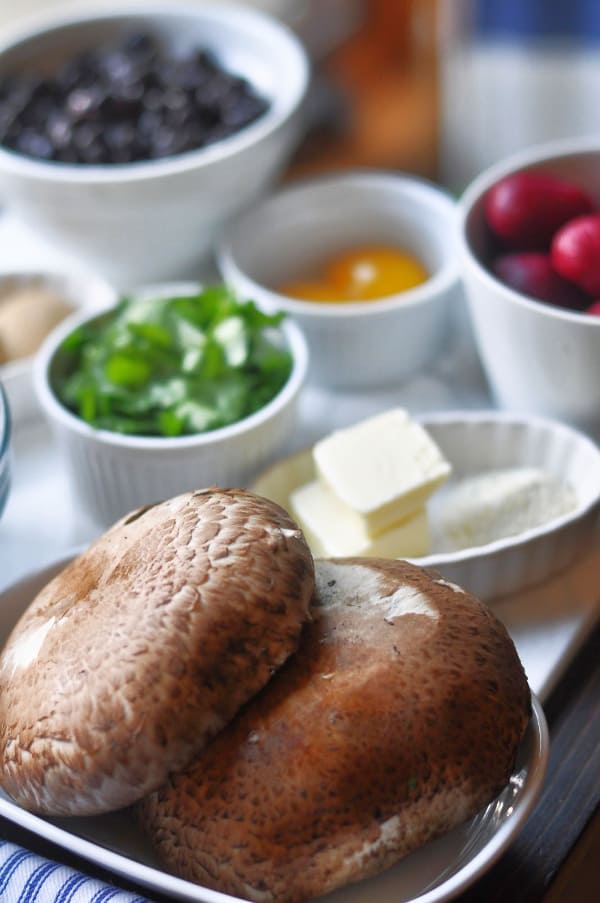 This recipe was featured during my television segment on making meals in your cast iron skillet. I think the cast iron skillet really helps give the base of the recipe (beets and mushrooms) the nice browning and smoke needed for the burger. I've included some of my cast iron skillet tips at the end of this post for you too.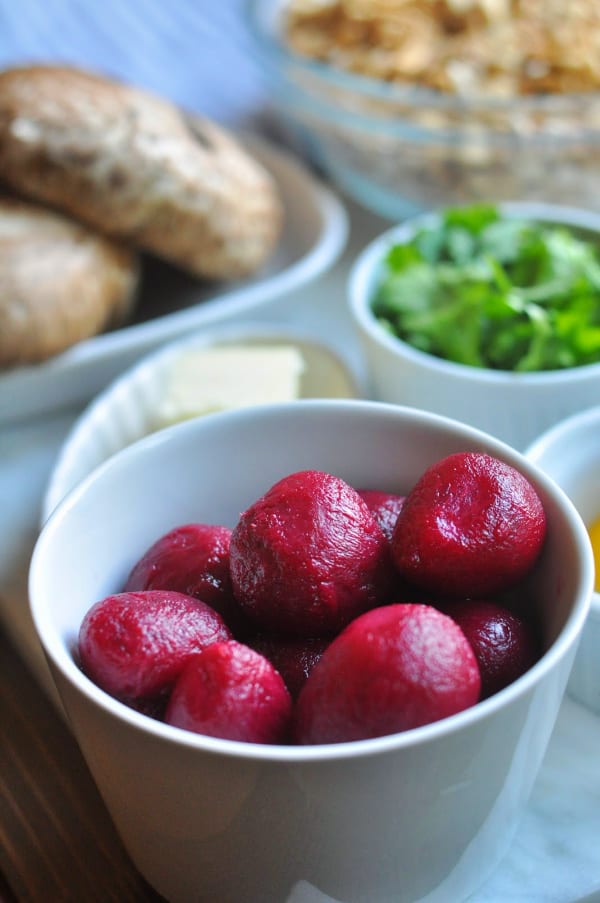 I like to get all my ingredients ready before I start cooking. In this recipe, I'm using Portabella mushrooms. If you have extra help in the kitchen, ask your buddy to chop up the beets and mushrooms.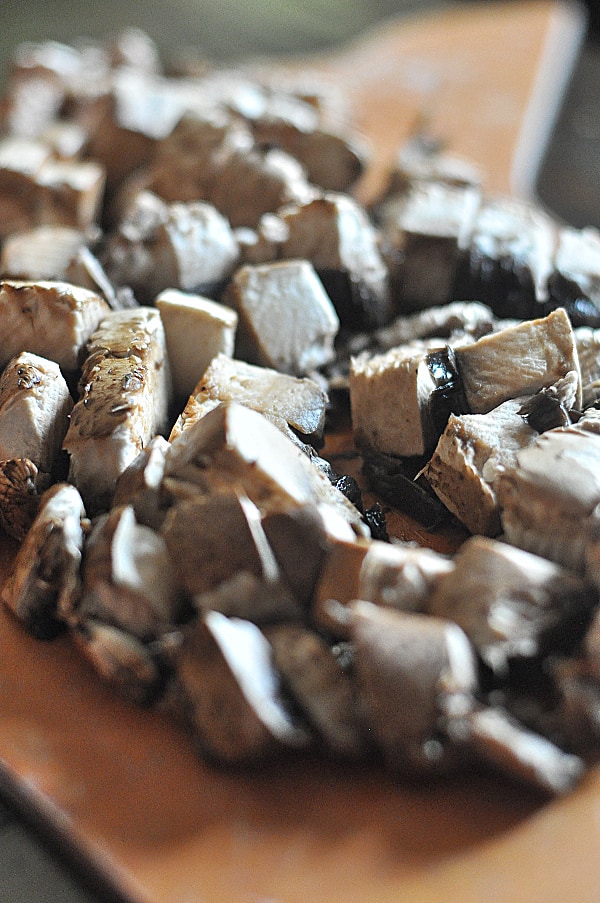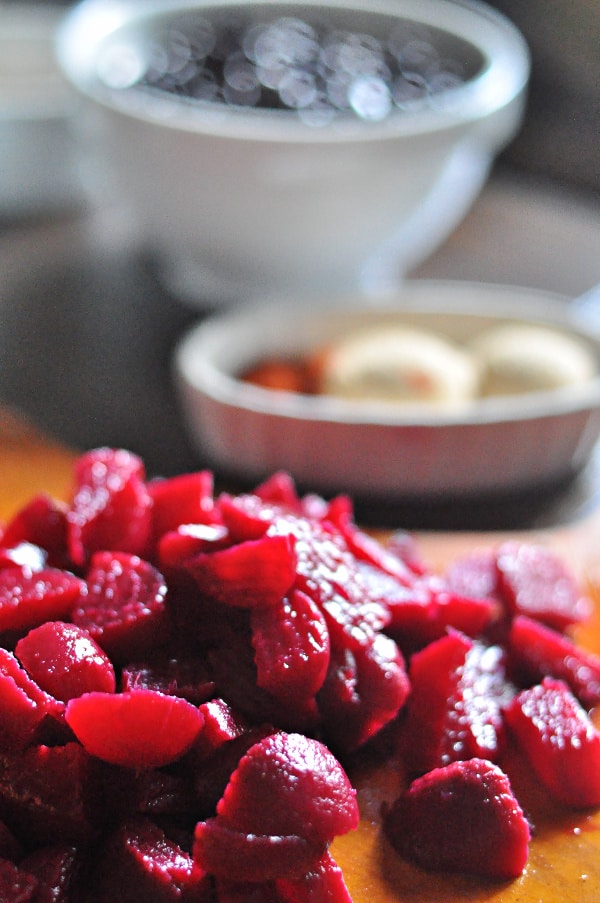 The mushrooms will get browned first with butter and garlic salt. Then add the beets, brown sugar, and smoked paprika. The cooking in the cast iron skillet and the additions of sugar and paprika help give the burger the smoky flavors.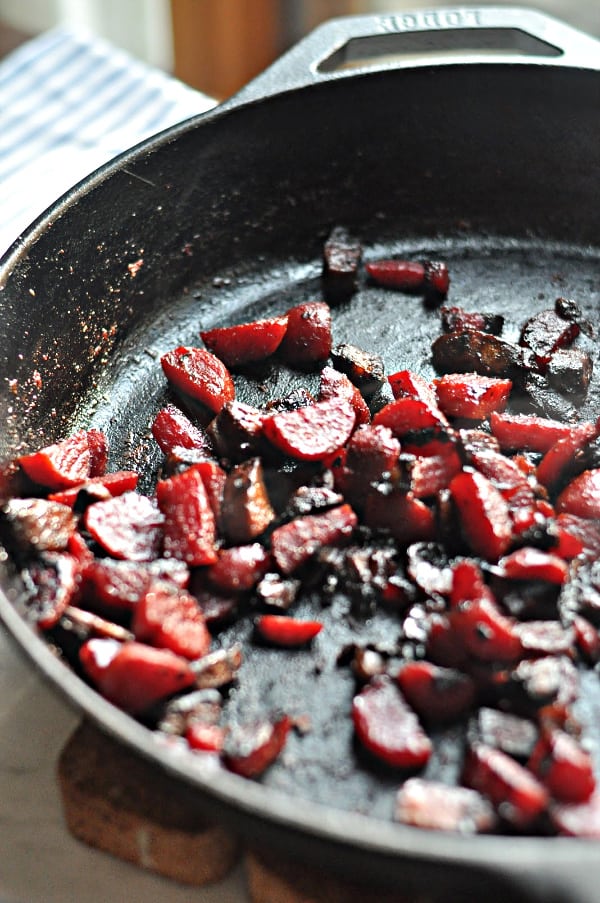 Once cooked, set aside. Process your cereal in the food processor to create bread crumbs. I like that using Kashi gives the recipe extra protein since we are making a vegetarian burger.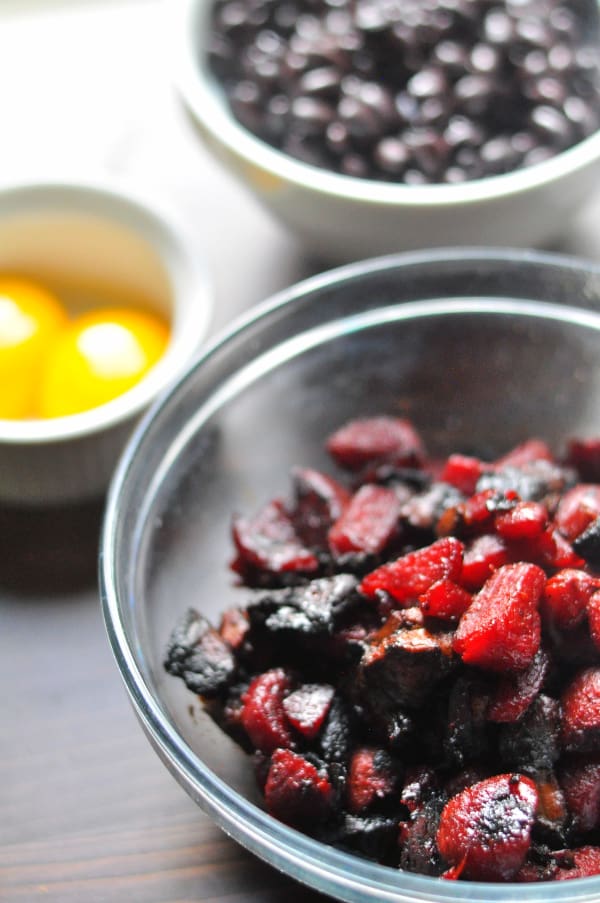 Process the beet and mushroom mixture, two egg yolks, and beans. Pulse and don't let this totally blend. You want almost a tapenade texture where there are small pieces, not a puree.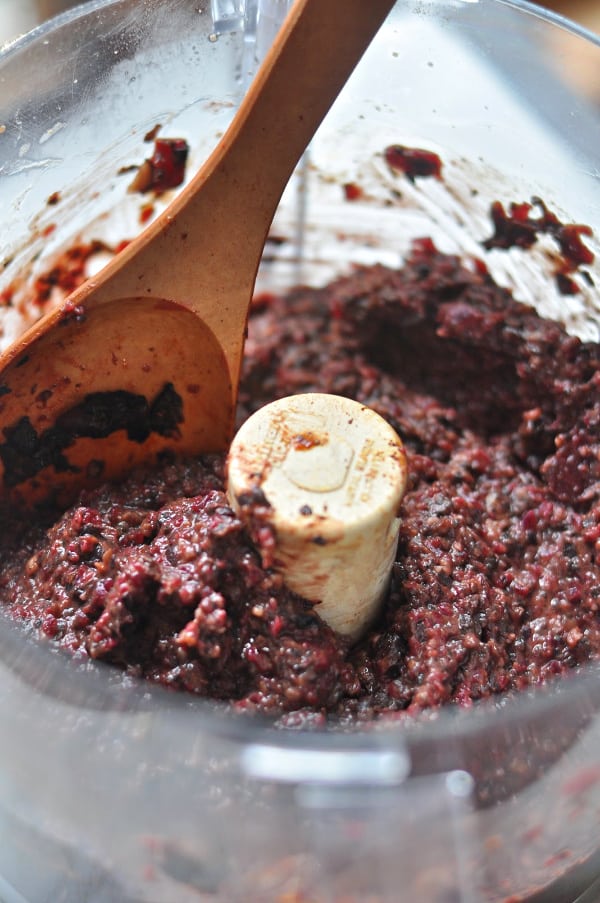 Combine the beet and mushroom mixture, Kashi bread crumbs, and cilantro.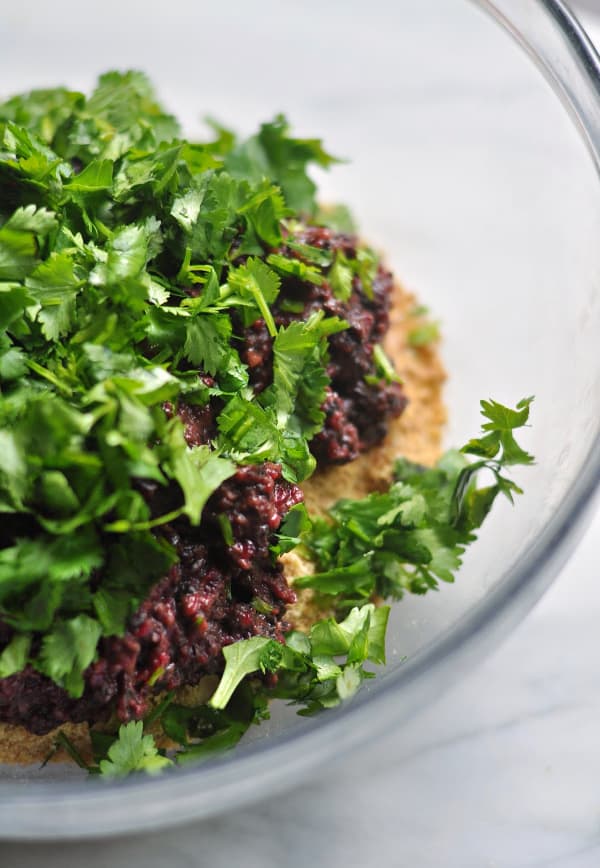 It's pretty amazing how meat-like the mixture turns out!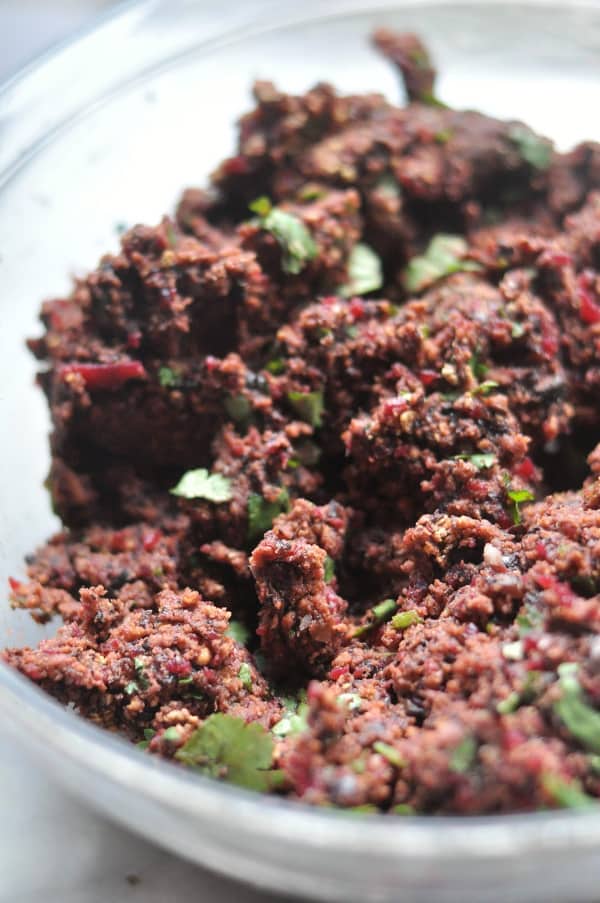 I use a 1/2 cup measuring cup to form the patties.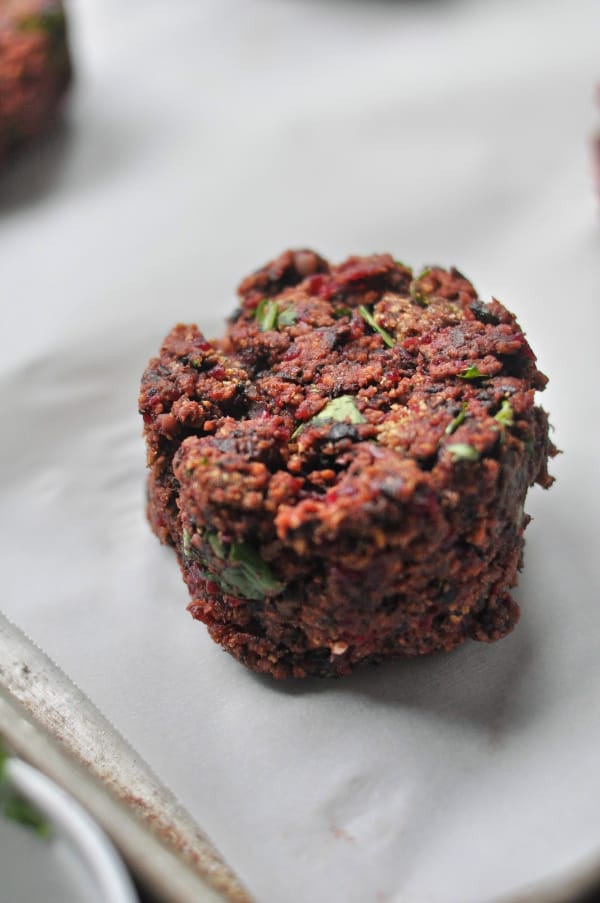 Then I use my hand to press them down.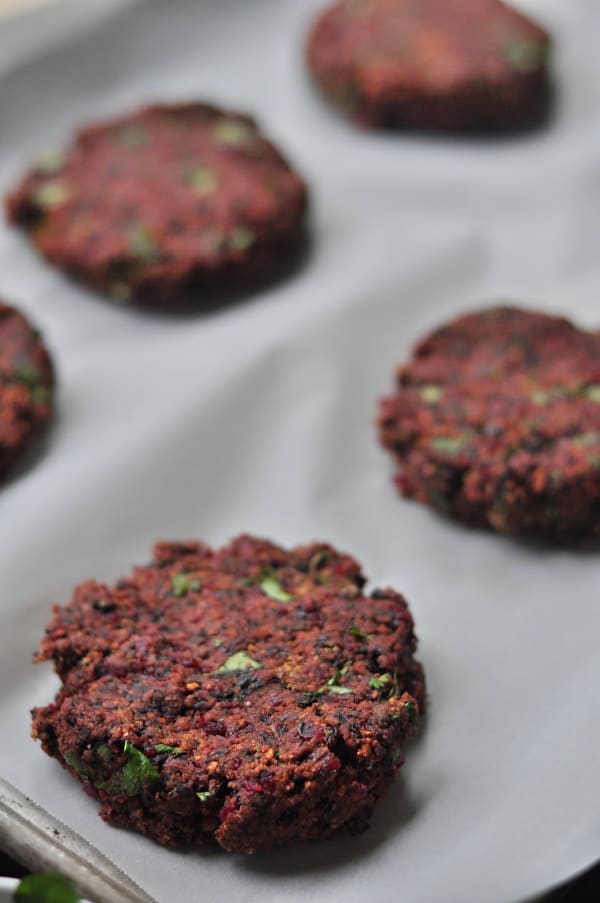 I bake 10-15 minutes. Go for 15 if you like a firmer middle to your veggie burger. Flipping the burgers midway helps get a meat-like crust on the exterior of the burger.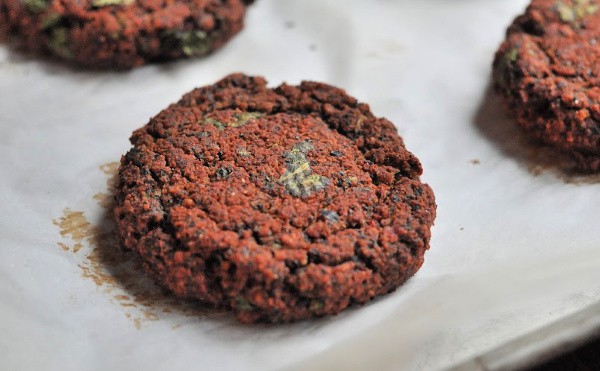 Mushroom and Beet Black Bean Burger Toppings
Here are some of my ideas for burger toppings: Mayo-Cue: (BBQ Sauce mixed with Mayo, linked in the recipe), spreadable cheese like Boursin, your traditional toppings (ketchup, mustard, pickles), melted mozzarella cheese, chopped figs. Even before this recipe was released, I heard from a friend that his wife was thinking of adding blue cheese
Mushroom and Beet Black Bean Burger Tips
Preparing the Beets: The recipe includes directions for used canned, cooked beets but you could use fresh beets too. Some grocery stores sell prepared beets in their produce refrigerated section (peeled and cooked).
Preparing the Portobello Mushrooms: I like to use Portabella mushrooms for this recipe. I rinse off the mushrooms and pat dry with a paper towel. The Mushroom Council describes Portabellas as having a "deep, meat-like texture and flavor" making them a perfect addition to the beets and black beans.
Seasoning: I love Smoked Paprika and you could add additional seasoning say if you like spice, mix in some chili powder or go sweet and try some cinnamon.
Mushroom and Beet Black Bean Burger Tools
These are affiliate links for my favorite tools for making this recipe. You can also visit my Amazon store to see all my kitchen gadget recommendations.
Cast Iron Skillet: A cast iron skillet is awesome for browning up the mushrooms and beets in this recipe.
Food Processor: A food processor is great for finely grinding the cereal into bread crumbs for this recipe and it is also helpful for getting the right consistency of blending the beets and mushrooms. Having the ability to pulse a food processor is super helpful.
Jelly Roll Pan: A jelly roll pan is a great tool for this recipe to bake your Mushroom and Beet Black Bean Burger. I like to line it with parchment to prevent sticking. A jelly roll pan is also super helpful for when you are preparing vegetables or meats with seasoning for roasting or grilling. Everything stays contained!
Tips for Using Cast Iron Skillets
What heat temp should you use when cooking with a cast-iron skillet? I use low to medium heat. High heat is not needed with Cast Iron because it retains heat so well. If your pan is too hot you'll burn your butter in this recipe. Your cast iron will need time to heat up so give it a few minutes to warm up!
Is there anything I shouldn't cook in my cast iron skillet? Highly acidic foods like tomato sauce will remove the seasoning/non-stick of the pan and it will give your food a metallic taste. You might want to try browning what you need in the skillet (like meatballs or vegetables) and then transfer to an enameled cast iron (dutch oven) to add the sauce.
Do you have a favorite brand? I love the Lodge brand of cast iron products. I have a cast iron griddle as well and it is great for grilling steaks, chicken, vegetables, and making breakfast on the weekends. Lodge has a really nice overview of how to use your cast iron product on their site.
My cast iron skillet is rusted, is it ruined? Absolutely not! Your skillet just needs to be re-seasoned so it can get back its incredible non-stick powers! Southern Living has a great post with simple instructions on how to get your cast iron skillet back into commission.
How do I clean it after I use it? I know you will hardly believe this, but water! Yes, after cooking, I use my cast iron brush (affiliate link) and scrub out any food pieces. Then I just rub it with a small dab of olive oil and lightly rub it on the pan with a paper towel and let it sit out on my stove.
I'm sold on cast iron skillet cooking, what else can you make in your cast iron? It is great for browning and you can cook your meals in the cast iron and place it right in the oven. I make a puffy Dutch Baby pancake, Crispy Chicken Thighs, and my Green Curry Pasta Salad recipe shows how I use the cast iron griddle.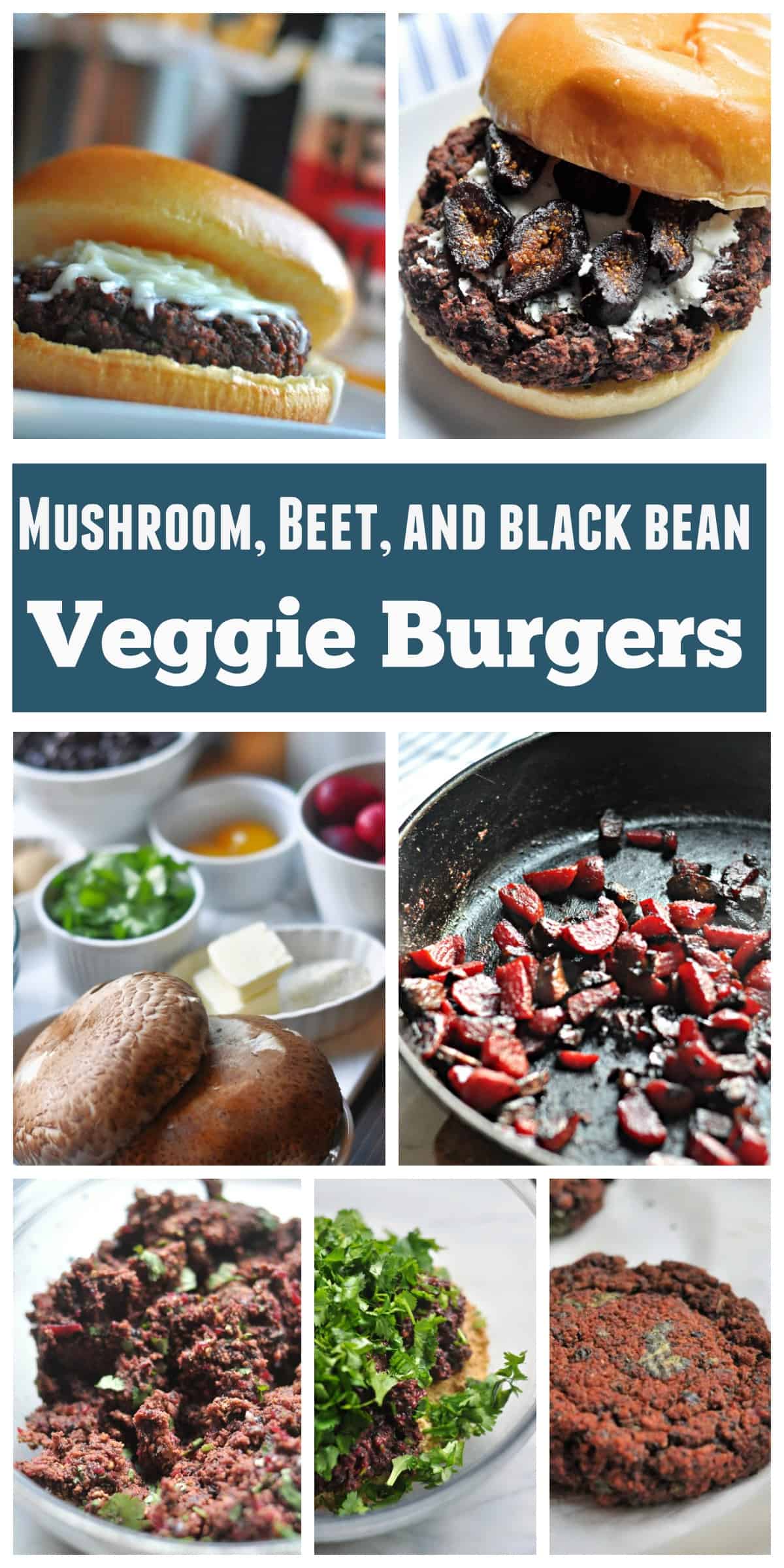 Yield: 6 burgers
Mushroom and Beet Black Bean Burger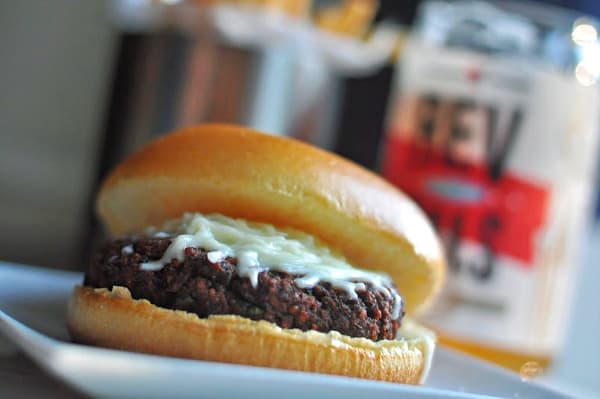 Mushroom and beet black bean burger recipe with Portabella mushrooms and baked in the oven. Smoky and sweet veggie burgers.
Ingredients
2 Portabella Mushroom Caps
2 TB Butter
1 tsp Garlic Salt
1 (15 ounce) can Whole Small Beets (drained, one can makes about I 1/4 cup chopped beets)
2 TB Brown Sugar
1 TB Smoked Paprika
2 Egg Yolks
1 (15 ounce) can Black Beans (drained)
3 cups of Kashi GO Original Cereal
1/2 cup Fresh Cilantro (chopped)
Garnish (Optional)
Figs (fresh, sliced)
Boursin cheese or melted mozzarella
Brioche buns
Instructions
Preheat oven to 375.
Heat a cast iron pan over low heat.
Rinse and dry mushrooms. Chop into small pieces.
Add butter, chopped mushrooms and garlic salt to the pan. Cook for 5 minutes until browned and softened.
Chop the beets into small pieces and add to the pan with the brown sugar and smoked paprika. Cook for an additional 3-5 minutes until the mixture has browned.
While the mushrooms and beets are cooking, in a food processor, finely grind the cereal into a crumb consistency. Remove the cereal crumb into a bowl.
Add the beets and mushrooms to a food processor, with the egg yolks and black beans. Pulse a few times to get a tapenade texture. Check out the video or photos to see consistency.
Add the mixture to the bowl with the cereal crumbs and add the chopped cilantro. Mix to combine.
Line a jelly roll with parchment paper.
Form mixture into 6 patties (I like to use a 1/2 cup measuring cup to form the patties and then press them down). Place the patties on the parchment paper and bake for 10-15 minutes and flip the burgers and bake an additional 10-15 minutes on the other side.
Serve the Mushroom and Beet Black Bean Burgers on Brioche Buns and top with your favorite burger condiments. Melt on cheese or use a spreadable cheese and top it with whatever you love!
BEETBALLS: You can also make these burgers into beetballs. Follow the recipe and instead of making patties, make into 32 beetballs. Place beetballs on a jelly roll lined with parchment paper and bake for 20-25 minutes at 375. Serve on spaghetti, in pita bread, or as a bowl meal.
Recommended Products
As an Amazon Associate and member of other affiliate programs, I earn from qualifying purchases.
Nutrition Information:
Yield:
6
Serving Size:
1
Amount Per Serving:
Calories:

141
Total Fat:

7g
Saturated Fat:

4g
Trans Fat:

0g
Unsaturated Fat:

3g
Cholesterol:

76mg
Sodium:

337mg
Carbohydrates:

15g
Fiber:

4g
Sugar:

6g
Protein:

5g