Easy roasted tomatoes made even more delicious with bacon.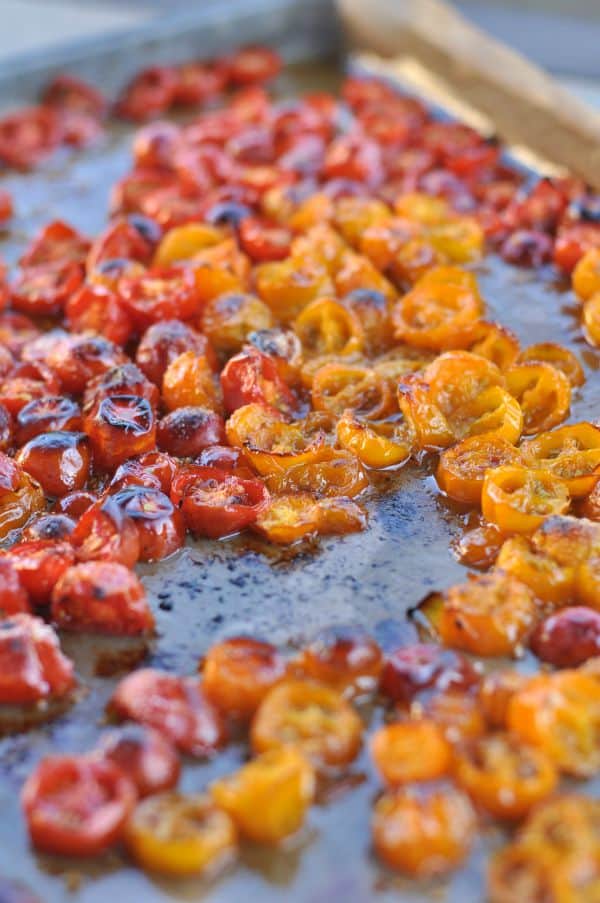 Just a month ago our family picked out our Burpee plants and I shared my experience of getting my kids involved in gardening in my post, 5 Easy Ways to Garden with Your Kids. My daughter carefully picked her own tomato plant and we have been eagerly awaiting the first of the tomatoes.
When I first started gardening the first sign of tomatoes always meant that summer was in full swing. When my daughter was old enough to tottle around outside, her first garden experience was pulling tomatoes off the vine in my alley garden. My husband and I would laugh when the juice and seeds would explode all over her face and clothes. And now, she's the one picking out the plants.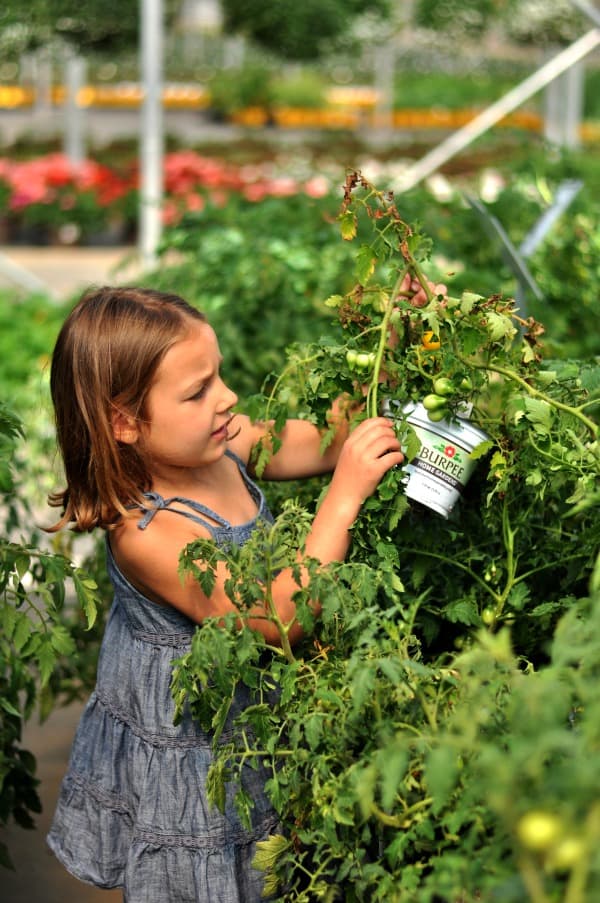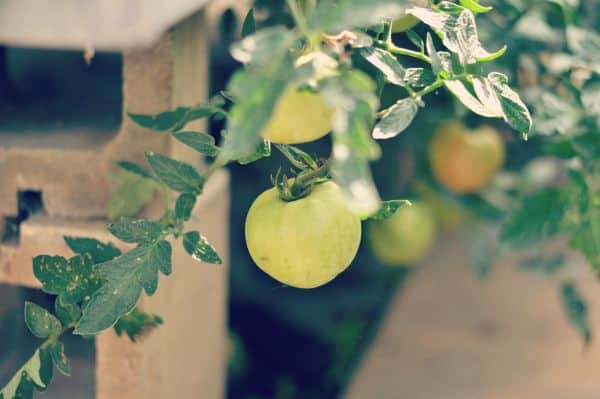 I couldn't remember how long it would take before we had tomatoes. I always try and tuck the tag into the ground next to the plant but sometimes they get lost, or my kids try and trick me and move the tags around. So it's really great that Burpee has a Gardening Guide that allows you to look up each plant find out the days to harvest as well as gardening tips and frequently asked questions. One of my favorite resources is their Tomato Chart that details the varieties of tomatoes with days to harvest as well as the best meal type for using the tomatoes.
My budding gardeners love to check what's new in the garden each night. Recently we were surprised to find that we finally had tomatoes. Without hesitation, the kids pulled the red tomatoes off the vine and as quickly as they appeared they were gone with just a few bites. When the plants start to really cranking out tomatoes one of my favorite recipes to make is bacon roasted tomatoes.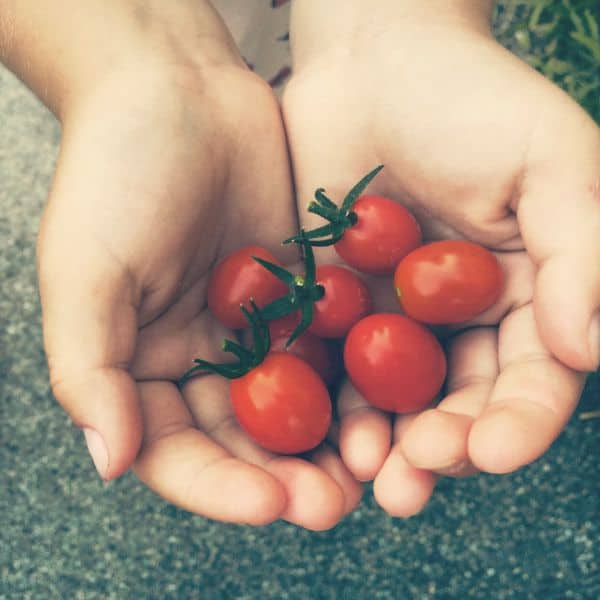 Bacon roasted tomatoes are super easy to make, just line a jelly roll pan with reusable parchment paper and broil bacon until browned and crispy.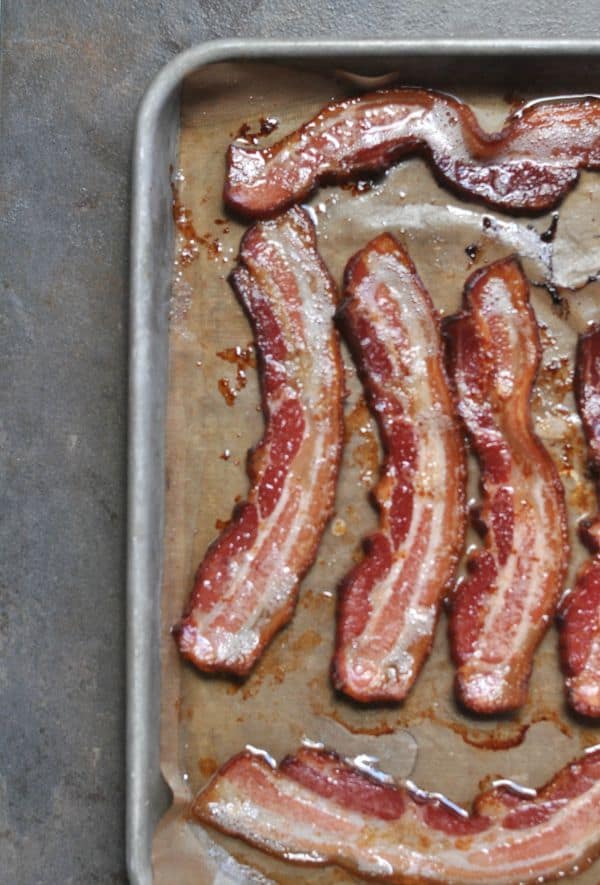 Once the bacon finishes cooking, add sliced tomatoes and combine with salt and brown sugar.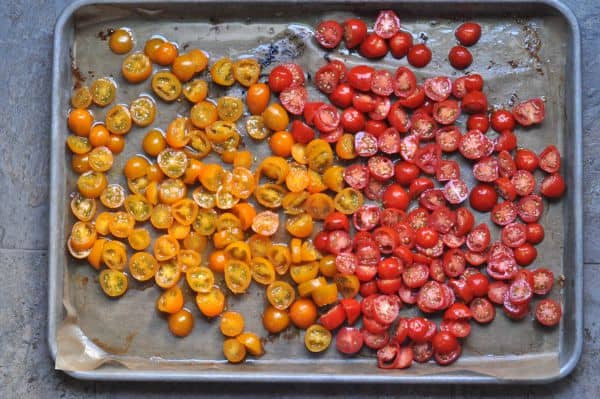 Broil for 15 minutes until nice and browned. I can eat these tomatoes right out of the pan, but here are a few ideas: add both the bacon and tomatoes to salads or sandwiches for BLTs, use the tomatoes on top of goat cheese and drizzle with honey for an easy appetizer or top plain yogurt with the tomatoes for a savory breakfast. Roasted tomatoes are great to keep in your fridge to use as toppings for meals as well, like hamburgers, pizza, eggs or even tacos.
However you eat these roasted tomatoes, do it fast because, just like summer, they won't be around long.
[bctt tweet="This is what happens when bacon meets roasted tomatoes! #recipe #bacon "]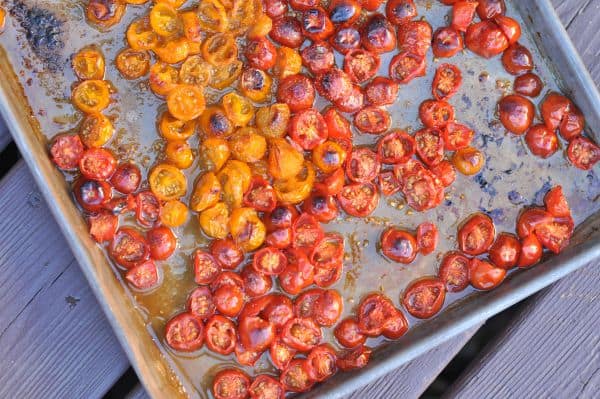 Disclosure: This post is sponsored by Burpee Home Gardens. This summer I have partnered with Burpee to share my love of gardening with my family and the recipes that come from my home garden. You can follow along with our gardening fun here and over on Instagram, follow Burpee Home Gardens and Alice Seuffert for pictures of the exciting things we are growing this summer. Thank you for supporting the organizations, companies, people and events that I choose to work with, sponsored content helps me grow my blog and support my family. As always, opinions are my own.

Bacon Roasted Tomatoes
Ingredients
1 lb Thick Cut Bacon
4 cups (sliced, Golden tomatoes) or 2 pints
1 tsp Salt
2 TB Brown Sugar
Instructions
Preheat oven to Broil at 525.
On a jelly roll pan (raised cookie sheet) lined with reusable parchment, broil the bacon 10-15 minutes until nicely browned.
While bacon is cooking, slice tomatoes.
Remove pan from the oven and set bacon aside. Do not discard the bacon grease.
Add sliced tomatoes to the pan and mix around until they are covered in bacon grease. Add salt and brown sugar and mix until combined.
Return pan to broil at 525 for 15 minutes until roasted.