The best Instant Pot Ribs recipe for tender ribs that fall off the bone! Super easy and kid-friendly! Seasoned with a sweet and smoky rub and finished with a honey bbq sauce. Make in your Instant Pot or Crock-Pot Slow Cooker!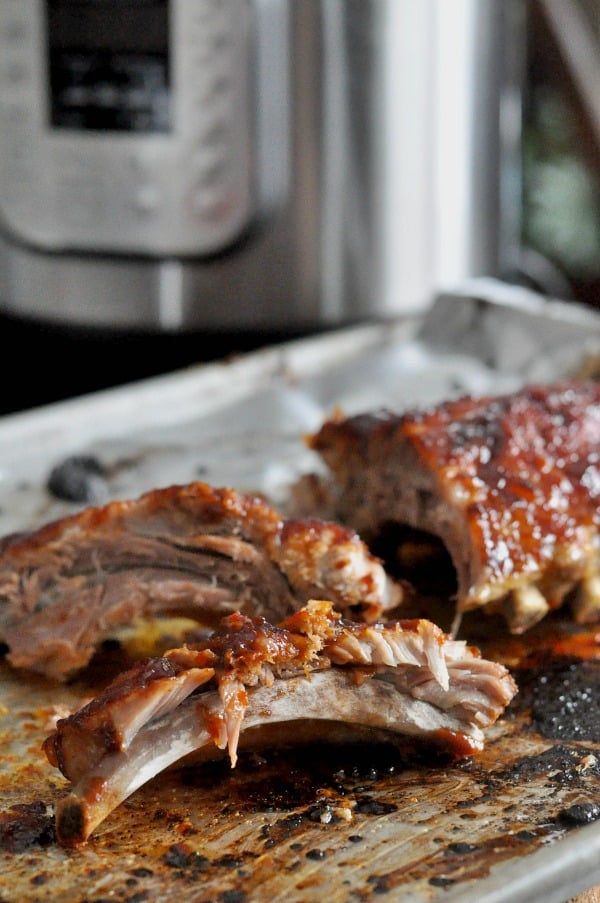 Weather, specifically seasons (or lack of changing of seasons) will not keep me from my favorite summer foods! I'm dreaming of summer and since I can't enjoy grilling weather right now, I've figured out a way to make my favorite ribs in the Instant Pot.
This post contains affiliate links for products that I use and endorse. This recipe will show you how to make the ribs right in your Instant Pot and show you how using this appliance will give you time do something else you enjoy while it cooks!
These Instant Pot Ribs are super tender, fall-off-the-bone ribs. I make them with my sweet and savory rub, cook them in the Instant Pot and finish them in the oven in place of the grill!
The Instant Pot has been doing some heavy work in our house lately making family meals.  I love that the meals I make in the Instant Pot are made quicker than other methods of cooking, the flavors are outstanding, and I can put the recipe in the Instant Pot and do something else with my time! You can check out all my Instant Pot recipes to see how much I love using the Instant Pot for family meals. If you are new to using an Instant Pot, go check out my videos on my meatloaf or pot roast recipe for tips on getting started and how to do the quick pressure release.
I've found that the more time I spend meal planning or using tools that cut cooking time, the more time I get to spend with my family.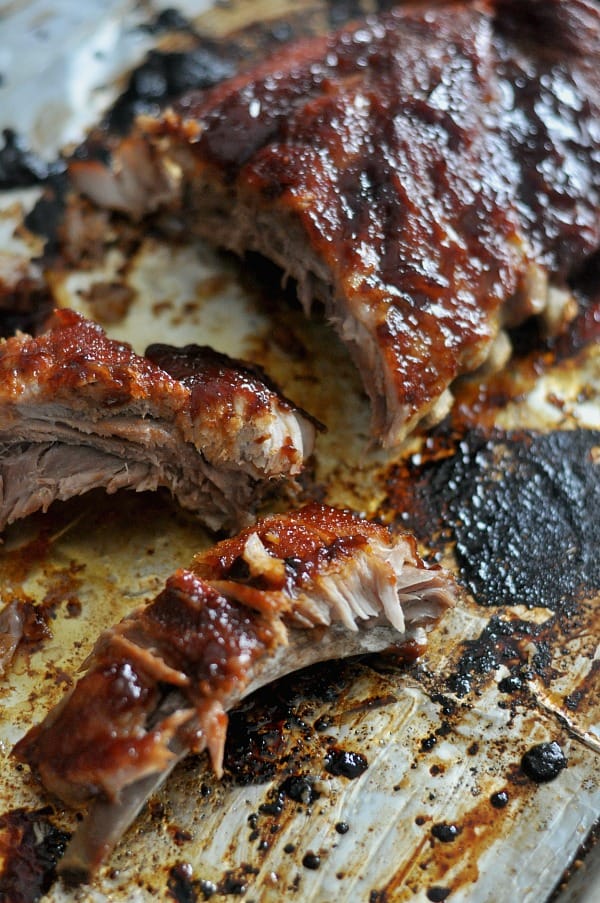 This Instant Pot Ribs recipe was a huge hit with my family. All of us love the flavors and we have no problem demolishing a rack of ribs in one sitting! I made this for a Sunday supper and while this recipe cooked, I took some quiet time to relax and read my book. Yes, quality time to myself! Each month in my monthly email update I share the books I'm reading. We've been snowed in the past month so we've been flying through books at our house!
This Instant Pot ribs recipe is a drool-worthy summer classic and cooking it in the Instant Pot gave me some extra time to do something I love. And if you don't have an Instant Pot, I've also included a link to my Crock-Pot slow cooker ribs recipe in the recipe too!
BBQ experts recommend that you remove the membrane on the opposite side of the meat, so I do it too and use my food scissors. Removing the membrane helps make the meat more tender.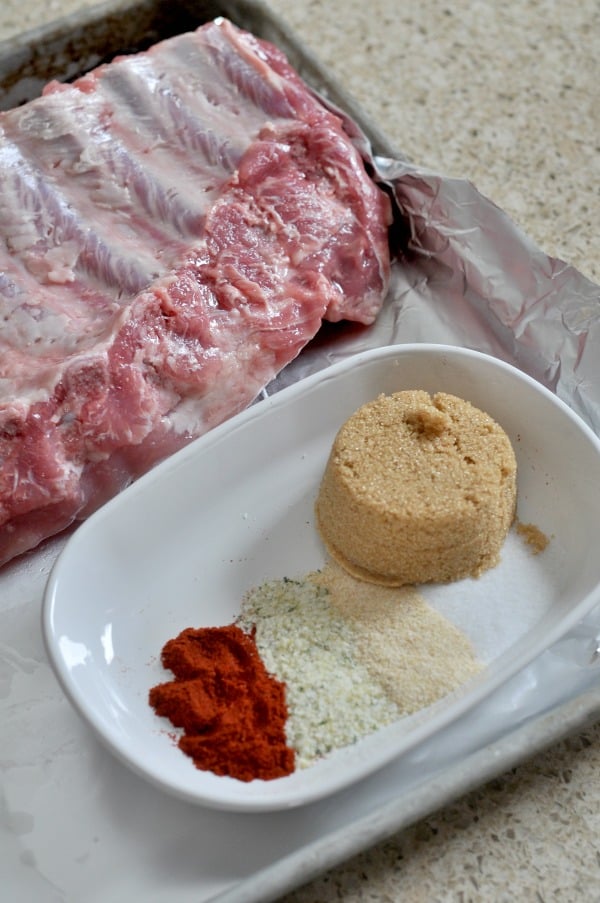 I like to get all the seasoning for the rub organized and get the ribs on a jelly roll pan.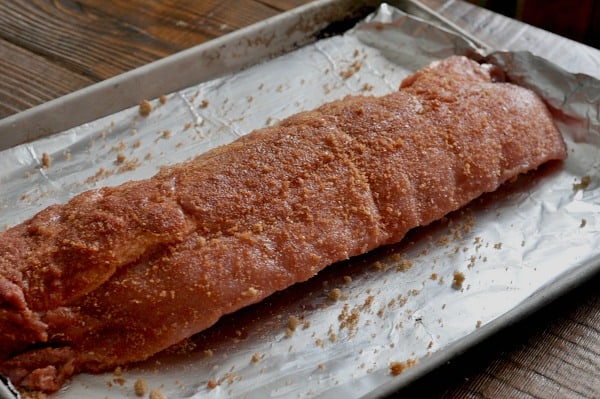 Once the ribs are on the pan, I can rub the ribs and contain all the spices right in the jelly roll pan.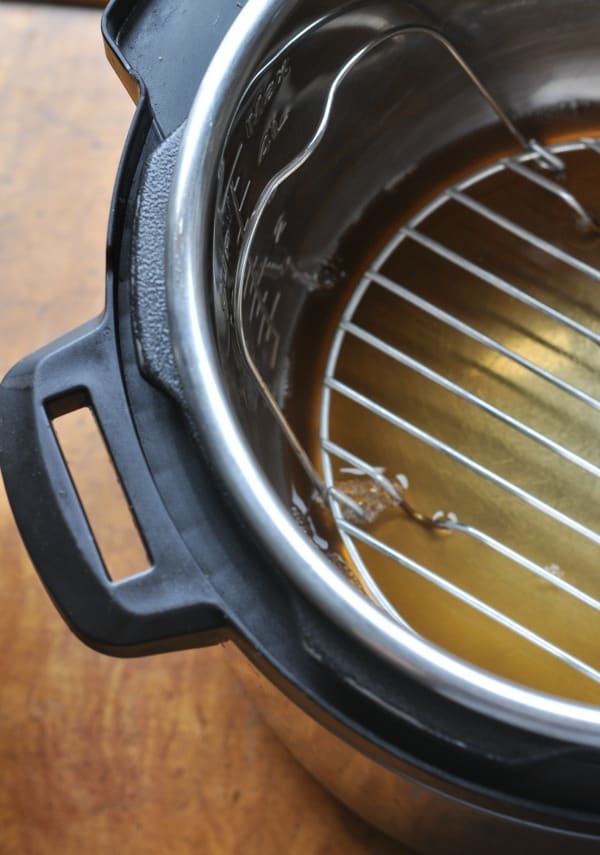 I use beef stock or broth as the liquid and use the basket to keep the ribs off the bottom while they cook.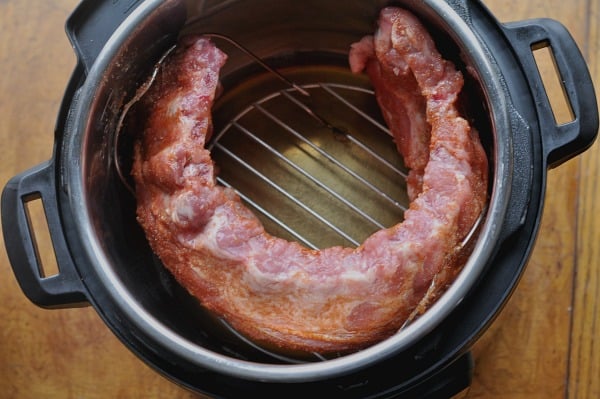 The ribs wrap right around inside the Instant Pot.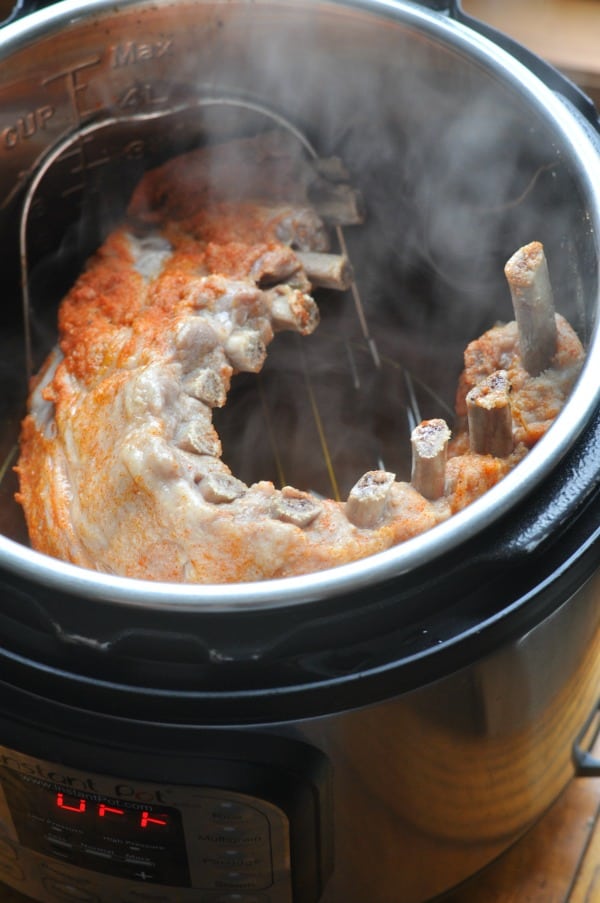 Once cooked, the ribs are steaming hot. Carefully remove the ribs with tongs and place on the jelly roll pan.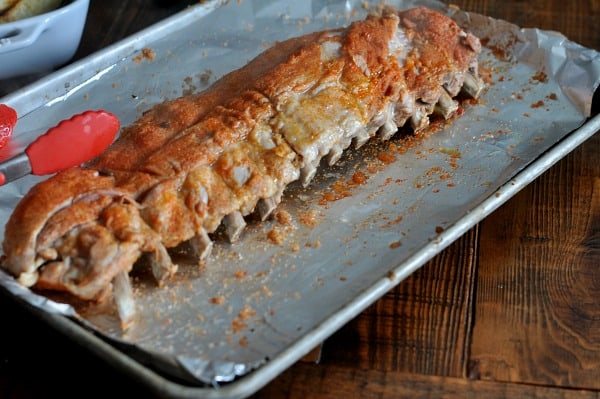 Brush with butter and BBQ sauce.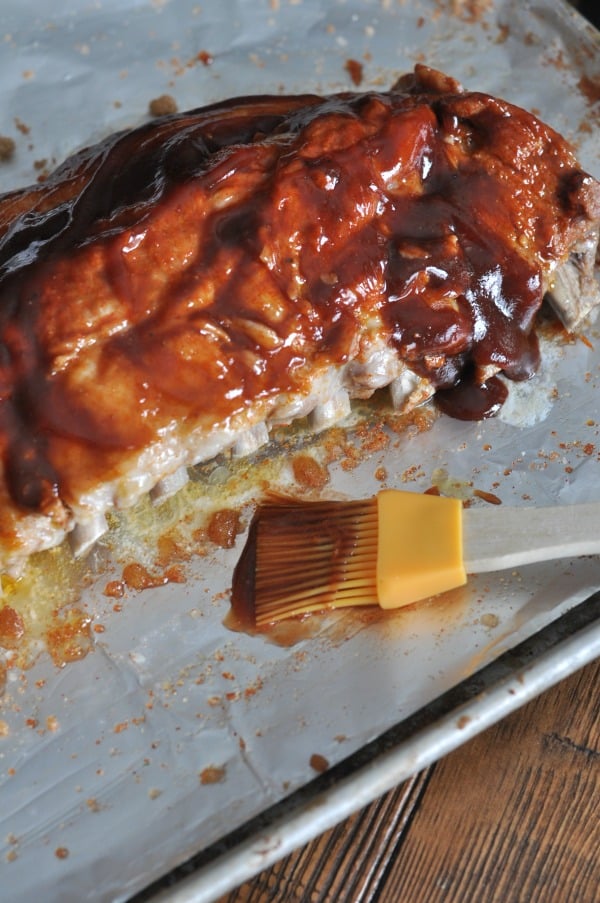 I like to broil the ribs for some nice caramelization and texture.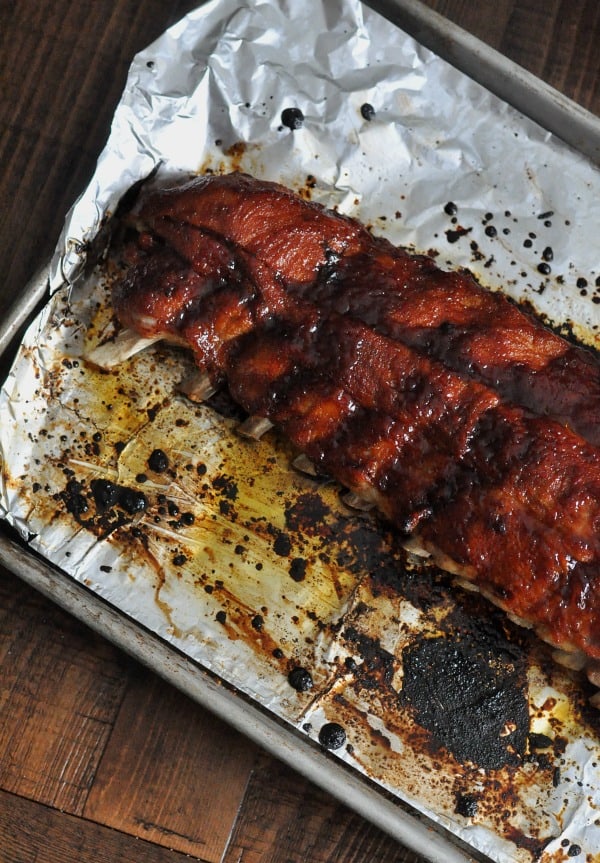 My Favorite Kitchen Tools for Making Instant Pot Ribs
These are affiliate links for my favorite tools for making this recipe. You can also visit my Amazon store to see all my kitchen gadget recommendations.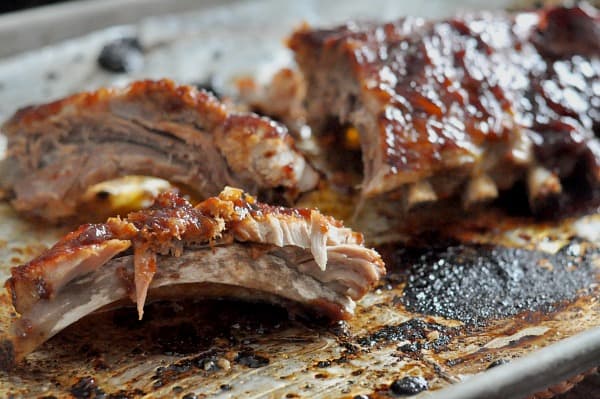 Tips for Making Instant Pot Ribs
I love my jelly roll pan and it's perfect for containing the seasoning when I put the rub on the ribs. It is also great for broiling the ribs after they cook
I highly recommend Sweet Baby Ray's Honey BBQ Sauce. It is the only sauce my kids like and say isn't "spicy."
I'm not a huge fan of burned crispy pieces (sorry, BBQ world) so I watch the ribs closely when I broil them so I don't burn the ribs.
Try my Creamy Instant Pot Mashed Potatoes with these ribs.
Don't have an Instant Pot? Check out my Crock-Pot Slow Cooker Ribs.
I hope you enjoy this summer favorite and I hope it gives you some time do something else you enjoy while it cooks!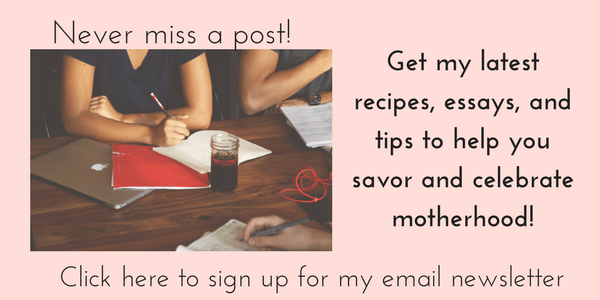 Instant Pot Ribs
Ingredients
3.5 lbs Pork Baby Back Ribs (fresh or defrosted)
2 tsp Salt, divided
1 tsp Garlic Salt (I like coarse with ground parsley)
1 tsp Smoked Paprika
1 tsp Onion Powder
¼ cup Brown Sugar
1 cup Beef Stock
4 TB Butter (melted)
½ cup BBQ Sauce (I like Sweet Baby Ray's Honey Barbeque Sauce)
Instructions
Place a piece of aluminum foil in a jelly roll pan and place the baby back ribs on the foil. Use a food scissors to remove the membrane that covers the bones on the opposite side of the meat and discard the membrane. Pat the ribs dry with a paper towel. In a small dish, combine 1 tsp salt (reserve the other 1 tsp for the end of cooking), 1 tsp garlic salt, 1 tsp Smoked Paprika, 1 tsp Onion Powder, and ¼ cup brown sugar.
Add the beef stock to the instant pot. Place the steamer rack trivet inside the Instant Pot. Place the ribs inside the instant pot, meat side out. Lock the instant pot and cook on manual high pressure for 30 minutes. Make sure the valve is set to seal. Once cooked, let the ribs stay on the warm function for 10 minutes.
Preheat the oven to broil and do a quick pressure release of the Instant Pot.
Remove ribs from the instant pot and place the ribs on a piece of aluminum foil on a jelly roll pan. Drizzle with the melted butter and brush with the BBQ sauce. Place ribs in the broiler for 8-10 minutes. I like to remove before sauce starts to burn and crisp.
If you don't have an Instant Pot, try my Crock-Pot Slow Cooker version of these ribs.