Super moist and easy lemon zucchini muffins. A great recipe for family gatherings, weekday breakfast for kids, or a way to use up a big zucchini!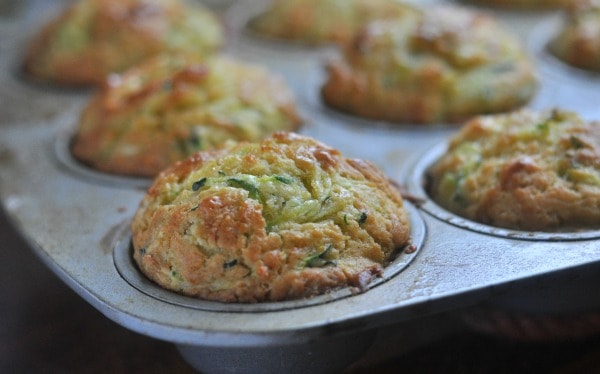 We went on vacation and totally neglected our community garden. When we got back the garden was bursting with tomatoes and giant zucchinis. Seriously, look at my son! "Hey mom, you may want to actually garden your garden!"
Chalk that up to an awesome summer of having way too much fun. Seriously, though, no worries. This giant zucchini was perfect for my Lemon Zucchini Muffins.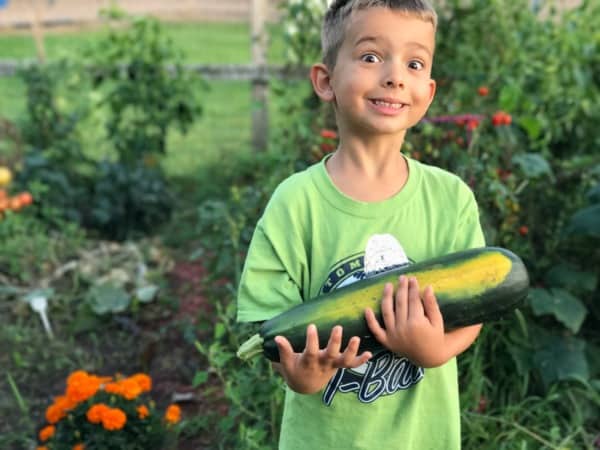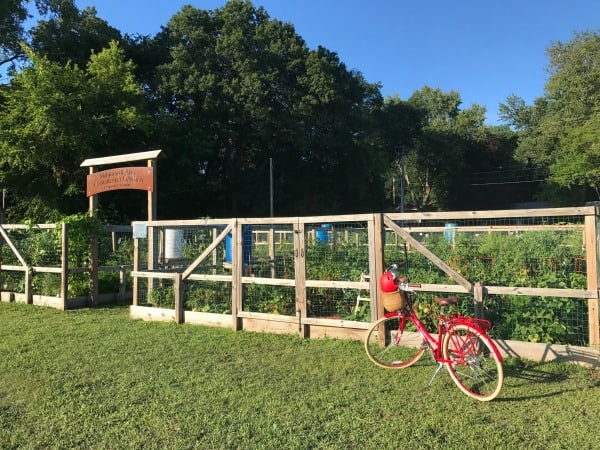 How cute is my community garden? That sweet bike isn't too shabby either!
I've been working on this lemon zucchini muffins recipe over the summer and each time, it just keeps getting better. I originally started tweaking a recipe from my favorite baking cookbook (this is an affiliate link for the cookbook if you want to buy it too). I wanted lemon to really shine in this recipe and I think it pairs really well with the zucchini. The muffins are super moist and I even bake them the night before for easy serving in the morning.
Okay, problem solved, big zucchini=awesome muffins. I made these on a Saturday night when we had family visiting and I put some tin foil on top and told our guests to help themselves when they woke up on Sunday. It was a great weekend breakfast and I totally slept in on Sunday. A win for all!
This lemon zucchini muffins recipe also makes a super great breakfast for your kids on the weekdays. Just make a batch on the weekend when you actually have some time. You can also freeze these too!
I hope I helped you use up that zucchini in your garden and turn it into a great breakfast for your family!

lemon zucchini muffins
Ingredients
5 cups Shredded Zucchini
½ cup, plus 3 TB of Sugar (divided)
Zest from 2 Lemons
2 cups Flour
1 tsp Baking Soda
1 tsp Baking Powder
8 TB Butter (melted and cooled) divided
⅓ cup Honey Vanilla Yogurt (I like Greek Gods)
2 eggs (beaten)
2 TB Lemon Juice
Instructions
Preheat oven to 375.
Shred a large zucchini to make 5 cups of shredded zucchini. Combine zucchini with lemon zest and 2 TB of sugar. Set aside for 20 minutes. Once the zucchini has sat for 20 minutes, squeeze out excess water and use a paper towel to remove any additional moisture.
Combine flour, baking soda, and baking powder. Set aside.
Melt 6 TB of butter and let cool. Once cool, combine with yogurt, eggs, ½ cup of sugar, and 2 TB of lemon juice. Add to the zucchini.
Gradually add the mixture to the dry flour mixture. Mix by hand until combined.
Distribute into a greased muffin tin.
Bake 30 minutes.
Brush muffins with remaining 2 TB of melted butter and sprinkle with 1 TB sugar.
This is an adapted recipe of the Cooks Illustrated Zucchini Bread.