This Green Curry Pasta Salad recipe is a simple cold salad made with pasta and tossed with a creamy green curry sauce, grilled chicken, pineapple, and greens. This easy recipe is great for a family gathering, potluck, or tasty weeknight meal! This was a popular dish we enjoyed while vacationing in Aruba.
This post contains affiliate links for products that I use and endorse. This recipe will show you how to make an easy Green Curry Pasta Salad with simple ingredients!
This year I turned 40 and it was also the first year that our family could all go on spring break together and so we decided to take a really fun trip! We love the Caribbean and a beach vacation was the perfect way to escape an extremely cold and snowy Minnesota winter. We decided on Aruba because of the beautiful beaches and warm temperature! We were also really excited about the crystal blue water and spending time on a boat!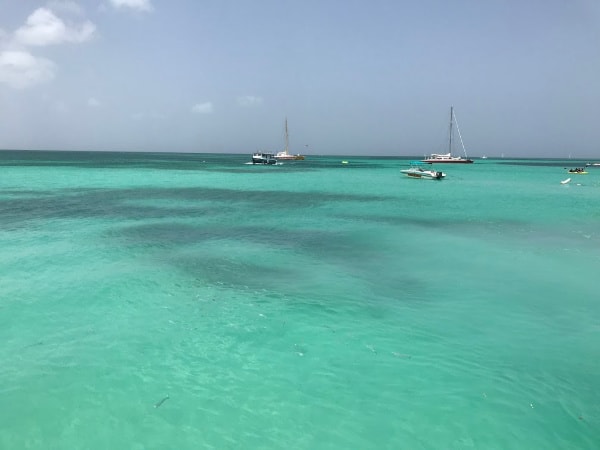 I think many people think of Aruba as a great couples vacation but it is an awesome family destination too. I did some research on boat trips and found a fun boat trip right by our hotel called Jolly Pirates. My kids were fairly new to snorkeling and I wanted to find a family-friendly boat trip. The crew on the boat were super helpful and the spots were great for checking out fish.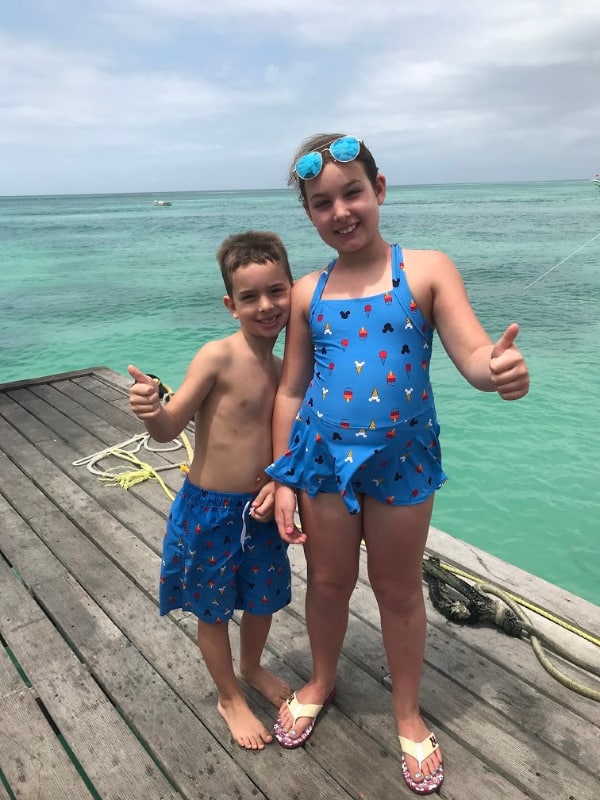 One of the big draws about Jolly Pirates is that it looks like a pirate ship and has a giant rope swing! Yes, we all tried it! Even mom of course! Inspired by the crew doing piggy-back swing rides, my husband did the same with our son, Wes! Wes is in Kindergarten and was able to even do the swing by himself. You can check out our whole family in the video below! 
I'm certain there is nothing better than a yummy lunch after snorkeling and swimming! We were famished and served a delicious lunch and we kept talking about their curry pasta salad! It had a curry flavor with sweetness and I knew when we returned home I had to try and recreate my own version! The Jolly Pirates was a really fun experience and our kids had a blast hanging in the net seats relaxing after our lunch!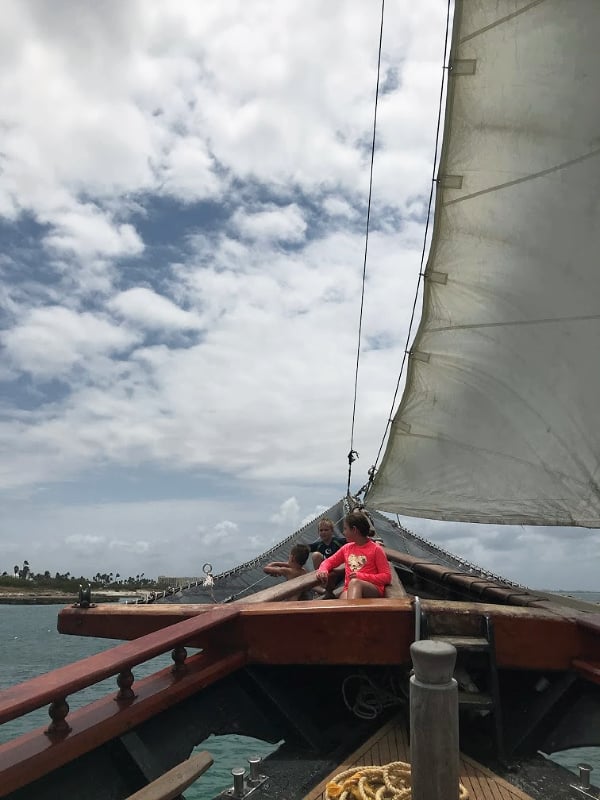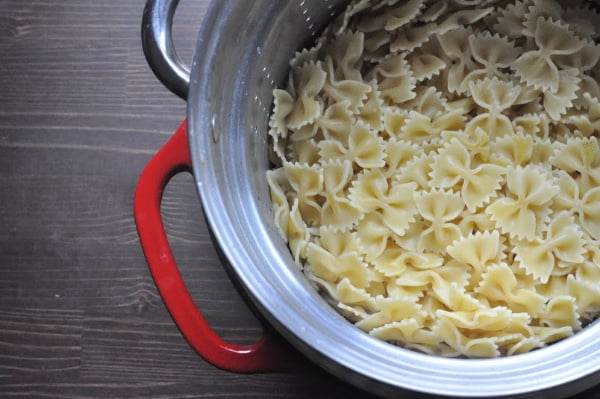 Caribbean macaroni salads usually use elbow pasta but I prefer Farfalle for this recipe.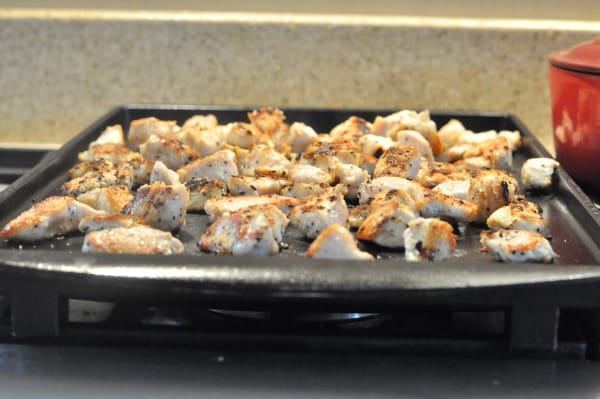 I think the seasoned grilled chicken adds great flavors to this recipe. I like to use my cast iron griddle to grill up bite-size pieces of chicken.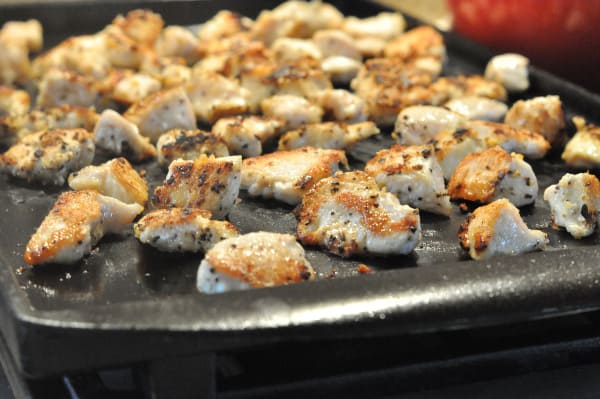 In a large bowl, add the pasta, chicken, pineapple, and peppers.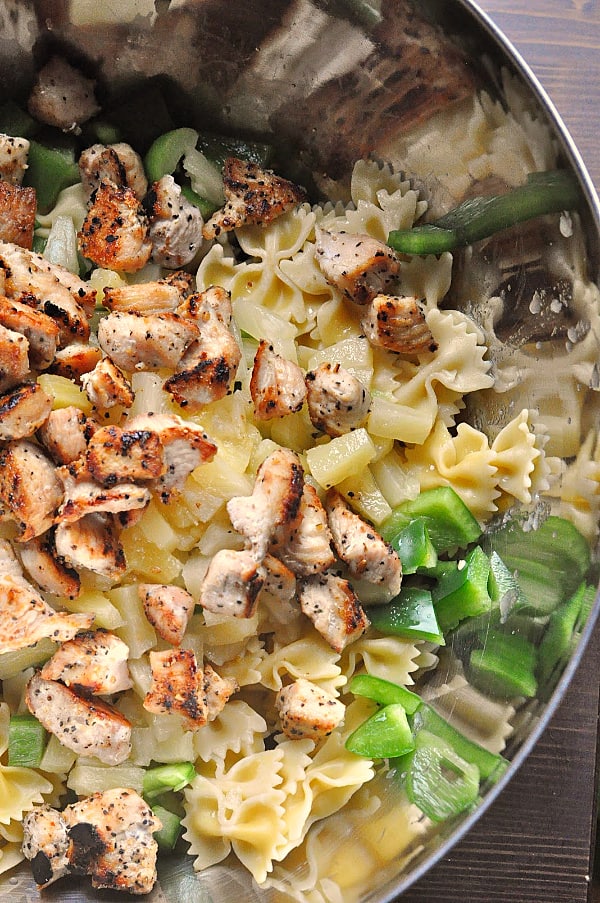 The green curry sauce is made with green curry, mayonnaise, and white sugar.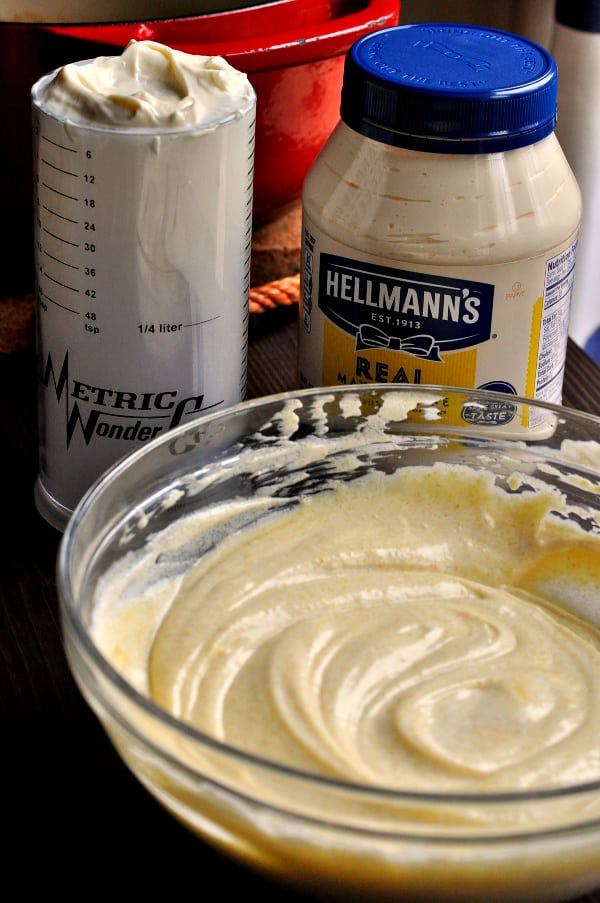 Mix all the ingredients and add your favorite greens. I like to add Cilantro and Arugula.
This is a great dish to make for a gathering or to make on the weekend and serve for lunches or an easy dinner. Check out my other tips below too! 
I hope your family enjoys this recipe as much as my family does!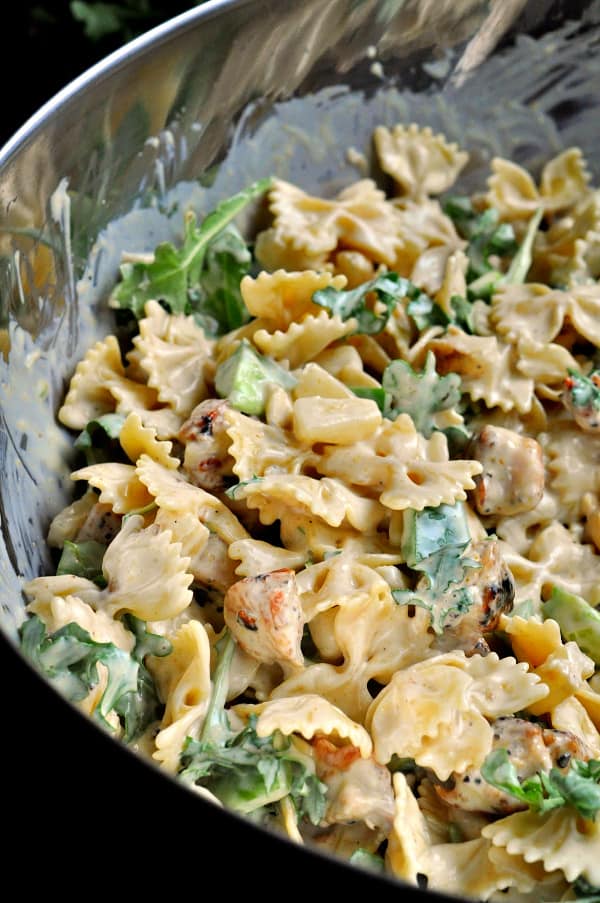 Tools for Making Green Curry Pasta Salad
These are affiliate links for my favorite tools for making this recipe. You can also visit my Amazon store to see all my kitchen gadget recommendations.
Tips for Making Green Curry Pasta Salad
Pinched for time? Substitute Rotisserie Chicken or packaged cooked grilled chicken.
If I am serving this pasta dish for a crowd right away, I will add all the greens at once. If I make it as a meal to serve through the week for lunches, I add the greens as I serve it to prevent the greens from getting soggy.
If your family likes peppers, you could sub in more peppers, especially yellow, orange, or red if you like!
The green curry isn't overpowering in this dish which makes it a flavorful hit with adults and kids, and it makes a perfect dish to bring to your next potluck.
In this recipe, I use Cilantro and Arugula for the greens. If you are averse to either, you may substitute fresh mint. Arugula has a peppery taste, if that's too much for your tastebuds, try some simple mixed greens.
Green Curry Pasta Salad
Ingredients
Ingredients
1 (1lb) box Farfalle Pasta
5 tsp Green Curry Paste
2 cups Mayonnaise
¼ cup Sugar
1 lb 8 ounces Chicken Breast (Boneless and Skinless)
2 tsp Grill Mates Smoky Montreal Steak Seasoning
1 tsp Garlic Salt
1 TB Olive Oil
1 (20 ounce) can Pineapple chunks (drained)
1 (large) Green Pepper (cubed)
½ cup Cilantro
2 cups Arugula
Garnish: Chopped Peanuts if desired
Instructions
Prepare the pasta according to the package directions. Drain, set in a bowl and let the pasta cool in the refrigerator.
Prepare the curry sauce by combining the green curry paste, mayonnaise, and sugar in a bowl. Set the bowl in the refrigerator to keep cool.
Heat your cast iron grilling pan over medium heat. Cut the chicken into small, bite-size pieces. Place chicken in a bowl or jelly roll pan and toss with the Grill Mates Smoky Steak Seasoning and Garlic Salt. With a pastry brush, brush the cast iron grill with olive oil. Place chicken on the heated grill and grill chicken five minutes on each side. Let chicken cool.
In a large serving bowl, combine pasta, curry mayonnaise sauce, chicken, pineapple, and green pepper. Once combined, add greens (Cilantro and Arugula) before serving.
If you are serving for a gathering, add all the greens at once. If you'd like to serve the salad through the week for meals, add a small amount of greens at each serving to prevent greens from becoming soggy.