Use chicken nuggets for this super easy and kid-friendly Baked Chicken Parmesan Slider recipe. Your kids can even make it!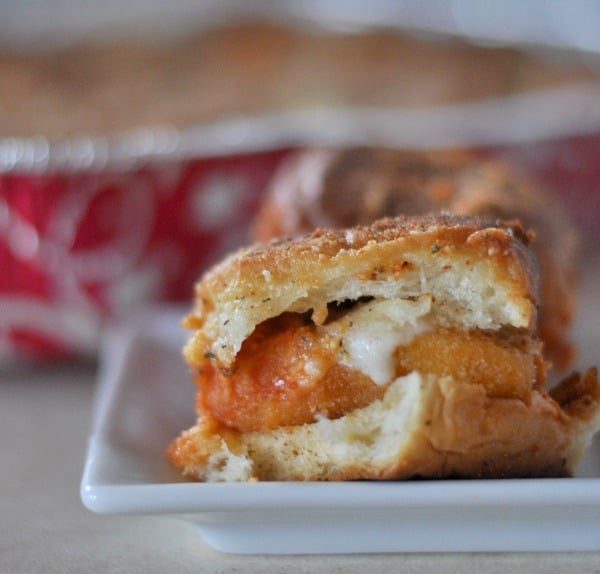 This is a great recipe to make for a party potluck, watching sports, or an easy dinner. This is a special baked sandwich recipe, not only is it using a favorite kid food, your kids can even make this recipe under your supervision.
One of my passions is teaching my kids to cook. So I've set up this recipe post with lots of photos and instructions to make it with your kids. You can make it with them, just supervise or if they are old enough, they can follow the pictures and instructions.
Here are our house rules when we cook with our kids:
Wash hands-wash right away before cooking and then give your kids this reminder every time they lick their hands or touch certain body parts.
Long hair is always in ponytails.
We set rules for running appliances if we are using one for the recipe.
Establish the rules for today's specific cooking experience: talk about the consequences if they don't listen or follow directions.
Praise your kids regularly while cooking, as much or more than you re-direct them or give them consequences.
When my kids get too excited and start to not listen, I send them to another room to do jumping jacks and get their wiggles out.
Don't forget about what is fun about cooking with your kids and what they think is fun and exciting. Let them lick the beaters and spoons! Or eat a few bites of the ingredients!
This recipe was created for my online Cooking with Kids course. If you love the format of this post and want to be notified when the next registration opens, send me an email at [email protected]
Do a simple "mise en place"(getting all the ingredients ready) with your kids or have your kids do this on their own if they can read the recipe or you can read it to them and have them walk around the kitchen getting everything.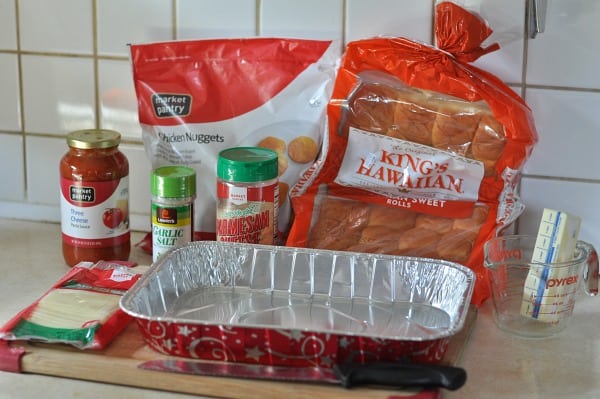 Hawaiian rolls are the sandwich buns in the recipe. If you follow my blog, you know I love baked sandwiches. Here are some of my favorite ones: Baked Ham, Baked Cuban, Baked Roast Beef and Baked Reuben.
The first task of the recipe is to cut the tops off the rolls. Depending on the age level and skill of the child will depend on how much guidance you need to give as an adult.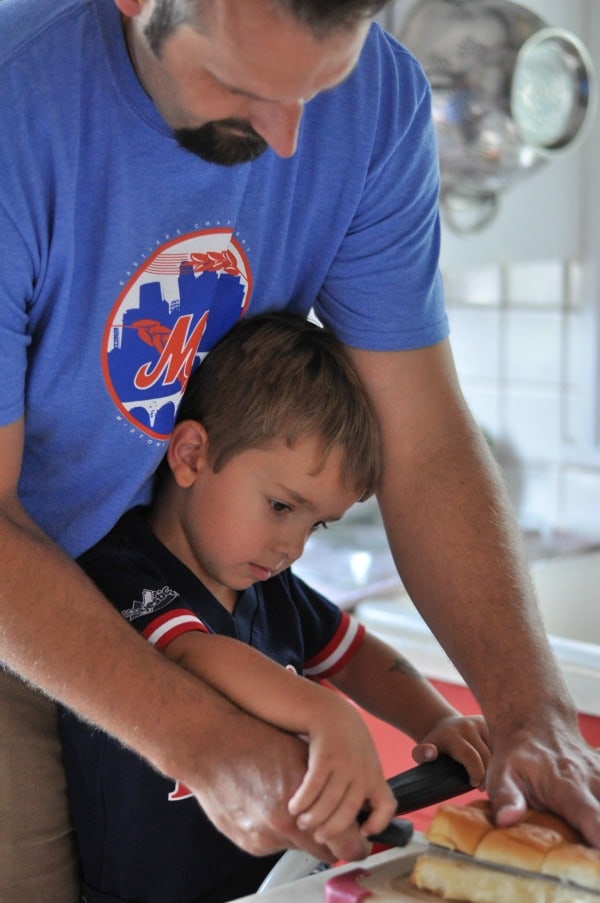 The next step for this recipe is to defrost the chicken nuggets and have your child count the chicken nuggets as they place the nuggets on the rolls.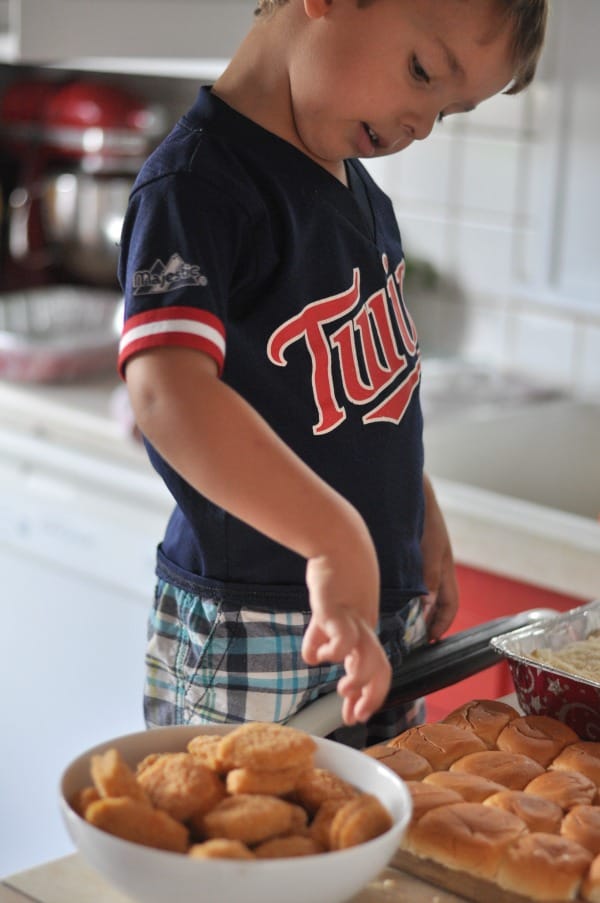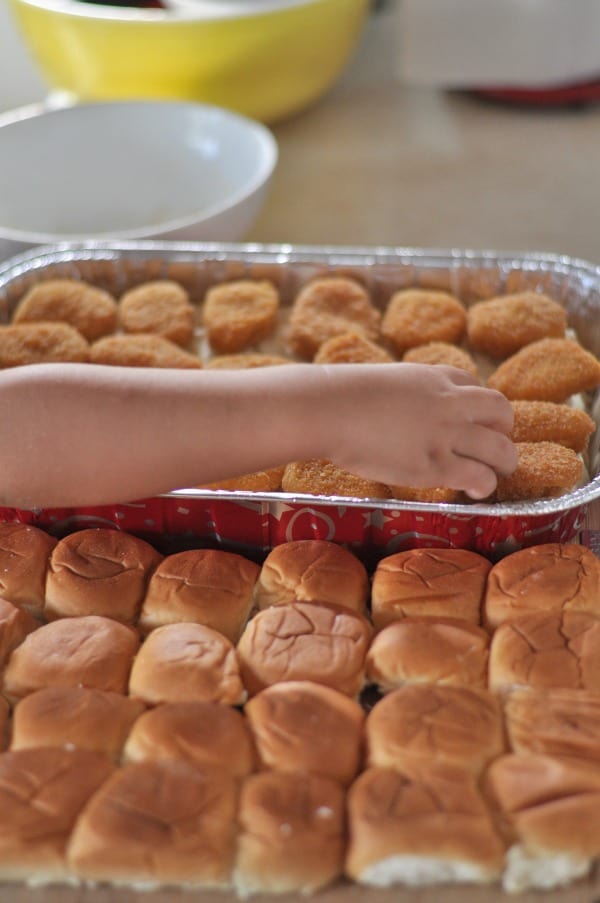 Once your child has placed all the nuggets on the buns, have them layer on the cheese.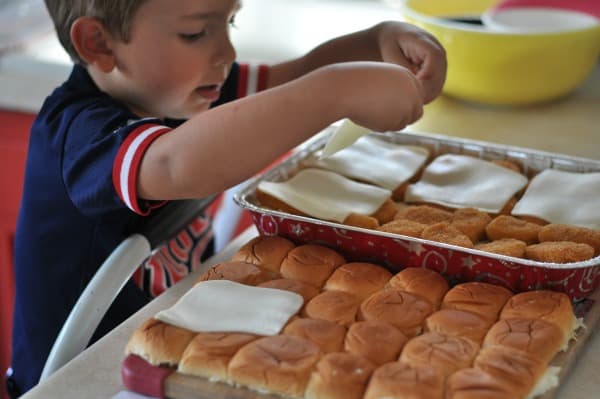 Spread the pasta sauce over the cheese. Encourage your child to use the back of the measuring spoon to spread out the sauce.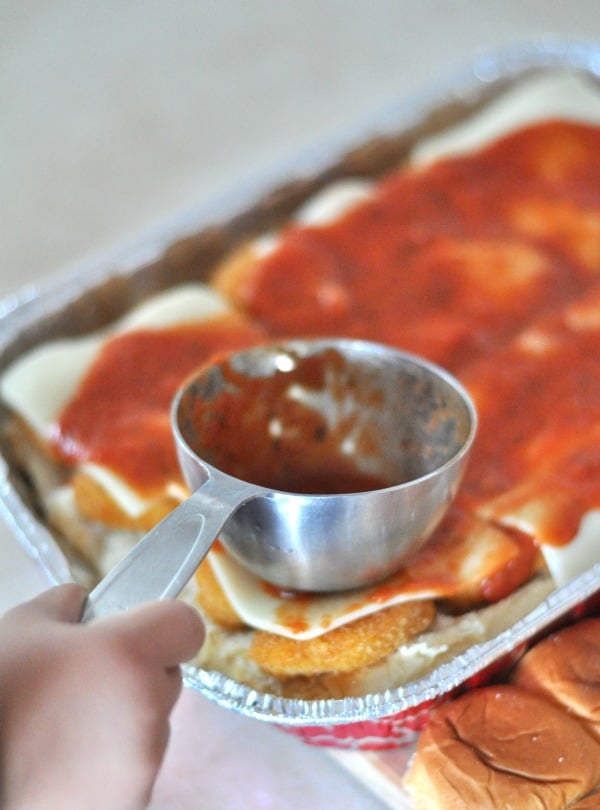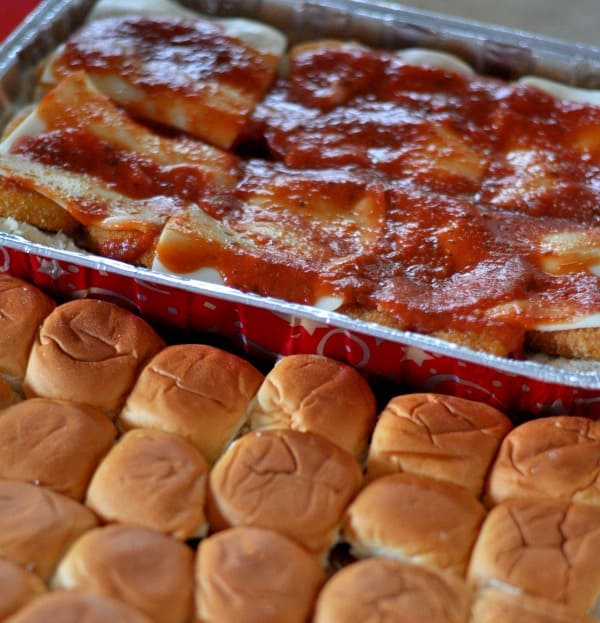 Put the tops back on the sandwiches and have your child get the butter ready. I like to have my kids slice up the butter before I melt it. Depending on where your child is at will determine their supervision with a knife. My son here is four and uses a butter knife under supervision.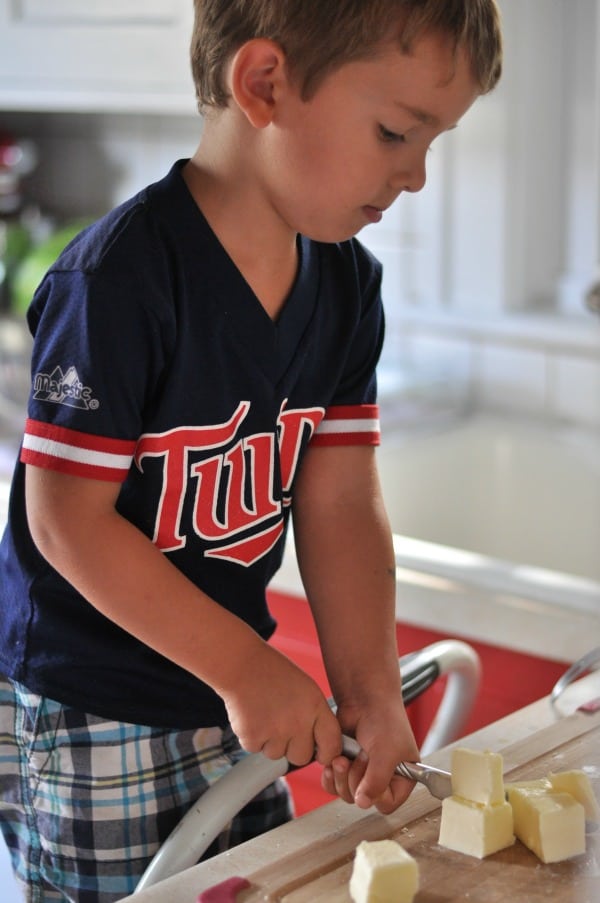 The next step is making the cheesy garlic buttery sauce for the tops of the rolls. Have your child measure the ingredients, help them pour it over the rolls and use a pastry brush to evenly distribute the butter sauce.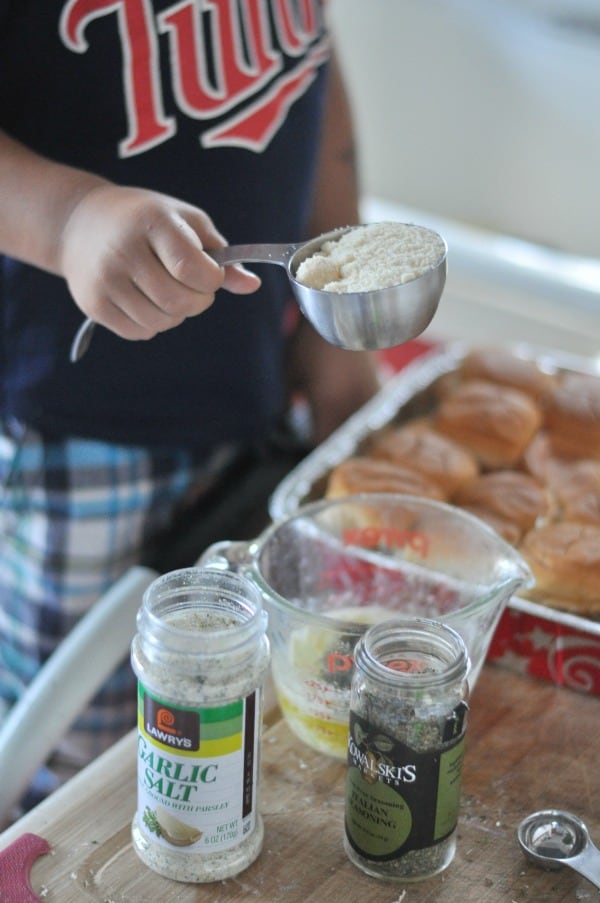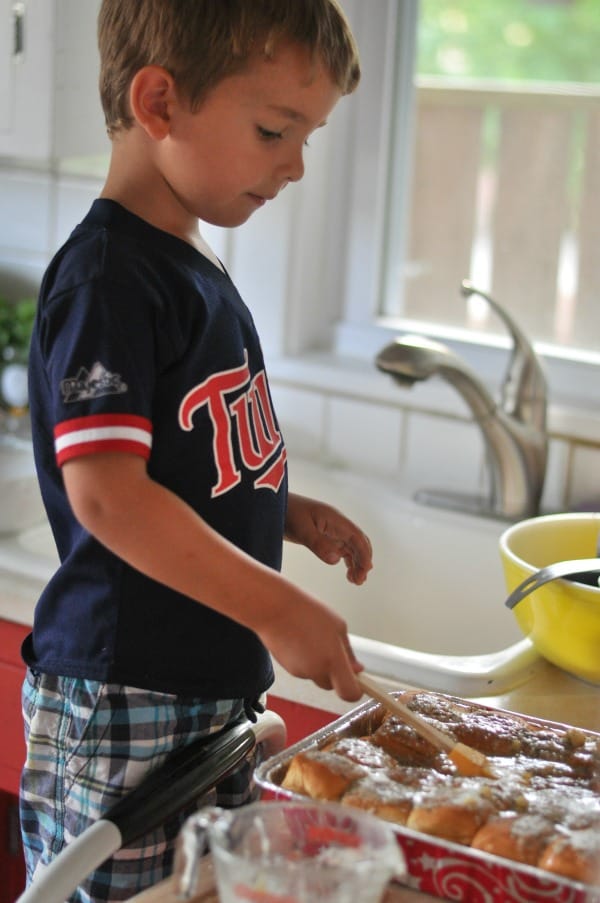 Once the sandwiches have been brushed with the butter sauce, you can have your child help you cover them with tin foil and help you push the oven buttons.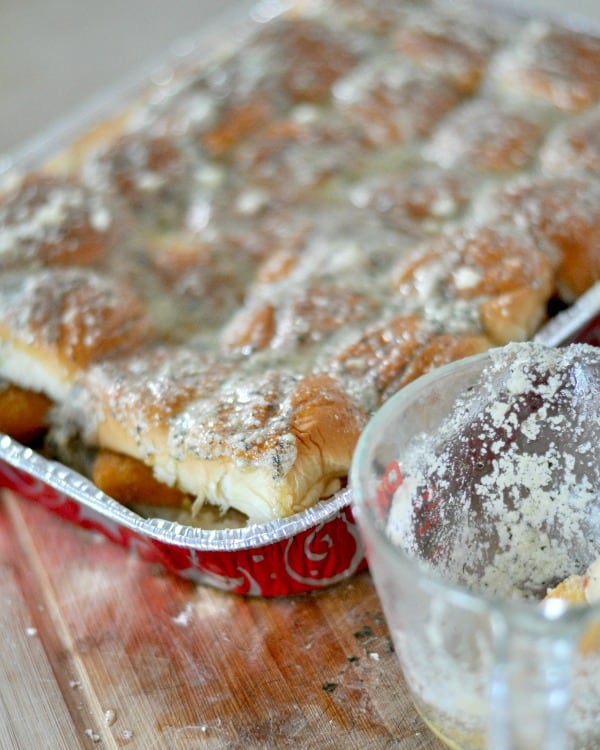 Once the sandwiches have baked, I like to take a spatula and steak knife and separate the 24 sandwiches. These Baked Chicken Parmesan Sliders are a great for a family get together, party potluck, or an easy weeknight meal with leftovers.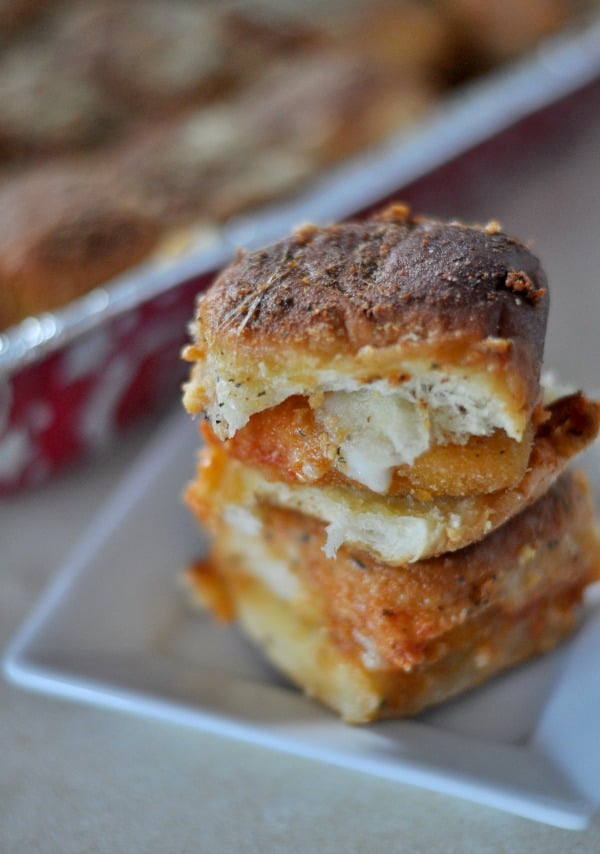 This recipe was created for my online Cooking with Kids course. If you love the format of this post and want to be notified when the next registration opens, send me an email at [email protected]
[bctt tweet="Baked Chicken Parmesan #Sliders-A simple dinner or appetizer that your kids can make! #parenting" username="diningwithalice"]

Baked Chicken Parmesan Sliders
Ingredients
Ingredients:
24 King's Hawaiian Sweet Rolls (1 package of 24 or 2 packages of 12)
24 Frozen Chicken Nuggets (defrost in the microwave)
6 slices Mozzarella Cheese
1 cup Red Pasta Sauce (Three Cheese)
8 TB Land O'Lakes Butter
2 tsp Garlic Salt (coarse with parsley)
1 tsp Italian Seasoning
⅓ cup Parmesan Cheese (100% grated)
Instructions
Preheat oven to 350.
Evenly cut the tops off the rolls. Place the bottoms of the rolls in a greased 9x13 pan.
Defrost the chicken nuggets in the microwave.
Place 24 chicken nuggets on the rolls. Add sliced cheese. Then spread red sauce over cheese slices.
Put the tops on the rolls.
In a microwave-safe dish, melt the butter. Add the garlic salt, Italian Seasoning, and Parmesan Cheese. Whisk and then evenly pour over the rolls.
Cover dish with tinfoil.
Bake covered for 15 minutes.
Remove tinfoil and bake an additional 15 minutes.