Baked Roast Beef Sandwiches: everyone's favorite buttery baked Hawaiian Roll sandwich made with Roast Beef.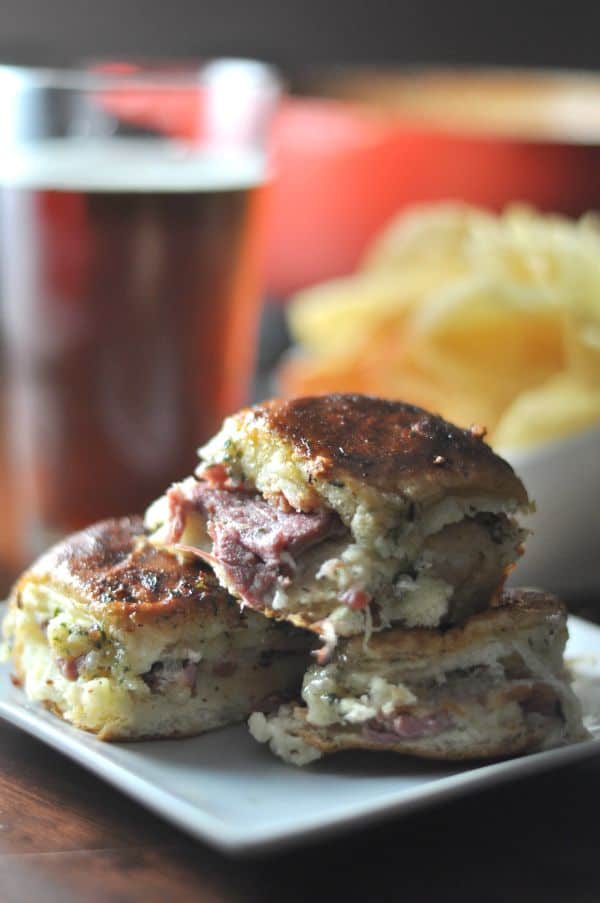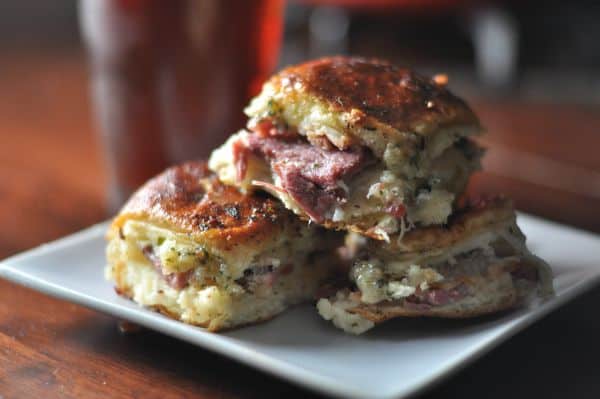 Holy moly. You guys love baked Hawaiian Roll sandwiches! Seriously, though, they are the perfect potluck food. Last year I made Baked Ham Sandwiches and every time I share the recipe I hear from you about how much you love it. Need more convincing? Every time I make baked sandwiches for a potluck, every last bit is gone. That's pretty much perfect potluck food right there, no?
So I'm back with a new baked sandwich recipe, Baked Roast Beef Sandwiches. I wanted to create something fun for football season and something you could bake at home and bring to a friend's house for the game or to the tailgate. These are yummy, buttery sandwiches filled with savory roast beef and bacon.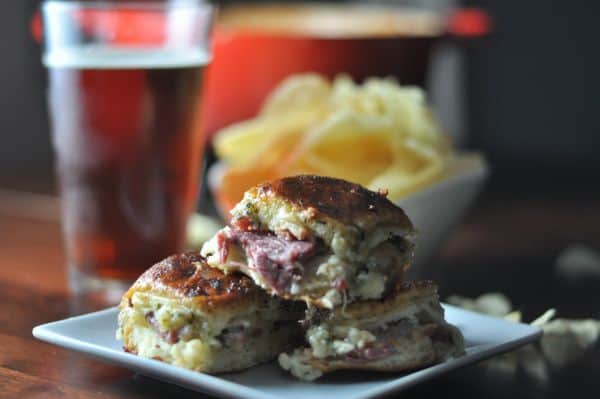 In my Baked Ham Sandwiches recipe, there is a step-by-step tutorial for how to assemble these sandwiches.
For this recipe, I'm using roast beef and Muenster cheese and for the buttery topping I use ranch mix and horseradish sauce, that gives it just a light zing on the buttery crust.
If I am bringing these to a potluck, I like to just make them right in a disposable 9×13 pan and then toss it out after the party. Also a great idea if you are headed to a tailgate and you don't want to worry about getting your pan back and you need to head into the big game.
This is perfect potluck and tailgating food. Just make sure to get one of these Baked Roast Beef sandwiches, they will be gone fast.

Baked Roast Beef Sandwiches
Serves:
24 mini sandwiches
Ingredients
24 King's Hawaiian Sweet Rolls (1 package of 24 or 2 packages of 12)
7 ounces Roast Beef, double amount if you'd like thick sandwiches (cut into small pieces)
6 slices Muenster Cheese
3 ounces Oscar Meyer Bacon Bits or Pieces (cooked)
8 TB Land O'Lakes Butter
1 ounce Hidden Valley Dry Ranch Dip
1 TB Horseradish Sauce
Instructions
Preheat oven to 350.
Evenly cut the tops off the rolls. Place the bottoms of the rolls in a greased 9x13 pan. Distribute the roast beef and then cheese over the bottom of the rolls. Sprinkle on the bacon pieces. Put the tops on the rolls.
In a microwave-safe dish, melt the butter. Add the dry ranch dip and horseradish. Whisk and then evenly pour over the rolls.
Cover dish with tinfoil.
Bake covered for 15 minutes.
Remove tinfoil and bake an additional 15 minutes.