Baked Cuban Sandwiches are Hawaiian roll sliders filled with smoked ham, bacon, swiss cheese and pickles then brushed with a buttery mustard sauce.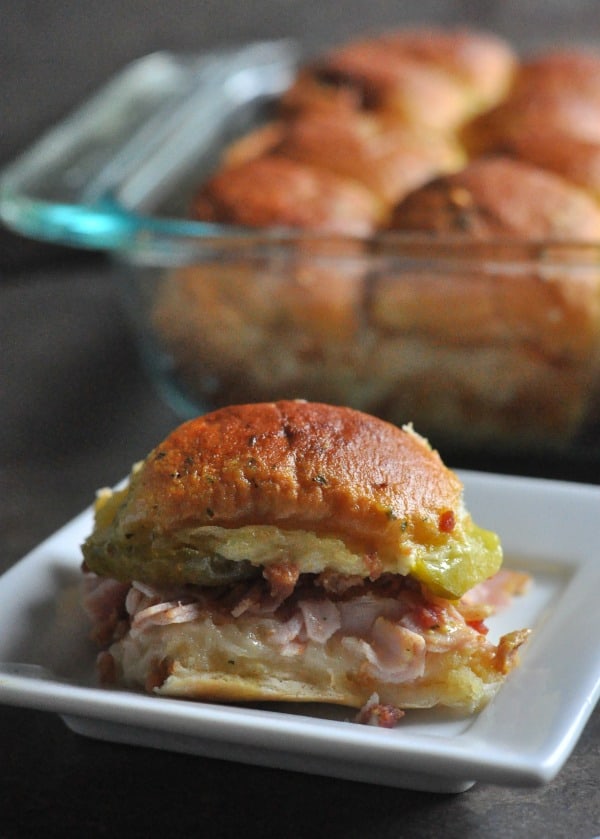 Applewood Smoked Ham and bacon combine with pickles, swiss cheese and a buttery mustard sauce for mini baked Cuban sandwiches perfect for parties, potlucks or family gatherings. Simple to prepare and delicious, these sandwiches are a favorite with both kids and adults and will be a hit at your next event.
I love a good potluck party. Maybe it's my Minnesota heritage or maybe I just love sampling everyone's favorite homemade recipes, either way, I love attending a potluck. And when I attend a potluck, I love when my dish is a hit. It just makes a girl feel good, am I right? Two of the most popular recipes on my blog are my Baked Ham Sandwiches and Baked Roast Beef Sandwiches and without fail, every time I bring these sandwiches to a potluck they are always a hit.
My husband and I took a trip to the Caribbean this past year and on our way there we stopped in Miami and had Cuban sandwiches. I loved every bite and was inspired to create these mini baked Cuban sandwiches.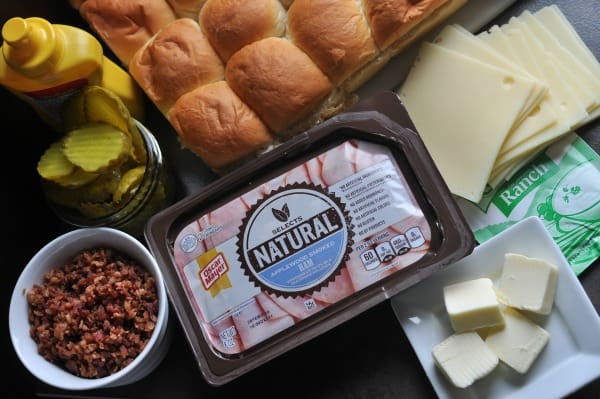 I also wanted to see if I could create a new version of my most popular sandwiches that could be both a great weeknight dinner and party appetizer. I decreased the amount of butter in this recipe and also for these Baked Cuban Sandwiches, I used Oscar Mayer Selects Natural, it is made with no artificial ingredients and is minimally processed. Selects Natural has no artificial preservatives (the back side of each package lists the ingredients used to preserve quality), no artificial flavors, no artificial colors, no gluten and no by-products. I love that with Oscar Mayer Selects Natural, you don't need to give up the good stuff to enjoy the quality cold cuts your family deserves.
How to Make Baked Cuban Sandwiches
The sandwiches are super easy to assemble. I start by cutting the tops off the rolls and then I also like to chop the ham into small pieces with my food scissors. This is helpful for eating as an appetizer and also great for kids because it makes it easier to eat. Once I have the signature Cuban swiss cheese on the sandwiches, I add the ham, cooked bacon and chopped pickles. I brush the tops of the sandwiches with a mustard butter mix that gives a beautiful golden glow to the sandwiches.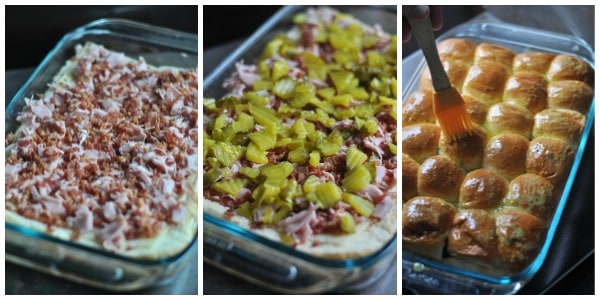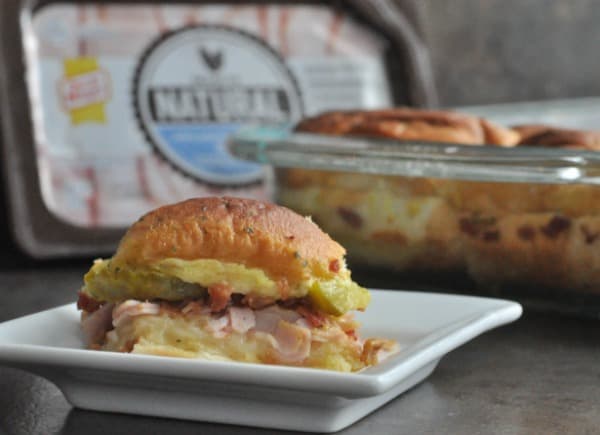 My readers tell me that they love my baked sandwich recipes and most recently was told by someone, "They are a party in my mouth!" I'm always told the recipe looks so simple, almost too good to be true and then once they taste the recipe they are amazed that something so simple can be so yummy. I love that these Baked Cuban Sandwiches are so simple and the Applewood Smoked Ham makes the sandwiches even better by giving them a smoky flavor and it's made of ingredients I can feel good about.
Oscar Mayer Selects Natural is available in five flavorful varieties including Slow Roasted Turkey, Applewood Smoked Turkey, Rotisserie Seasoned Chicken, Applewood Smoked Ham (used in this recipe) and Slow Roasted Roast Beef. Learn more about Oscar Mayer Selects Natural.
Yield: 24 mini sandwiches
Baked Cuban Sandwiches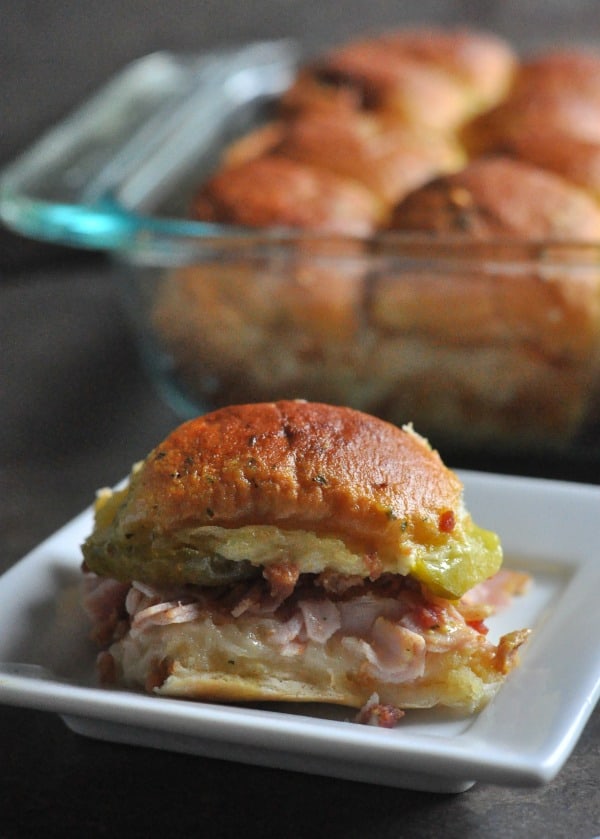 Ingredients
24 King's Hawaiian Sweet Rolls (1 package of 24 or 2 packages of 12)
6 slices Swiss Cheese
8 ounces Oscar Mayer Selects Natural Applewood Smoked Ham
1/2 cup Oscar Mayer Real Bacon Bits
1 cup Sandwich Pickles (chopped)
4 TB Butter (Salted)
1 TB Yellow Mustard
1 tsp Dry Ranch Seasoning
Instructions
Preheat oven to 350.
Evenly cut the tops off the rolls. Place the bottoms of the rolls in a 9x13 pan. Top the bottoms of the rolls with swiss cheese.
Chop the ham into small pieces and with the bacon pieces, layer on top of the cheese. Spread chopped pickles on top of the ham and bacon and replace the sandwich roll tops.
In a microwave-safe dish, add butter heat until butter is melted. Add mustard and dry ranch seasoning. Brush over the tops of the sandwiches.
Cover the dish with tinfoil.
Bake covered for 15 minutes. Remove tinfoil and bake an additional 15 minutes.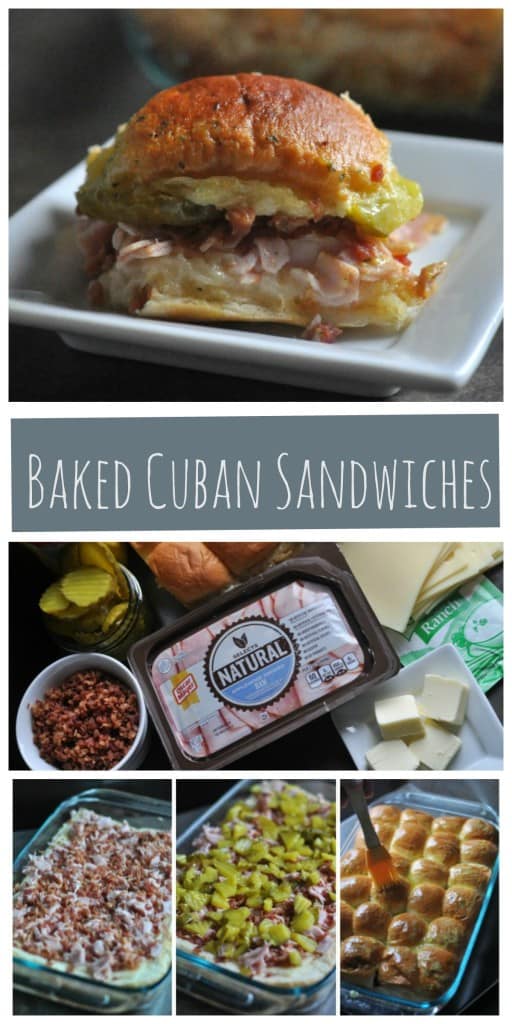 I was selected for this opportunity as a member of Clever Girls and the content and opinions expressed here are all my own.