Simple Crock-Pot Strawberry Rhubarb Apple Sauce made right in your slow cooker.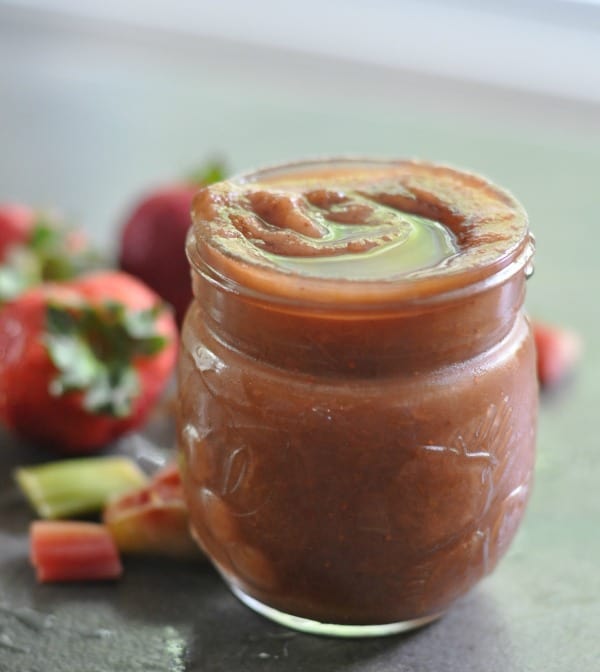 The minute the snow clears in Minnesota I am out in my garden. I walk around checking the perennials that will grace my garden another year, bigger and better than the last, and I strategize locations for new vegetables and herbs. I think about the success of previous summers and planting locations. I say out loud to myself, "Kale and lettuce did really well over here." I brush the tops of the dill, surprised that this feathery herb has exploded from just one plant from a friendly neighbor last year. My kids, shadowing my every movement, noting their own gardening observations. Digging in the soil, I see their tiny hands brush against worms and bugs and know I have good dirt to proceed this year.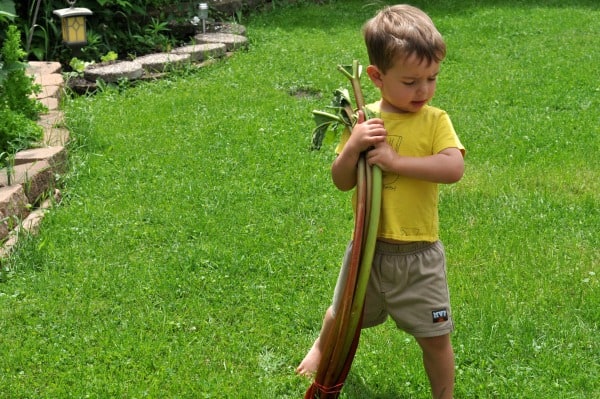 Every year I look forward to the Rhubarb that peeks out of the once frozen earth with its bright red stalks. The Rhubarb is a fun sign of the gardening adventures to come for our family. As much as gardening is a relaxing activity and hobby of mine, it has now become a special bond I share with my kids. My pregnant belly swollen with each of them brushed along the ground years ago when I would be on my hands and knees planting these very same gardens. Each year their participation in gardening grows, from visits to farmer's markets now to trimming rhubarb, they share my passion for growing edibles at our home.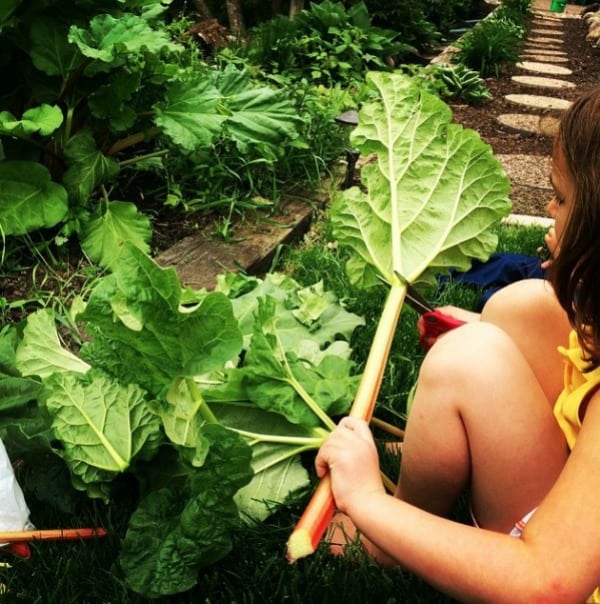 As we watch our garden blossom, we enjoy the bounty that spring has given us at a local farmer's market. Rhubarb in all its beautiful red glory is in abundance. Growing as tall as my son, we clean it together and package some up for cooking and the rest in the freezer for future days.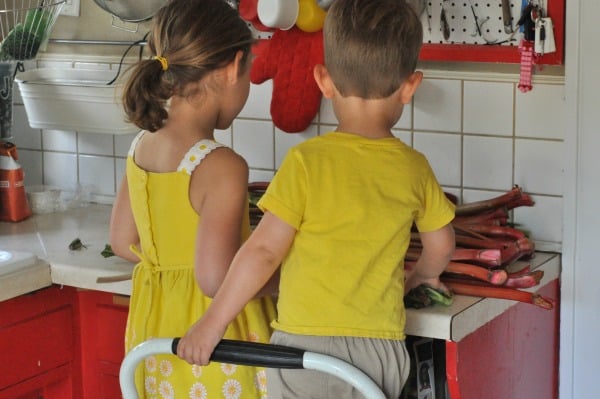 Rhubarb pairs well with the sweetness of strawberries, also one of the first edibles making their appearance in home gardens at the beginning of the season. Strawberry Rhubarb Apple Sauce is a very simple way to combine the flavors of rhubarb and strawberries in a no fuss recipe.
Just combine the ingredients in a slow cooker and once cooked, keep refrigerated and serve on your favorite sweet and savory foods. This tart and lightly sweet apple sauce is perfect on vanilla and caramel ice cream or with my Apple Cider Brined Pork Chops.
[bctt tweet="Strawberry Rhubarb Apple Sauce #recipe made right in your #crockpot"]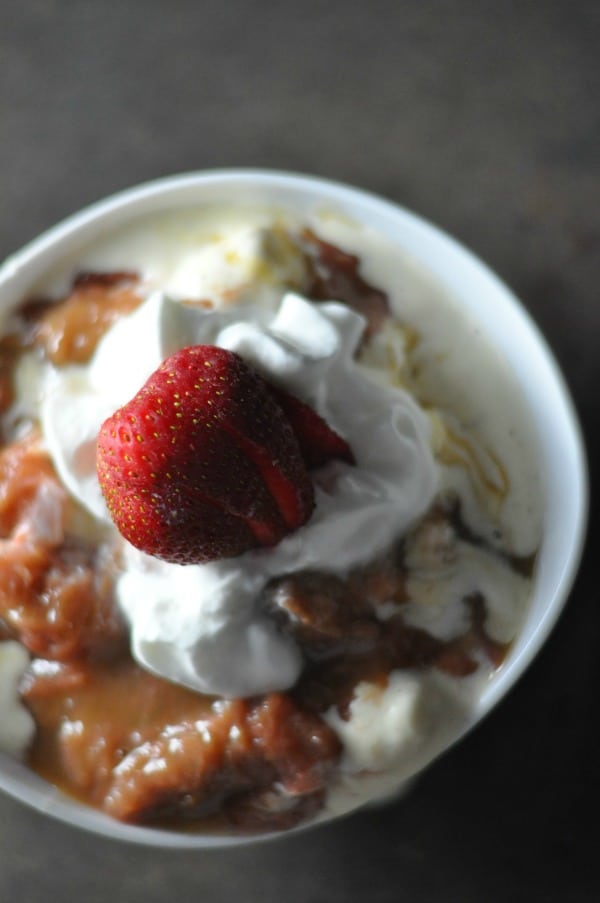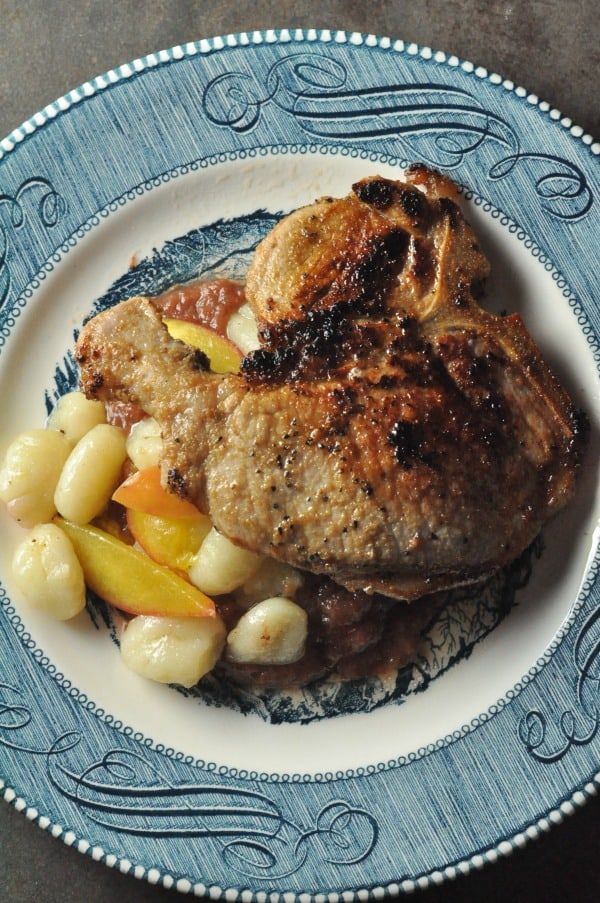 Strawberry Rhubarb Apple Sauce
This is a tart apple sauce, add brown sugar to taste once it has cooked if you like a sweeter version.
Ingredients
1 lb Strawberries (stems removed, halved)
2 lbs apples cored (skin on and quartered)
½ cup Apple Juice or Cider
2 cups Rhubarb (chopped)
1 tsp Cinnamon
Instructions
Combine all ingredients in your Crock-Pot slow cooker.
Cook on low in a Crock-Pot slow cooker for 8 hours.
Once cooked, use an immersion blender to get your desired consistency of the apple sauce.
Disclosure: This post is sponsored by
Burpee Home Gardens
. This summer I have partnered with Burpee to share my love of gardening with my family and the recipes that come from my home garden. You can follow along with our gardening fun here and over on Instagram, follow
Burpee Home Gardens
and
Alice Seuffert
for pictures of the exciting things we are growing this summer. Thank you for supporting the organizations, companies, people and events that I choose to work with, sponsored content helps me grow my blog and as always, opinions are my own.
You can find more information about growing Burpee brand strawberries in your home garden as well as a podcast about how to grow strawberries here.
I look forward to sharing our Burpee garden adventures with you this summer!