This Grilled Peach Salad with Halloumi recipe is a super fun vegetarian salad. It is made with a sweet cilantro sauce, walnuts, and blueberries!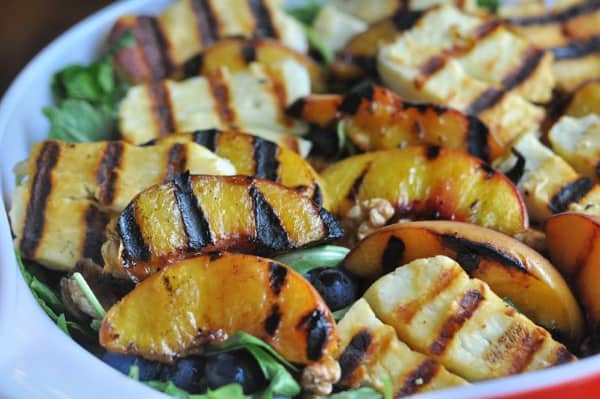 We are loving summer salads right now and this Grilled Peach Salad with Halloumi is one of my favorite easy recipes I can make for my family. It is simple to make and packed with flavor!
Summer is always full of fun adventures and the Minnesota State Fair is by far one of our favorite summer activities. The grilled cheese in this recipe reminds me of cheese curds, one of my favorite foods at the State Fair!
This salad uses grilled peaches and Halloumi. You can find Halloumi in the gourmet cheese area of your favorite grocery store. I've found it at both Festival and Kowalski's in the Twin Cities. It is salty and chewy and the perfect addition to the peaches and blueberries in the salad!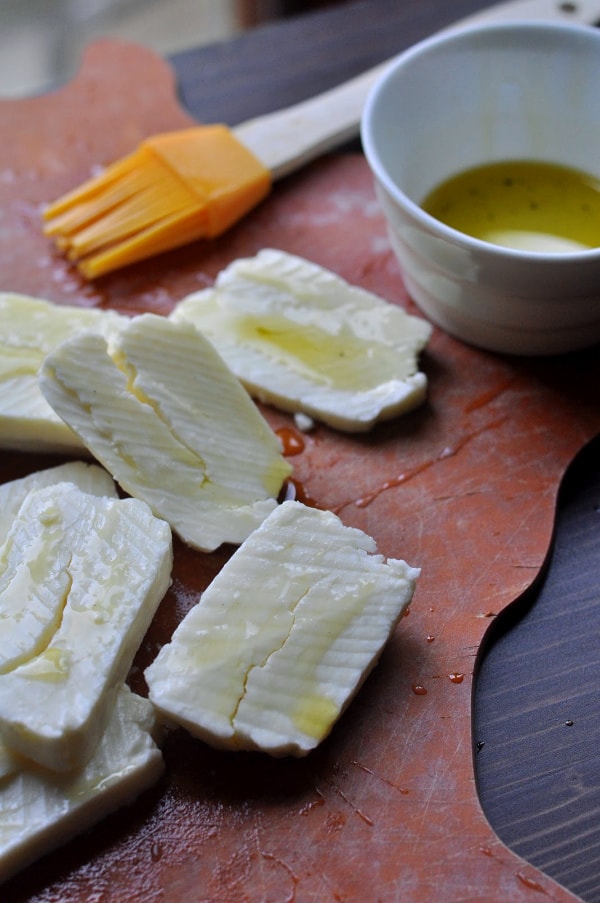 For both the peaches and cheese, you are going to give them a quick brush of Olive Oil and then grill! The Halloumi is sliced into eight pieces. We are a family of four and that ensures each of us gets a couple pieces of cheese (trust me, everyone will be fighting for these cheese chunks).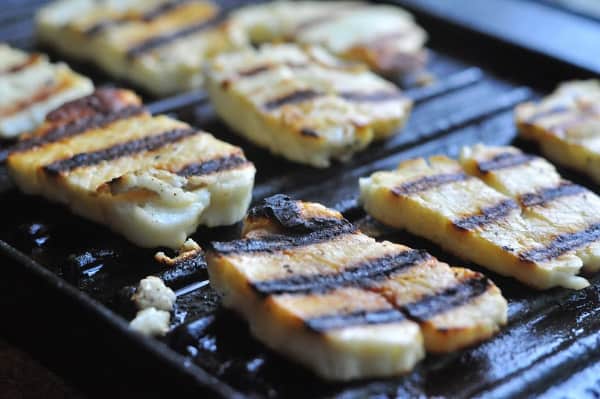 For grilling the peaches and halloumi for this recipe, I'm using my stovetop griddle. One side of my griddle has a ridged edge that is perfect for this recipe and getting nice grill marks indoors!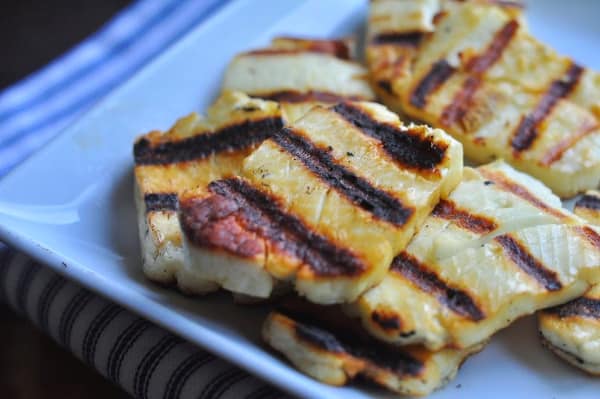 Once the cheese is grilled, remove it from your griddle. If you leave it on to cool, your cheese will get way too chewy.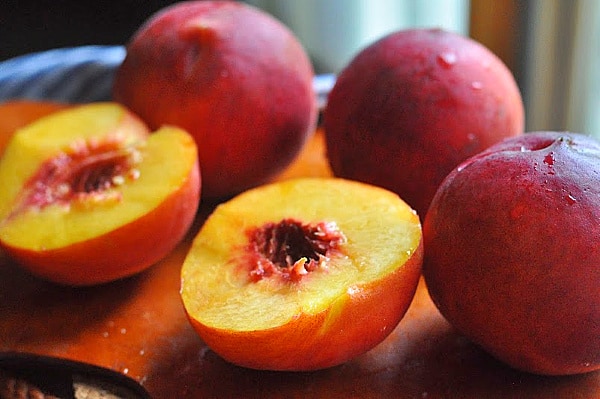 Peaches are bursting in season right now and in a couple of weeks we have a fruit share coming with a boatload of peaches and I knew I needed to get an easy and tasty recipe ready! When I use peaches in this recipe, I look for peaches that are ripe yet firm.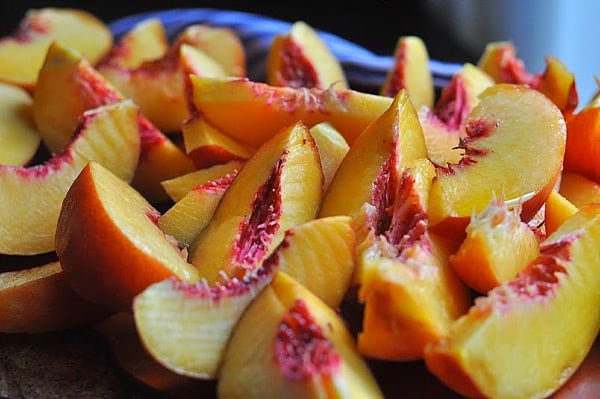 You want to be able to slice the peaches and have them retain shape on the grill and not be a mushy mess.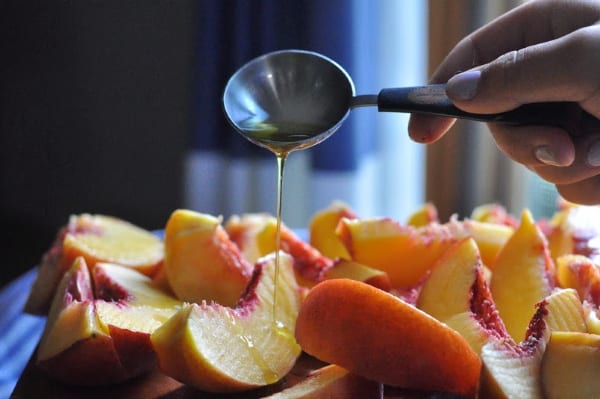 Key to both the cheese and peaches for this recipe is to drizzle them with olive oil. This gives everything nice grill marks and keeps it from sticking.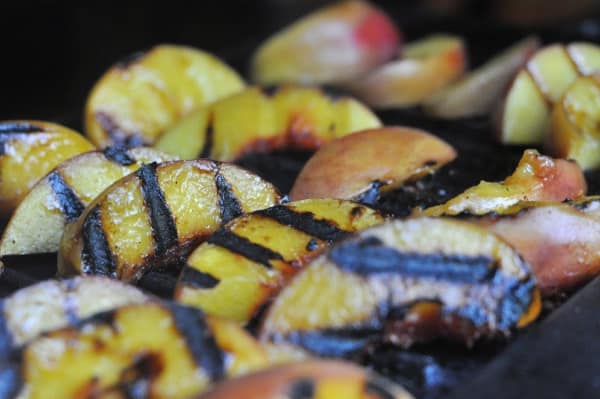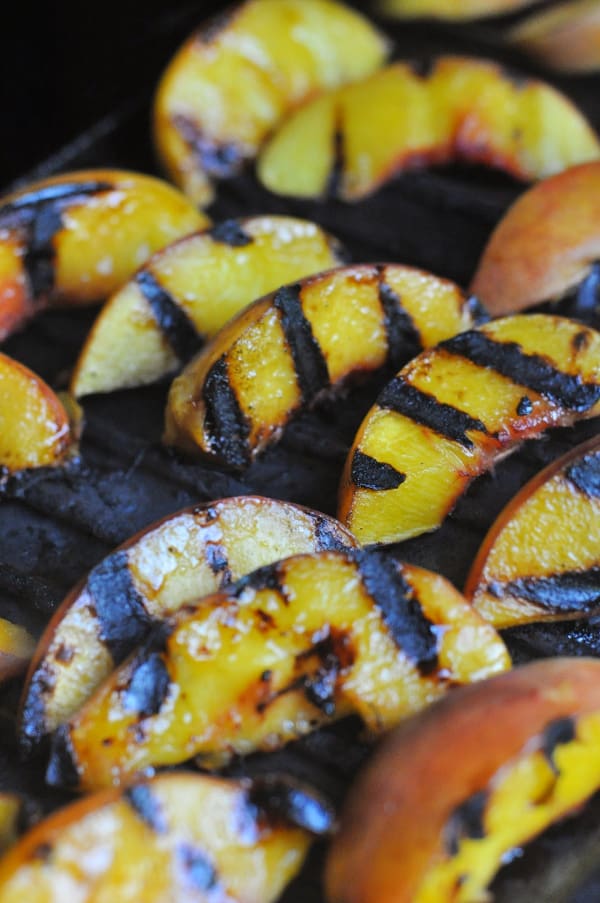 For the salad, I like to mix arugula and fresh mint. I also add big chunks of walnuts. My favorite walnuts are from Amazon. I've linked the walnuts I like in the recipe card at the end.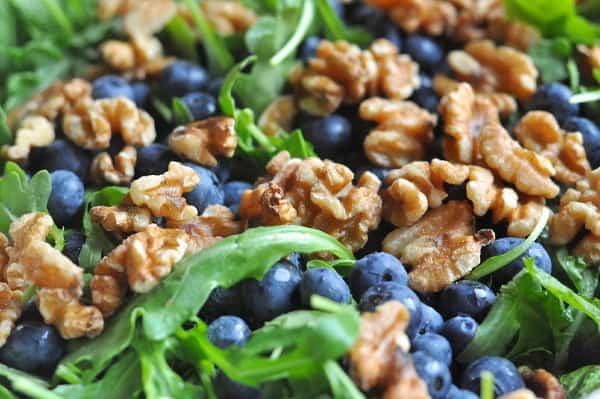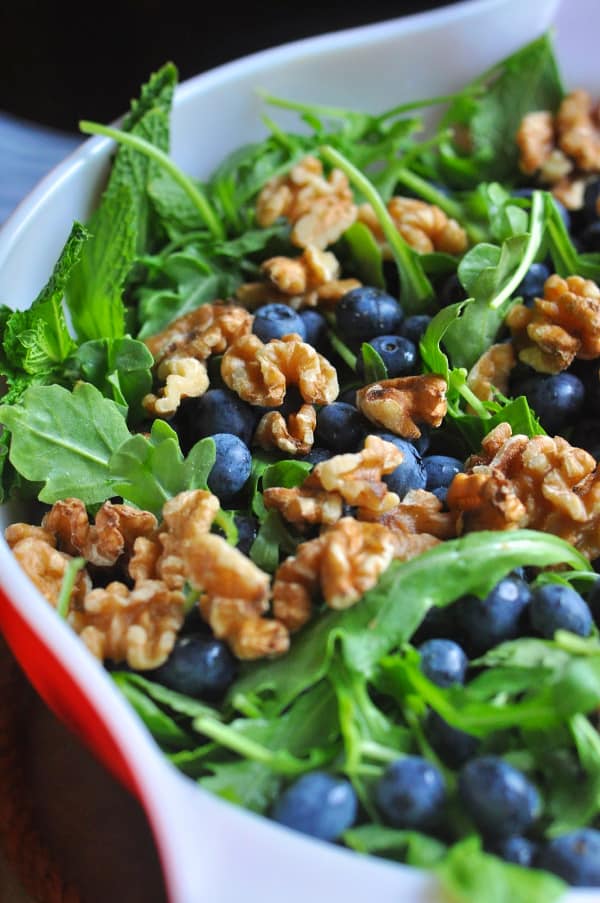 I like to top this Grilled Peach Salad with Halloumi with my Cilantro Sauce (just a few ingredients and it is super yummy).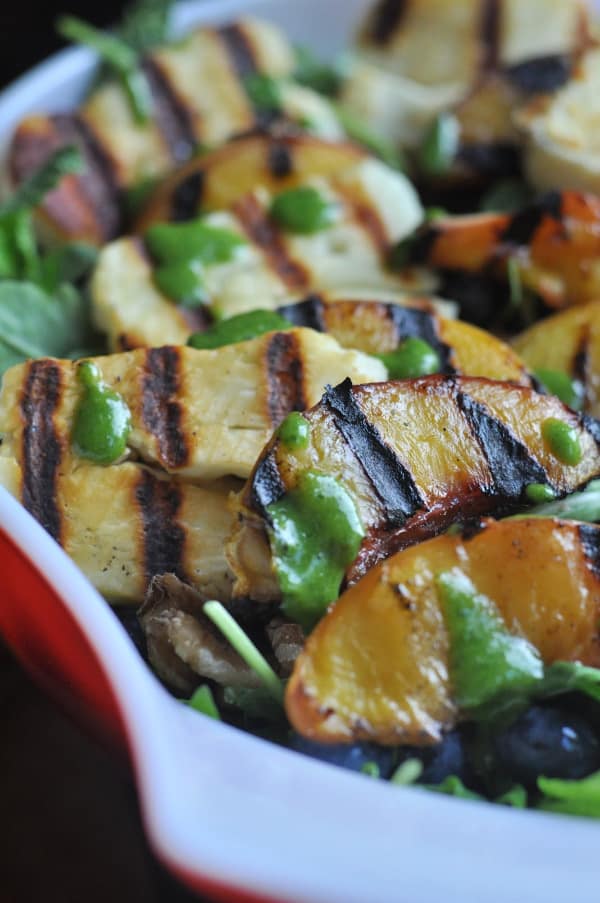 We love this salad as a family meal but it would be great to enjoy for a potluck as well! I hope you are enjoying summer and that this vegetarian salad is a yummy addition to your Meatless Mondays or weeknight meal plan!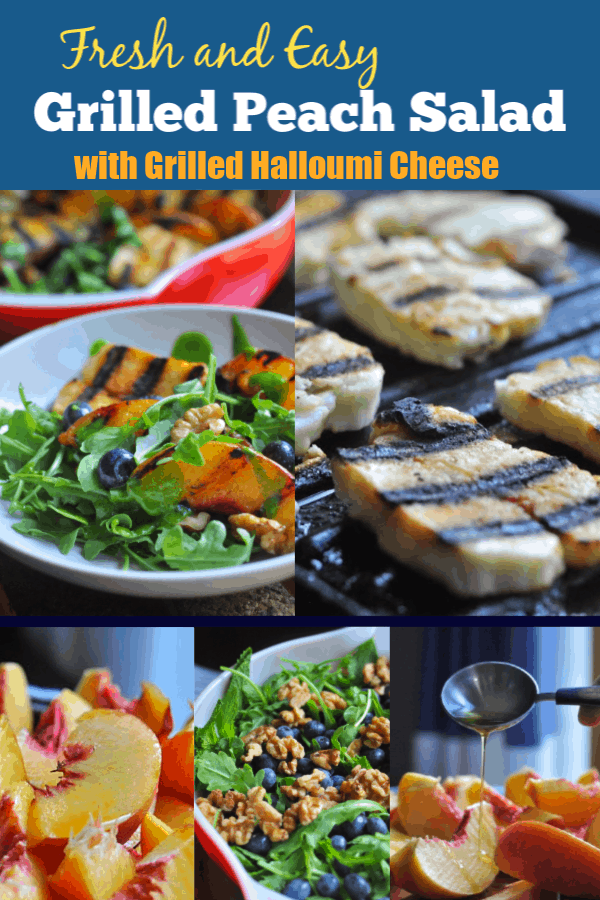 Yield: 4-6
Grilled Peach Salad with Halloumi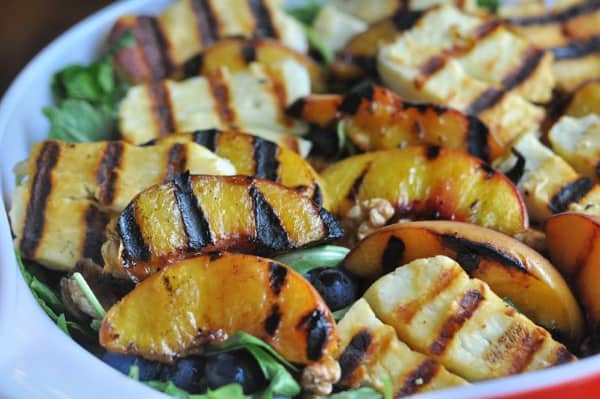 This Grilled Peach Salad with Halloumi recipe is a super fun vegetarian salad. It is made with a sweet cilantro sauce, walnuts, and blueberries!
Ingredients
1 (8.82 oz) Block of Halloumi Cheese
4 Peaches (semi-firm and ripe)
3 TB of Olive Oil (divided)
1 (5 oz) package Baby Arugula
1 (.5 oz) package Fresh Mint
1 (pint) Blueberries
1 cup Walnuts (halves and pieces)
Cilantro Dressing (see link below)
Instructions
Preheat a cast iron griddle over medium heat.
Slice Halloumi into eight pieces.
Brush Halloumi with 1 TB of Olive Oil. Once the griddle is heated, place Halloumi on top.
Heat the pieces of Halloumi for 3-4 minutes on each side until there are griddle marks. Remove cheese and set aside.
Slice each piece into eight pieces and brush on remaining olive oil.
Repeat grilling process for the peaches and grill 3-4 minutes on each side.
While peaches are grilling, prepare the Cilantro Sauce. In a bowl, combine the Arugula, mint, blueberries, and walnuts.
Once peaches have finished grilling, place peaches and cheese on top of the salad and serve with Cilantro Sauce.
Recommended Products
As an Amazon Associate and member of other affiliate programs, I earn from qualifying purchases.