Easy creamy Tomato Tortellini Soup with simple ingredients.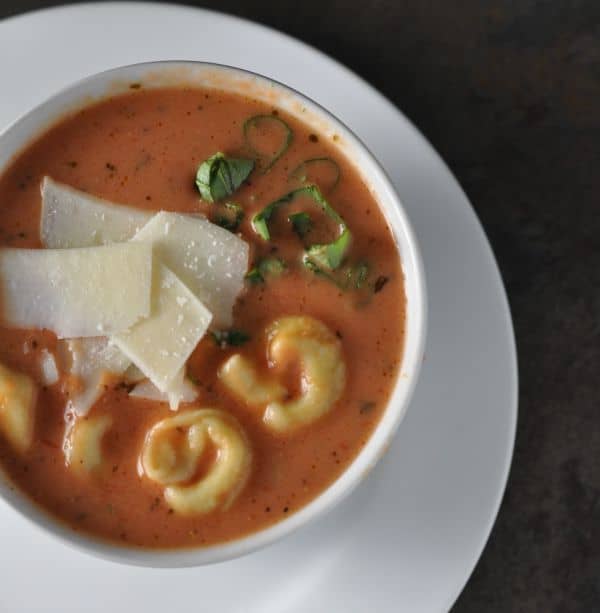 The fall season is slowly creeping up on us in Minnesota. First the Minnesota State Fair arrives, then the school year, we start visiting apple orchards and consuming everything pumpkin. We know what's coming, don't we?
Yesterday we were outside with our neighbor and my husband said the "S word." All of uniformly gave him the stink eye. You never mention snow in the fall.
But we know it isn't far off, but until then we love to enjoy your pumpkin everything and eat soup when the temperature dips into the 70s. This Tomato Tortellini soup is so simple and perfect for an easy dinner or soup to bring to a potluck.
We've brought this soup a couple times to our church soup potluck. Tomato Tortellini Soup is a great soup to bring because it so simple to assemble and it is vegetarian.
Cooking the soup is easy and I like to make my pasta separate especially if I expect to have leftovers. When you store the soup with the pasta, the pasta will soak up most of the liquid. So when I make the soup and add the tortellini with each serving.
Cozy up with this yummy tomato tortellini soup at home or at a gathering and enjoy the cool days of fall.
I made this soup on The Happi House. Watch the video below for other easy soup ideas: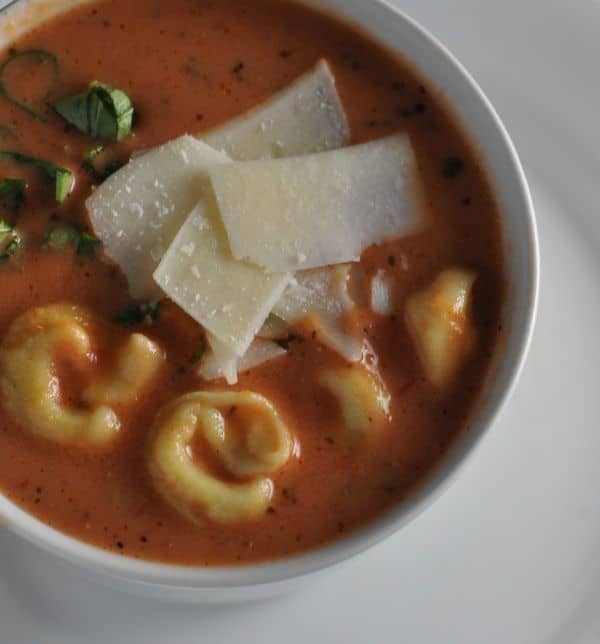 Tomato Tortellini Soup
Ingredients
2 bags (19 ounces) Frozen Cheese Tortellini Pasta
2 (24 ounces jars) Three Cheese Pasta Sauce
1 can (28 ounces) Crushed Tomatoes
1 box (32 ounces) Vegetable Broth
1 tsp Italian Seasoning
1 tsp Garlic Salt
4 TB Pesto
1 cup Heavy Cream
Garnish with Basil and Shaved Parmesan
Instructions
Prepare frozen tortellini according to package directions, once cooked, set aside.
In a large stockpot over medium heat, combine pasta sauce, crushed tomatoes, vegetable broth, Italian seasoning, garlic salt and pesto. Bring to a boil.
Reduce heat to low and then add heavy cream.
Add pasta to each serving or add pasta to the entire pot of soup if no soup will be reserved for storage.
Garnish with chopped basil and parmesan.