This Caprese pasta salad recipe is an easy make-ahead dish for weeknight dinner or potlucks. Made with basil, mozzarella, tomatoes, and balsamic glaze.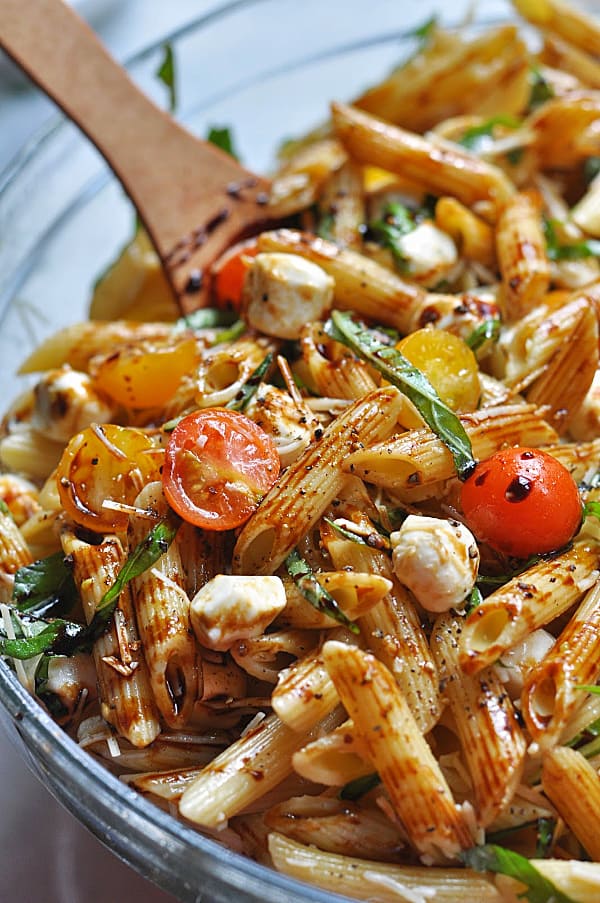 During the summer, I love making a big batch of pasta salad that I can keep in the fridge for easy to grab lunches or quick weeknight dinners. I also love meals that don't heat up the house when it is super hot!
This Caprese Pasta Salad is inspired by the traditional fresh Caprese Salad made with fresh mozzarella, basil, tomatoes, and balsamic glaze. I've given it a twist that makes it perfect for summer potlucks, lunches, or quick weeknight dinners!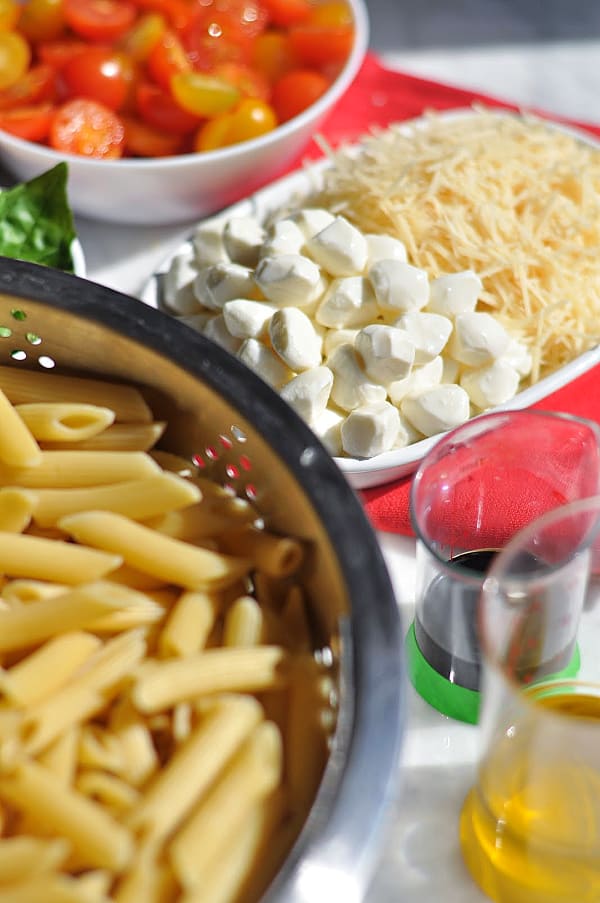 For this Caprese Pasta Salad, I like to use Penne Pasta. While the pasta cooks, I like to get all my other ingredients ready. If it is a super hot summer day, you can always make the pasta ahead of time in the morning before work and stash it in the fridge until you are ready to make the salad.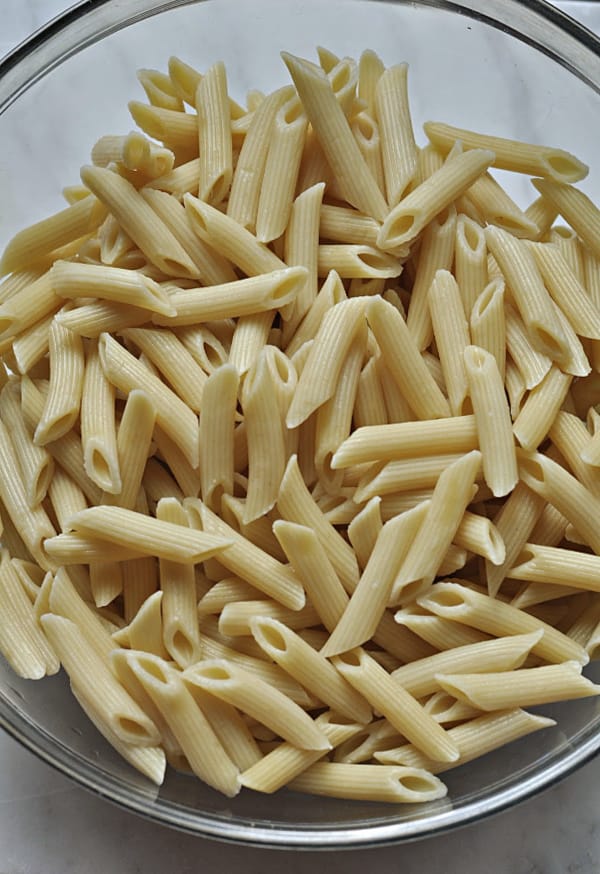 The dressing for this pasta salad is a mix of olive oil and balsamic vinegar. Mix the two together and then add to your pasta.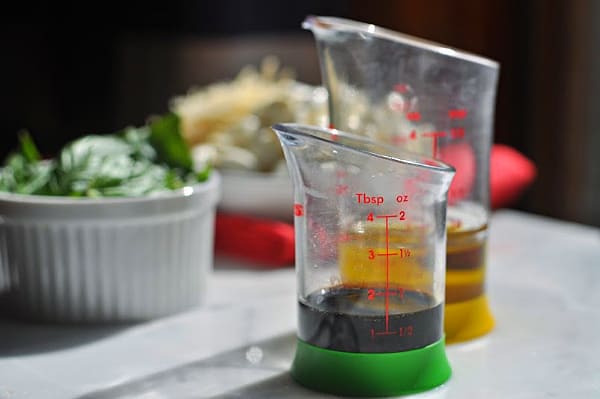 There are two preps for this recipe: slicing tomatoes and chiffonading Basil (more on that later). Both of these prep activities are perfect for kids if you have kiddos who are super enthusiastic about helping in the kitchen.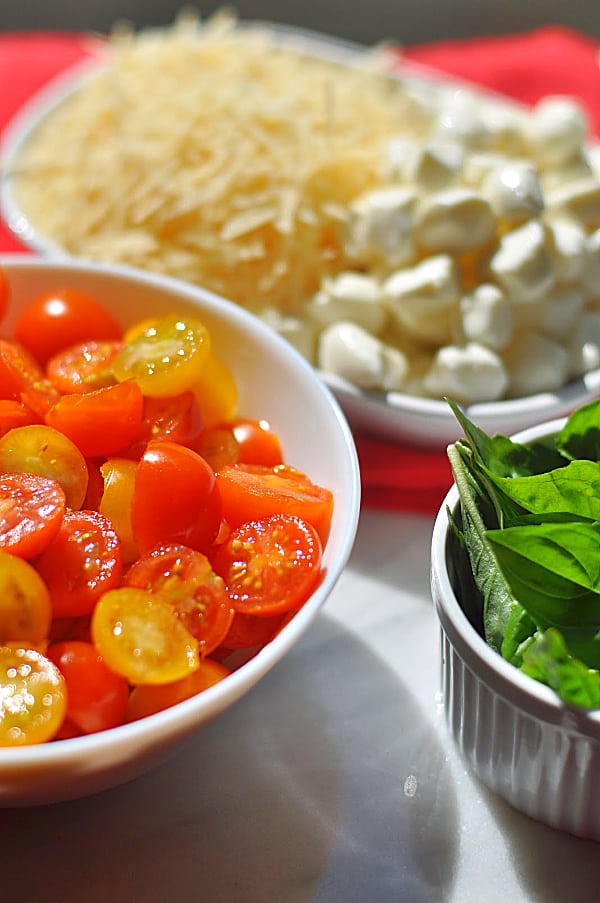 One of the reasons I love this Caprese Pasta Salad is that it celebrates two ingredients you can grow at home or pick up at your local farmer's market in the summer: tomatoes and basil!
For this recipe, I'm using a mix of yellow and red cherry tomatoes. I like to slice the tomatoes in half because it makes for a better bite of pasta salad (not too much to chew).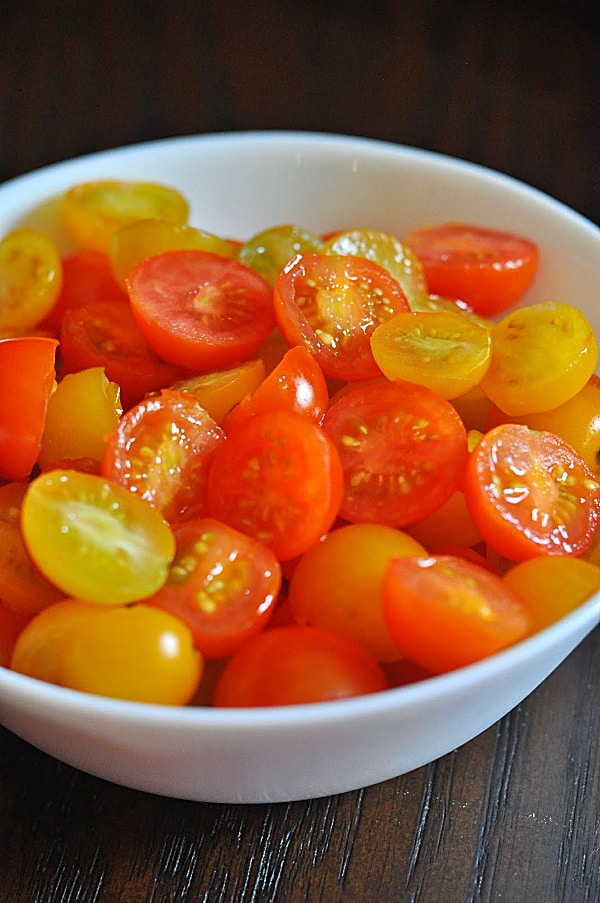 Add the tomatoes to your pasta salad.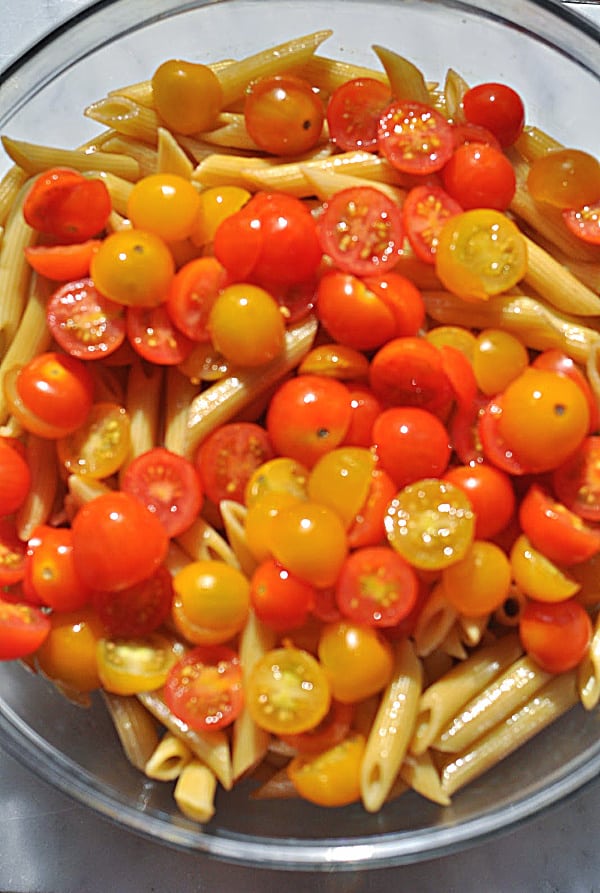 This is where things get exciting! I get excited about cheese; how about you?!? For this recipe, I'm using shredded Parmesan and mini mozzarella.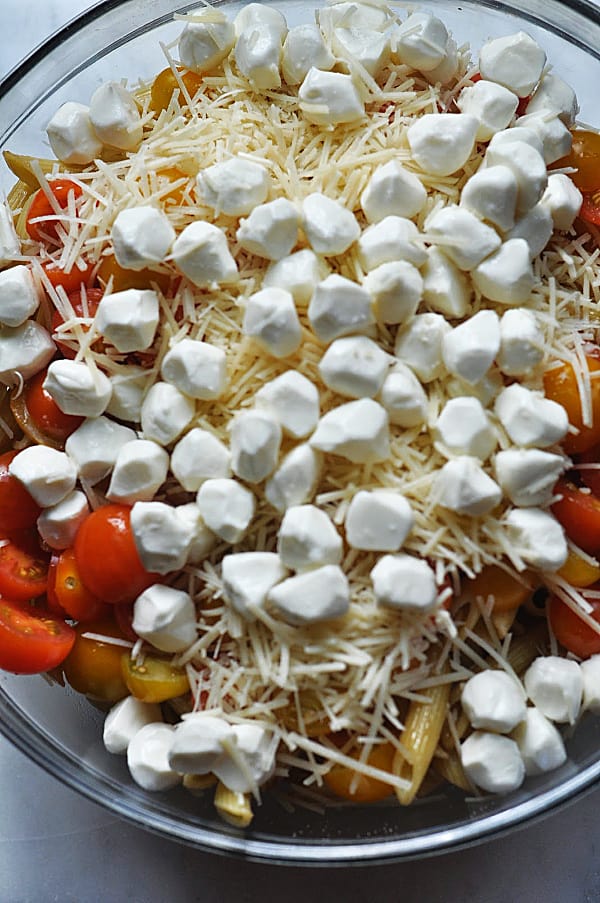 Ok, time for that fresh Basil! Remember above when I said we were going to chiffonade the basil and you were like, "What on earth?" Nope, it's not some kitchen dancing. It is a technique to take that fresh basil from your garden or farmer's market and get it into a nice piece for salad.
To chiffonade, just start with one basil leaf.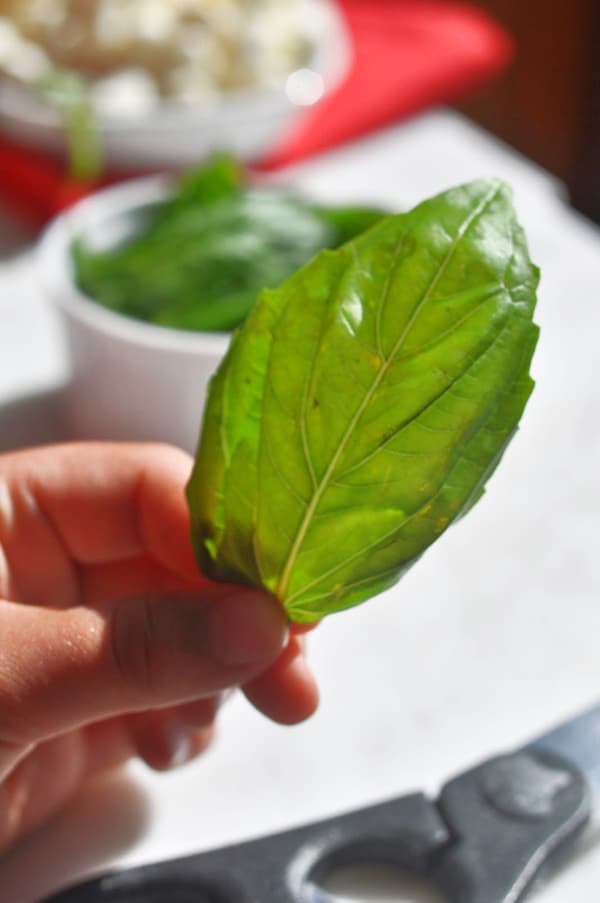 Roll up the Basil leaf.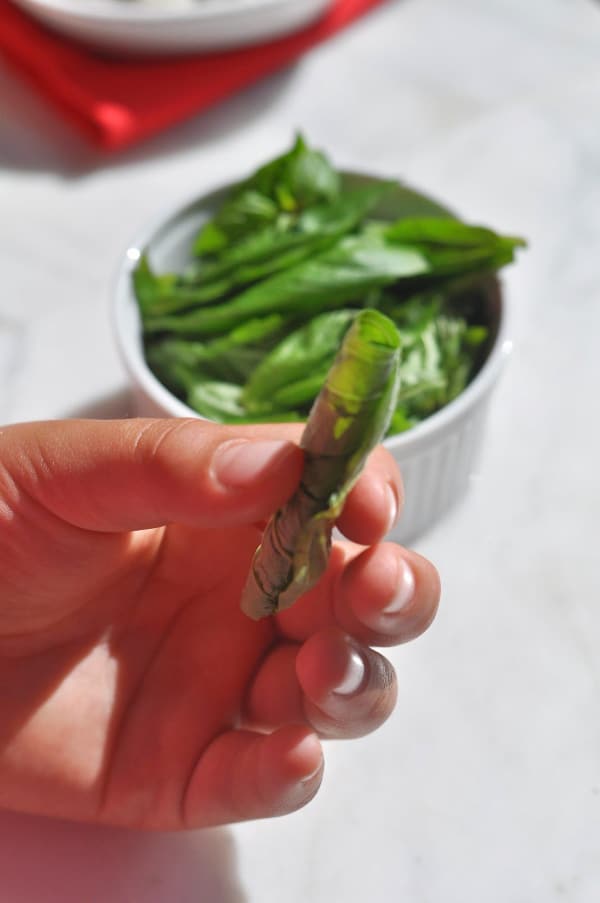 Then use your food scissors to cut small strips from the Basil leaf.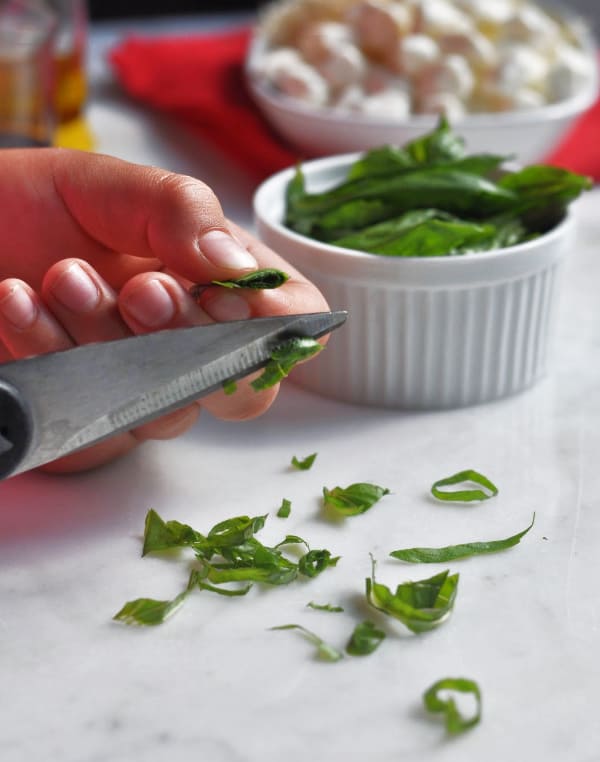 The chiffonading helps make perfect bite-size slices of the basil for your Caprese pasta salad!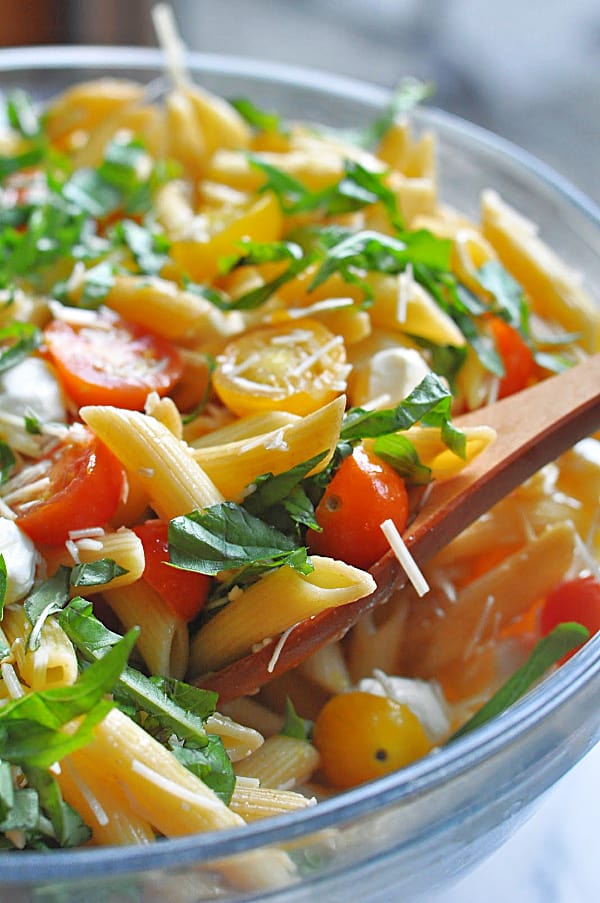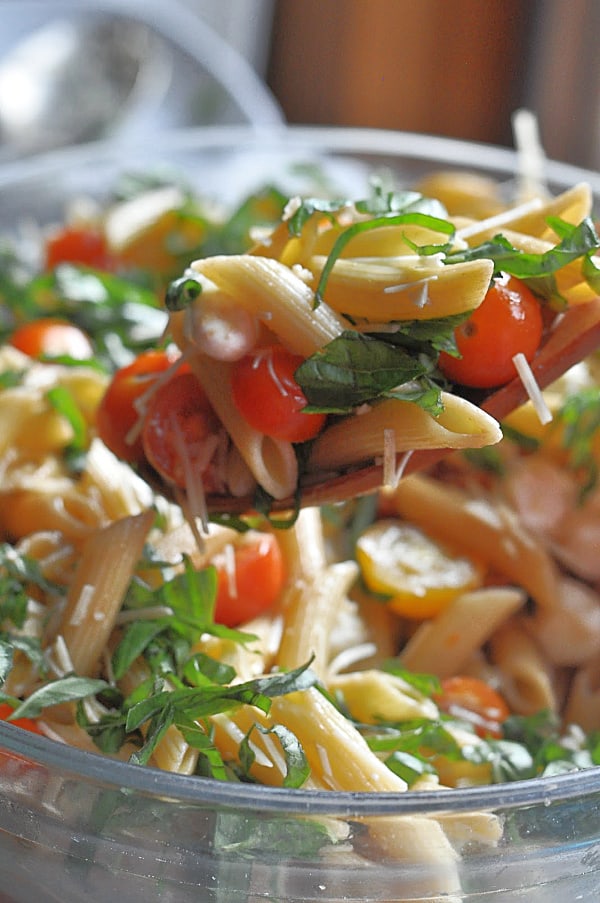 After you've added the Basil, you can add salt and fresh ground pepper to taste.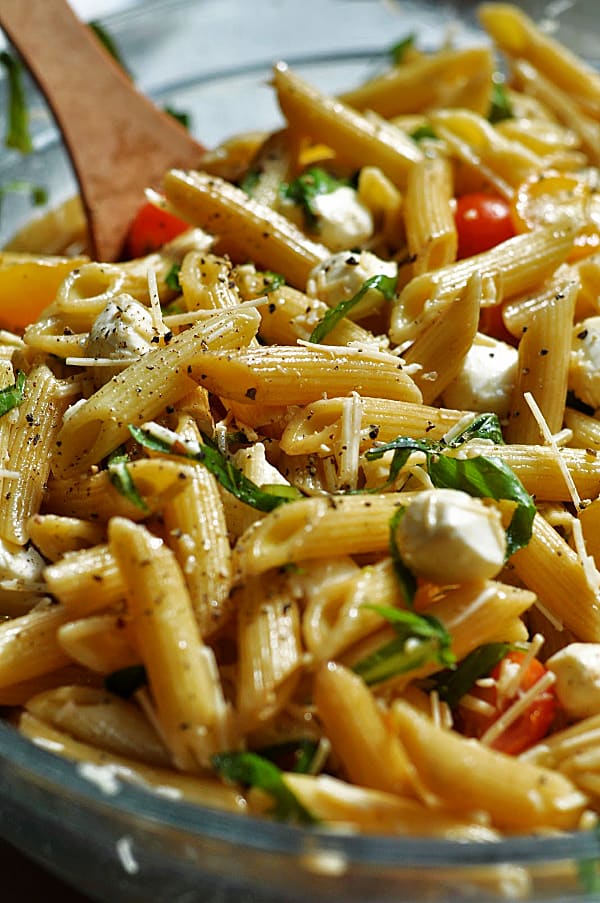 Then I like to drizzle balsamic glaze on the Caprese pasta salad. It is the perfect garnish for the salad and really makes all the flavors come together.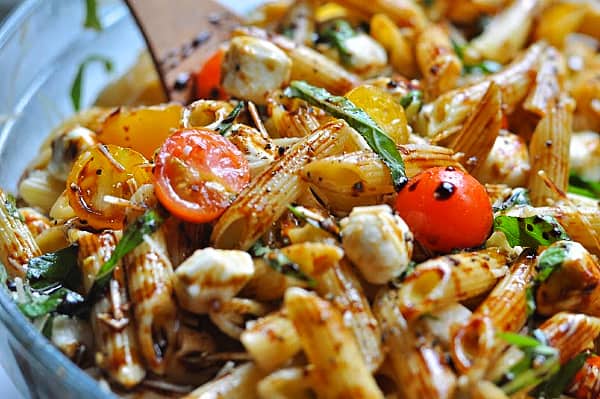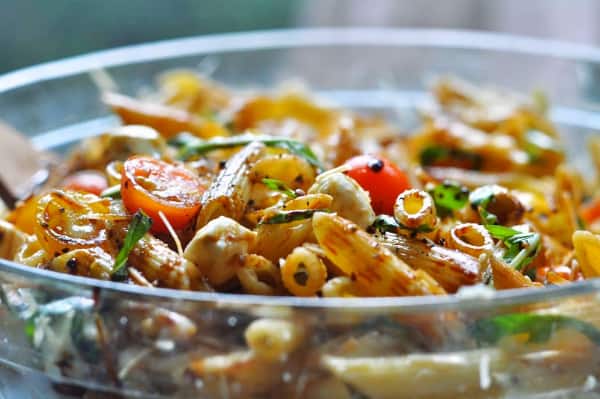 This salad is great for potlucks and for making ahead for lunches or dinners during the summer! Below are some good questions with some of my favorite tips and ideas for making this recipe.
Can you make ahead Caprese Pasta Salad?
Absolutely! I like to prep ahead pasta when the weather is hot and keep the pasta noodles in my fridge until I can make the pasta salad. I also make ahead Caprese pasta salad for my lunch, and I portion out the lunches for my husband and myself for the week. You can also make this ahead for a potluck in the morning of your event and drizzle the balsamic glaze at the event.
Tell me more about this Balsamic Glaze in the Caprese Pasta Salad!
I absolutely love balsamic glaze. You can find it in the salad dressing aisle or the ethnic (Italian) areas of your grocery store. It is perfect on salads, poaches, eggs, or grilled chicken. It adds the perfect complement to this pasta salad.
Can I make this Caprese Pasta Salad with chicken, spinach, or sundried tomatoes?
Yes! Those are great additions! You can grill up some chicken or add your favorite greens like spinach or arugula (my favorite). If you can't access fresh tomatoes, you can add sundried or canned tomatoes if drained.
I love salads in the summer, do you have other favorite salads that are great for summer?
Yes! During the summer, my family LOVES this taco salad recipe. It is super easy and a fun twist on taco night. Whenever I head to a potluck, my go-to pasta salad is this Tortellini Poppy Salad recipe. It is vegetarian, which makes it great for everyone but the best part is that it is so easy and fast to make. I've heard from readers that they love my Green Curry Pasta salad recipe and it great if you are looking for something new to add to your meal plan. And if you want something that feels grilled but doesn't require an outdoor grill, my Thai steak salad recipe has a sweet cilantro sauce and is perfect for summer.
This Caprese Pasta salad sounds like a great salad to add to my meal plan for the week! Can you help me get started with some meal planning tips?
You can find lots of great weeknight recipes on my weeknight recipe category page. You can also check out my ebook, Family Meal Planning. It is only $5 and is the perfect way to get started with meal planning. It has lots of tips, ideas, and even worksheets to help you grocery shop and take inventory of your pantry and freezer.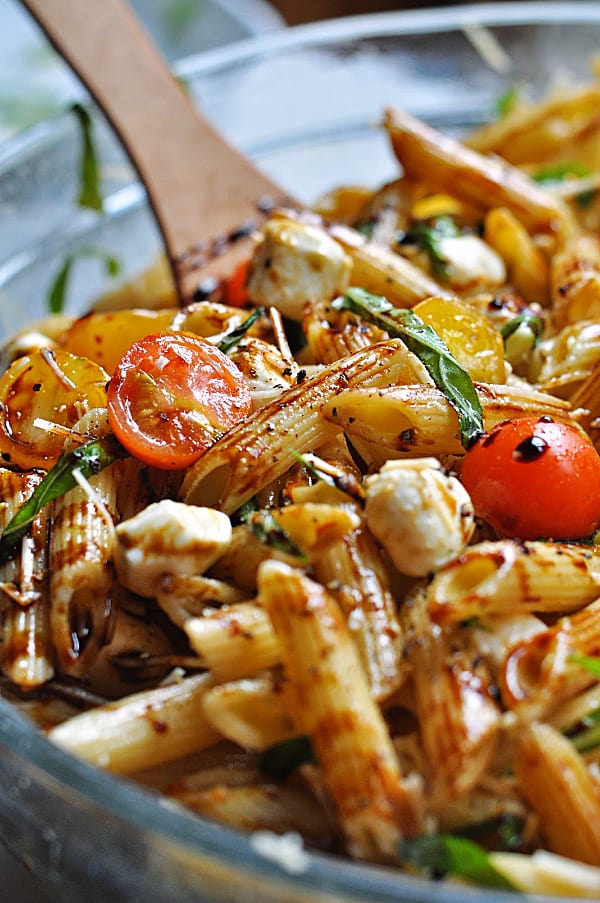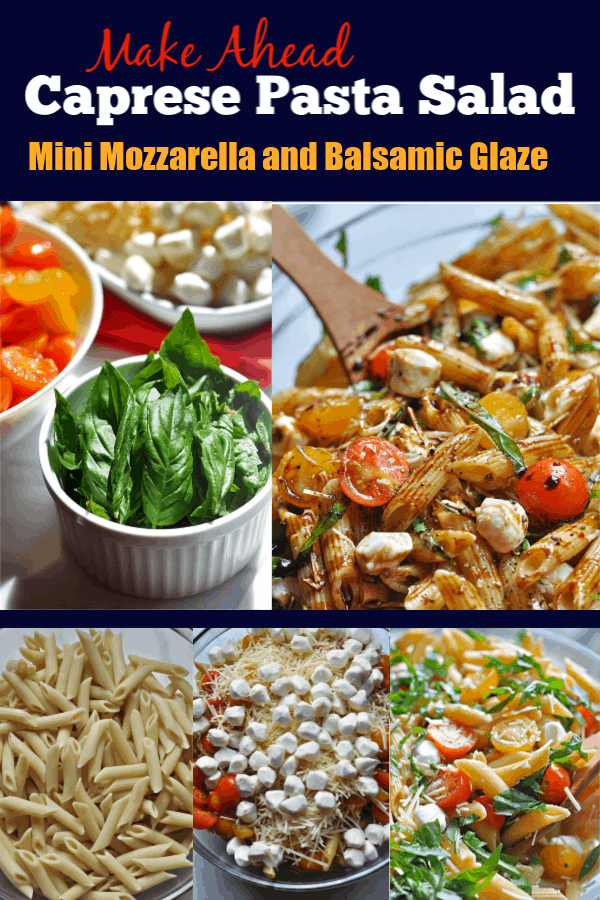 Yield: 6-8
Caprese Pasta Salad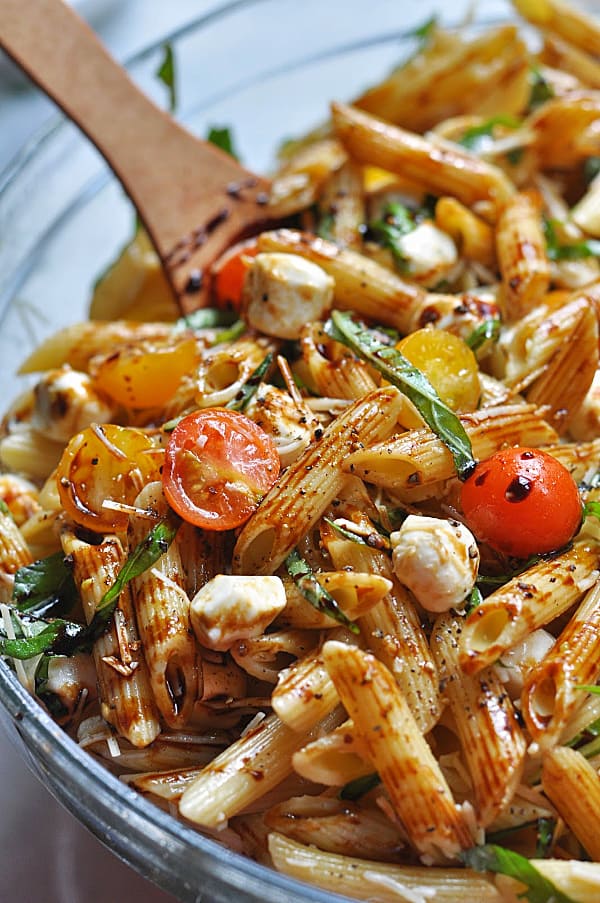 This Caprese pasta salad recipe is an easy make-ahead dish for weeknight dinner or potlucks. Made with basil, mozzarella, tomatoes, and balsamic glaze. 
Ingredients
1 (1 lb) Box Penne Pasta
3/4 oz Balsamic Vinegar (1.5 TB)
1.5 oz Olive Oil (3 TB)
12 oz Cherry Tomatoes
8 oz Fresh Mozarella Cheese (BelGioioso Pearls "Little Ones")
1 cup Parmesan Cheese (Freshly-Shredded)
1/2 cup Basil leaves (fresh)
1/4 tsp Salt
Fresh Ground Pepper
Balsamic Glaze
Instructions
Prepare pasta according to package directions. Once cooked, set aside.
Place pasta in a large serving bowl.
Combine the Balsamic Vinegar and Olive Oil and pour on pasta. Toss to combine.
Slice cherry tomatoes in half and add to the pasta.
Add the shredded parmesan and mozzarella cheese to the pasta.
Cut Basil into thin strips and add to the pasta.
Toss to combine and garnish with salt, fresh ground pepper, and drizzle with balsamic glaze.
Recommended Products
As an Amazon Associate and member of other affiliate programs, I earn from qualifying purchases.