This Pumpkin Salad recipe is packed with roasted pumpkin, cranberries, mixed greens, and drizzled with a warm maple syrup dressing. It is a great roasted pumpkin recipe idea and is perfect for a fall potluck and holiday gatherings! Plus I've included some fun photos from my recent trip to Germany!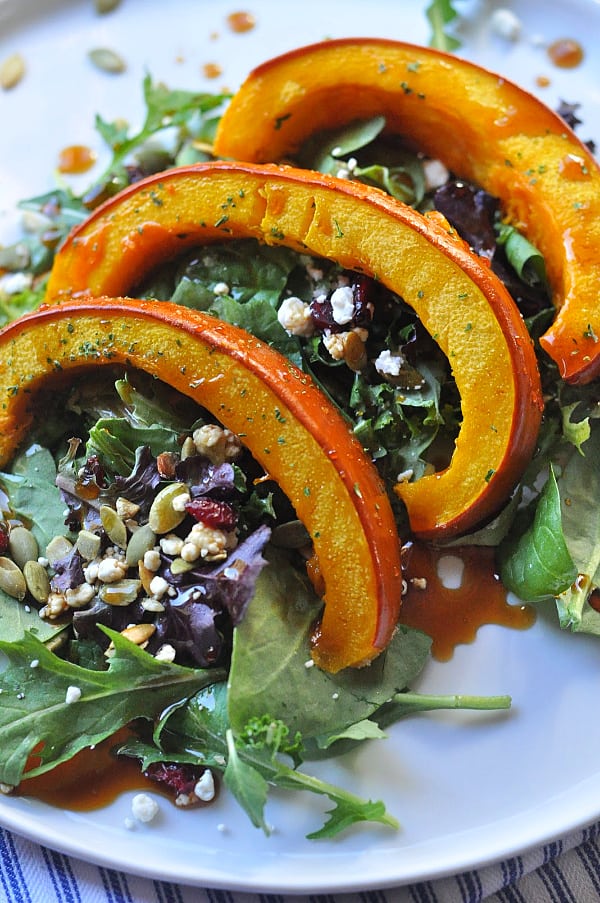 I'm so excited to share this yummy fall salad recipe with you! My go-to potluck salad in the summer is my Tortellini Salad with Poppy Seed Dressing and I wanted a super easy, salad for fall that is perfect for potluck gatherings or holiday celebrations.
This Pumpkin Salad is perfect for a fall gathering, or as a beautiful side dish for your Thanksgiving gathering. It's also vegetarian so your veggie friends will also be joyful to see this filling and tasty salad make the table at your potluck or family gathering.
I think this would be a perfect addition for those wanting something more substantial to serve people who are vegetarians or are gluten-free at Thanksgiving!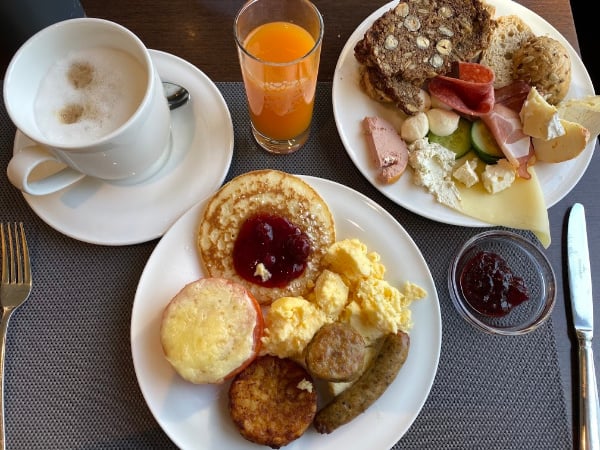 Before we dig into this Pumpkin Salad recipe, I wanted to share a few photos from my trip to Germany because this salad was inspired by my trip. First, let's talk about breakfast. Yes, that picture above was a standard morning breakfast in Europe. Meats, cheeses, oh my.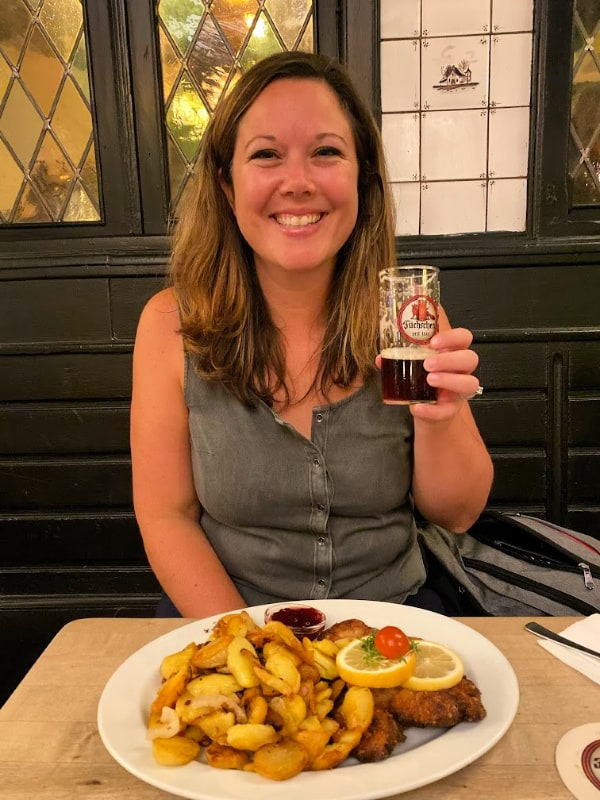 Dinners in Germany were also amazing. One of my favorite meals was at Brewery im Füchschen in Düsseldorf. I had the "Schnitzel Wiener Art" (pork meat) with cranberries and fried potatoes and it was fantastic. Also, lots of yummy Alt beer. My husband had the Pork Knuckle which was delicious and a great traditional dish to try in Germany.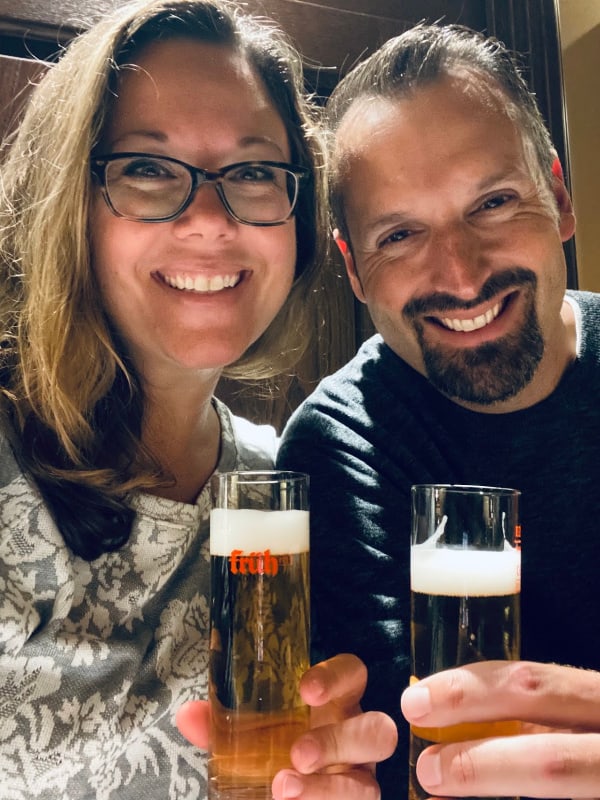 We took a train during our trip to Cologne, Germany and went to the Früh am Dom restaurant and brewery. I loved the Kölsch beer and we had a super yummy lentil soup there and later went to dinner at Artistanbul (following Anthony Bourdain's recommendation in Parts Unknown) and had an unforgettable Turkish meal.
I attempted to balance my heavy breakfast and dinner eating with healthy lunches and one of my favorite lunches was at Laura's Deli in Düsseldorf. I had an afternoon of shopping at an outdoor market and took some time to do some writing and had a pumpkin salad with couscous. The pumpkin was roasted and had the skin on.
My mind was blown and I took notes on the pumpkin and was determined to come up with a recipe when I returned home. This is one of my very favorite parts of traveling! I always get inspired to make dishes at home that remind me of my trips. Like my Motito (Tito's Vodka Mojito) inspired by my trip to Austin, Texas.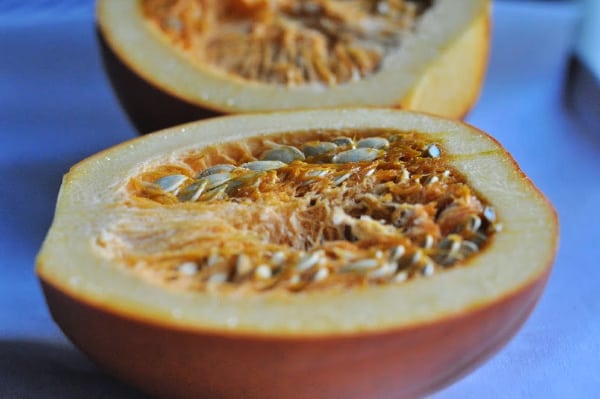 For this Pumpkin Salad recipe, you'll be roasting a Pie Pumpkin. For all the details and background information on cooking pumpkin, check out my post on how to roast a pumpkin.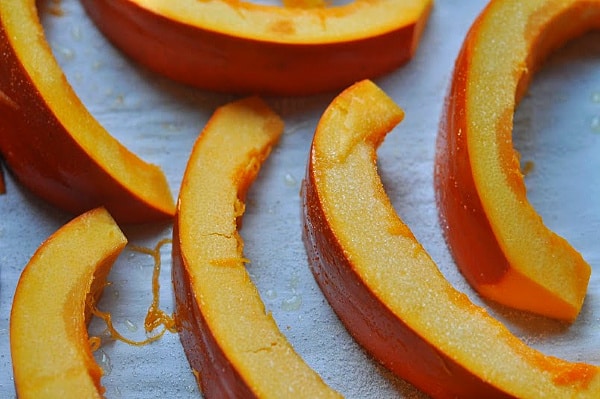 For this salad, I roast the pumpkin with olive oil, salt, and slice it with the skin on.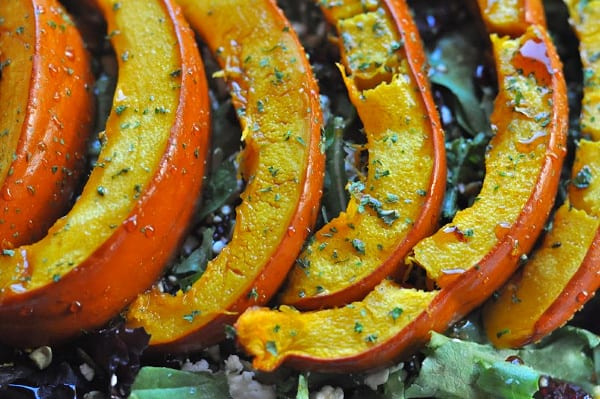 After it is cooked, I like to serve it on mixed greens. I also sprinkle on dried parsley. You can serve it in the large slices or chop it in smaller pieces. If you are not so sure about eating pumpkin skin, roast it with the skin on and then just peel it right off!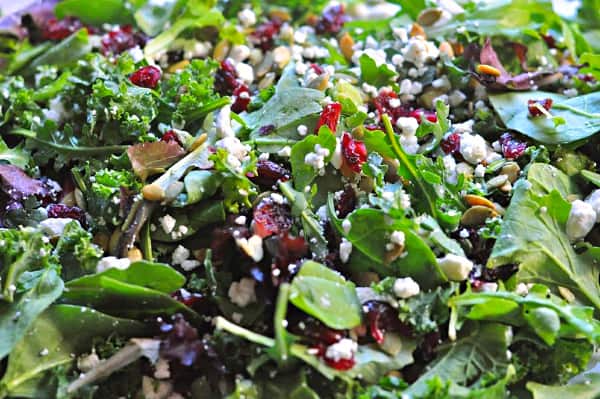 Let's talk about the mixed greens! For this salad, I'm using all my favorites. Mixed greens, kale, and arugula.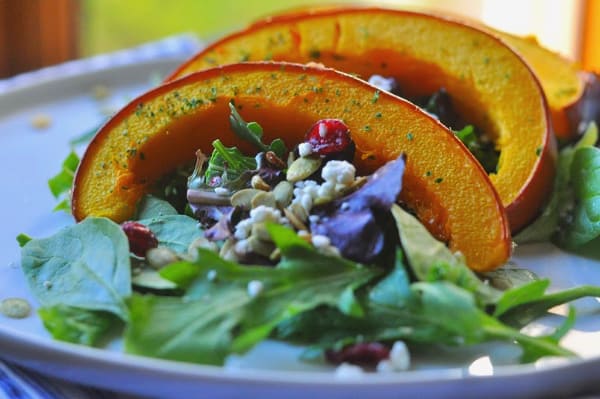 The roasted pumpkin in this salad gives a heartier feel to the salad. The pumpkin tastes just like squash. In addition to mixed greens, I added pepitas (shelled pumpkin seeds), dried cranberries, and crumbled cheese (try goat or queso fresco).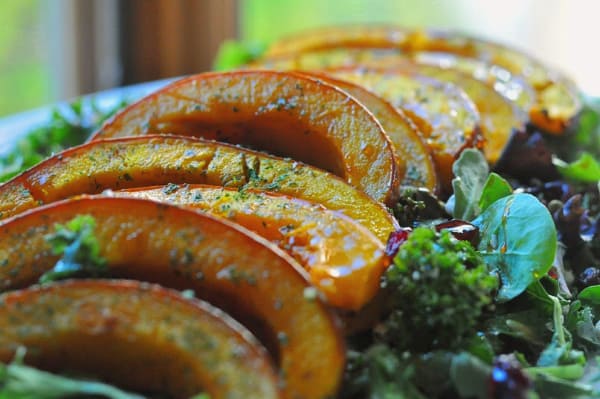 If you have a big crowd to serve, you can put the salad on a platter and top it with the squash and maple dressing.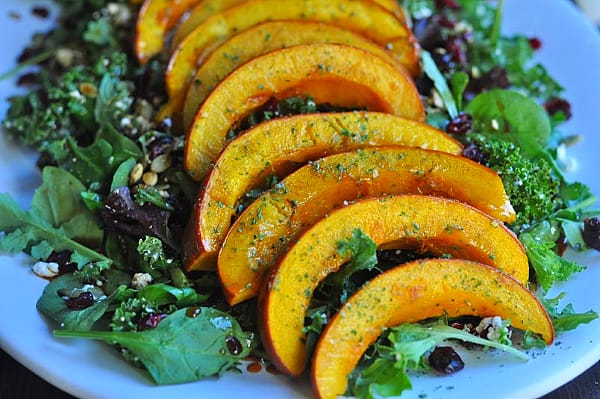 You can also make this ahead and mix the greens, pepitas, cranberries, and cheese. Store in the fridge with the pumpkin stored in a resealable container as well. When ready to serve, you can serve the pumpkin warmed up or cold and then top with the maple dressing (I like it warm).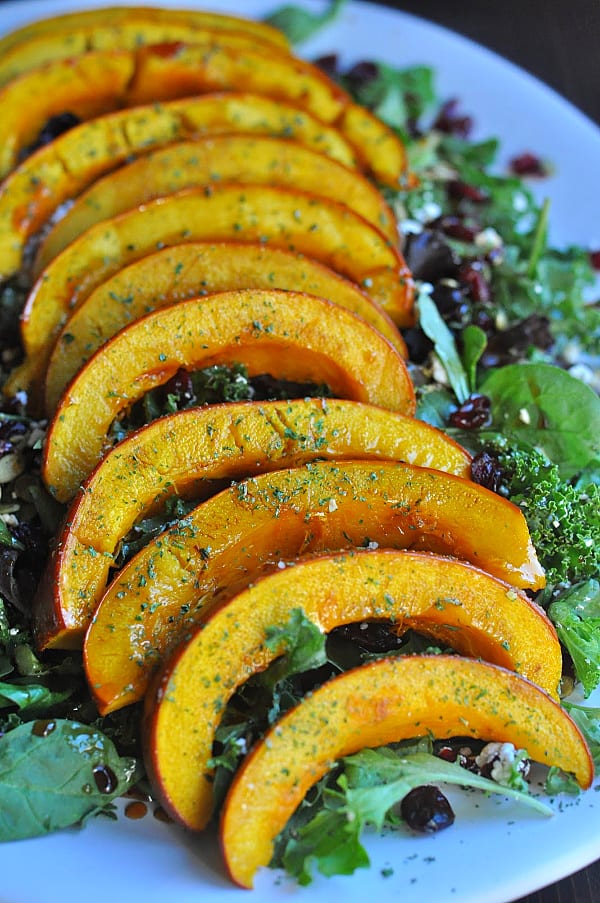 I hope you love this fall-inspired Pumpkin Salad as much as I do! I'm grateful for the opportunity to share my trip-inspired salad with you!

Yield: 6-8
Pumpkin Salad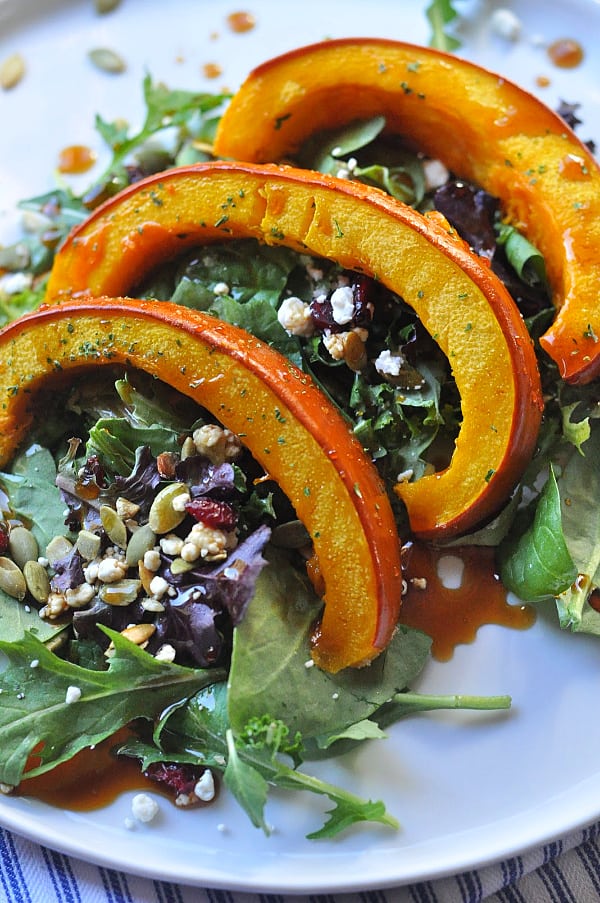 Pumpkin Salad recipe packed with roasted pumpkin, cranberries, mixed greens, and drizzled with a warm maple syrup dressing. Great roasted pumpkin recipe!

Prep Time 10 minutes

Cook Time 25 minutes

Additional Time 5 minutes

Total Time 40 minutes
Ingredients
Roasted Pumpkin from a Pie Pumpkin (2-3 lbs)
4 cups of Greens (Mixed Greens, Arugula, and/or Kale)
1 cup Crumbled Cheese (about 4 ounces of Goat Cheese or Queso Fresco)
½ cup Pepitas (shelled pumpkin seeds)
½ cup Dried Cranberries
½ cup Real Maple Syrup 
1 TB Premium Balsamic Glaze
1 TB Apple Cider Vinegar
Instructions
Prepare the Roasted Pumpkin by following my Roasted Pumpkin recipe.
Once the pumpkin is cooked, prepare the greens. Combine the cheese, pepitas, and cranberries with the greens.
Heat up the Real Maple Syrup, and once heated add the Premium Balsamic Glaze, and Apple Cider Vinegar.
Place the roasted pumpkin on top of the mixed greens and drizzle on the dressing before serving.


Recommended Products
As an Amazon Associate and member of other affiliate programs, I earn from qualifying purchases.
Nutrition Information:
Yield:
8
Serving Size:
1
Amount Per Serving: Calories: 278Total Fat: 12gSaturated Fat: 4gTrans Fat: 0gUnsaturated Fat: 6gCholesterol: 19mgSodium: 192mgCarbohydrates: 37gFiber: 5gSugar: 25gProtein: 9g

Nutrition information is estimated. Please use a validated nutiriton tool to verify information.