Salmon Wild Rice Soup is a creamy soup filled with flavors of coriander, smoked salmon, Minnesota wild rice and sweet potatoes.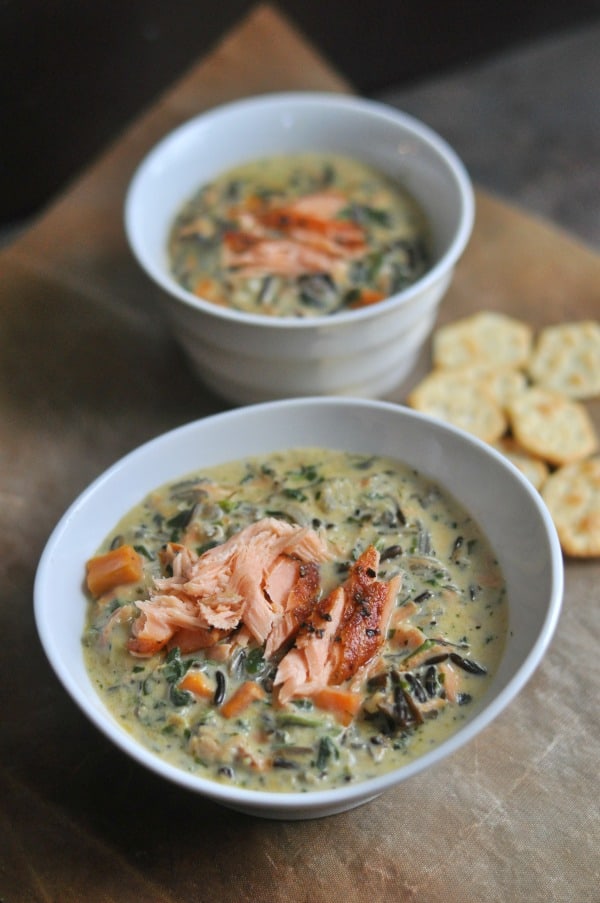 The comfort food classic, creamy wild rice soup, gets a new spin with the addition of smoked salmon. This soup is true to the classic flavors of the Minnesota favorite, creamy and filled with wild rice but for this version I've packed it full of smoked salmon, coriander spice and sweet potatoes. Perfect for a cozy winter night or a meal you can share with friends, this soup is a unique way to incorporate salmon into dinner.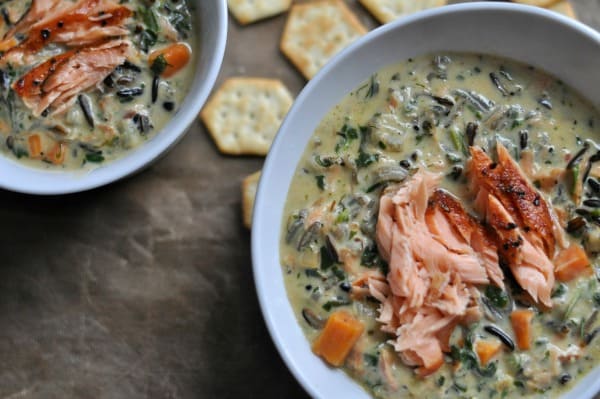 While families around us packed their suitcases for sunny locations, our family packed our luggage for snowy Duluth, Minnesota. A favorite spot for family for adventuring, craft beer and food, we try and make both summer and winter trips to visit. No matter the season, we always find our way to Northern Waters Smokehaus a gourmet market known for their smoked meats, salumi, fish and specialty sandwiches. On our latest trip, we filled up on sandwiches (I like to get a few to share so we get to try different ones, we also get them to go and take them over to Bent Paddle Brewing Company), a dried sausage called Saucisson Sec (my husband totally gave me a hard time for buying this at a $24/lb price tag. Well, until he tasted it and now we are currently rationing it out and hiding it from our children) and their Smoked Atlantic Salmon with Pepper and Coriander.
If I could only get one thing from Northern Waters Smokehaus it would be this smoked salmon. We had some in Duluth with their homemade Boursin and I was sure to get some just to bring back to the Twin Cities. I knew it would be perfect in a salmon wild rice soup. I know what you are thinking: Alice, I want that special salmon from Duluth! You got it. You can order it online and have it shipped right to you. You could also order it as a gift and send them this recipe link to make this salmon wild rice soup!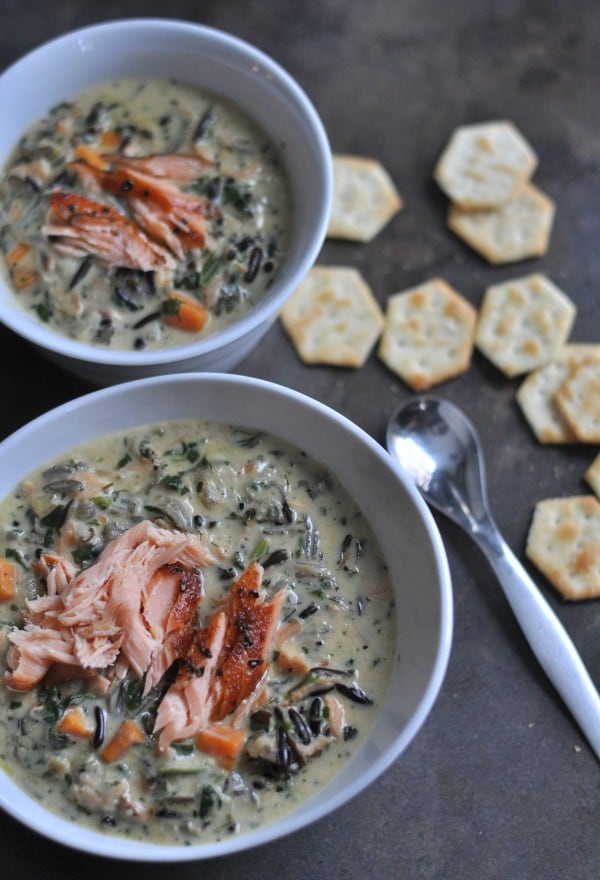 Salmon Wild Rice Soup Tips
Smoked salmon is great as an appetizer but perfect in this soup because of the rich smoked flavor. I have a hard time getting my family to eat fish but they like smoked fish because it typically doesn't have as much of a "fishy" taste. Using the smoked salmon gives it a really nice smooth flavor.
This salmon wild rice soup is really easy to put together and is prepared just like my Creamy Chicken and Ham Wild Rice soup. Which by the way, needs to be on your list of favorite soups. This is classic comfort food.
For this soup, I like to keep it close to my Minnesota roots and I use Minnesota wild rice, specifically Canoe canned wild rice. For the recipe you use cooked wild rice. If you are looking for another wild rice recipe, try my Wild Rice Sloppy Joes.
You'll also see in the recipe I really love Kowalski's Bold Italian Seasoning. It is the only Italian Seasoning I use now, it's full of the herbs from Italian Seasoning (oregano, basil, marjoram, rosemary, thyme) but they've also included garlic, peppers and sea salt.
Of course, our trip to Duluth was filled with really great food, but most importantly, it was filled with some really great family time. We need time to recharge as a family too. One of our favorite stops from this last trip was checking out Gooseberry Falls. We brought all our warm gear with us on this trip so we took the kids out and hiked around the park. It was a beautiful snowy Minnesota day, and a good reminder that a trip to a favorite location is never the same and new experiences await you, even inspiration for new recipes, like this Salmon Wild Rice Soup.
Don't miss out on any of my new recipes and conversations about motherhood and Minnesota, subscribe to my email newsletter to be the first to get my new posts. Click here to subscribe right now.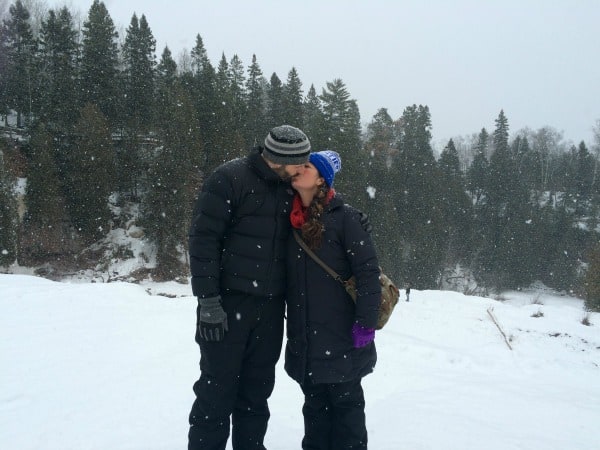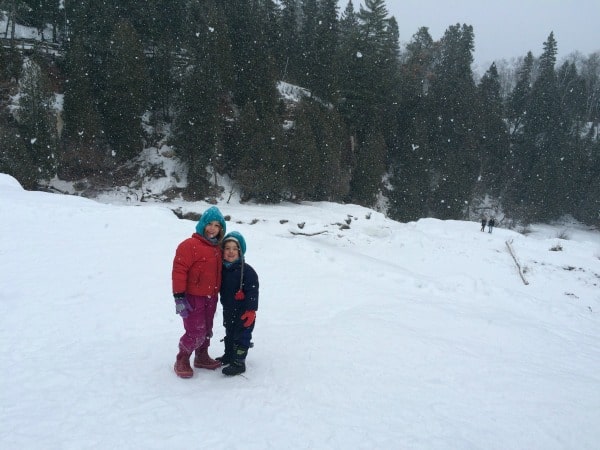 Yield: 4-6
Salmon Wild Rice Soup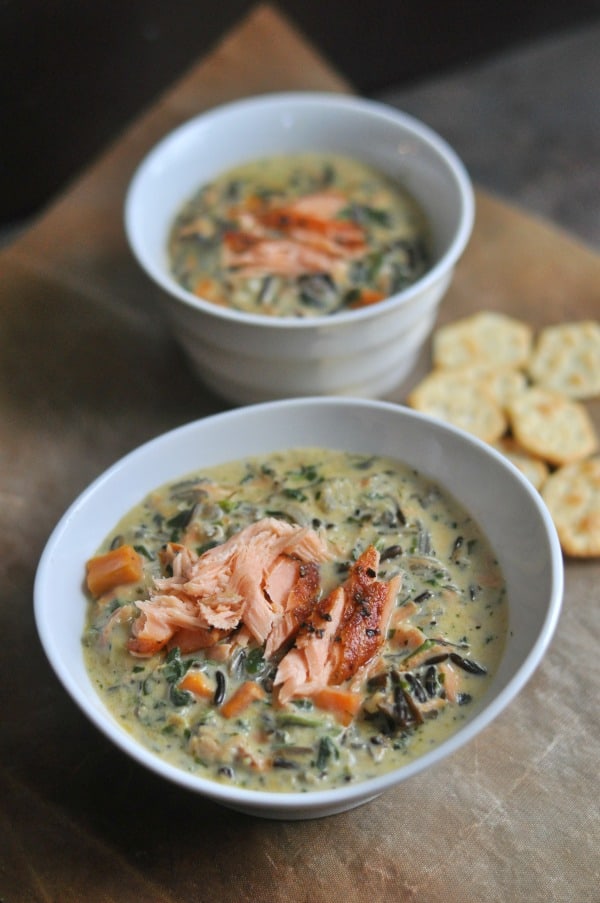 Salmon Wild Rice Soup is a creamy soup filled with flavors of coriander, smoked salmon, Minnesota wild rice and sweet potatoes.
Ingredients
4 TB Butter
1 medium Yellow Onion (finely chopped to 1 cup)
1 tsp Ground Coriander
1 tsp Garlic Salt
2 tsp Italian Seasoning (I like Kowalski's Bold Italian Seasoning)
1 tsp Ground Black Pepper
1/2 cup Flour
32 ounces Stock (chicken)
2 cups Sweet Potatoes (finely cubed)
2 cups Wild Rice (cooked, try Canoe cooked canned wild rice)
8.5 ounces Smoked Salmon (I like the Northern Waters Smokehaus Salmon with Pepper and Coriander, remove all skin)
1.5 cups Frozen Spinach
½ cup Fresh Dill (chopped)
2 cups Half and Half
Garnish with extra smoked salmon and fresh dill
Instructions
Melt butter and sauté onion until soft (not brown) in a large stockpot. Add coriander, garlic salt, Italian seasoning and black pepper. Blend in flour. The flour mixture should stick together and be clumpy.
Gradually add the stock and whisk into the flour mixture until blended. Add sweet potatoes and cooked wild rice. Bring mix to a boil. Once bubbling, cook 10-15 minutes or until sweet potatoes are soft.
Turn heat down to low and add smoked salmon, spinach and dill. Add half and half and turn heat up to warm soup. Continue stirring, let stand 10-15 minutes to thicken.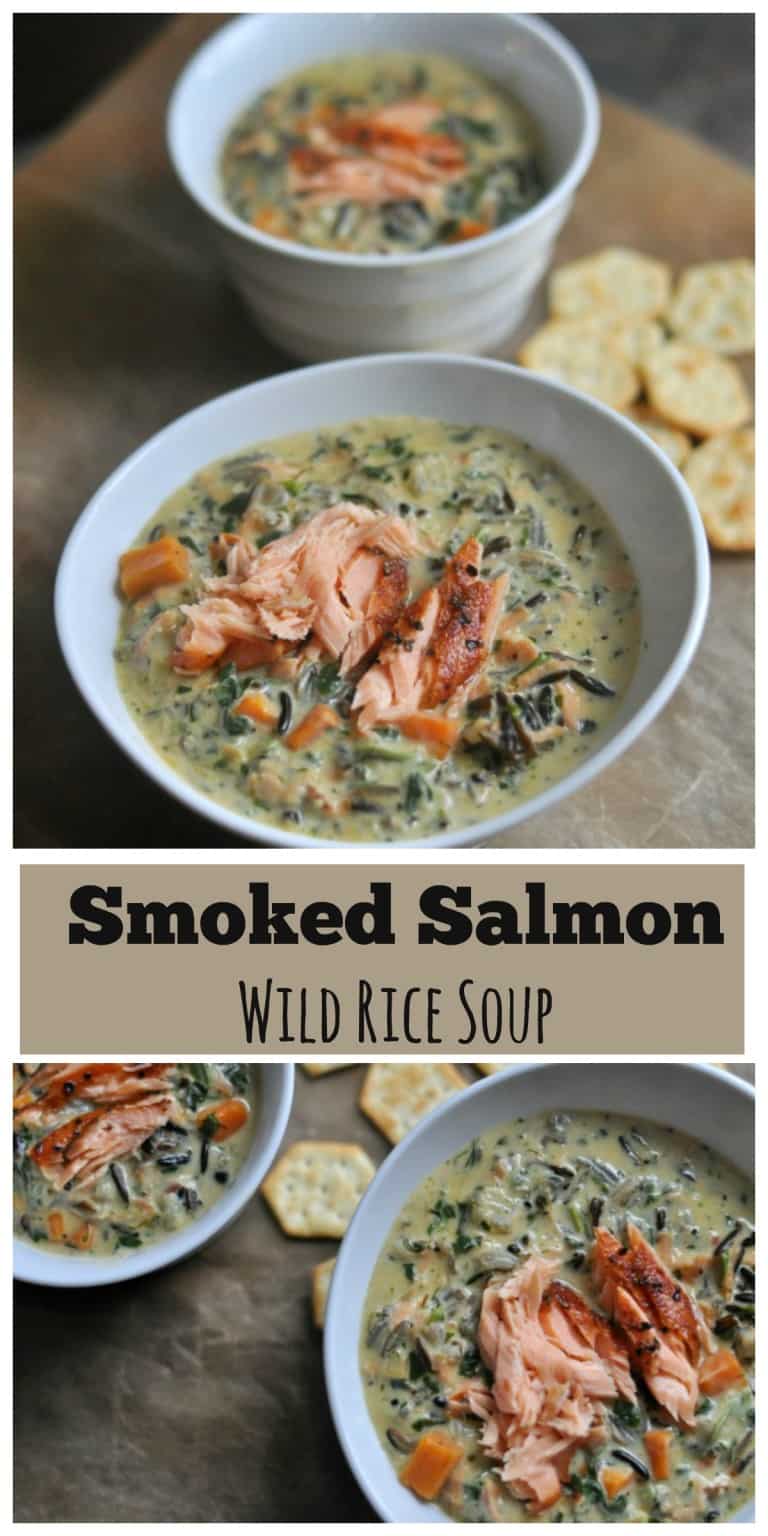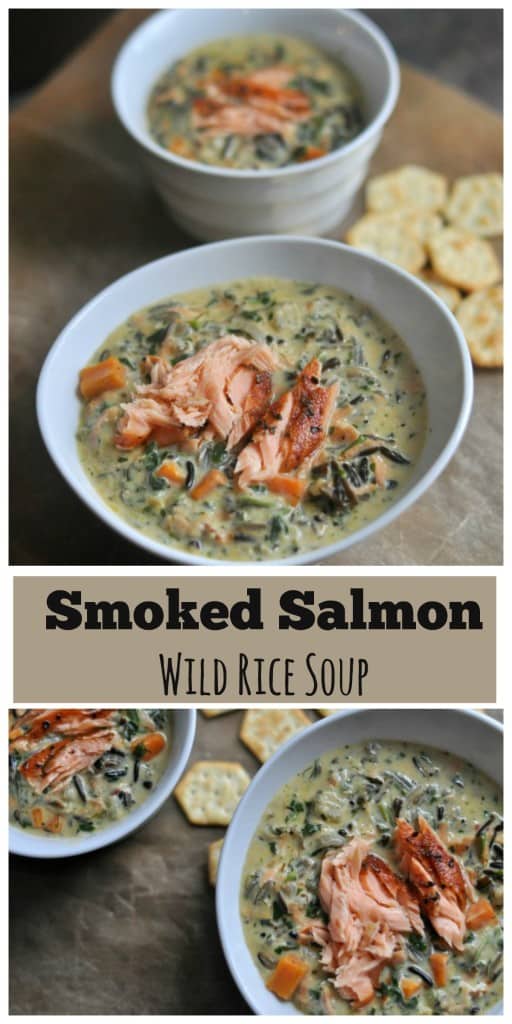 I think you'll also love my Minnesota Ham and Chicken Wild Rice Soup too!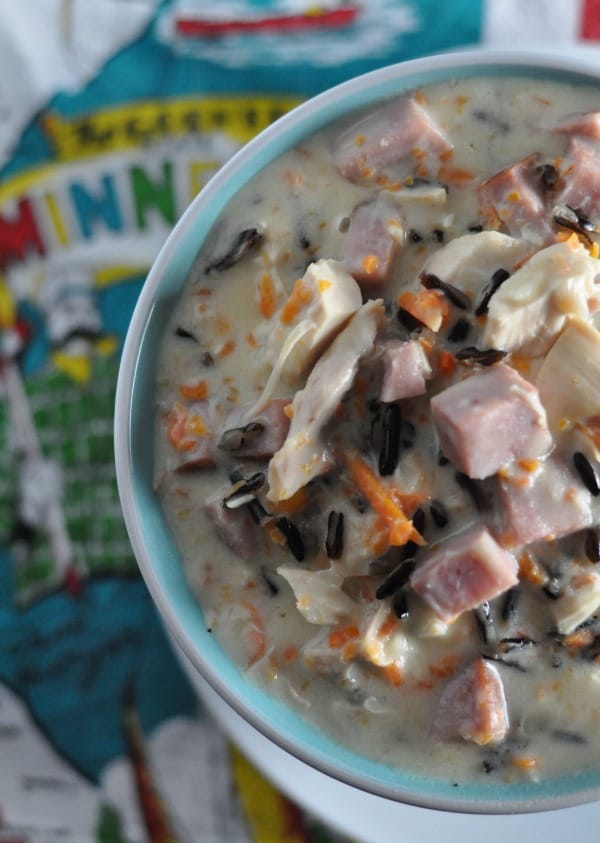 SaveSave