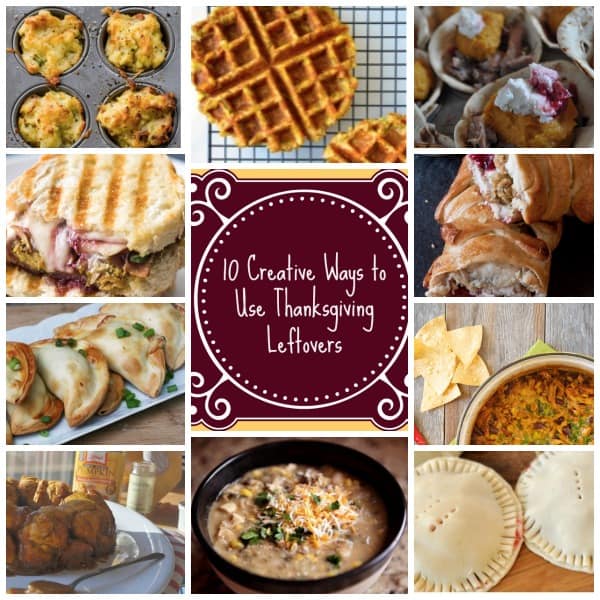 The Thanksgiving meal is over, now what are you going to do with all those Thanksgiving leftovers? Here are the ten most creative ways to use up all those Thanksgiving leftovers and create completely new meals!
By the official Seuffert count, I have roasted a total of 4 turkeys in the last two weeks.
Yes, 4 turkeys.
1, 2, 3 and 4.
And 2 of them were on a Monday night.
That's just not normal.
You know what's normal? Thanksgiving Leftovers. Oh yeah, and I've had plenty of those in recent days.
The very first thing I eat with my leftover thanksgiving leftovers is a turkey sandwich and it has to be on one of those flour dusted rolls complete with butter and mayo. Complete honesty here, I actually sent my husband back to the store to get the right rolls before Thanksgiving. I am a horrible person but a girl needs her special roll. I've enjoyed my Thanksgiving leftovers sandwiches-I even ate one for breakfast yesterday.
Sandwiches are great but if you're up to your eyeballs in Thanksgiving leftovers a girl can only eat so many sandwiches! So I scoured the web for what I believe to be the 10 most creative ways to use Thanksgiving leftovers. Honestly I was quite intimidated by the leftovers-how much can 4 people eat! I love these recipes and can't wait to put my leftovers to a creative use!
1. Cheesy Mashed Potato Puffs by The Kitchn
I love this super simple way to use up your leftover mashed potatoes. At the bottom of the recipe are variations-loaded baked potato and Italian. This would be perfect to freeze and serve as a holiday appetizer.
2. Stuffing Waffles by Just a Taste
It's inevitable that there will be stuffing leftovers and Kelly from Just a Taste brings you sweet and savory recipe with her Stuffing Waffles. She gives great step-by-step instruction for keeping the waffles moist. I'm thinking these waffles would also make excellent bread for a Thanksgiving leftover sandwich!
3. Thanksgiving Tortilla Cups by Dining with Alice
These Thanksgiving Tortilla wraps are a perfect way to get an entire bite of Thanksgiving's best all at once. These are super simple to assemble and freeze perfectly. We made these last year and it was great to be able to pull one or two out of the freezer and quickly heat up for a fast lunch or dinner.
4. Loaded Turkey Panini by Pinch of Yum
The Thanksgiving leftovers sandwich is taken to a whole new level by making it a grilled cheese. Lindsay from Pinch of Yum adds bacon, goat cheese, muenster cheese and even fries sage leaves for this amazing sandwich.
5. Thanksgiving Leftovers Stromboli by Betsylife
Betsy from Betsylife calls this "leftovers wrapped up in a brown, crispy hug." I loved her step-by-step photos and it takes just 15-20 minutes to a yummy and creative way to use up Thanksgiving leftovers.
6. Turkey Empanadas by Cheap Recipe Blog
I love these creative empanadas from Hayley at Cheap Recipe Blog. She gives several ideas for variations including just adding ingredients you may already have on hand. I've never made empanadas and I think these would be perfect to freeze and reheat later and that roasted red pepper sauce looks amazing!
7. Mexican Bake by Relishing It
I love how Laurie from Relishing turned her leftover turkey into a completely new dish. This is a perfectly hearty way to get through a snowy Thanksgiving weekend. I would make this and freeze it and bake for a Sunday night football game.
8. Pumpkin Monkey Bread by Dining with Alice
Did you buy one of those giant cans of pumpkin only to need about half of it for the pie? You're looking at a guilty face right now. I put that extra pumpkin to good use by mixing it with some pumpkin pie spice and Minnesota caramels and making Monkey Bread!
9. White Turkey Chili by Simple, Good and Tasty
White Chicken Chili is one of my very favorite winter soups and I love Karl and Marie's idea to use leftover turkey to make White Turkey Chili. This is a perfect recipe for those staying snuggled in their house this weekend, just as they suggest, crack open a Corona and enjoy this yummy soup!
10. Leftover Thanksgiving Handpies by The Mother Huddle
Oh my gosh you guys. I've been excited about all these recipes so far, but this one, I said out loud, "genius!" Destri from the Mother Huddle, takes her Thanksgiving leftovers and tucks them neatly into pie dough to make hand pies! Genius, right? The wheels are turning here-I have extra pie dough and how awesome would it be to keep a stash of these in the freezer and toss them right into the toaster oven on a cold winter night!
Wishing you a wonderful Thanksgiving and that all those hearts and bellies are full!