This simple Crock Pot Slow Cooker Creamed Corn is a holiday classic and so easy to make. With just a few simple ingredients and two hours in the slow cooker, you'll have an instant hit with your family! I'm going to show you how you can make a yummy holiday side dish right in your Crock Pot Slow Cooker and use that time you saved to really enjoy the holiday.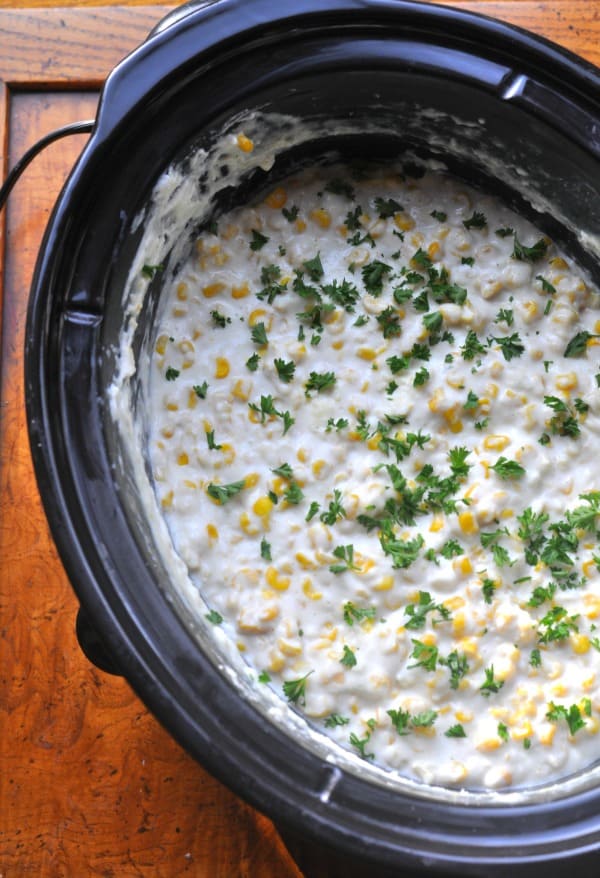 Crock Pot Slow Cooker Creamed Corn is a holiday classic and so rich and creamy, it is the perfect comfort food to enjoy during a holiday celebration or potluck. This recipe makes a big batch, perfect for a crowd or large family. If you've never had this type of creamed corn before it is like the slow cooker casserole version of Elote Corn (corn on the cob you see at festivals with seasonings and crumbled cheese). This is a rich and creamy recipe and you'll see in my notes, I don't just reserve it for holidays. I've served it with a taco bar and people like scopping it with tortilla chips!
My very favorite reason I love this recipe is that it allows you to make a classic and yummy holiday dish quickly and use that extra time to really enjoy the holiday. On holidays, I want to savor and celebrate the people I love. I like to play board games, talk to the older adults in our family about their parents and past holiday traditions, I like to spend time with my own kids and do activities with my nieces and nephews. I love cooking, but I've found I don't need to make the fanciest recipes on holidays and spend the whole day in the kitchen. In fact, when I have, I tend to feel pretty awful about how my time was spent. So, I like easy slow cooker recipes, recipes with simple ingredients and easy prep, because I want my holiday memories to not be about the time I spent in the kitchen.
For this Crock Pot Slow Cooker Creamed Corn, it is so easy to assemble and all the ingredients I picked up at Aldi. So I'm also saving money too! Yes! You literally dump all the ingredients into the slow cooker, cook on high and you have yourself a super yummy holiday side dish.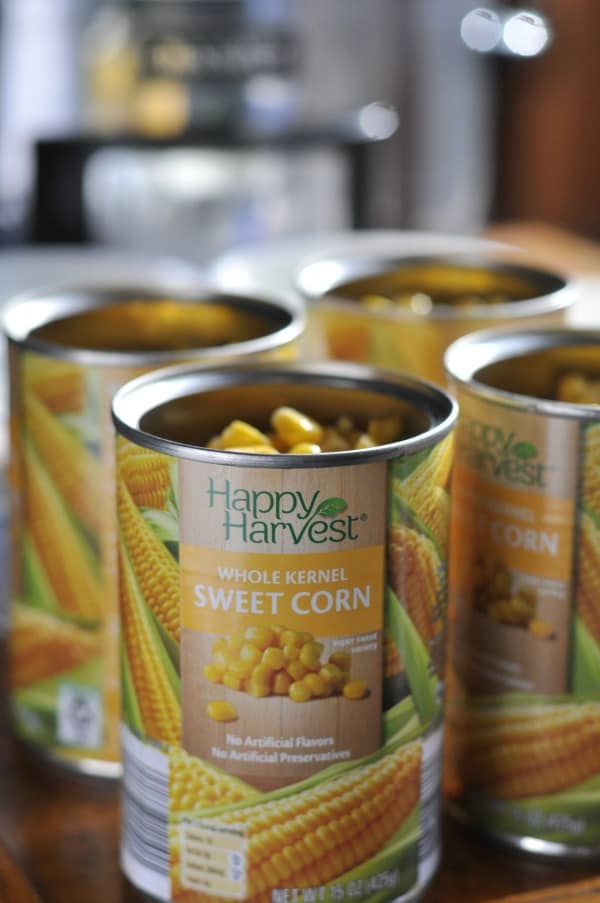 For this recipe, I use Aldi's brand of sweet corn and drain all the water. If you like your creamed corn less on the creamy side feel free to add an extra can of corn.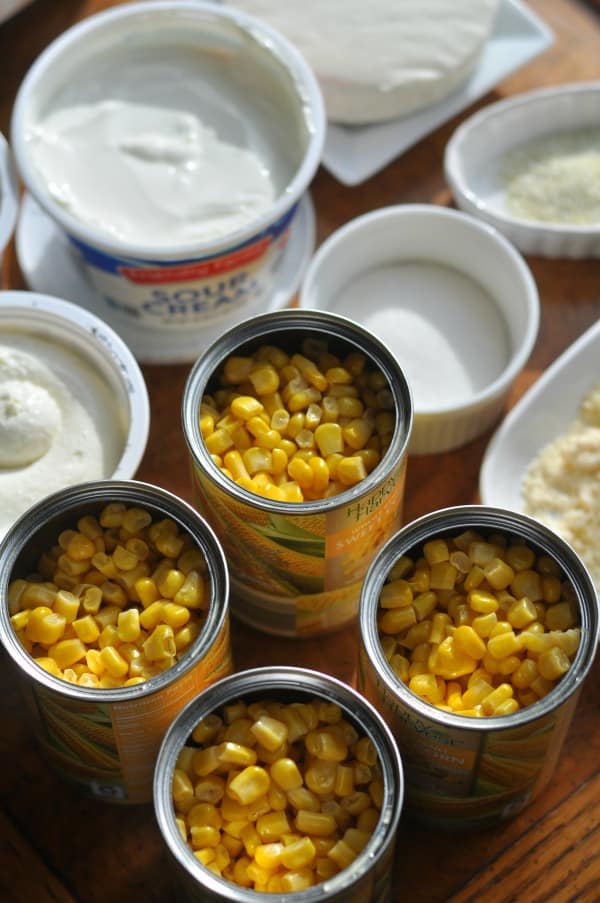 This is everything you need to make this recipe, pretty simple, right? See my notes below on why I use whipped cream cheese and queso fresco.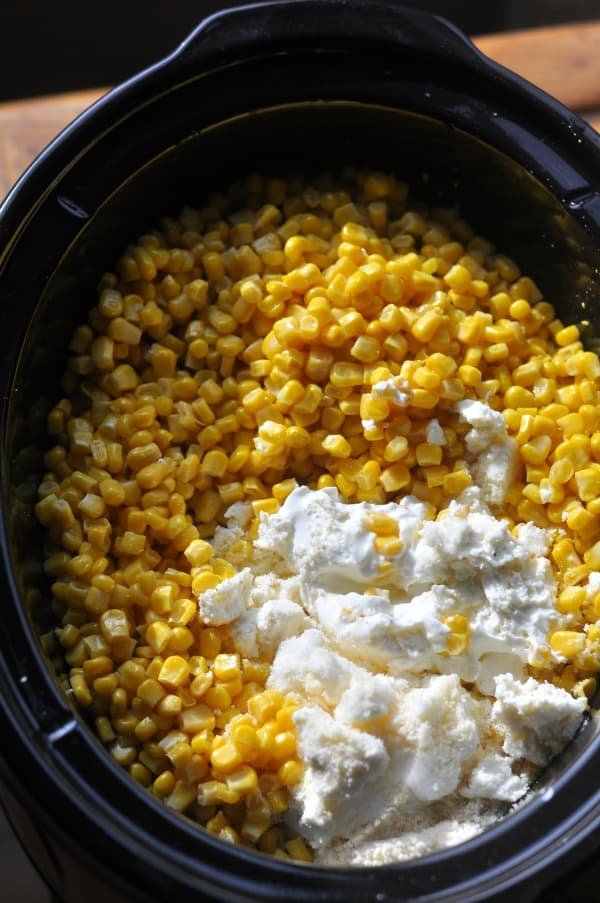 I like to put all the creamy ingredients in the slow cooker first and then add the corn, and mix everything together.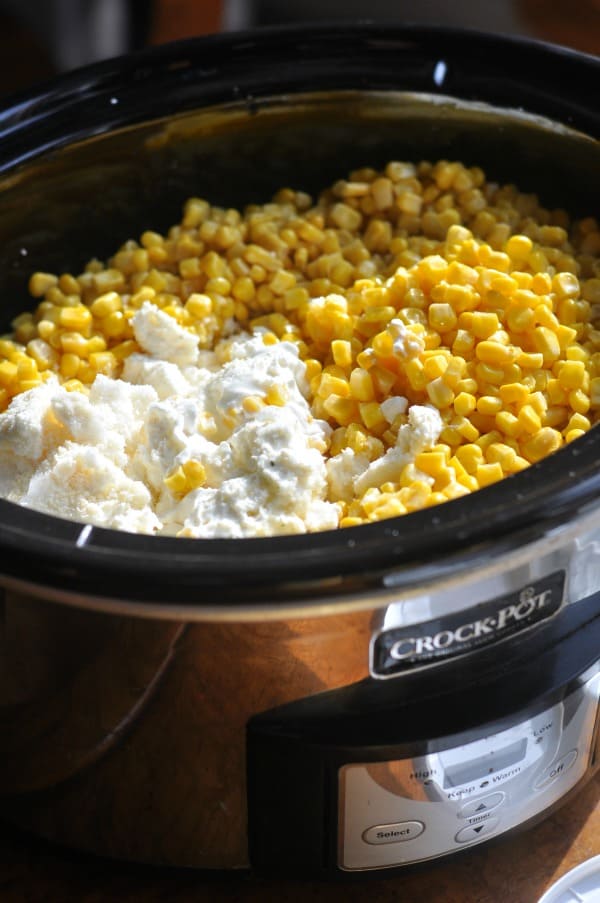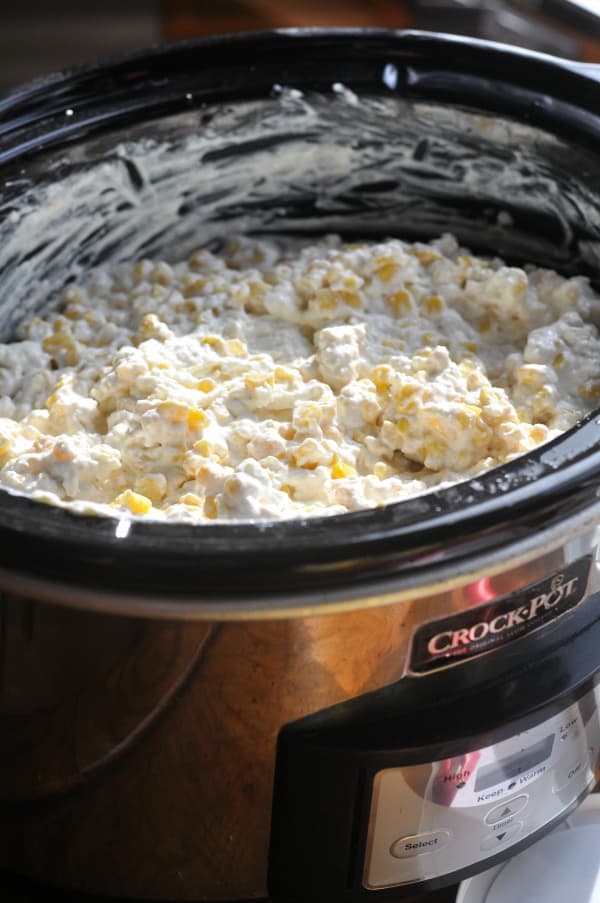 Once you mix it all together, just put your slow cooker on high for two hours and go enjoy the holiday. Read a book to your niece or nephew, do a puzzle, play a game, enjoy a cocktail with your feet up, ask a relative something you've always wanted to know, or just sit back and people watch the holiday. No matter the way you choose to celebrate, I hope you get time to savor and celebrate the holiday and that this simple recipe helps make that possible.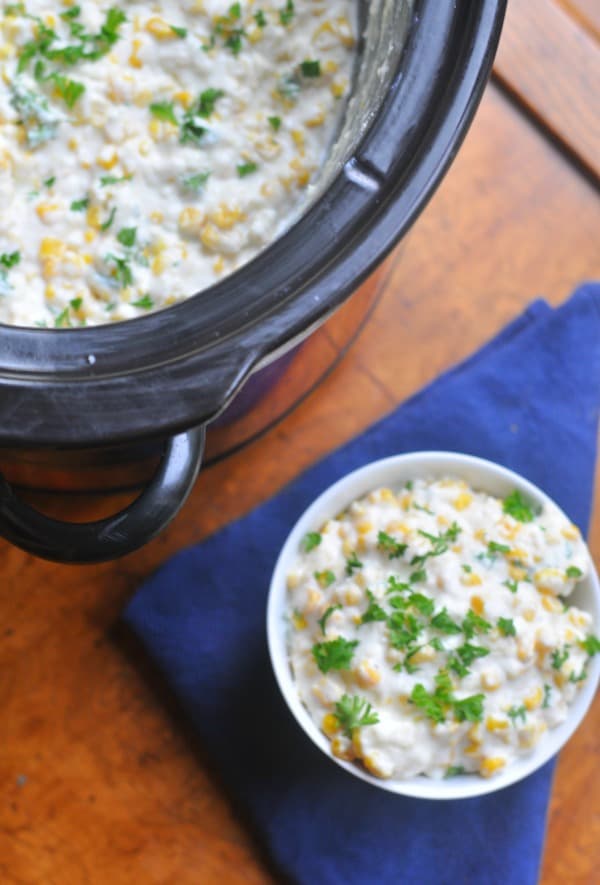 Crock Pot Slow Cooker Creamed Corn Ingredient Tips
I love using whipped cream cheese. You've seen me use it in my Instant Pot Creamy Mashed Potatoes and this Crock Pot Slow Cooker Creamed Corn. Why do I use it? Because it blends right into the dishes you are making and super easy to combine into the recipe.
My husband loves this recipe but totally hates sour cream. The mix of cream cheese, parmesan, and queso fresco cheese cuts down on a strong sour cream taste. The queso fresco doesn't fully melt in this recipe so I like to grate it really fine or crumble into very small pieces. My husband loves the pops of salty cheese it brings to the recipe.
I pretty much love adding dried parsley to all my savory dishes and this dish is no exception. I love that it brings color and brightness to this comfort food classic.
Other ideas for ingredients you could add: cooked bacon pieces, cooked spicy Italian sausage, smoked paprika, ground pepper, or for some heat, add some crushed red pepper!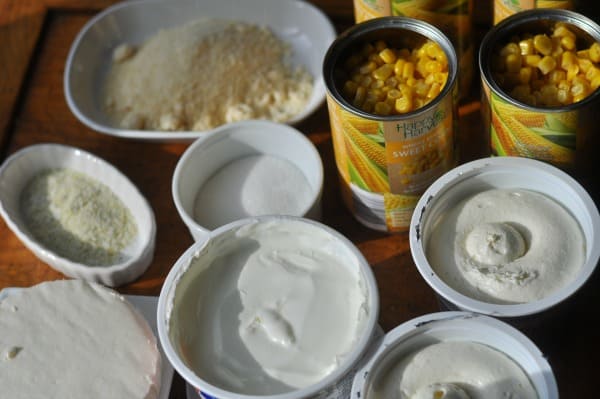 Crock Pot Slow Cooker Creamed Corn Cooking Tips
If you are bringing this to a holiday celebration or potluck, you could combine all ingredients into the crock pot before you leave and just plug it in when you arrive (it needs two hours to cook).
This recipe makes a super creamy creamed corn, if you want a less creamy recipe, I suggest adding an additional can or two of corn.
This Crock Pot Slow Cooker Creamed Corn is great to serve with ham, turkey, a Taco Bar or to bring to a potluck (I know this is totally weird but I love serving this corn with big tortilla chips and scooping it).
Other Easy Holiday Recipes
These are some other time-saving holiday classics our family loves.
Crock Pot Slow Cooker Creamed Corn
Ingredients
4 (15 oz) cans Whole Kernel Sweet Corn (drained)
2 (8 oz) containers Whipped Cream Cheese
1 cup Sour Cream
10 ounces Queso Fresco (finely grated or broken into small crumbs)
½ cup grated Parmesan
2 tsp Garlic salt (coarse ground with parsley)
¼ cup white sugar
Garnish: Salt to taste, smoked paprika, and chopped fresh parsley or dried parsley
Instructions
In a Crock-Pot Slow Cooker, combine corn, cream cheese, sour cream, queso fresco (grate or crumble into very small pieces), parmesan, garlic salt, and white sugar. Stir to combine.
Cook on high for two hours. Once cooked, stir and salt to taste and add chopped parsley or dried parsley if desired.