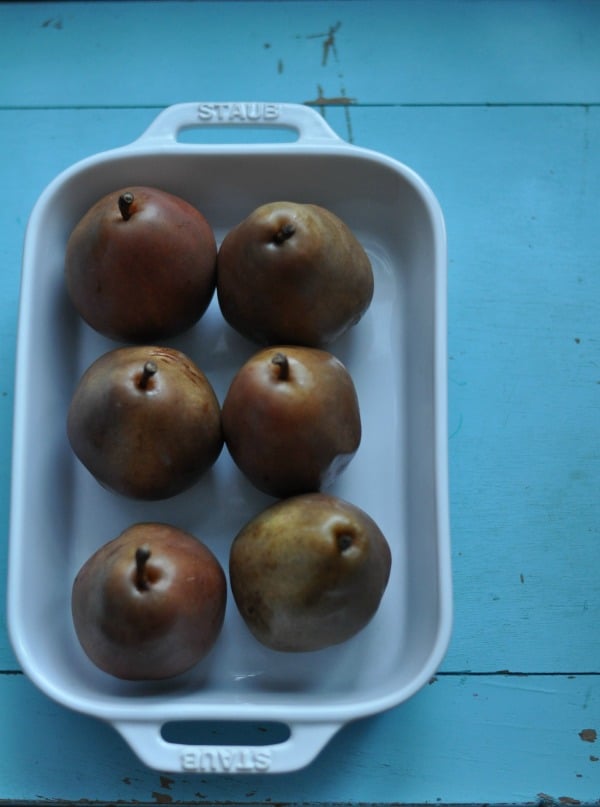 Simple Poached Pears made with apple juice, champagne, water, cinnamon, honey and vanilla.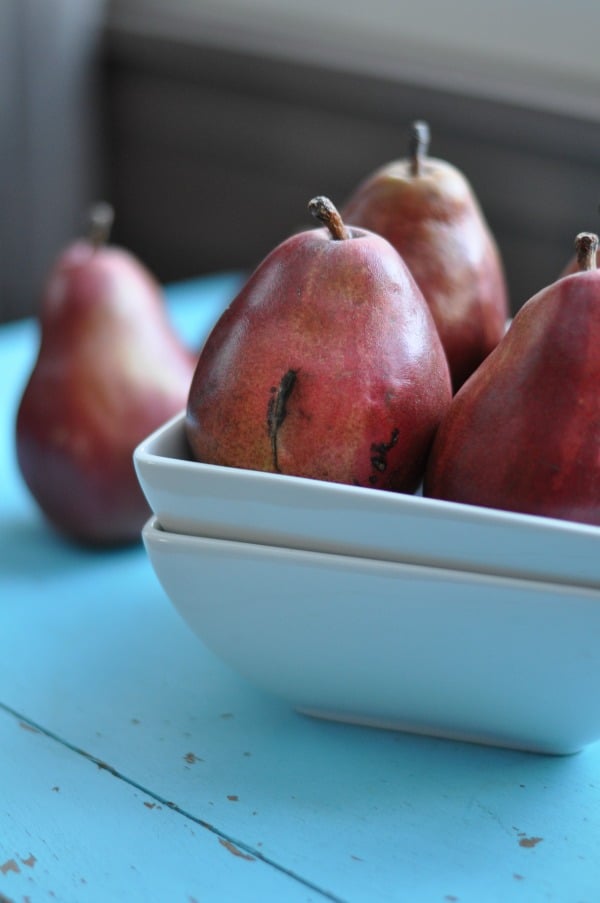 This recipe for Poached Pears was featured on Nellie Bellie where I contribute easy and creative recipes.  Coming over from Nellie Bellie? Thanks so much!
These Poached Pears are the perfect easy way to start a dinner party. I love having salad when I host a dinner party.  Sometimes salad can take a backseat to the other portions of the meal.  I call these poached pears fancy easy because well, they are.  I don't remove the skin on these poached pears, I think the red skin is quite beautiful and it's full of fiber. So really you are just dropping these sweet ladies into boiling champagne, juice, water, cinnamon, honey and vanilla.  Easy, right?
Once they emerge from their swim, you can stop there and just let them cool then top with honey and cheese. Or you can stuff the insides with cheeses, nuts and dried fruit.
This is certainly a salad to wow a crowd.  But it can also be a great way to add something substantial to an ordinary salad.  Here's the recipe for my Poached Pears and details on stuffing the pears with yummy ingredients:

Poached Pears
Ingredients
6 cups Apple Juice
2 cups Champagne (you can substitute a sweet white wine)
2 cups Water
1 tsp Cinnamon
2 TB Honey
1 tsp Vanilla Bean Paste
6 Pears
Instructions
Bring apple juice, champagne, water, cinnamon, honey and vanilla to a boil. Place pears (do not remove skin) in the boiling liquid and cook for 10 minutes.
Once cooked, let pears cool. Serve on mixed salad greens and drizzle with honey and desired salad dressing. Stuffed Poached Pears: Once cooled slice the bottoms including stem off the pears. Using a knife, go around the center of the pear to cut a circle around the stem. Use a food scissors to cut out the stem. For cheese and wild rice stuffed poached pears, mix 1 cup cooked wild rice with 6.5 ounces of Garlic and Herbs Spreadable Cheese (Boursin). Other great ingredients to include in stuffed poached pears: goat cheese, blue cheese crumbles and dried fruit like figs and cherries.