How to roast pumpkin with a super simple recipe! Start with a pie pumpkin and a quick toss in olive oil and salt and you have a super yummy fall savory recipe! Plus tips and information all about pumpkin!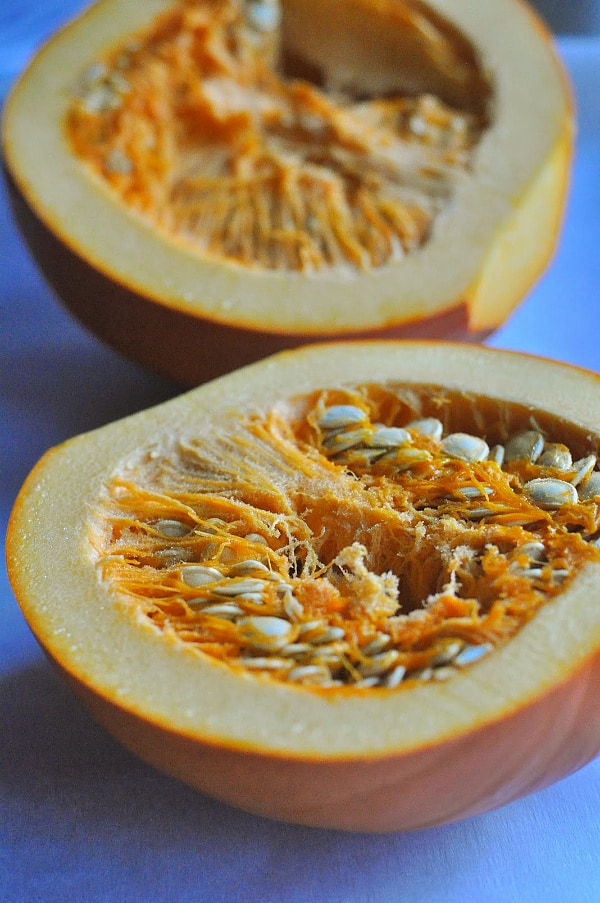 My husband and I recently returned from a trip to Germany and inspired by a roasted pumpkin salad I had when I was there, I had to try roasting pumpkin with the skin on and create a recipe for my family and readers!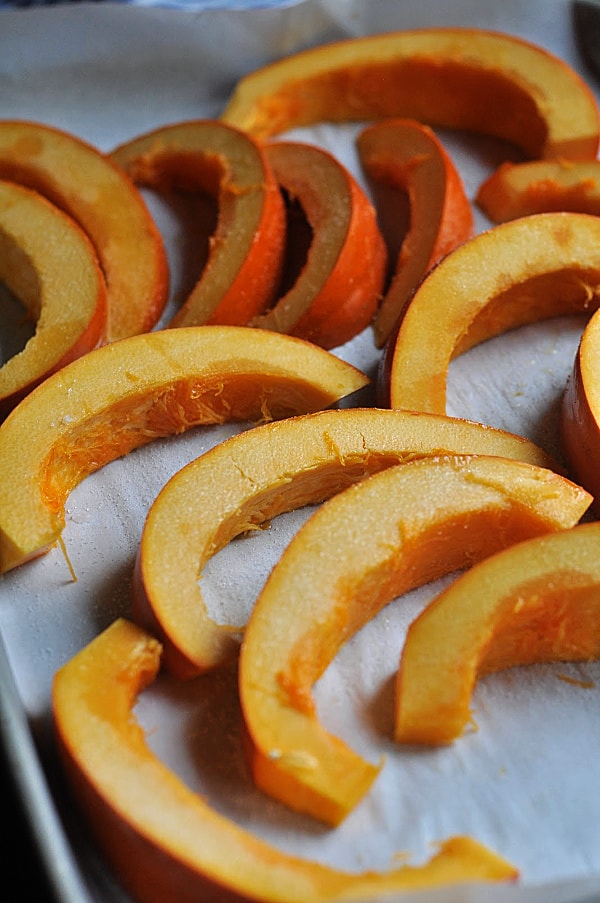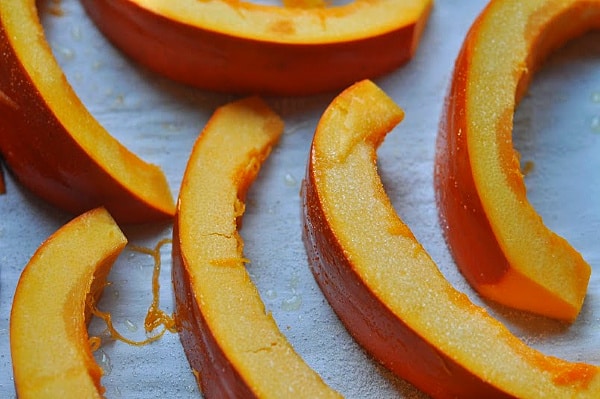 How to Roast Pumpkin
For this instructional recipe, you'll need a Pie Pumpkin. I like to toss it with olive oil and salt before roasting. I also slice it into big pieces and roast it that way too. If you don't care to eat the pumpkin skin, it peels off super easy after you roast it!
This recipe will give you everything you need to know about roasting and eating pumpkin. My favorite way to eat roasted pumpkin is in my Pumpkin Salad recipe.

What is a Pie Pumpkin?
A pie pumpkin or sugar pumpkin is a smaller pumpkin with sweeter flavors. For this roasted pumpkin recipe, I'm using a 2.5-3 lb pie pumpkin. You'll find pie pumpkins in the produce area of your grocery store. In Minnesota, where I live they are priced comparably to squash. I paid $2.50 for the pie pumpkin at a larger grocery store.
Can you eat a carving pumpkin?
I wouldn't recommend it because of the flavor. Stick with a pie pumpkin for the sweeter squash type flavor! Save the carving pumpkins for Jack-o-Lanterns!

Should you roast a pumpkin in slices?
Pumpkins can be roasted in large, medium, or small slices. You can half your pumpkin and roast it that way too. I like the slices for this recipe because it doesn't turn to mush in the oven and it's great for my Roasted Pumpkin Salad. This size of slice also makes it great for portioning out for meals or serving at a gathering.

Can you eat pumpkin skin? Is it OK to eat pumpkin skin?
Yes and Yes! Pumpkin skin is edible!
I like to look for Pie Pumpkins with smooth skin (free of bumps, blemishes, and rough patches). If you follow this recipe for roasting pumpkin, I leave the skin on and it's really delicious in my Roasted Pumpkin Salad. If you don't like the two textures of pumpkin, just remove the skin after roasting (it peels right off).

Are squash and pumpkin the same?
When I was in Germany I was talking to someone about cooking squash and she kept interchanging the words pumpkin and squash. Which turns out is totally fine because a pumpkin is a type of squash! There are many varieties of squash. You probably have your favorites! I love butternut, acorn, spaghetti, and pumpkin.


Is a Pumpkin a Fruit?
I learned this lesson at a brewery in Stillwater, Minnesota at a pirate-inspired pumpkin carving party. Yes, that's a really weird statement and a fun night. But seriously, it was during the pirate trivia (I know). Pumpkins are a fruit. Want to know why? Because pumpkins have seeds and are a product of those seeds, they are fruit.

Is Pumpkin Healthy? What Vitamins or Nutrients are in Pumpkin?
According to the Mayo Clinic, one cup of pumpkin is about 30 calories. It's low carb and you can substitute it for butter and oil in recipes!
Pumpkin provides a good source of Vitamin A (good for your skin, bones, and vision) fiber (good for digestion), iron (good for blood production), and potassium (good for reducing blood pressure and water retention).
Is it better to eat canned or fresh pumpkin?
According to the Mayo Clinic, both can be equally good for you! "Fresh foods generally have a higher nutrient content than cooked or canned foods. But in the case of pumpkin, both fresh and canned are packed with nutrients, such as potassium, vitamin A and iron."

What are some ways to eat roast pumpkin?
My very favorite way to eat roasted pumpkin is in my Roasted Pumpkin Salad. Here are some other ways you could eat roast pumpkin!
Cubed and added to your favorite soup, like Creamy Chicken Wild Rice Soup or Salmon Wild Rice Soup.
Cubed and added to salads with fresh greens or mixed with quinoa or couscous.
Cubed and added to your breakfast oatmeal or yogurt and drizzled with a bit of maple syrup!
Or mash up and add to waffles, pancakes, or even mac and cheese.

Yield: 4-6
How to Roast Pumpkin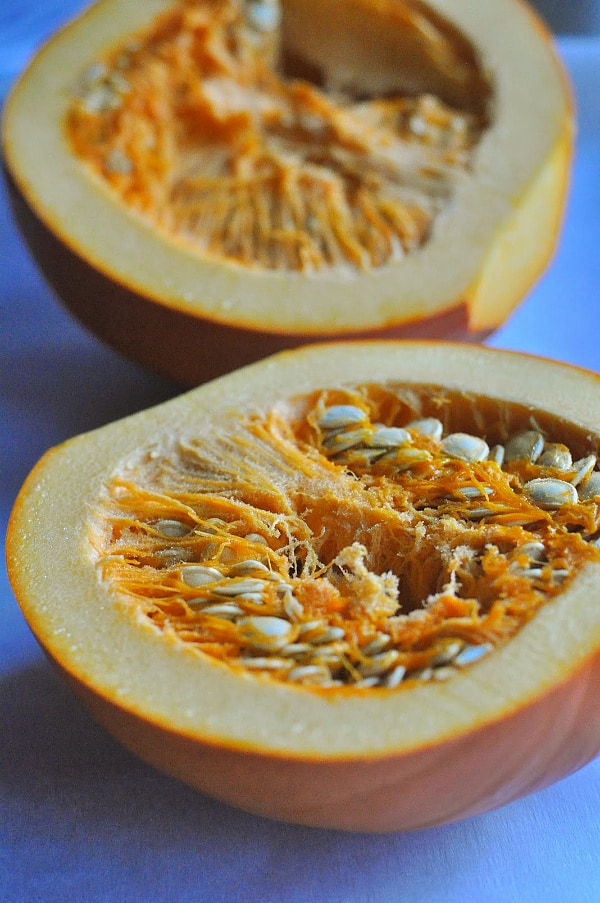 How to roast pumpkin with a super simple recipe! Start with a pie pumpkin and a quick toss in olive oil and salt and you have a super yummy fall savory recipe!

Prep Time 5 minutes

Cook Time 25 minutes

Total Time 30 minutes
Ingredients
2.5-3 lb Pie Pumpkin
2 TB Olive Oil
1 tsp salt (omit if using for sweet recipe)
Dried parsley (garnish, if desired)
Instructions
Preheat oven to 350.
Remove pumpkin stem, slice the pumpkin in half, and remove seeds. (Do not peel pumpkin).
Slice into 15 total pieces. Place pumpkin on a jelly roll on parchment paper. Drizzle on 2 TB olive oil and sprinkle on salt.
Bake 25 minutes.
Remove pumpkin skin if you wish or enjoy with the skin.
Garnish with dried parsley if desired. Serve and enjoy!
Notes
My favorite way to serve roasted pumpkin is in this Pumpkin Salad.
Recommended Products
As an Amazon Associate and member of other affiliate programs, I earn from qualifying purchases.
Nutrition Information:
Yield:
6
Serving Size:
1

Amount Per Serving:

Calories: 166 Total Fat: 10g Saturated Fat: 2g Trans Fat: 0g Unsaturated Fat: 7g Cholesterol: 14mg Sodium: 512mg Carbohydrates: 18g Net Carbohydrates: 0g Fiber: 1g Sugar: 10g Sugar Alcohols: 0g Protein: 2g

Nutrition information may not be accurate. Please use a trusted nutrition calculator for exact information.