Stuffed Acorn Squash with wild rice, sausage, and cranberries. A healthy stuffed acorn squash recipe for Thanksgiving or a fall weeknight dinner!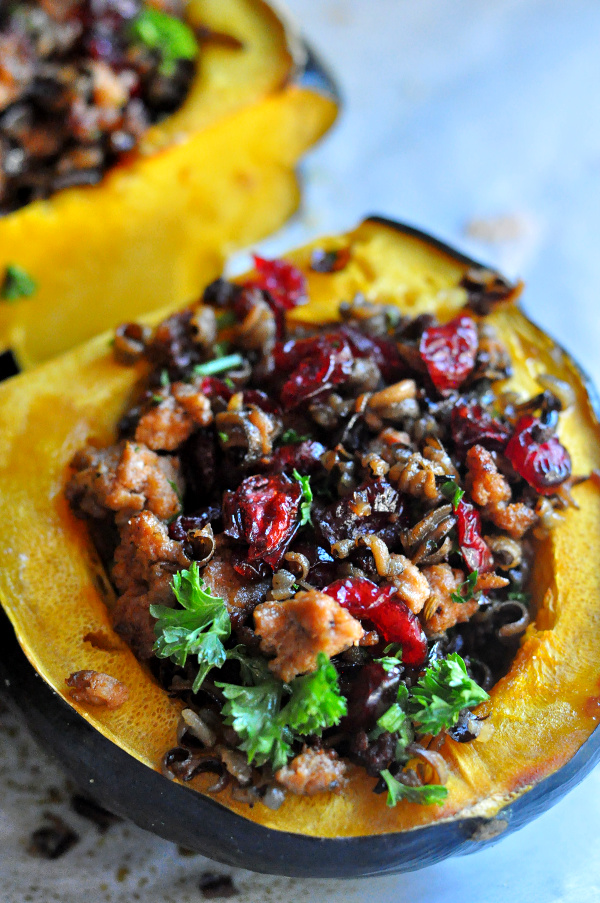 Fall means an abundance of squash and I'm so excited to share this Acorn squash recipe with you! This Stuffed Acorn Squash recipe is made with wild rice and sausage. It is so incredibly easy, yet super beautiful and tasty it can be made as a weeknight meal or a hosted dinner for friends!
In this recipe, I'm going to show you how to roast an Acorn Squash and how to make this super yummy stuffing mixture. And for my gluten-free friends, you'll be excited about this one because it's gluten-free and made with wild rice! The stuffing mixture is awesome served on top of the roasted Acorn squash and you'll find the recipe makes enough extra that you can save it for a Minnesotan breakfast hash (add a couple of poached eggs) or mix it in with your mixed greens and use my Maple Syrup dressing from my Pumpkin Salad with it!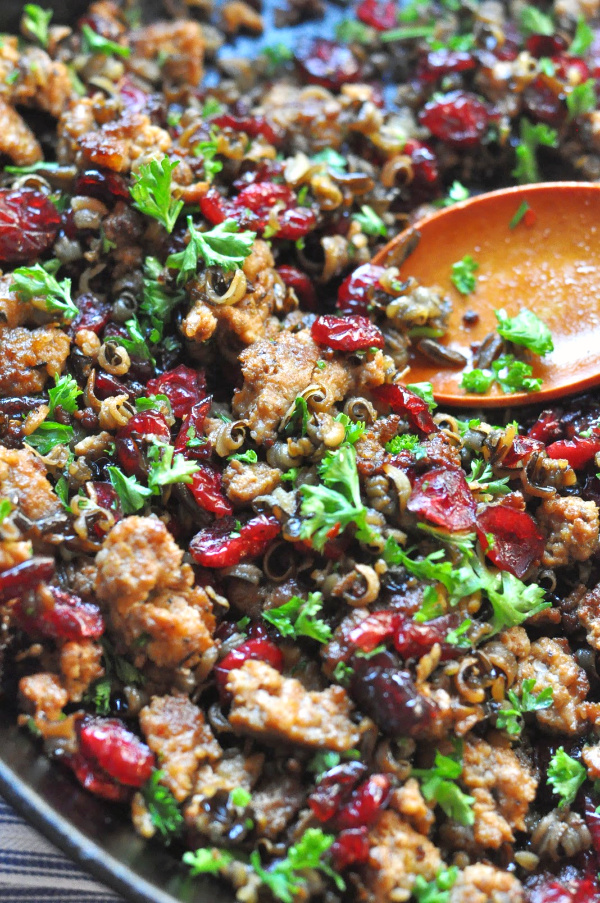 I wanted to create a recipe that felt both healthy and hearty for the fall and winter. I also thought this recipe would be a great addition to holiday gatherings for your gluten-free friends and family.
This fall, I've been trying to keep up with my daughter as she trained for the Girls on the Run program. The program helps girls train for an end of the season 5K and along the way they meet up twice a week and the coaches use a curriculum with messages about healthy eating, body image, friendship, and physical fitness. My sister and I served as running buddies for her during the race!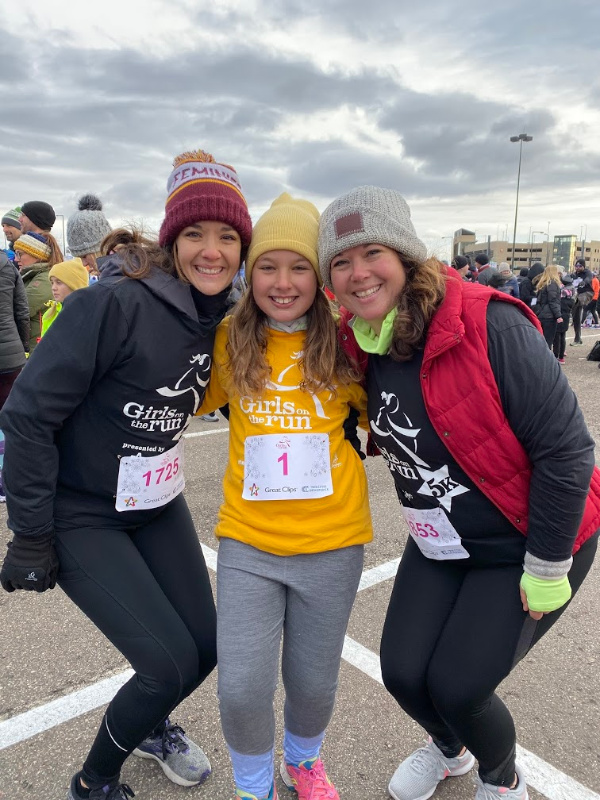 The 5K was an absolutely fantastic experience and super hard (for me)! The program has helped us have good conversations at home about being physically strong and enjoying foods that make us feel good! I also have to brag about my sister. She spent the whole race running alongside my daughter cheering her on. My daughter smiled the whole way. My sister is a running rockstar and I'm grateful she shared her running joy and expertise with us!
I think this Stuffed Acorn Squash recipe is a great meal to enjoy with your family and something you can feel good about too!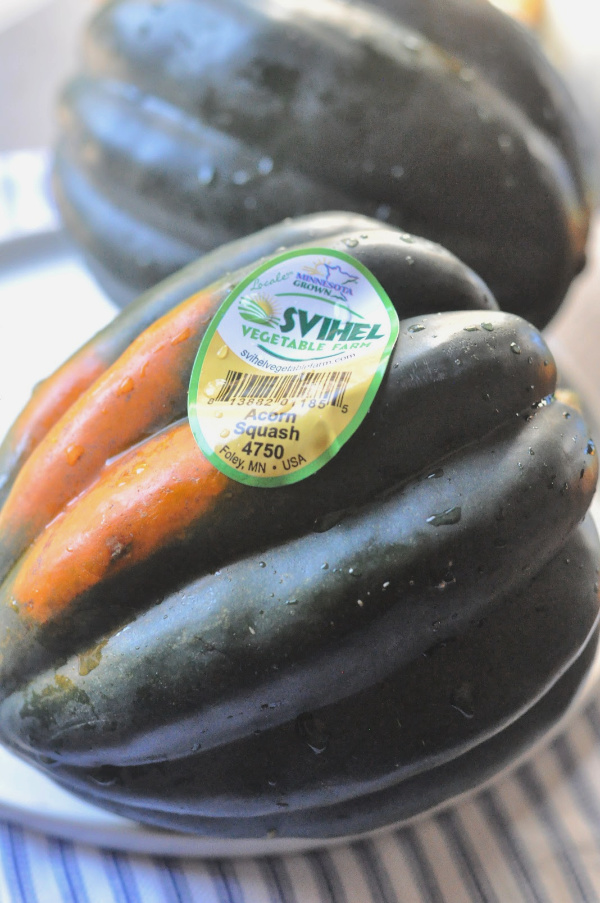 For this recipe, I'm using Acorn Squash. You could use roasted Butternut or Pumpkin and both would be just as delicious. When picking out Acorn squash they will have dark green skin and sometimes patches of orange. Most grocery stores will charge for squash by the pound and at the Farmer's market, you can get a better deal with prices per squash.
I love the flavor of Acorn Squash, it has a slight sweetness that pairs really well with the sweet and savory flavors of this recipe.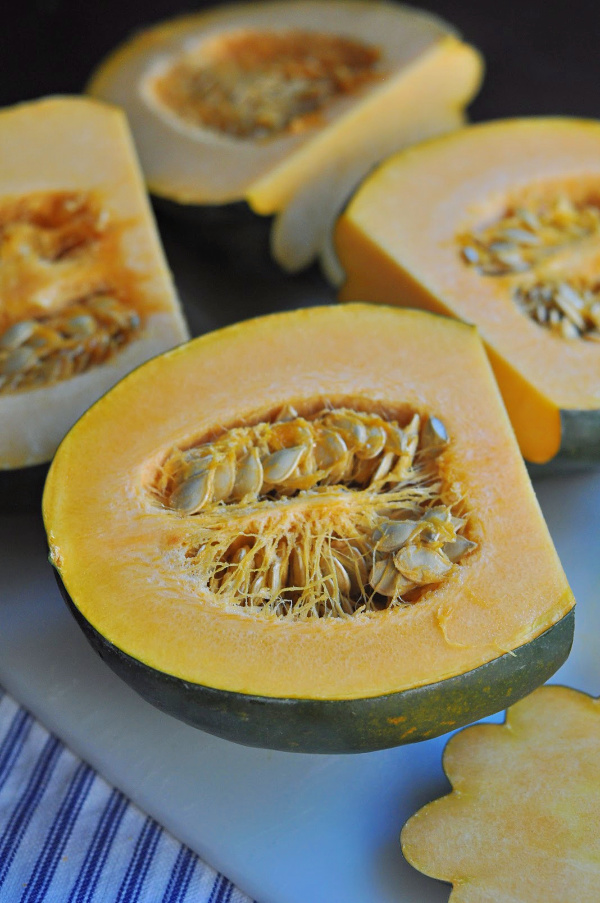 My super simple way to roast squash is Olive Oil and salt. This is the same technique I use for roasting pumpkin in my Pumpkin Salad (another super good vegetable-packed holiday sidedish idea).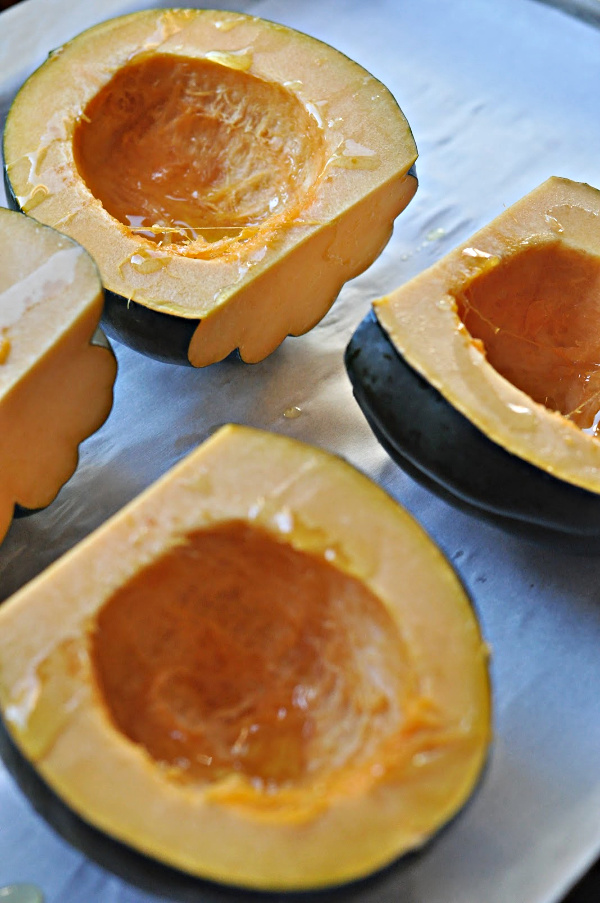 Your squash will need to roast about 45 minutes in a 350-degree oven.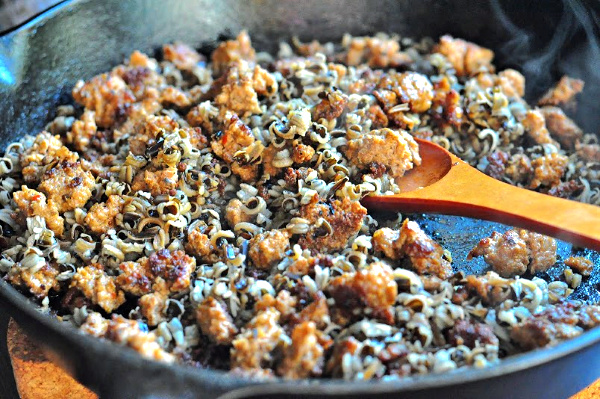 While the squash is roasting you can work on the stuffing for your Stuffed Acorn Squash.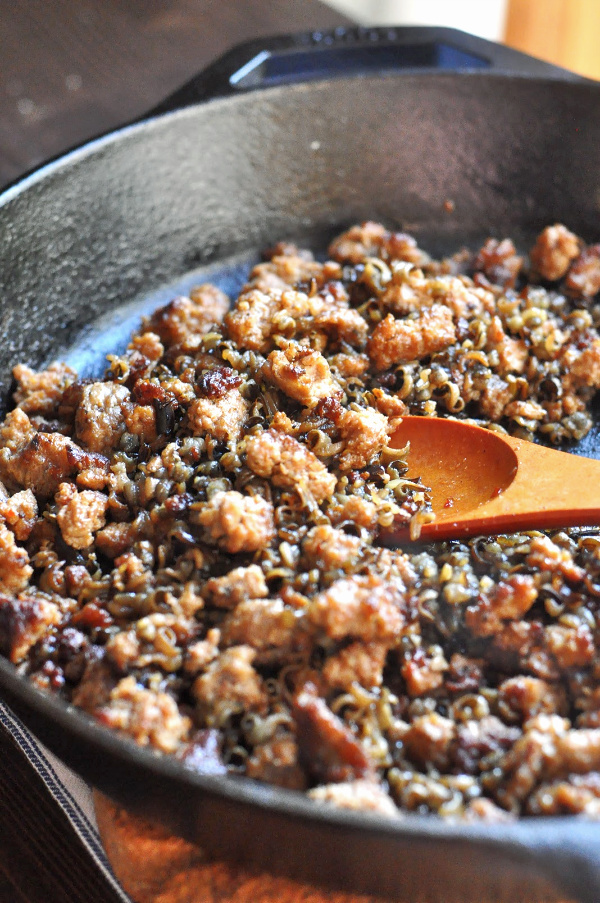 I'm using Italian Sausage and I like to get it browned up so there are nice crispy pieces in the pan. I'm adding a can of Wild Rice that is drained. I like using the Canoe Wild Rice brand of canned wild rice. It is super easy to add to recipes like my Creamy Chicken Wild Rice Soup and my Salmon Wild Rice Soup. It's super easy to use and tastes great.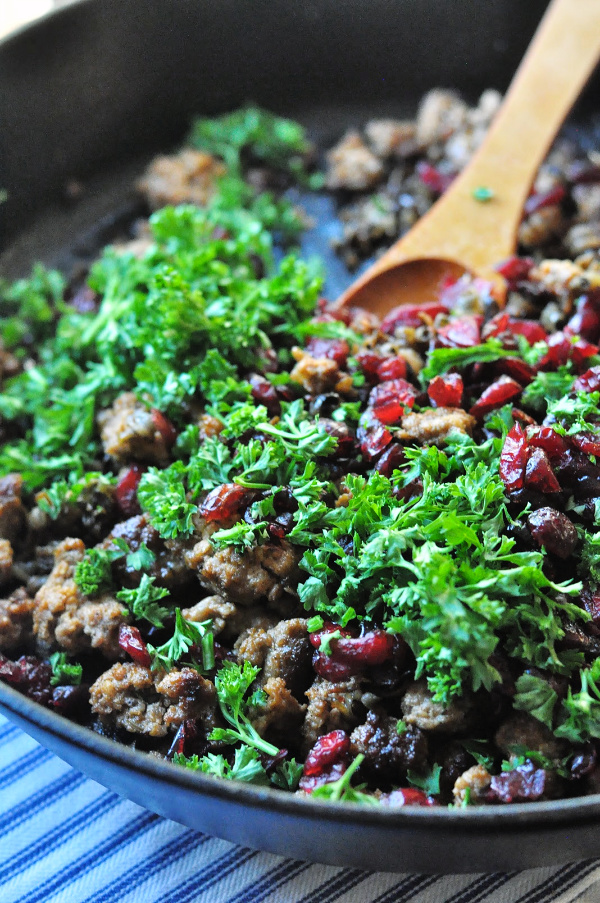 To the Stuffed Acorn Squash stuffing recipe, I also add a bit of brown sugar and then add chopped parsley and dried cranberries.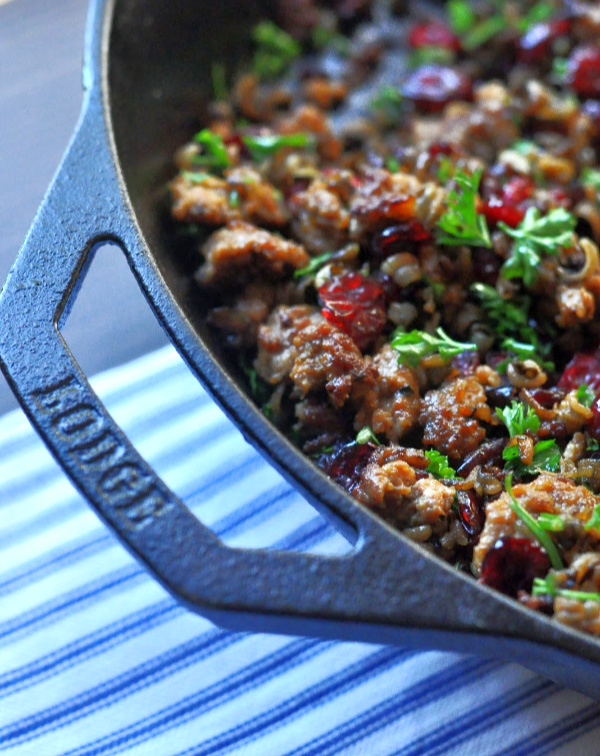 My lodge cast iron pan is perfect for this recipe because it does a fantastic job of browning the meat. Truthfully though, it's awesome with vegetables and one of my favorite ways to use it is to make my Lemon Dutch Baby (it's like a giant puffy pancake).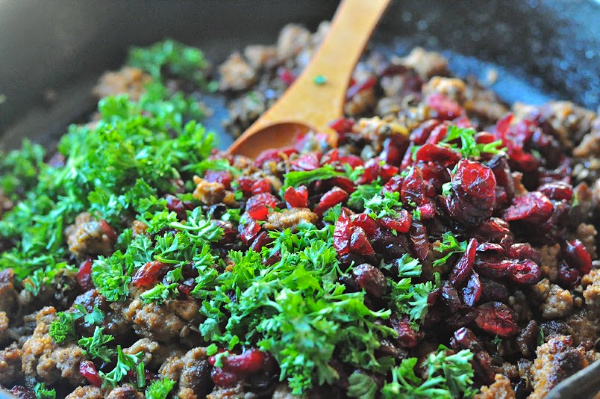 There's a note at on Stuffed Acorn Squash recipe card that says that this recipe has some extra stuffing beyond what you can cram into those cute acorn squash bowls. When you serve your meal, you could totally serve extra stuffing with the meal or you save some for the next day and you could make into a Minnesota breakfast hash and add a couple of poached eggs!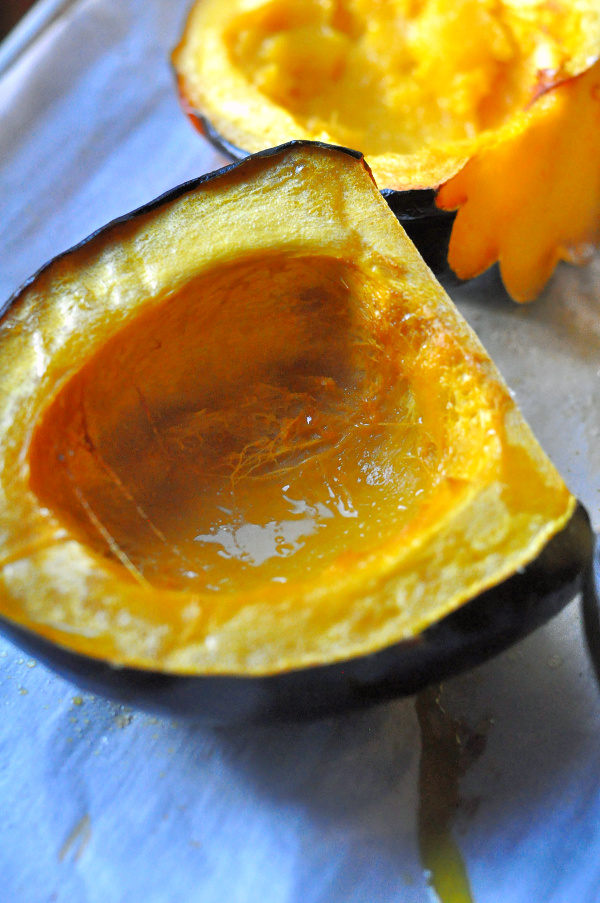 Yum! This is what your roasted Acorn squash looks like fresh out of the oven.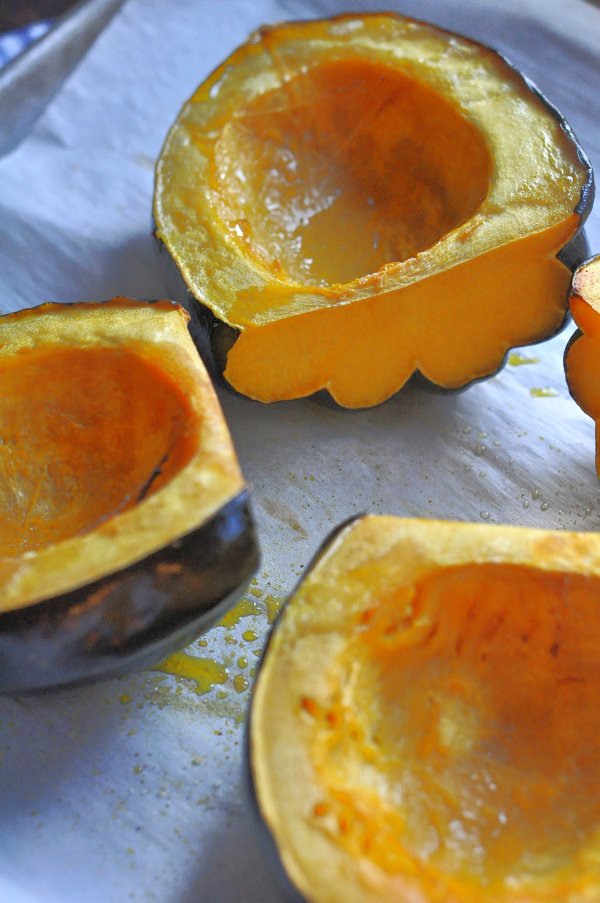 How do you know your squash is roasted? You can take a fork or spoon and pull the squash if it is at the texture you like to eat it, it is ready! Now you could totally stop here. Scoop out that yummy squash and you'd have a great fall vegetable. Or you can take that stuffing mix and make it a really fantastic meal.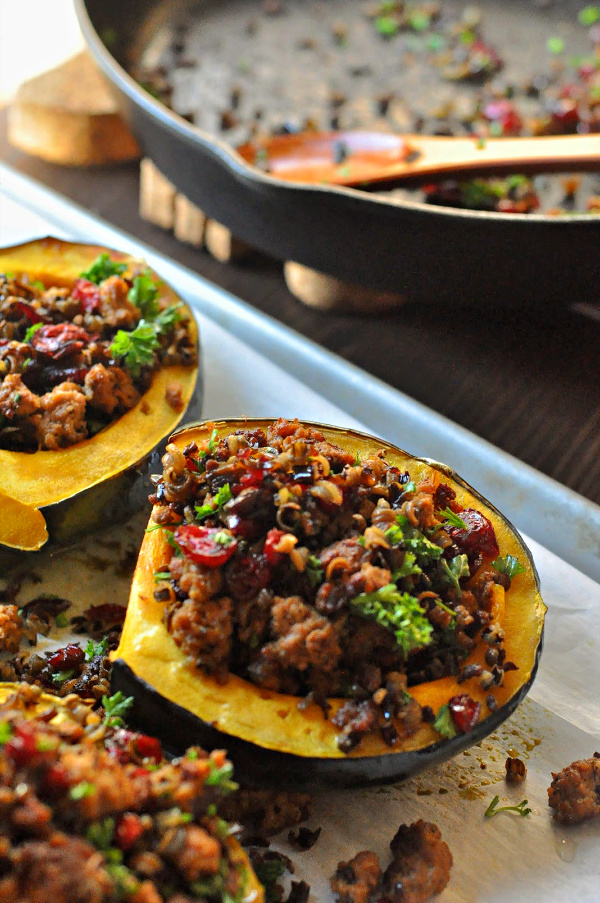 Right on that jelly roll pan, I stuff the squash. If this is being served for a holiday meal, it makes it super easy to serve right on that pan. I can also throw some aluminum foil and warm it up in the oven when I'm ready to serve it.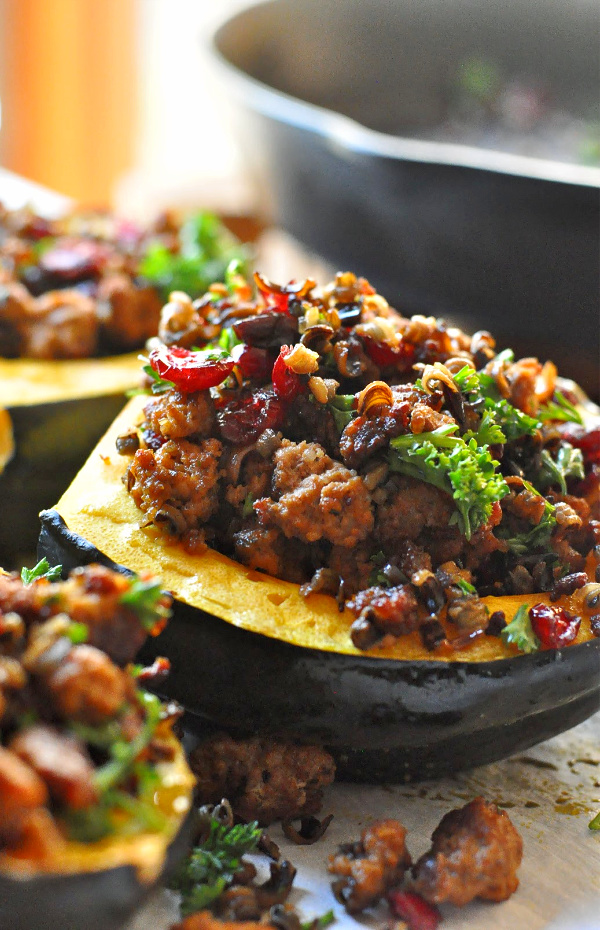 You can totally stop here. Enjoy these Stuffed Acorn Squash just like this. Or you can add some pomegranate seeds, Pepitas, or even some crumbled queso fresco cheese as a garnish!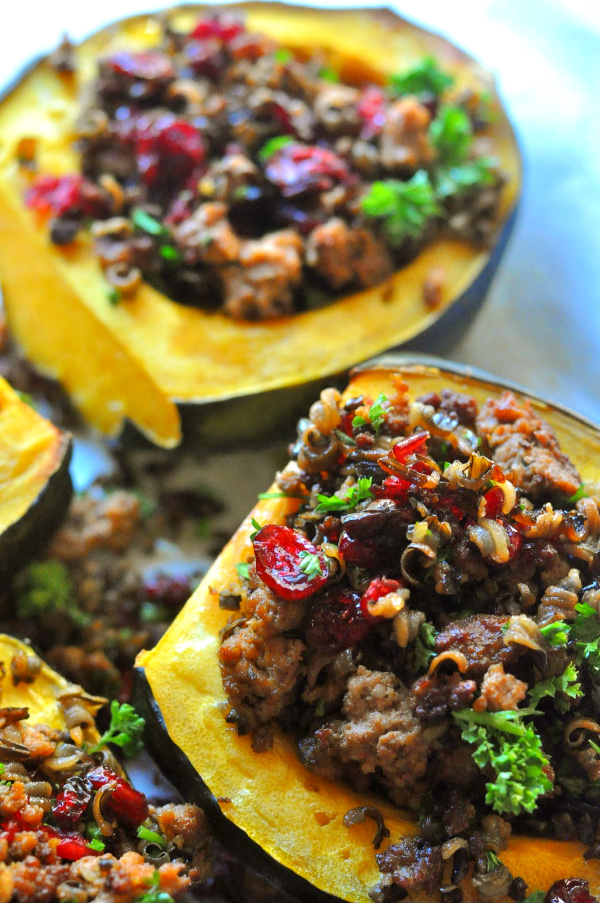 I hope you find this Stuffed Acorn Squash recipe, a great addition to your fall or winter menu or your holiday gatherings!

Yield: 4-6
Stuffed Acorn Squash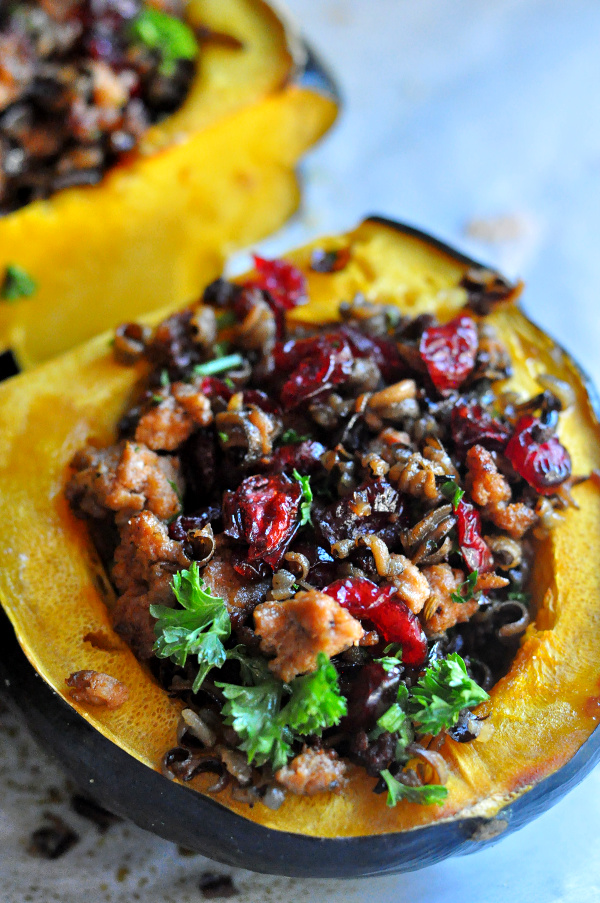 Stuffed Acorn Squash with sausage, wild rice, and cranberries. A healthy stuffed acorn squash recipe for Thanksgiving or a fall weeknight dinner!

Prep Time 5 minutes

Cook Time 45 minutes

Total Time 50 minutes
Ingredients
2 Acorn Squash
2 TB Olive Oil
1 tsp Salt
1 lb Mild Italian Sausage (Seasoned)
1 (15 oz can, drained) Cooked Wild Rice (I like Canoe brand)
2 tsp Brown Sugar
½ cup Chopped Curly Parsley
1 cup Dried Cranberries
Garnish (optional): Pomegranate or Pepita seeds
Instructions
Preheat oven to 350.
Slice each squash in half, and remove seeds. (Do not peel).
Place the four squash pieces on a jelly roll pan on parchment paper. Drizzle on 2 TB olive oil and sprinkle on salt.
Bake 45 minutes.
While the squash is roasting, heat a cast-iron pan over medium-low heat. To the pan, add Italian sausage.
Once the sausage has browned, add the cooked wild rice (drained) and the brown sugar. Stir to combine. Cook until the wild rice is warmed.
Once the wild rice sausage mixture is warmed. Add the chopped parsley and dried cranberries. Keep the mixture warm.
When the squash has finished cooking, stuff the squash pieces with the warmed wild rice mixture.
If desired, garnish with pomegranate seeds or pepitas. You could also add a crumbled cheese like queso fresco (which will add a soft salty texture to the meal).
Notes
The stuffing mixture will make a bit more than you can stuff inside the squash pieces. You can serve this extra mixture on the side and allow your family to scoop the mixture on top. You can also, scoop out the squash and have squash bowls, with the wild rice mixture on top. Or, package up the extra wild rice mixture and enjoy it with an egg for breakfast or on a salad for lunch or dinner.
Recommended Products
As an Amazon Associate and member of other affiliate programs, I earn from qualifying purchases.
Nutrition Information:
Yield:
6
Serving Size:
4
Amount Per Serving: Calories: 493Total Fat: 26gSaturated Fat: 8gTrans Fat: 0gUnsaturated Fat: 20gCholesterol: 43mgSodium: 959mgCarbohydrates: 51gFiber: 7gSugar: 29gProtein: 17g

Nutrition information is estimated. Please use a validated nutrition tool to verify the information.