Blueberry French Toast Bake is an easy breakfast recipe for your next family gathering or holiday celebration! Simple ingredients baked in less than an hour!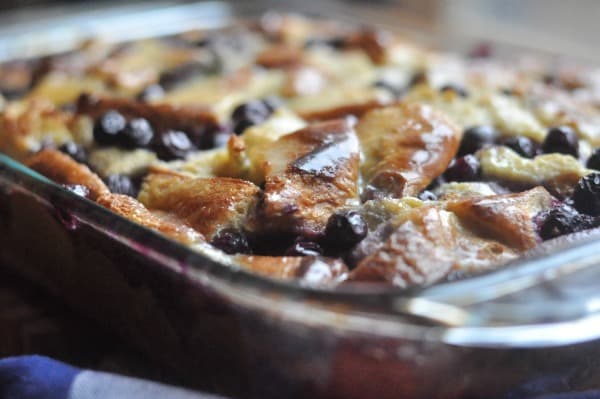 One of my essential steps in savoring and celebrating your family, especially during holidays, is to make recipes that are both easy and delicious. I like no fuss recipes because I want the ingredients and directions to be simple and I want to be able to put everything together and then enjoy time with my family. I also want the meal to taste fantastic and be something my kids love too! This Blueberry French Toast Bake is exactly all of those things I'm looking for when it comes to a holiday breakfast meal.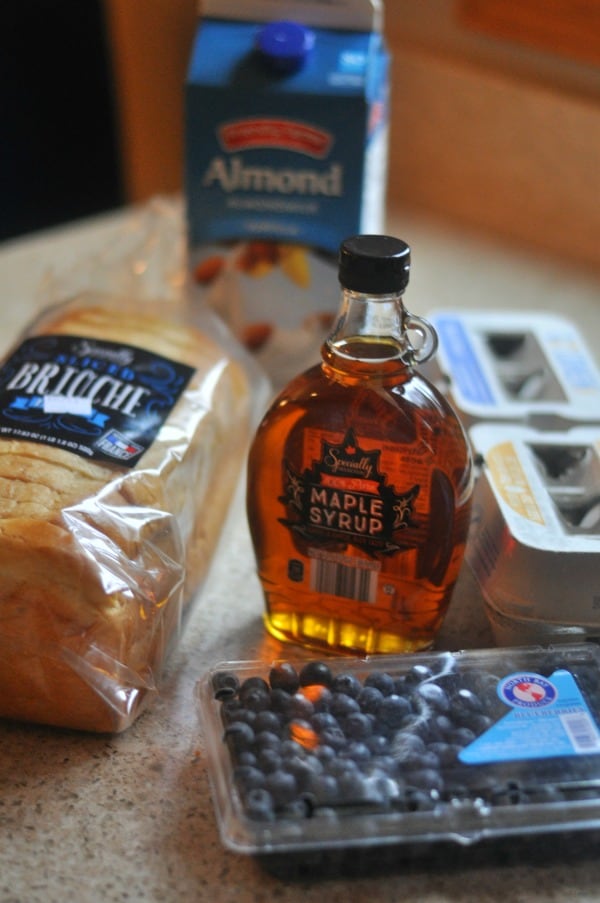 This Blueberry French Toast bake calls for simple ingredients. I shop at Aldi and found everything I needed there. I also really love saving money on my grocery bill and shopping at Aldi in last year has saved our family $200 a month, yep, $2,400 this year! And I'm totally using that money for something fun for our family to enjoy together this winter!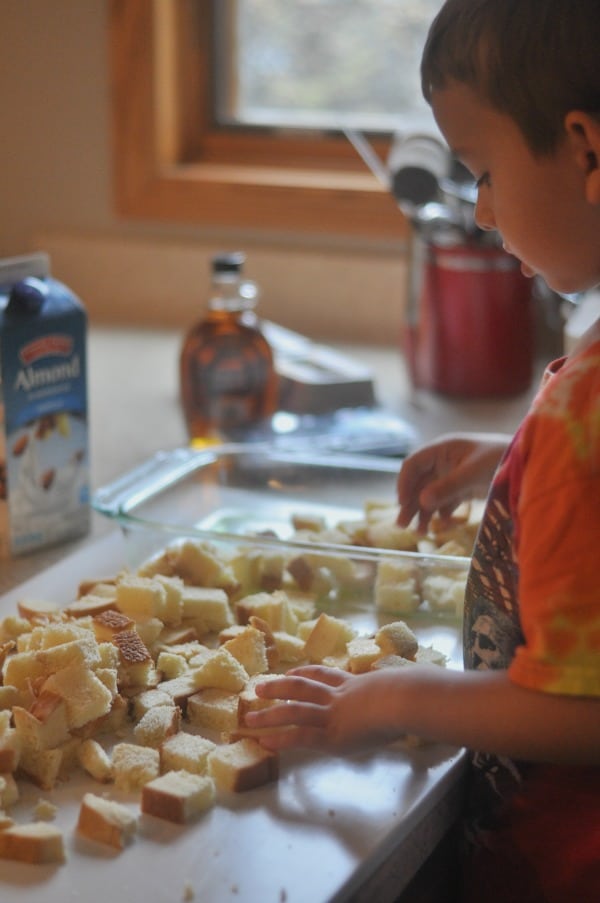 So is this recipe simple? Absolutely. My son, who is five, asked if he could help make breakfast! He helped me cube up the bread and assemble it into the pan. He also helped crack eggs, measure, and run the blender. So not only does this dish give you some extra time with your family, it is a great dish to make together because it is so simple.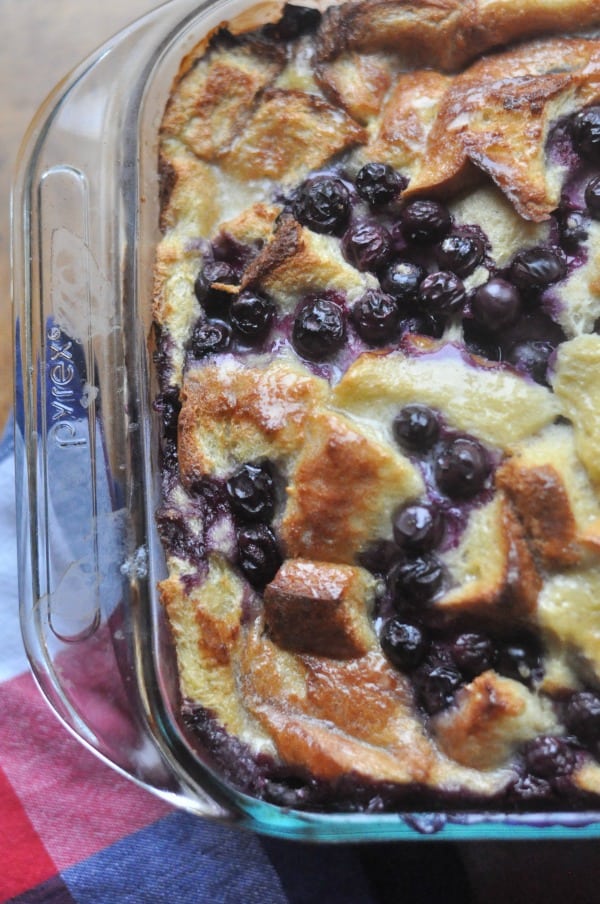 The Blueberry French Toast Bake goes in the oven for just under an hour. It's great for a lazy weekend morning, or for a holiday celebration. I would totally make this for a holiday morning when I love something yummy and cozy but not complicated.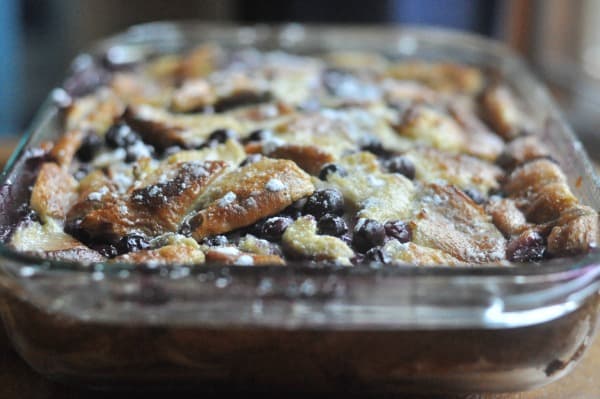 Once the Blueberry French Toast Bake is out of the oven, I brush it with some butter and give it a nice dusting of powdered sugar. When it's just our family, I'll cut a few pieces out of the pan and tuck it away for school lunch or pop it in the freezer for a future meal.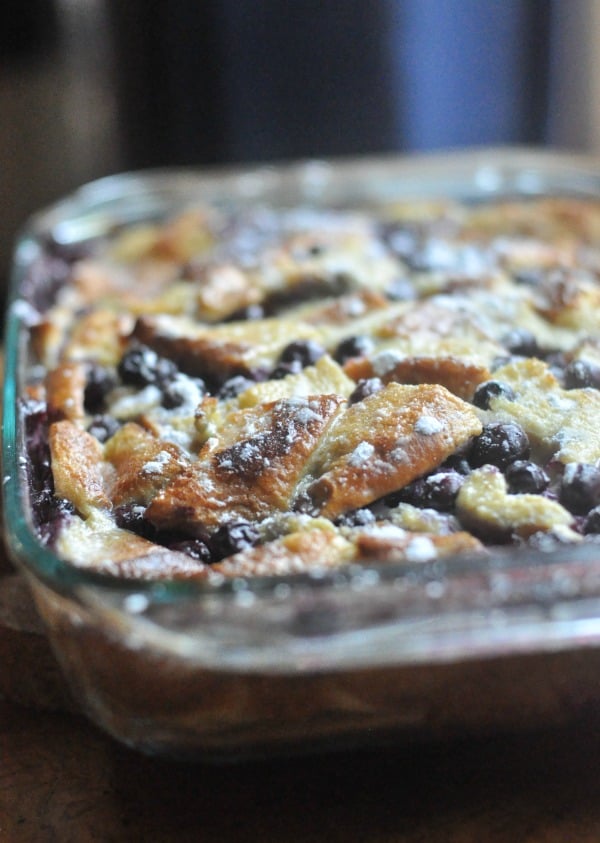 This Blueberry French Toast Bake makes a soft breakfast casserole. I've made this a couple times and I totally stood in the kitchen sneaking bites out of the pan ( an indication of an awesome dish, right?). This dish is going to be on regular holiday and weekend meal rotation in our house!
Tips for Making Blueberry French Toast Bake
Use Brioche bread, it is perfect for french toast. Can't find it? Check the bakery of your local grocery store or call your local baker to see if they carry it.
I love Almond Milk because of the protein and flavor. You could substitute half and half and add 2 tsp of Vanilla for the Vanilla Almond Milk in the recipe.
Play around with different fruit. You could add other berries or even bananas!
This is freezer friendly and makes a good meal for a future weeknight (breakfast for dinner).
I like to let mine cool for just a bit right out of the oven but you can totally eat it right away! It will be softer right out of the oven.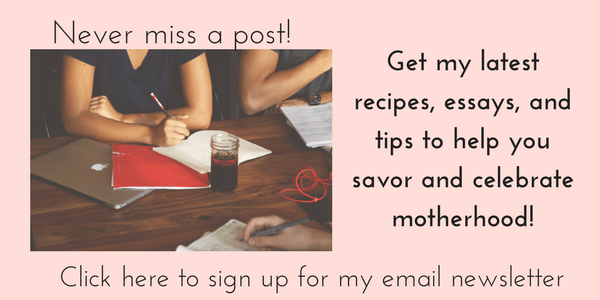 Blueberry French Toast Bake
Ingredients
1 lb loaf sliced brioche
2 cups (1 pint) blueberries
2½ cups Almond Milk (Vanilla flavor)
10 Eggs
½ cup Real Maple Syrup
1 tsp Cinnamon
2 TB Butter (melted)
2 TB Powdered Sugar
Instructions
Preheat oven to 375.
Spray a 9x13 pan with non-stick spray. Cut the bread into small cubes. Put half the bread in the pan.
Sprinkle with half of the blueberries. Then top with the remaining bread and blueberries.
Crack eggs one at a time into a large glass measuring cup.
In a blender, add the almond milk, eggs, maple syrup, and cinnamon. Blend until combined.
Pour the mixture on top of the bread and blueberries. Press down with your hands to ensure bread has soaked up the mixture.
Cover the pan with tin foil. Bake 40 minutes.
Take off the tin foil and return the pan to the oven and bake 15 more minutes.
Once baked, brush with melted butter and sprinkle with powdered sugar. Serve with maple syrup.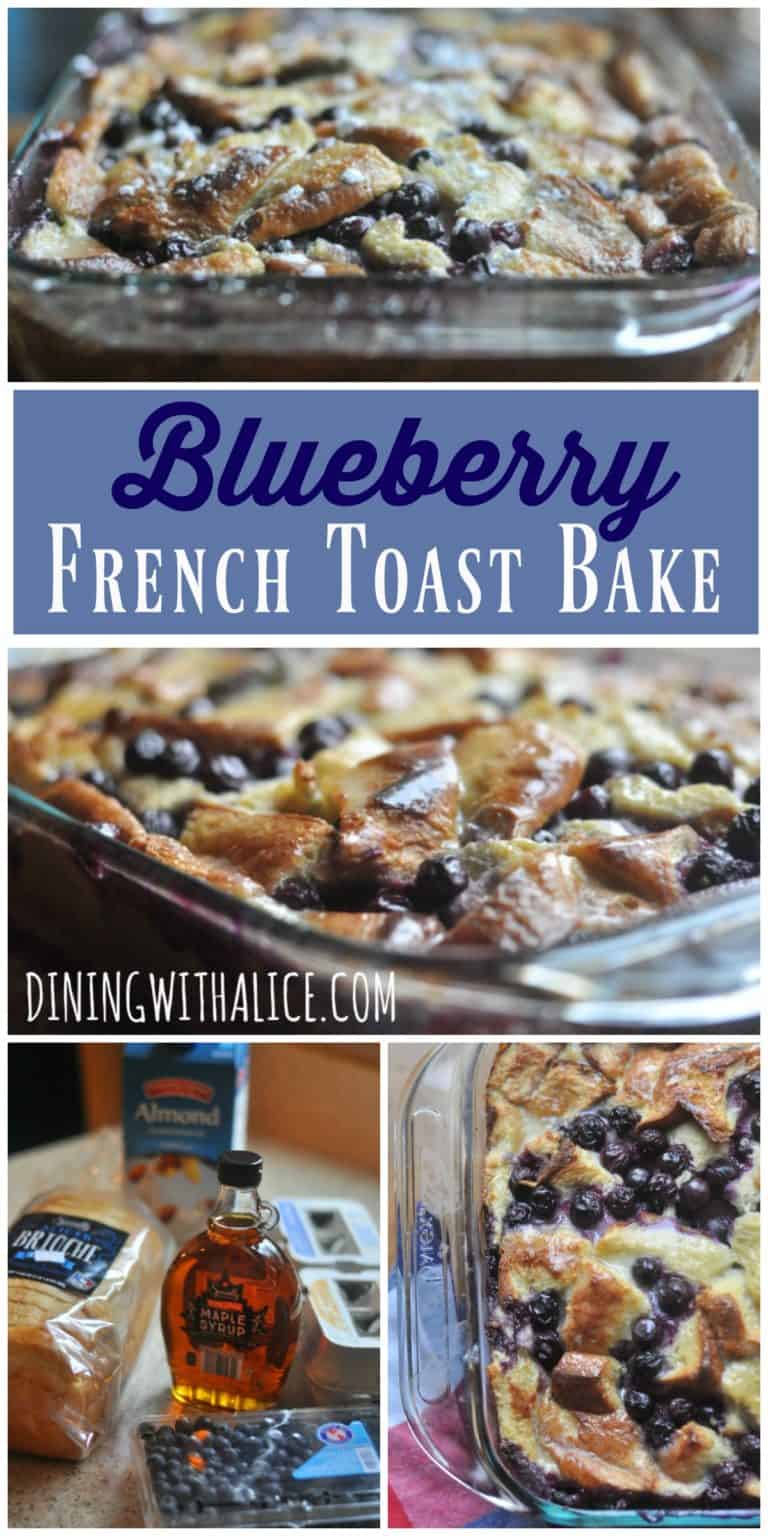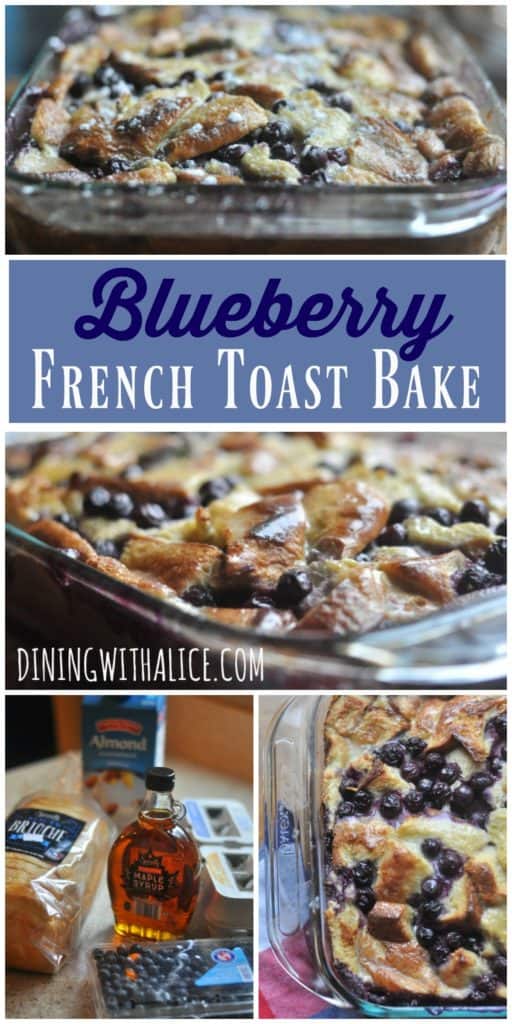 SaveSave
SaveSave
SaveSave
SaveSave