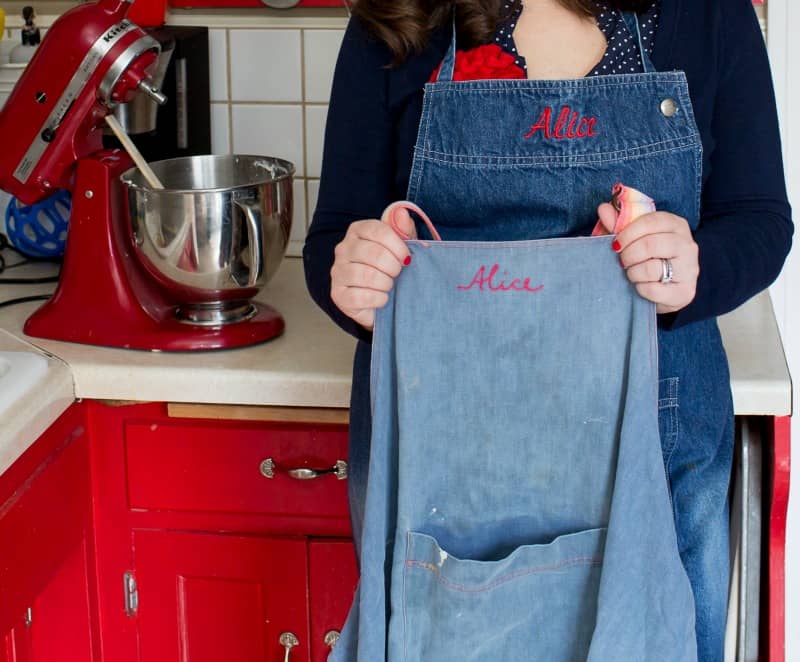 Some of you know my history, you know where I've come from, you know why I wear a denim apron. For those of you that don't, I'll take a few minutes to share something. Something deep in my heart especially today.
When we were at their house I desperately clung to any hope that there was something left. The house was empty now that my grandpa had passed, long gone were the children's giggles and the smells of home-cooked food. We sat there looking at the treasures of the past and gift wrapping the breakables. I wanted something I could hold, read, something that connected me to her, to her cooking. I wanted to see her handwriting. I wanted to hold her recipes. I was an adult now; I found my way into the kitchen just like her and wanted some sort of connection.
I left the house with a few items in my hands including the denim apron she used to wear when she cooked and a small recipe box with just a few cards. It wasn't there, though, the recipe that most reminded me of my granny, her fried chicken.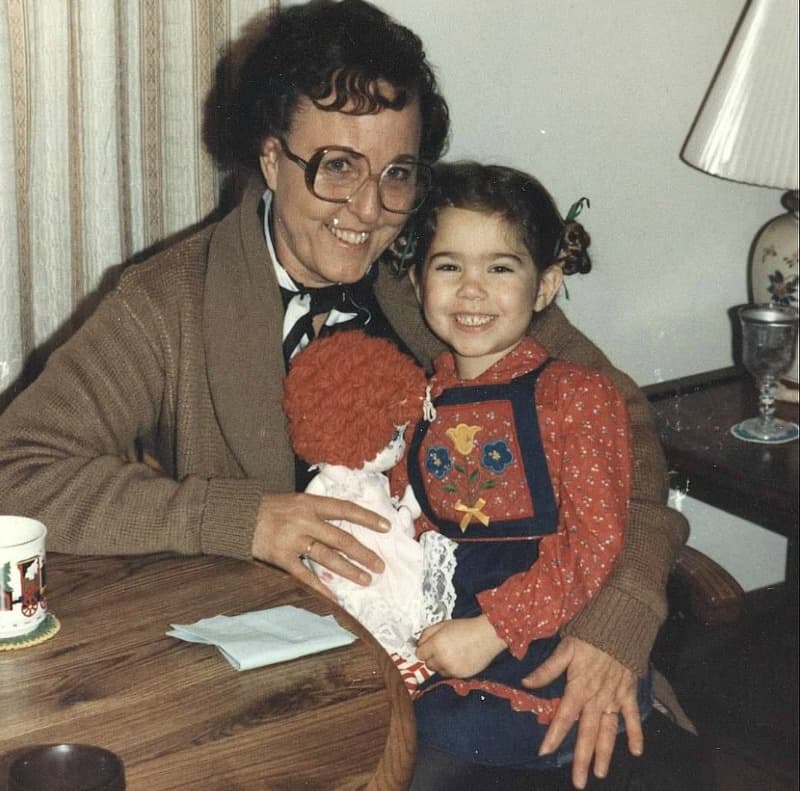 I knew Granny Alice well. Some children grow up and just get a glimpse into the matriarchs of their families through annual trips. That wasn't the case with Granny Alice. Our summers were spent under her care; days were spent swimming in the backyard plastic pool, trips to the Salvation Army for stuffed animals, gardening, painting pinecones and eating. Granny Alice was known for her ability to simultaneously fill your heart and belly.
As a child, Granny Alice grew up on a farm with 8 other siblings in Southern Minnesota. She spent her adult life caring for her five children across the world, while grandpa served in the military. When the family settled back to the U.S. after grandpa's time in the service, she started working as a lunch lady in the West St. Paul school district. I believe her experience there strengthened her love of children and also influenced her plate-filling capabilities.
The History of Granny's Fried Chicken
Uniting the family through her cooking was Granny Alice's specialty. Her most known and loved recipe was her Fried Chicken. The recipe originated with her mother Gertrude on the farm. The recipe in Granny Alice's adult life became a uniting factor in her large and growing family. Family holidays, Sunday Suppers and reunions were centered around her Fried Chicken. The chicken is cooked low and slow, no rushing and no leaving it unattended. Her and my grandpa would wear their matching jean embroidered aprons to fend off the grease while they spent the day frying up chicken that could feed their large family and grandchildren.
Our family all recalls fondly the family reunions together eating Granny's Fried Chicken and how we would assembly-line file into the kitchen to have our plates filled just like the lines that once formed in those cafeterias she worked at. The mashed potatoes would lay like a soft bed for her chicken and the gravy would flow over everything, dropping off the plate and allowing you a quick taste as you licked your hand before you found your seat.
Continuing the Tradition of Granny's Fried Chicken
Granny Alice passed away on October 28, 1996. It's hard to believe it's been 18 years. I was a week away from my 18th birthday when she passed. But our family continues to be brought together by that Fried Chicken she used to make. My mother has carried on the tradition with our family and anytime she asks us what we would like her to cook for us, it's always Granny's Fried Chicken. She even taught me how.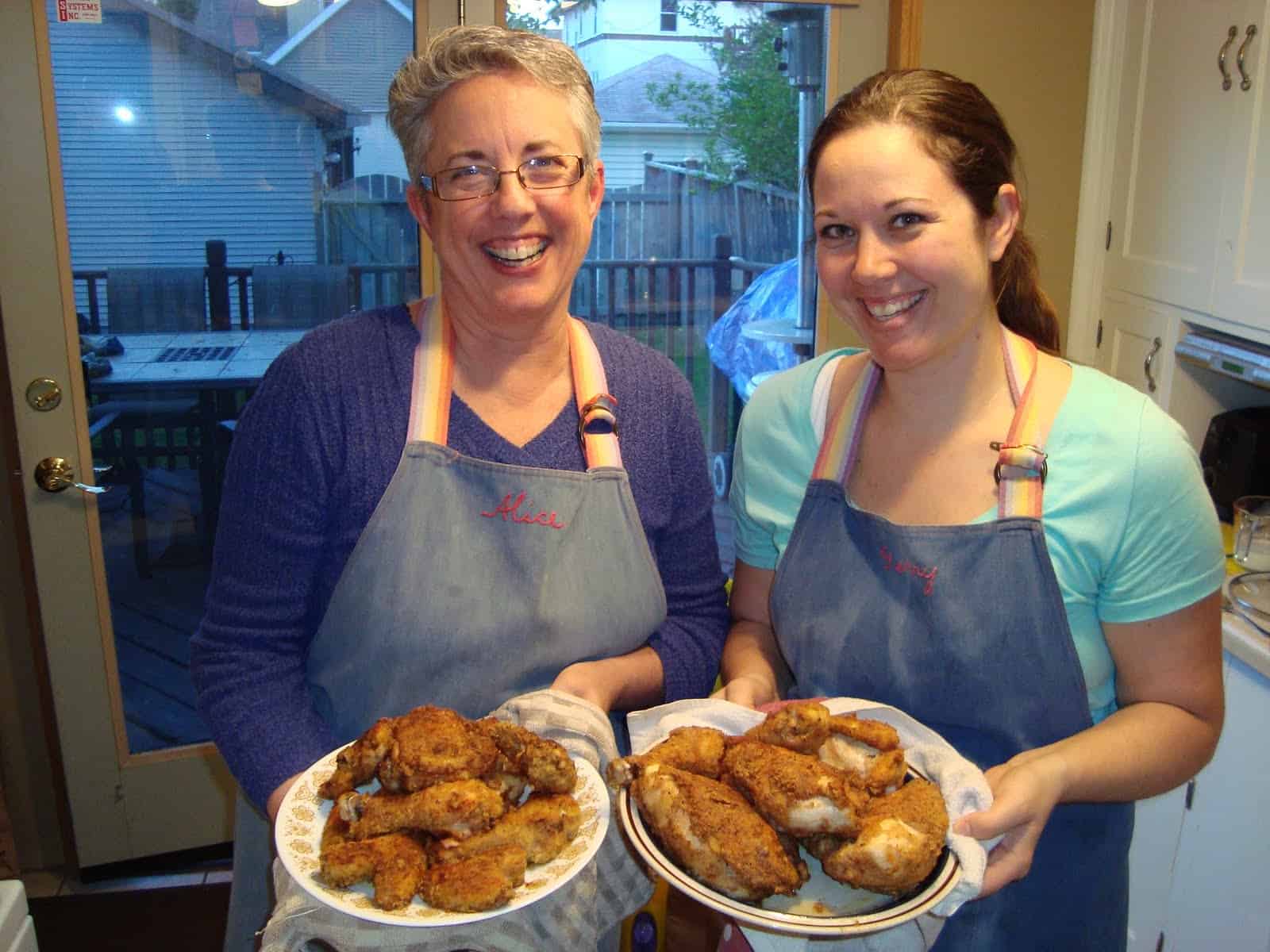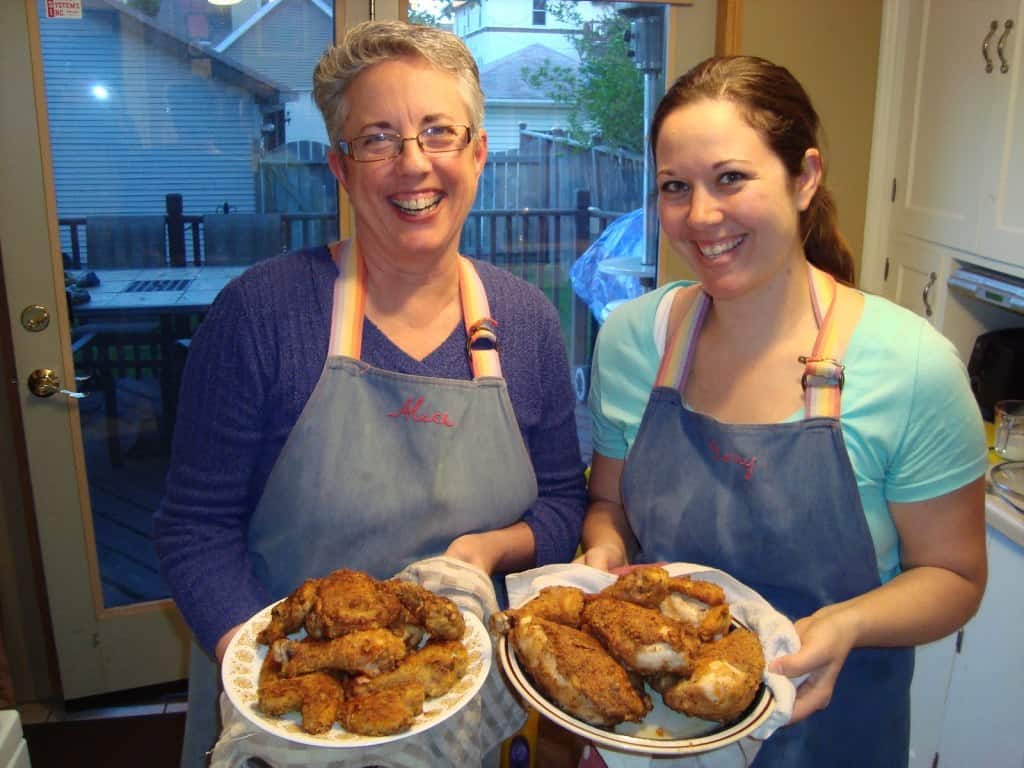 Over time each of us in the family has made our own additions to the recipe-sometimes a new seasoned salt (I add Garlic Salt) and the other night we hosted our monthly dinner club and I used Pumpkin Pie Spice in the flour mix. When I carried that chicken out to my friends I got choked up and had to stop myself for a moment.  Thinking about the anniversary of her passing this week and how full of joy would she have been to have seen her recipe being shared with my friends. Making our own variations and continuing to serve it to our family and friends is what helps us be intertwined with the history and future of the recipe. The recipe is over 80 years old and with it has come five children, eleven grandchildren and nine great-grandchildren who have grown to appreciate and value its power of bringing our family together.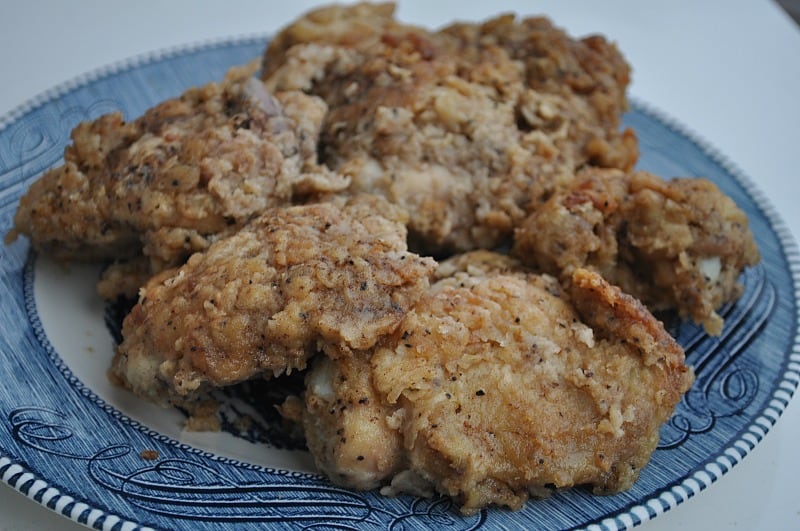 Recently I was featured by The Fabulous Times in their Top American Food Blogger series and I shared that Granny Alice's Fried Chicken recipe was my favorite recipe on my blog. I looked at it and realized there was more of a story to tell so I'm sharing this recipe again with my readers. And opening my heart a bit more because today it's hurting.  I'm still searching for that connection. On my way to work today I called into a radio show to see if I could talk to the medium that was on the air about my Granny Alice. Did she have a message for me?
That day I left her house, I wanted to see the Fried Chicken recipe on a card. I wanted to see her handwriting, grease spots from the past meals we shared but I didn't get to have that recipe in my hand.  And I realized why only recently.  That recipe wasn't written down because she didn't need to write it down. It was in her heart and now it resides in mine.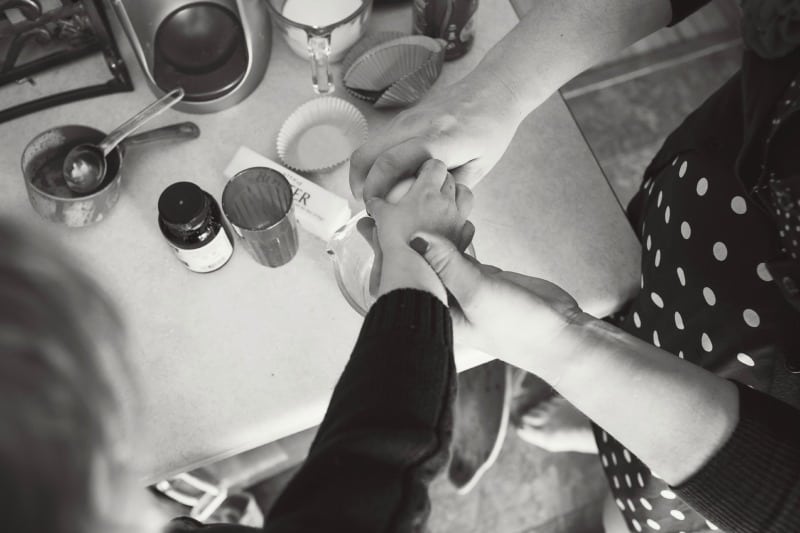 Fried Chicken
Ingredients
Cut Chicken (8 pieces)
4 eggs
1 cup Half and Half
3 cups Flour
3 TB of Coarse Ground Black Pepper
2 TB Seasoned Salt
1 TB Garlic Salt
1 ½ sticks (12 TB) Butter
¼ cup Vegetable Oil

Salt
Instructions
Preheat oven to 350.
Remove chicken from packaging and rinse with cold water. Pat dry with a paper towel. Trim excess fat from chicken but do not remove the skin. Remove wing tips by cutting wing and discard any loose pieces of bone. Set aside.
With a hand mixer beat eggs and Half and Half for 1 minute. Set aside.
Add flour, pepper and seasoned salt to a paper bag that has been doubled, shake to mix. Set aside.
Melt butter and vegetable oil over low heat. Butter is ready as soon as it liquefies.
While butter is melting, dip 4 pieces of chicken in egg mixture and then drop pieces into the bag. Shake for 10 seconds.
Remove chicken from bag and place in frying pan. Cook low and slow 14-16 minutes until chicken is light brown and butter is foaming. Flip to other side and cook for another 12 minutes until light brown. Remove chicken and place it in a 9x13 pan sprayed with nonstick spray. Repeat procedure for remaining 4 pieces.
Bake chicken at 350 for 1 hour. Flip pieces of chicken after 30 minutes. Season finished chicken with salt if desired.
For wings in a deep fryer: Follow the directions for the egg and flour mixes, dip chicken and shake in a bag. Fill the oil according to the deep fryer machine directions. Heat oil to 356 degrees. When you prepare your wings, cut the drummie from the wing because smaller pieces work better in a small home fryer. For wings I fry for 8 minutes, flip pieces with a tong to get all pieces equally fried. Once out of the fryer I toss with melted butter, salt, and parsley flakes.
Thank you to
Sarah Hudson Photography
for some of the pictures featured in this post.