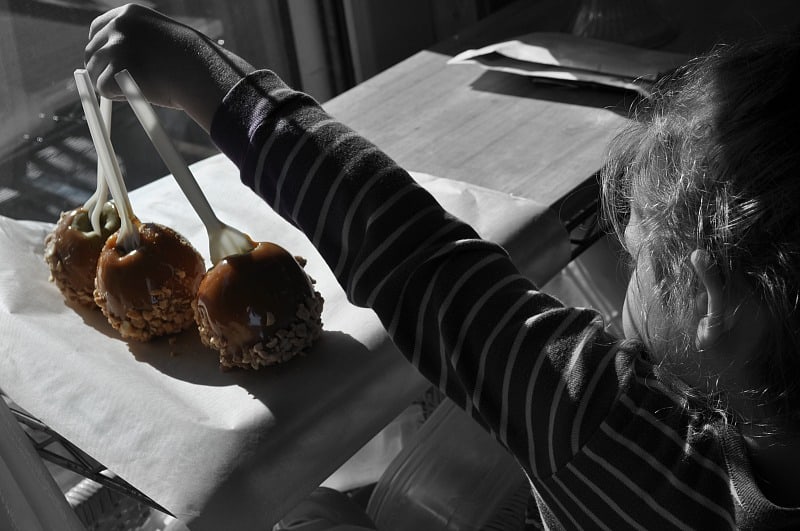 My Pursuit of Caramel Apples
Every fall I go to Kowalski's (sometimes a couple times in the fall) and buy their caramel apples and packages of Halloween mix. Seriously? What is in those candy pumpkins that come with candy corns and peanuts?!? Anyhow. I love caramel apples. Orchard, grocery store variety, whatever. I love them.  I never make my own. Too fussy. I don't want to make homemade caramel. Burn my hands, sticky kitchen etc. You see where this is going. This is why I just go to Kowalski's and buy my packaged ones. Oh and have you had the ones at Candyland in St. Paul? So good too.

Tips for Caramel Apples
Stella's school asked if I would bake for their annual bake sale. Sure I thought.  "I'll make caramel apples," I said. Hmm. That's interesting. I've never made those before.  So for some reason this all seemed like a good idea. Do you do that? You say or agree to something and wonder to yourself, "Self-what the heck are you doing." Sometimes I need to employ the KISS strategy for myself.  So I learned to make caramel apples and here's what I learned in my adventure:
First thing to know, you don't want waxy apples. That keeps the caramel from sticking. So buy apples without wax and if you find yourself with waxy apples, dunk them quick in some boiling water and rub off the wax with a towel.  I had to do this, it's easy.
Green apples work really well. Especially small to medium. Don't buy large apples for this project. Green apples usually have wax though. And if you do the dunking method they turn a weird pea green color. And then you start to panic and wonder if you've totally ruined the apples for the bake sale. Oh wait, that was me. Rest assured they look weird but are just fine.
No one sells caramel apple sticks. Seriously it's a conspiracy. I called everywhere. Even my friends at Kowalski's. For a moment they thought they had a caramel apple kit but no. Not even Michaels-craft hell as Will likes to refer to it.  Nope.  So you can go the crafty route and plug-in real sticks that you gather from outside or stick a fork in it. Literally. Get some really nice quality plastic forks and use those for the sticks.
Stick the fork into the bottom of the apple. I stuck half my apples in the top before I realized that wasn't the right way. My thought-no one eats the very bottom of the apple so you want the stick on that end.
Put the caramels and milk in a large Pyrex measuring cup or medium glass bowl if you have it. It's easy to reheat the caramel and there's enough room to drizzle on the  caramel around the apple.
Using a favorite topping for the apples keeps the apples from sticking when you set them down. I highly recommend Trix cereal for the kids and chopped peanuts for me-I mean the adults.
Once they are coated and dipped, I like to keep the apples chilled until ready to serve.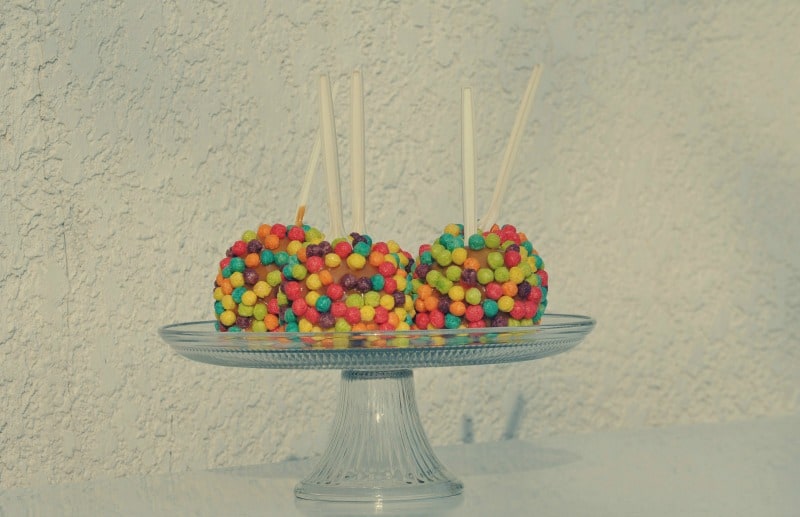 Stella and I made the apples together and they turned out great.  I thought Trix cereal would be fun especially at a bake sale. Can't you just picture a kid saying, "Mom I want that rainbow caramel apple! Please!!"  My favorite was the Peanut one, it tasted just like a Pearson's Nut Roll!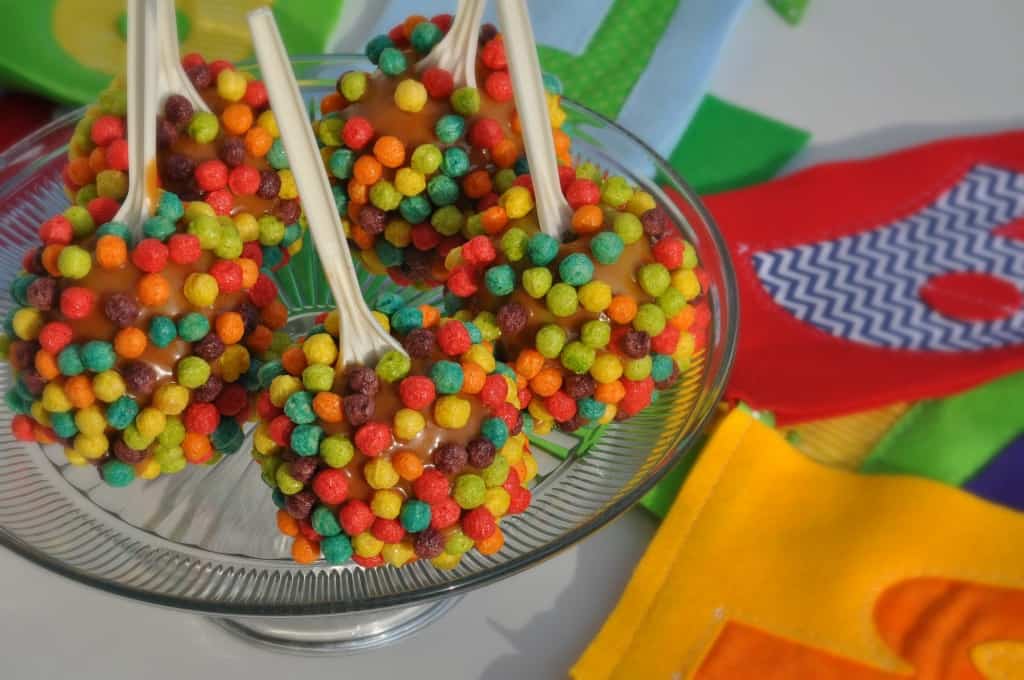 Ok are ready for the no fuss recipe? It's just an adapted version of the Kraft caramel recipe but instead of water substitute milk.

Caramel Apples
Easy caramel apple recipe modifying the original Kraft recipe.
Ingredients
5 Green Apples
1 Bag of Kraft Caramels (11 ounces)
2 TB Milk (I like whole or 2%)
5 Durable Plastic Forks
Toppings (Trix cereal, Chopped Peanuts, Chopped Snickers, etc)
Instructions
In a large microwave-safe bowl, add caramels and milk. Microwave for three minutes or until bubbling. While cooking, put forks into the bottoms of the apples. Remove from microwave and let sit for a minute. One at a time, dunk apple into the caramel and use a spoon to cover the apple and then let it drip until excess caramel comes off. Then dip apples into your favorite topping if desired. Our kids loved dipping them in cereal and I loved chopped peanuts.