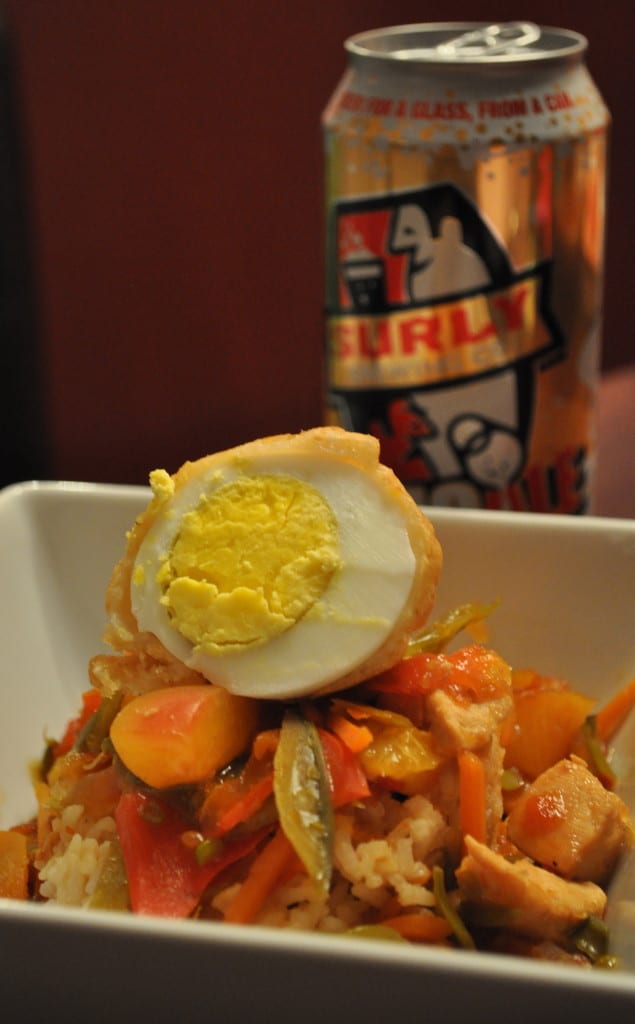 When I was asked to by Twin Cities Live and Surly Brewing Company to use their CynicAle to make a stir-fry, I was really excited!  Never had a Surly CynicAle? Well as Surly describes it, it is a "fizzy yellow beer in a can."  This is a Belgian-style Saison/Pale Ale with flavors of honey, black pepper, apricot and peaches.  This beer is available in Minnesota liquor stores in cans or kegs.  Not in MN but really want to taste a Surly, check out the France 44 Wine and Spirits web page to place an order.  You can also check out their brewery tours-they are free and include beer!
With this stir-fry I incorporated many of the flavor notes you taste in the CynicAle.  The stir-fry has honey, fresh ground black pepper and even includes chunks of nectarines and apricots.  The stir-fry sauce is spicy and sweet at the same time.  And what's on top of the stir-fry you ask? Well its a deep-fried, beer battered hard-boiled egg!  Seriously this is so good.  So not only does this dish feature Surly CynicAle, it goes beautiful with it, so open up a can of CynicAle and enjoy this sweet and spicy dish!
So what happens when you set a really hot wok glass lid on a cold granite counter on live tv? Click on the link below to see what happens…
Click here to Watch the Twin Cities Live segment when I made this recipe on June 7, 2013.
Ingredients:
1 cup Surly CynicAle
1 bottle Sweet Chili Sauce*
1 bottle Orange Sauce
Zest from 1 Orange
2 TB Honey
1 TB Peanut Oil
1 lb Chicken Breasts (cubed)
½ tsp Salt
½ tsp fresh ground Black Pepper
½ small Vidalia Onion
1 (8 ounce) bag Stringless Sugar Snap Peas
2 Red Peppers
2 Orange Peppers
1 cup Matchstick Carrots
3 Nectarines
3 Apricots
Jasmine Rice
Directions:
In a saucepan over medium heat, bring CynicAle, sweet chili sauce, orange sauce, orange zest and honey to a simmer, set aside.
Bring a wok to high heat; add peanut oil, then chicken and season with salt and black pepper.  Add wok lid, do not stir chicken, allow to brown.  While chicken is browning, thinly slice onion, peas, peppers, nectarines and apricots. Stir chicken to cook on other side, once browned, remove from wok.
Add 1 TB of peanut oil to wok and add onion, peas, peppers and carrots (do not add nectarines or apricots).  Add wok lid and let cook 10 minutes, turning vegetables halfway.  Once vegetables have cooked, add chicken, sauce, nectarines and apricots and cook for 5 minutes with lid on.
Serve on Jasmine rice and garnish with CynicAle Beer Battered Hard-Boiled Eggs.
*For a less spicy version, substitute 1 cup apricot jam for the Sweet Chili Sauce.
Makes 8 servings