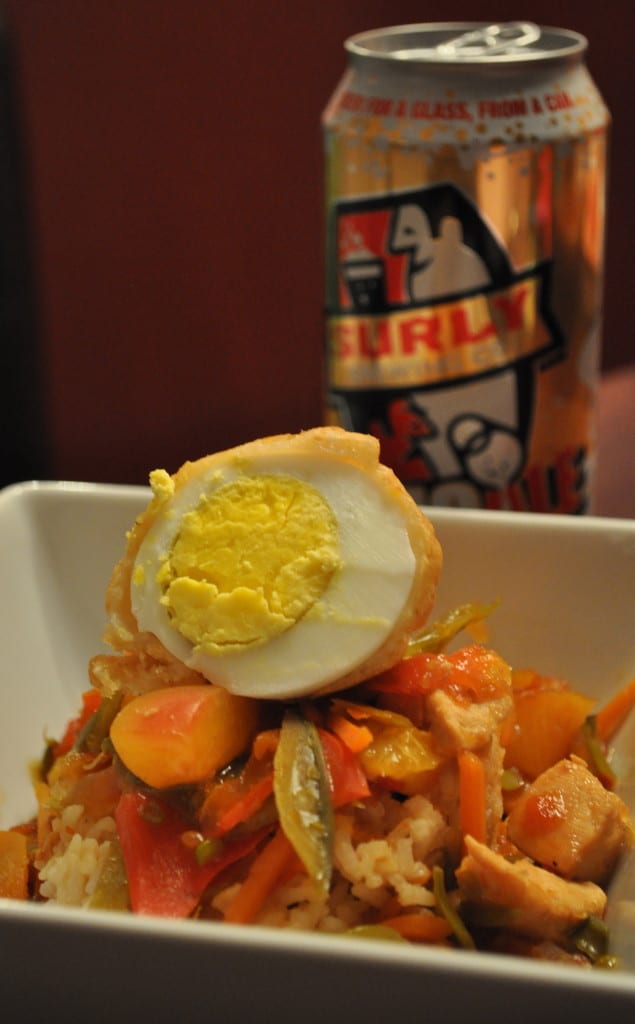 When I was asked to by Twin Cities Live and Surly Brewing Company to use their CynicAle to make a stir-fry, I wanted to garnish it with something special.  In Asian cooking there is a dish called "Son In Law Eggs" which is a salad made of deep-fried hardboiled eggs.  I thought these eggs would make a perfect garnish to my stir-fry but I thought they would be even better if I made a CynicAle beer batter for them! These were so amazing and unique, just like Surly CynicAle!
Click here to Watch the Twin Cities Live segment when I made this recipe on June 7, 2013.
Ingredients:
Peanut Oil
1 ¾ Flour (divided)
1 ½ tsp fresh ground Black Pepper (divided)
¼ tsp Cinnamon
1 ½ tsp Salt (divided)
1 TB Honey
1 Egg (not hard-boiled)
1 cup Surly CynicAle
8 Hard-Boiled Eggs
Directions:
In a saucepan heat 3 inches of peanut oil over medium heat.
In the first bowl, combine ¾ cup flour, 1 tsp black pepper, ¼ tsp cinnamon and 1 tsp salt.  In the second bowl, combine 1 cup flour, 1 egg, ½ tsp salt, ½ tsp black pepper, 1 TB Honey and 1 cup Surly CynicAle.
Dredge hardboiled eggs first in bowl of dry mix and then dip in beer batter mix.  Add eggs carefully to peanut oil and cook until lightly browned.  Remove from oil and season with salt.
Serve as a garnish on the Surly CynicAle Stir-Fry.
Makes 8 servings