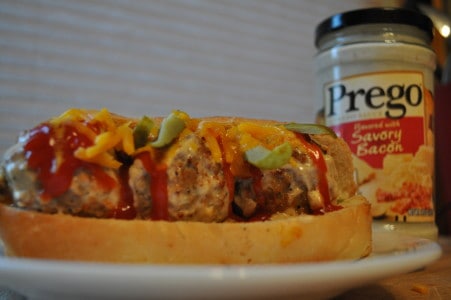 When I was growing up, I remember pasta night as a staple in our family's house.  My mom worked full-time, was a single mom and had three kids to feed fast.  Spaghetti with Prego was on the menu at least once a week.  As a mom myself now, I understand the importance of ease and speed when it comes to making dinner for my family.  Recently I was asked if I would like to try Prego's new line of sauces.  The line includes three new Alfredo sauces: Prego Homestyle Alfredo, Prego flavored with Savory Bacon and Prego Artisan Three Cheese.  After trying these delicious sauces I thought it would be fun to give you some alternatives to spaghetti and tomato sauce and give you some tasty recipes that are great for summer.
In addition to giving you three new recipes, I also have an exciting giveaway for you!  Leave me a comment here on the blog or on my Facebook page, telling me which sauce you'd like to try and you'll be entered to win a Pasta Night Pack that includes all three new Prego Alfredo Sauce varieties, a large stainless steel pasta pot with strainer, a Rachael Ray 'Round and Square' 4-piece Pasta Bowl Set and a $25 Target gift card.  So exciting!! One winner will be picked randomly on Monday, June 24, 2013.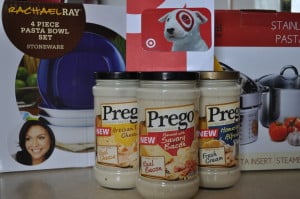 Here are my other Prego Recipes:


Ingredients:
2 lb Frozen Meatballs (fully-cooked)
Prego flavored with Savory Bacon (14.5 ounce jar)
6 Submarine Sandwich Rolls
1 cup Cheddar Cheese (shredded)
Directions:
In a crockpot, add frozen meatballs and pour the jar of Prego flavored with Savory Bacon on top.  Turn crockpot to high and cook for 1 hour.
Once cooked, add 3-4 meatballs and 2 TB of cheddar cheese to each sandwich roll.
Top with ketchup, mustard and pickles if desired.
Makes 6 sandwiches.
Click here for my disclosure policy. I received a free Pasta Pack.