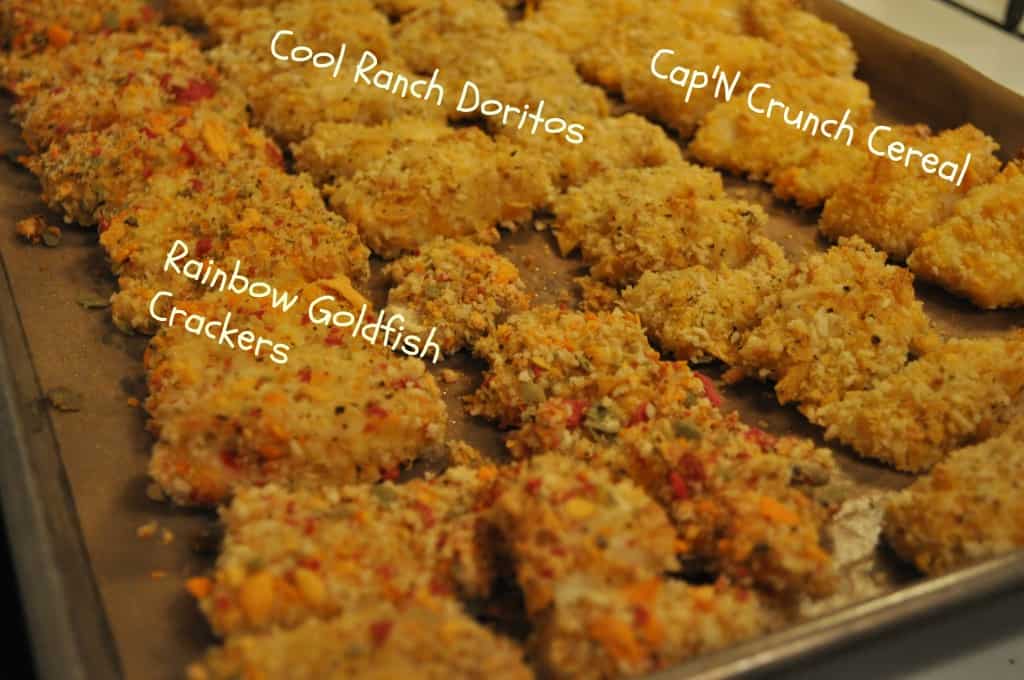 Hey Kids, we're having fish for dinner! What, huh? No cheers?
Warm weather has finally arrived in Minnesota and people will be hitting the lakes reeling in some fresh fish! This is a great recipe to make at the cabin and get the kids involved! Or an easy way to prepare fish and freeze for an easy weeknight meal.  The best part of this meal is that it is easy but it is also crispy without frying!
Watch the Twin Cities Live segment when I made this recipe on May 23, 2014.
Ingredients:
1 lb Fresh or Defrosted Fish Filets (I like to use Tilapia, about two large filets)
1 cup Rainbow Goldfish Crackers, Cool Ranch Doritos or Cap'N Crunch Cereal (crush after measuring)
1 cup Italian Panko Bread Crumbs (Use Plain Panko if using Cap'N Crunch)
1/2 tsp Salt
1/4 cup Flour
2 eggs (beaten)
Directions:
Preheat oven to 400.
Slice filets into 12-14 small pieces.  Combine your base crumb (cracker, chip or cereal) with the panko and salt, set aside.
Dip fish pieces in flour, then egg and crumb mixture.  Place on greased cookie sheet.  Spray top of fish sticks with nonstick spray and bake for 22 minutes.
Serves 4.
You can freeze the fish sticks after baking for a future meal.  To heat, bake frozen fish sticks at 400 degrees for 10-12 minutes.