Make strawberry ice cream right at home with this simple recipe! Creamy rich ice cream swirled with fresh strawberries. Easy enough to make with your kids!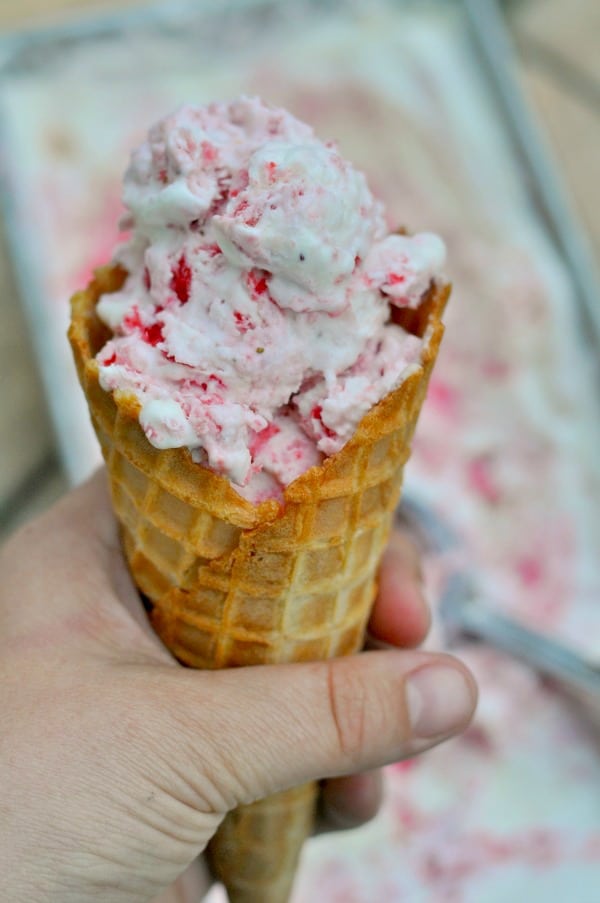 Summer is here! And to celebrate, I finally cleared and organized all the paperwork from our table that came home at the end of the school year! Seriously, that project has taken weeks! Truthfully, I'm also celebrating with fun portable cocktails and lots of time at the beach!
We are all buzzing around with summer camps, summer activities, and planning for trips. We sometimes forget to take it easy and actually enjoy the fun traditions of summer. I'm not a fan of summer bucket lists (you can read more on that here), but I love engaging in summer activities that connect our family. Picking fresh strawberries and making jam and strawberry ice cream is one of our favorite summer traditions.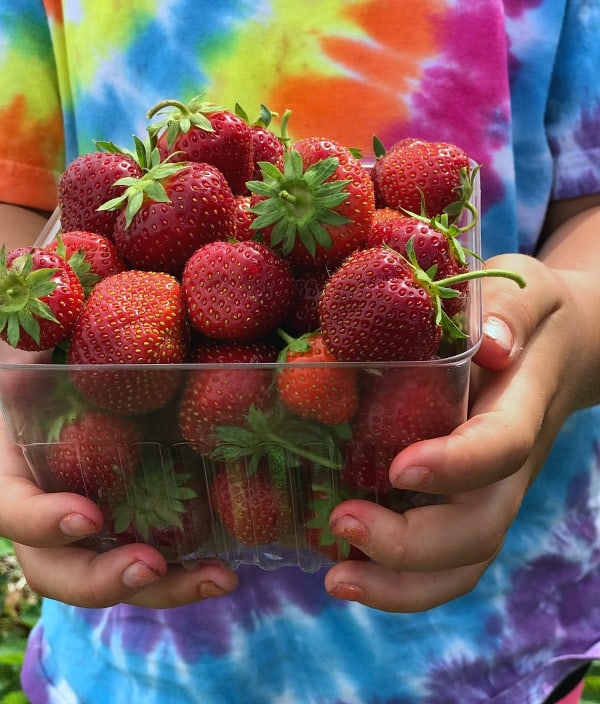 When I was putting all the end of school year paperwork away, I came across my daughter's daily writing journal. It was fun to read about her favorite American Girl dolls or who she hoped to be when she grows up. And she also shared many special and ordinary traditions we do in our family. The one big takeaway that I had was that there are so many moments we spend with our children that become traditions that they too remember and treasure. The school year went by fast and I imagine, summer will too.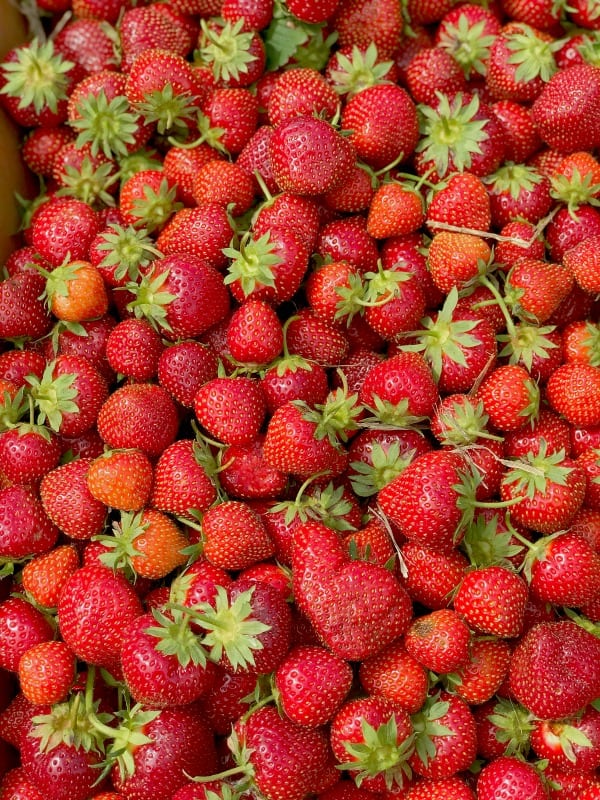 Over the weekend, there were so many things around our house that could've been cleaned or organized, but we decided to wake up early and head out to our local strawberry patch (Pine Tree Strawberry Patch) and pick berries. Knowing we always pick so many berries, I blocked off the rest of the day for dealing with the berries! And good thing because our crew came home with over 20 lbs of strawberries!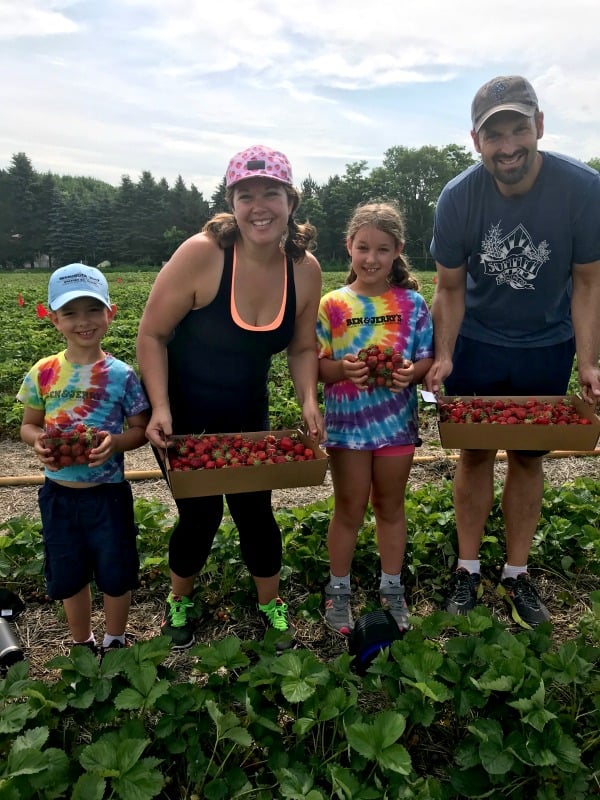 We always get strawberry donuts or pastries and then take the tractor ride out to the patch. We spend so much time laughing about the berries that are consumed and brainstorm what we are going to make with the strawberries (this time they decided some would be made into popsicles).
Right now two giant boxes of strawberries are sitting on my counter and this homemade Strawberry Ice Cream is our family's most requested recipe for the strawberries. It is a perfect recipe to make with your kids and start a new tradition. I hope you have a great summer savoring and celebrating your time with your family and enjoying the summer with activities that just right for you and your kids!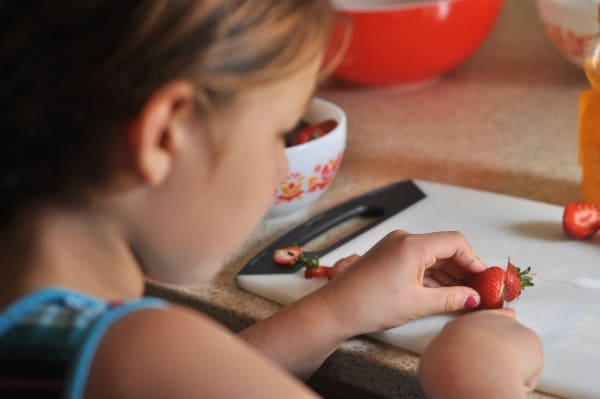 This is a perfect recipe to involve your kids. If you are looking for a fun recipe to make with your kids, this is it! I've put step-by-step cooking instructions together to do with your kids in this ebook.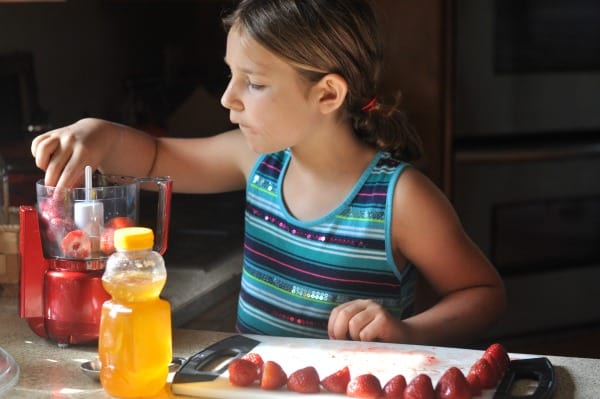 Have your kids remove the stems of strawberries and blend with honey. Process until smooth.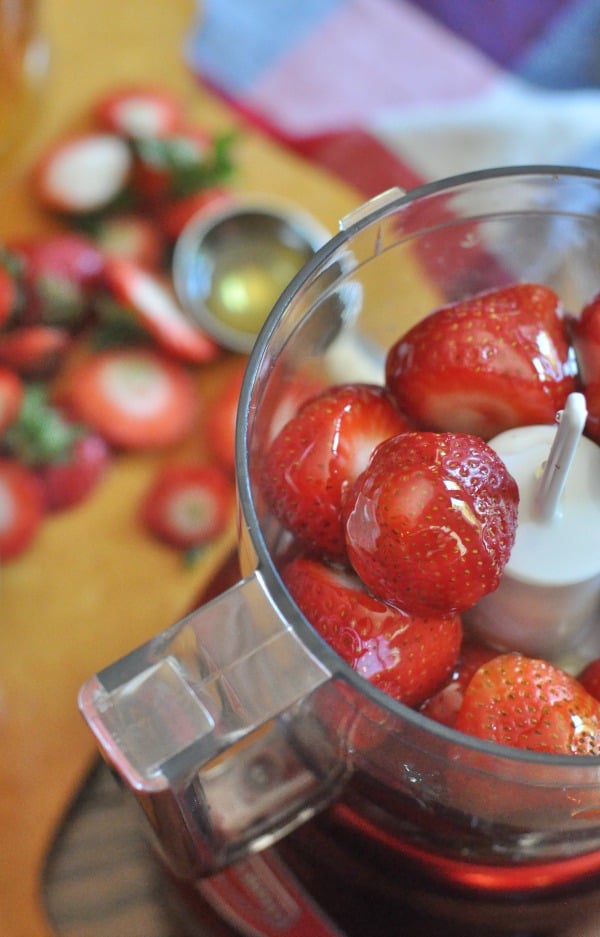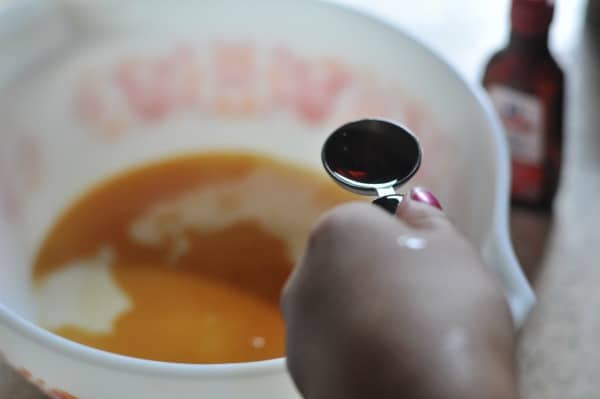 Mix together the sweetened condensed milk and vanilla.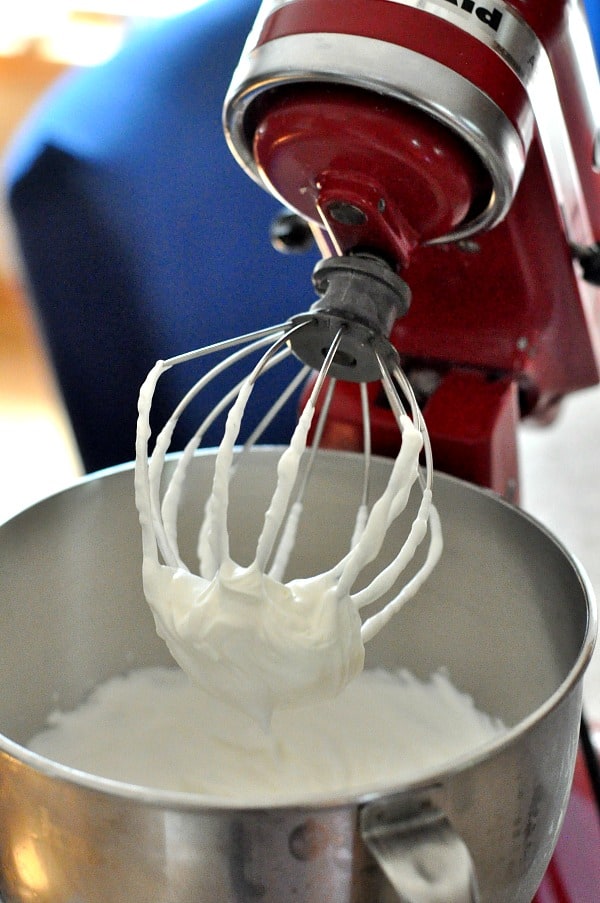 The Whipped Cream mixture should look really fluffy like this.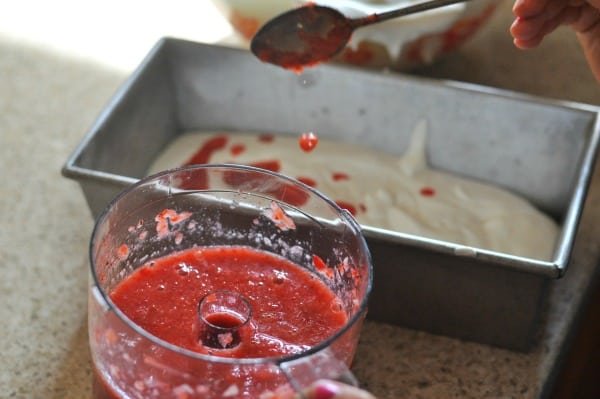 Add the whipped cream mixture to the sweetened condensed milk and vanilla mixture. Then add half to a bread pan and then layer with strawberry mixture. Place parchment on top and then freeze for six hours! You can also add Golden Oreos to the mixture too! See photo and notes below!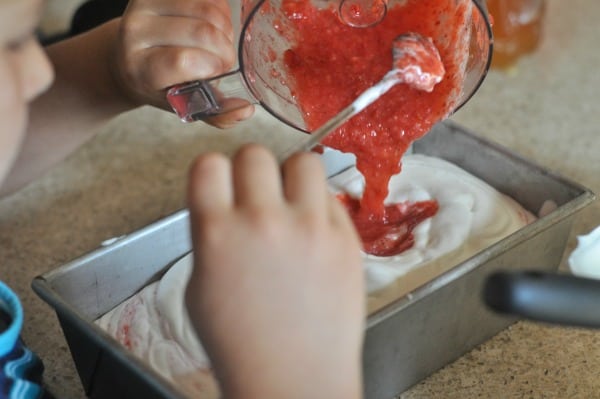 Tips for Making Homemade Strawberry Ice Cream
If you are going berry picking, go early (like right when they open). The temperature is usually not too hot and there will be less of a crowd.
When you go berry picking, wear clothes that are okay to get dirty and berry-stained. When you are picking you are on your knees or sitting on your bottom so keep that in mind!
Get kids involved in this strawberry ice cream recipe, it is a great recipe to have them help! Great for a rainy day and then let the ice cream set and they can enjoy it later!
In our house, our family insists I make my strawberry ice cream with Golden Oreos and I agree, the addition is pretty fantastic!
Process the strawberries until very smooth. Large chunks of strawberries will make ice crystals in your ice cream.
I love serving this ice cream in waffle cones.
Instead of making the ice cream in a bread pan, I also freeze it in jars and label in the freezer. I'll freeze it in 8-ounce jars and it is perfect for bringing as a host gift or enjoying when the weather is -30 in January!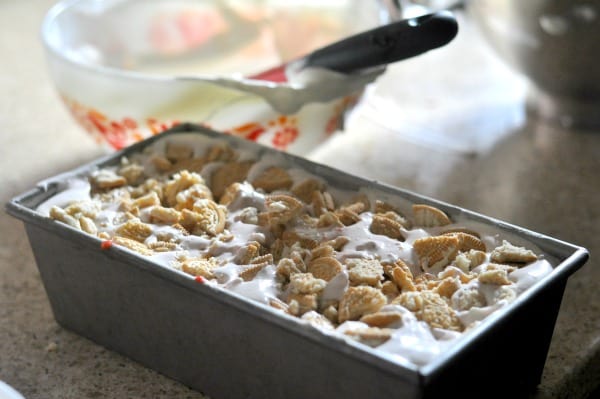 My Favorite Tools for Making Homemade Strawberry Ice Cream (Visit my Amazon store or check out the affiliate links below for the products I love)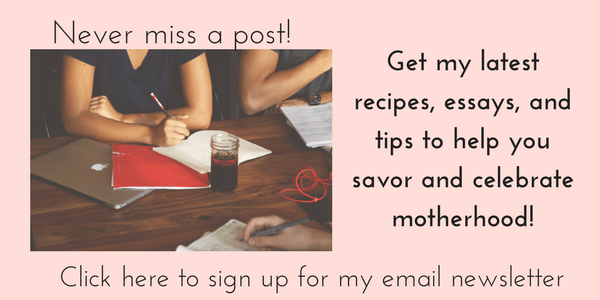 Strawberry Ice Cream
Adapted recipe from Martha Stewart and the Kitchn
Ingredients
24 Strawberries (16 ounces/1 lb container)
2 TB Honey
1 can (14 ounces) Sweetened Condensed Milk
2 tsp Vanilla
2 Cups Heavy Whipping Cream
Optional: Golden Oreos (16 cookies, crushed into small pieces)
Instructions
Remove stems from strawberries and add strawberries and honey to a chopper, food processor or blender. Process until smooth. Chunks of strawberries will crystalize in the ice cream so pureed strawberries work best.
In a medium bowl, add sweetened condensed milk and vanilla.
Add heaving whipping cream to a stand mixer and turn to medium speed until very fluffy (whipped cream consistency). To speed up the mixing process if using a stand mixer, put the beater and bowl in the freezer for 20 minutes prior to mixing. You can also use a hand mixer to make the whipped cream. Add the whipped cream gradually to the sweetened condensed milk mixture.
Pour half of the mixture into a loaf/bread pan. Slowly mix in the strawberry mixture. Then add the remaining cream mixture.
Once combined, you can add the crushed Golden Oreos if using.
Press parchment paper on top of the ice cream and freeze for 6 hours.