Rhubarb, spring's favorite vegetable, make Rhubarb cosmopolitans perfectly pink and tart.
The winters in Minnesota can be hard. Like -30 below hard. Minnesotans rightfully love spring. The minute the weather peaks to 40, we hit the road on our bikes, walk the lakes, clean out our gardens and some Minnesotans start wearing shorts. Yes, when it is 40, we act like it's a heat wave.
One of my spring joys is going out to my garden and watching for signs of emerging plants. I love the sight of the peony's bright red buds against the dark black soil, the new lines of clematis twisting around old growth and the excitement of new plants that made it through the winter like the dill a neighbor gave me last summer. Absent from my garden has been a big rhubarb plant. I bought a plant last year, the stalks laughably small and thin. I longingly walk my neighborhood eyeing neglected rhubarb bushes wondering if my neighbors would miss five stalks so I could make a pie. I right myself, head to the farmer's market and overcompensate for my lack of rhubarb by buying enough to fill a plastic bag. It can be frozen if needed, I tell myself.
Rhubarb is perfect for pies but this year I had a new vision for spring's favorite tart veggie: make it into a martini. And that pink color was ideal for just one type of martini: a cosmopolitan.
To make Rhubarb Cosmopolitans you first need to make Rhubarb Syrup. It's so easy you'll be making it all spring and summer long and you'll be adding it to sparkling water, gin drinks, or even using it as a topping on breakfast foods like yogurt, waffles or pancakes.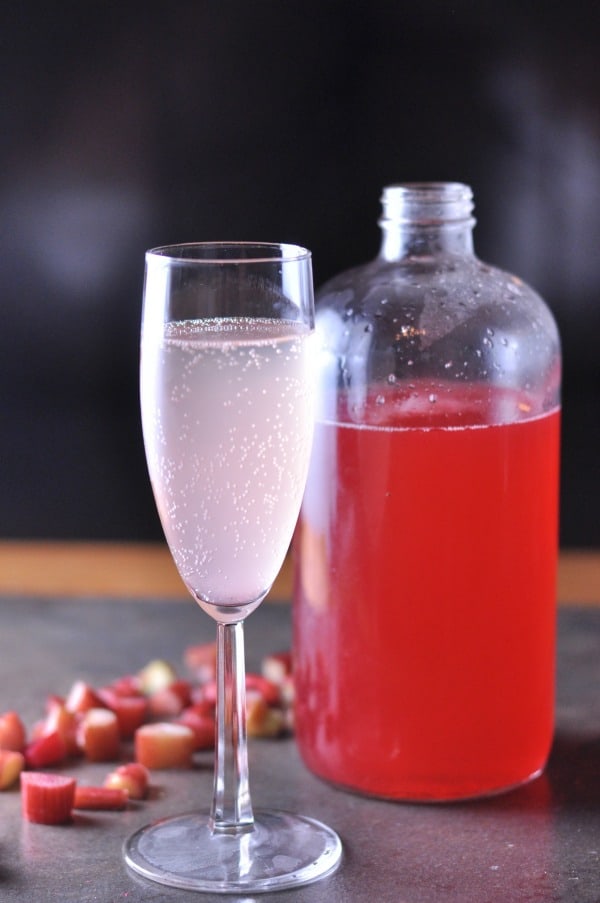 When the chance of snow is completely gone, well there is a reason to celebrate and you should have one of these drinks in your hand to mark the occasion!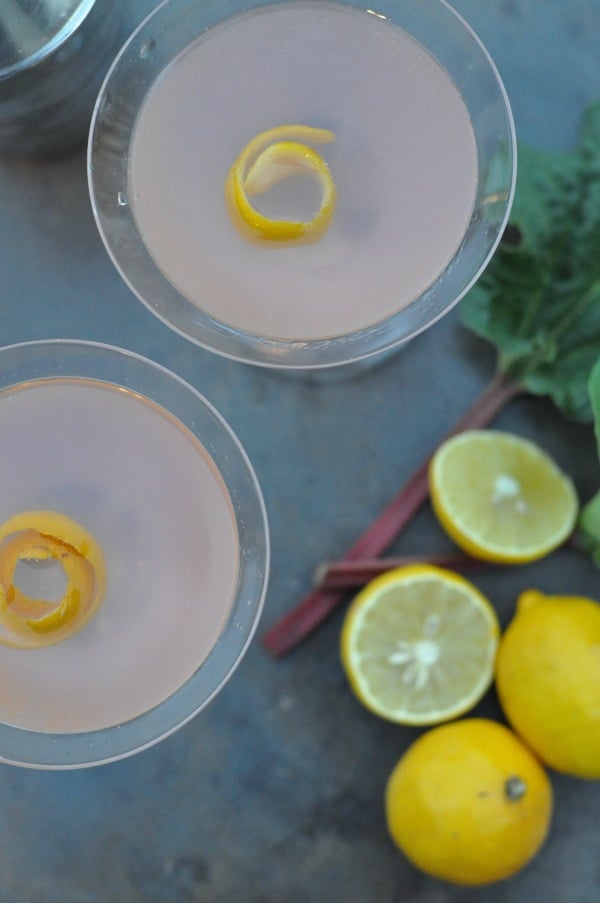 Making this for a party? Print out the recipe with this handy printable and put it in a frame so guests can make their own martinis!


Rhubarb Cosmopolitans
Ingredients
1 cup ice
½ cup vodka
⅓ cup triple sec
3 tablespoons rhubarb syrup
1 teaspoon lime juice
lemon for lemon twists
Instructions
In a cocktail shaker combine ice, vodka, triple sec, rhubarb syrup, and lime juice. Shake profusely for 5 seconds and pour into two martini glasses. Garnish with lemon twist (use a knife or vegetable peeler to remove a long strip of peel and then twist) if desired.