Simply the best pork chops. An easy recipe to make an apple cider brine to create mouth-watering, juicy fried pork chops everyone in your family will love.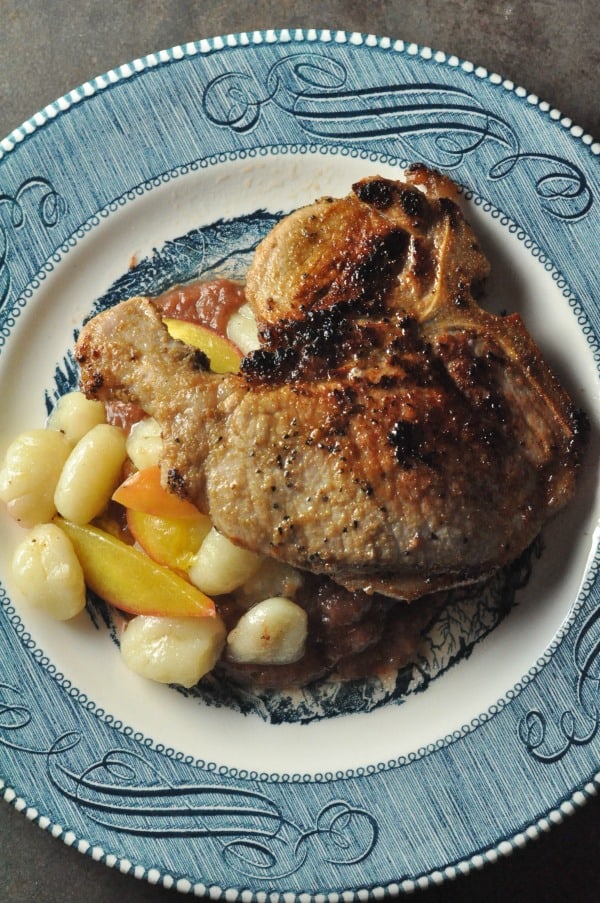 When I wrote my Cider Pork Roast recipe post last year, things weren't great. In fact, they were quite awful.  Our family, including me, had been in and out of the hospital. As many parents know, parenthood is always a rocky boat ride but the minute someone in the house is sick, it immensely upsets the course of the cruise.  So where did we leave off with the roast? Oh yes, there our family was sitting in the kitchen, some on the floor, some standing, careful not to let the drips of juice land anywhere but in their mouth.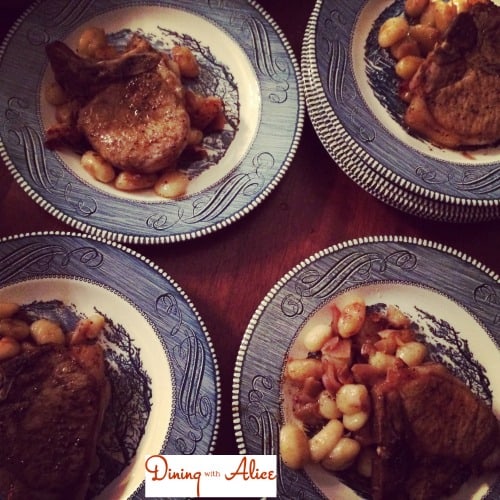 This month I hosted a private dinner party in my backyard and cooked for 3 couples as part of an auction prize.  They asked me to share a recipe that reflected me and my cooking and I immediately thought of the Cider Pork Roast. I told them about how I saw it on the cover of Bon Appétit magazine and I needed it. It sounds weird to say that aloud-that I needed a recipe. But I truly needed an escape from the madness of sickness and demands; I just needed comfort. I wanted comfort from food.  As you know from my post it was everything I hoped for-it was quintessential comfort food-the can't wait until it is plated food-but it was more than that.  In a moment of parenting and life when things seemed to be rock-bottom it brought our family together in an unimaginable way and I realized my personal need to cook as a way to relieve stress. My version of their Cider Pork Roast was featured on Bon Appétit's web page and things in our family continue to ebb and flow. We realize as parents that there is a secret beauty-if you can right the ship during those truly bad times you can get through anything. I've also realized I don't want to invest the days of preparation and time involved in that pork roast recipe because I want to have it on a regular basis. So I worked on this pork chop recipe. My poor family had to eat it three times this month until I got it just right. I'm kidding about my poor family, each time I made it they couldn't get enough. Just last night, there we were surrounded by our family stealing bits and pieces of pork off the cutting board just like old times.
Adapted recipe of my Cider-Brined Pork Roast (an adapted recipe of Bon Appétit Cider-Brined Pork Roast with Potatoes and Onions)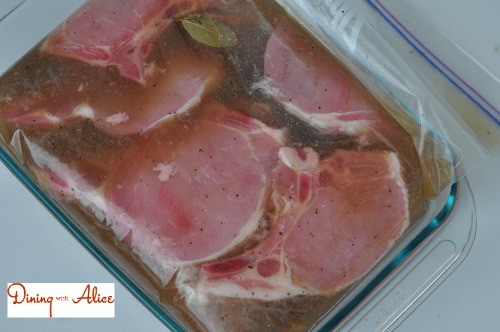 Cider Pork Chops
Adapted recipe of my Cider-Brined Pork Roast (an adapted recipe of Bon Appétit Cider-Brined Pork Roast with Potatoes and Onions )
Author:
Alice Seuffert, Dining with Alice
Ingredients
1 cup Light Brown Sugar
¾ cup plus 1 tsp Salt, divided
2 Bay Leaves
3 TB Ground Coriander, divided
2 tsp Ground Black Pepper, divided
1 quart Fresh Apple Cider or Apple Juice (4 cups)
8 Center Cut Pork Chops (about 3.5 lbs)
4 TB Olive Oil
Instructions
In a medium saucepan, bring brown sugar, ¾ cup salt, 2 bay leaves, 1 TB of coriander, 1 tsp ground black pepper and 2 cups of water to a boil. Reduce heat and simmer for 8 minutes.
Prepare a large bowl with 2 cups ice and 4 cups cider. Add brine mixture to ice and cider.
In a 2 gallon resealable plastic bag, add pork chops and cider brine. Seal bag and place inside a 9x13 pan and chill in refrigerator for 2 hours or more.
Once brined, dry off pork with paper towels (I individually wrap each chop with two towels) and then let the wrapped chops sit at room temperature for about 20 minutes.
Unwrap the chops from the paper towels and Rub pork with 2 TB coriander, 1 tsp salt and 1 tsp ground pepper.
Heat 4 TB olive oil in a large skillet over medium-heat. Brown pork on both sides about 4-6 minutes each side until dark and crispy.