A super simple Cilantro Sauce made with just five ingredients and it will have you drizzling it on all your favorite meals! This Cilantro Sauce is made with one bunch of fresh cilantro and made sweet with Orange Marmalade!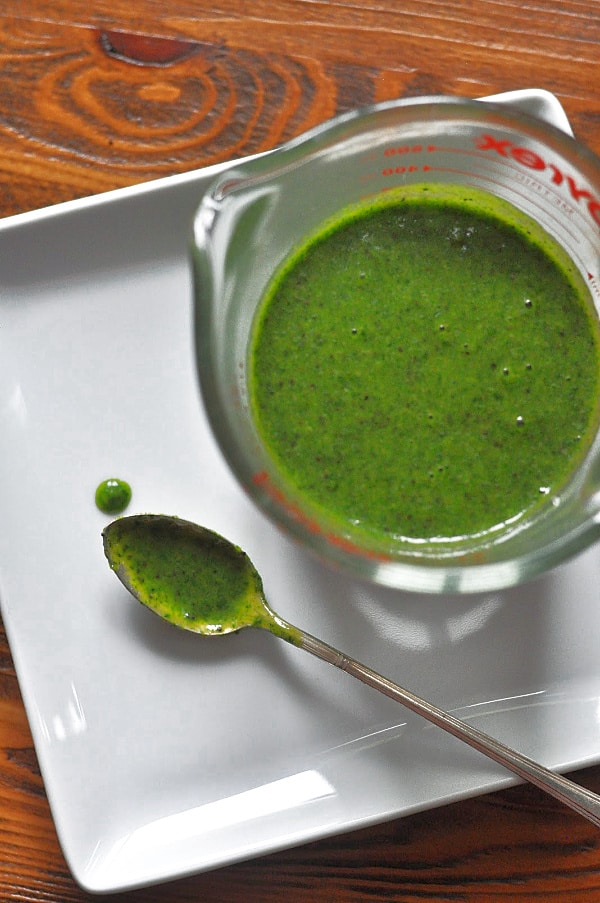 This post contains affiliate links for products that I use and endorse. This recipe will show you how to make a super simple Cilantro Sauce with just five ingredients. Top it on your favorite salads, eggs, tacos, or grilled chicken! It is a staple sauce in our house and the sweetness of the Orange Marmalade makes it a favorite dipping sauce for my kids too!
I shared recently that winter is really getting me down and I need all the bright green foods to counter it, like my Thai Steak Salad. Also, in an attempt to rally against winter, I've started ordering iced coffees. It's still winter but it seems to be helping. Another bright spot has been connecting with friends for meals, beer, playdates. Winter may be overwhelming at times, but connecting with friends makes the cold days pass faster. A food bright spot this winter has been this Cilantro Sauce recipe. It is so easy to make and we are putting it on everything. It can last two weeks in the fridge but it never lasts that long around my family!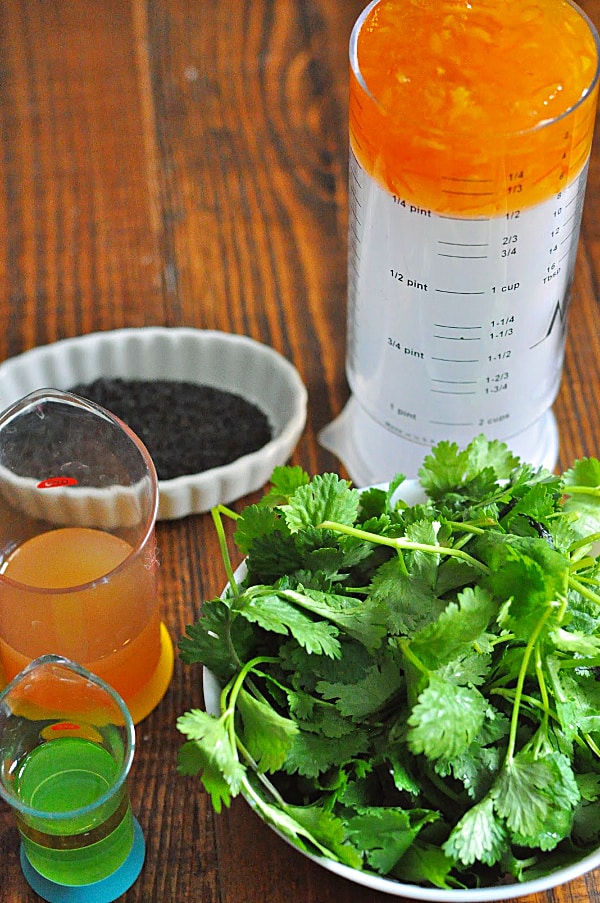 Just five simple ingredients! I use one bunch of Cilantro. Keep the leaves and stems on. I just give it a quick rinse under water and throw it into the blender.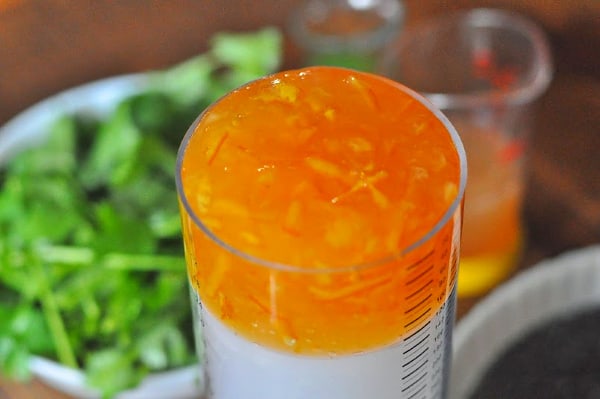 The Orange Marmalade is really the secret ingredient. It gives the sauce a sweetness that was able to win over my kids and make a green sauce not so scary.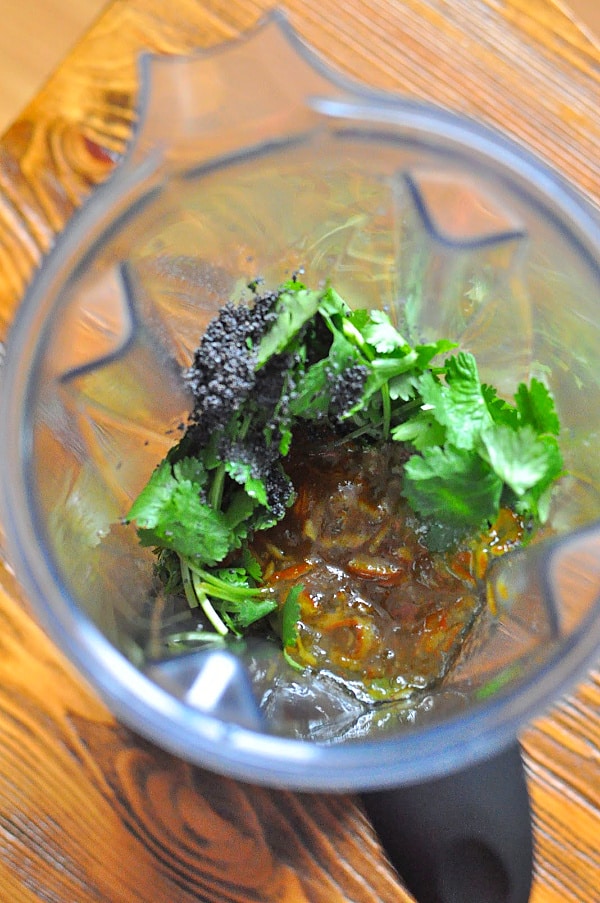 Just toss everything right into your blender.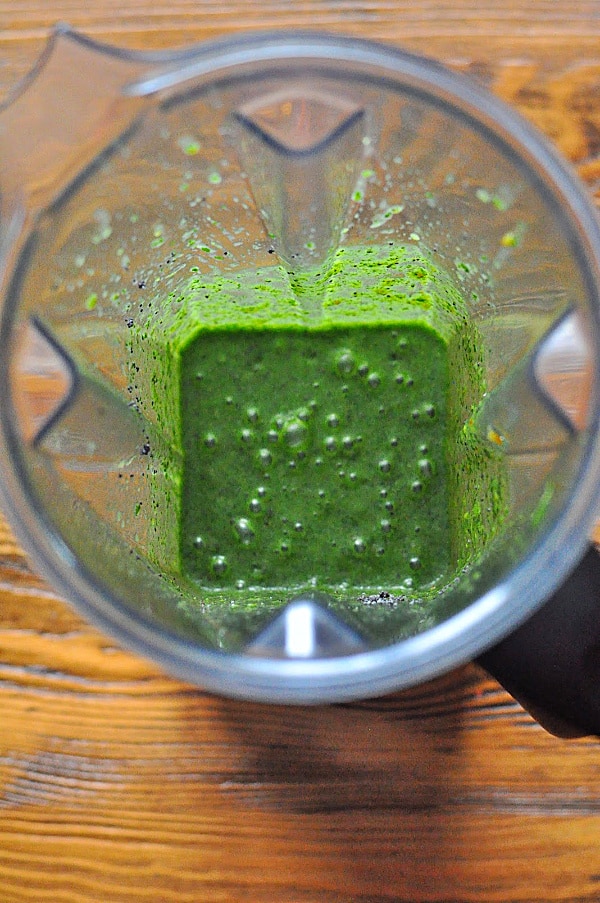 Super simple and ready for all your favorite foods! I think we eat poached eggs at least once a week in my house and I love drizzling the Cilantro Sauce on top.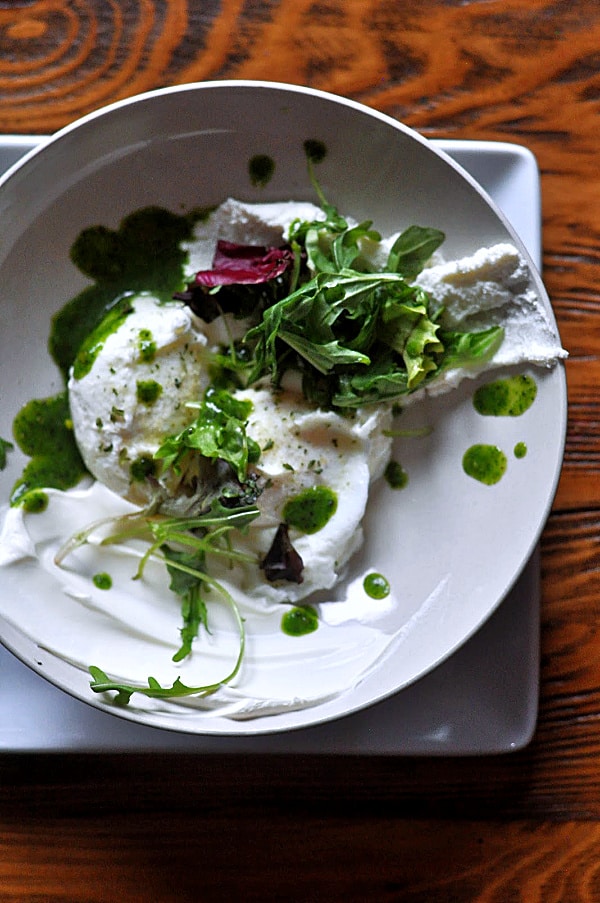 My Favorite Kitchen Tools for Making Cilantro Sauce
These are affiliate links for my favorite tools for making this recipe. You can also visit my Amazon store to see all my kitchen gadget recommendations.
What's that weird looking thing holding the Orange Marmalade for this recipe? It's a Metric Wonder Cup and is my favorite tool for measuring sticky ingredients like jam, mayo, peanut butter, or corn syrup. 
Those cute liquid measuring cups are made by OXO and I absolutely love them for measuring different liquid amounts. Yes, you need dry and liquid measuring cups!
I blend up Cilantro Sauce in my Vitamix. Is it worth it to get a Vitamix? Absolutely. Four words for you: Best.Pina.Coladas.Ever. It is also helpful to blend up the ingredients for my Sweet Potato and Peanut Soup.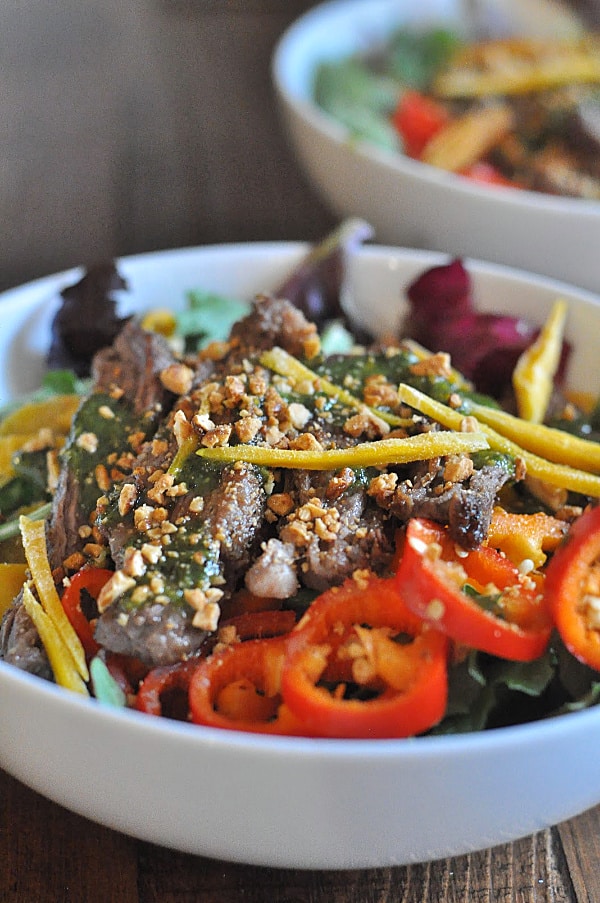 Tips for Making Cilantro Sauce
This recipe makes about 1 1/4 cup of Cilantro Sauce. I keep it in the fridge in a Mason Jar for up to 
When I've run out of Orange Marmalade, I sub in Apricot Jam in a pinch.
I put this sauce on everything. I love it on Thai Steak Salad, poached eggs, tacos, and just as a dipping sauce with grilled chicken.
Cilantro Sauce
Ingredients
One bunch of Fresh Cilantro (keep the leaves and stems)
½ cup Orange Marmalade
¼ cup Apple Cider Vinegar
2 TB Olive Oil
1 TB Poppy Seeds
Instructions
In a blender, combine fresh Cilantro, Orange Marmalade, Apple Cider Vinegar, Olive Oil, and Poppy Seeds. Blend until ingredients are pureed into a sauce consistency. Serve and store in your refrigerator for up to two weeks.