An easy Thai Steak Salad recipe made with seasoned grilled Skirt Steak, a sweet cilantro sauce, and tossed with mango, peppers, honey peanuts, fresh mint, and your favorite mixed greens!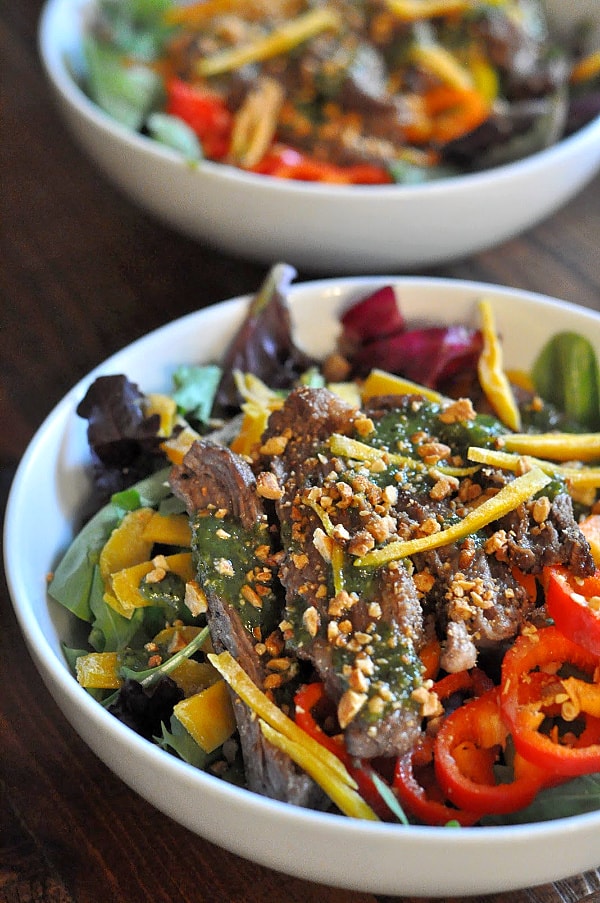 This post contains affiliate links for products that I use and endorse. This recipe will show you how to make a super easy Thai Steak Salad with simple ingredients and easy directions. You can make this recipe for your family on the weeknight or make it on the weekend and make a prep ahead meal. I love to pair this Thai Steak Salad with my favorite Cilantro Sauce. It's just five ingredients and super easy to make!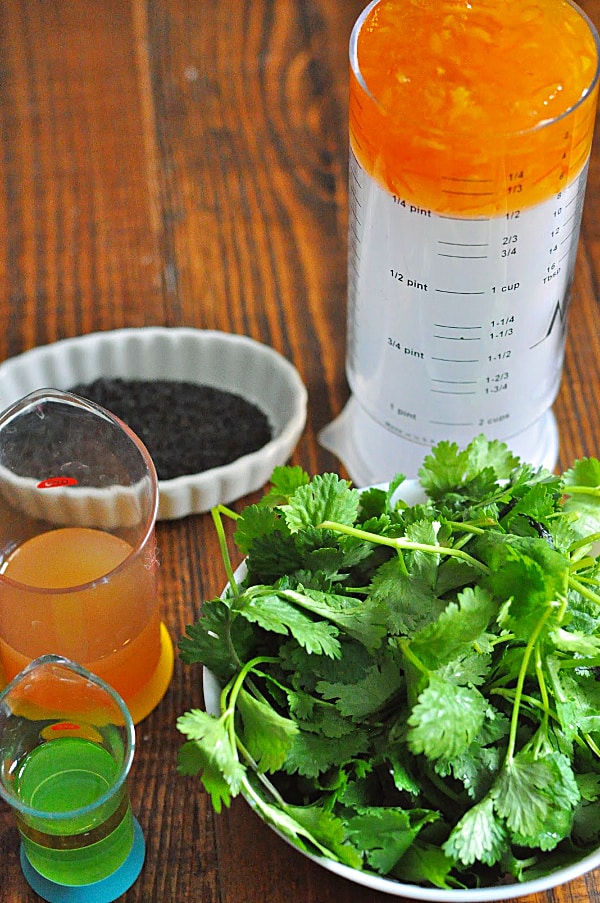 There was a great meme I saw the other day about checking on your Midwest friends. The final line of the meme, "WE ARE NOT OKAY!"  In case you were wondering, in less than a month's time, we have had record cold weather (-35 on some days) and winter snow conditions that have closed schools and businesses for multiple days. Friends, we are Minnesnowtans, we know how to handle cold but this has been bonkers. For evidence of our NBD snow attitude, this was the snow plow situation in the Twin Cities last week.
We have received 31.5 inches of snow as of Friday (new record btw) and we just got more snow last night and I see snowflakes on my weather app for four of the seven days ahead.
So please feel bad for us. WE ARE NOT OKAY.
My best friend, a super empathetic person posted a heartfelt message today meant for her very best friends in the midwest. In Florida we salt margaritas!?!? 

Also an effect of the winter weather, my eating! I want all the comfort food! Snow coming? Let's order Chinese and stay in! Roads too icy? Let's make Pho soup and watch movies! Weather so cold you'll get frostbite in five minutes? Let's have Pizza! So it is no surprise that my body is craving a salad to balance out all the comfort food eating I've been doing.
That's where this super easy Thai Steak Salad comes in. It's super easy to prep and I make it right inside my kitchen, no outdoor grill needed! It also is a family favorite! Yes, even with all the green things, my kids love it! I think it is the sweet Cilantro Sauce I top on it!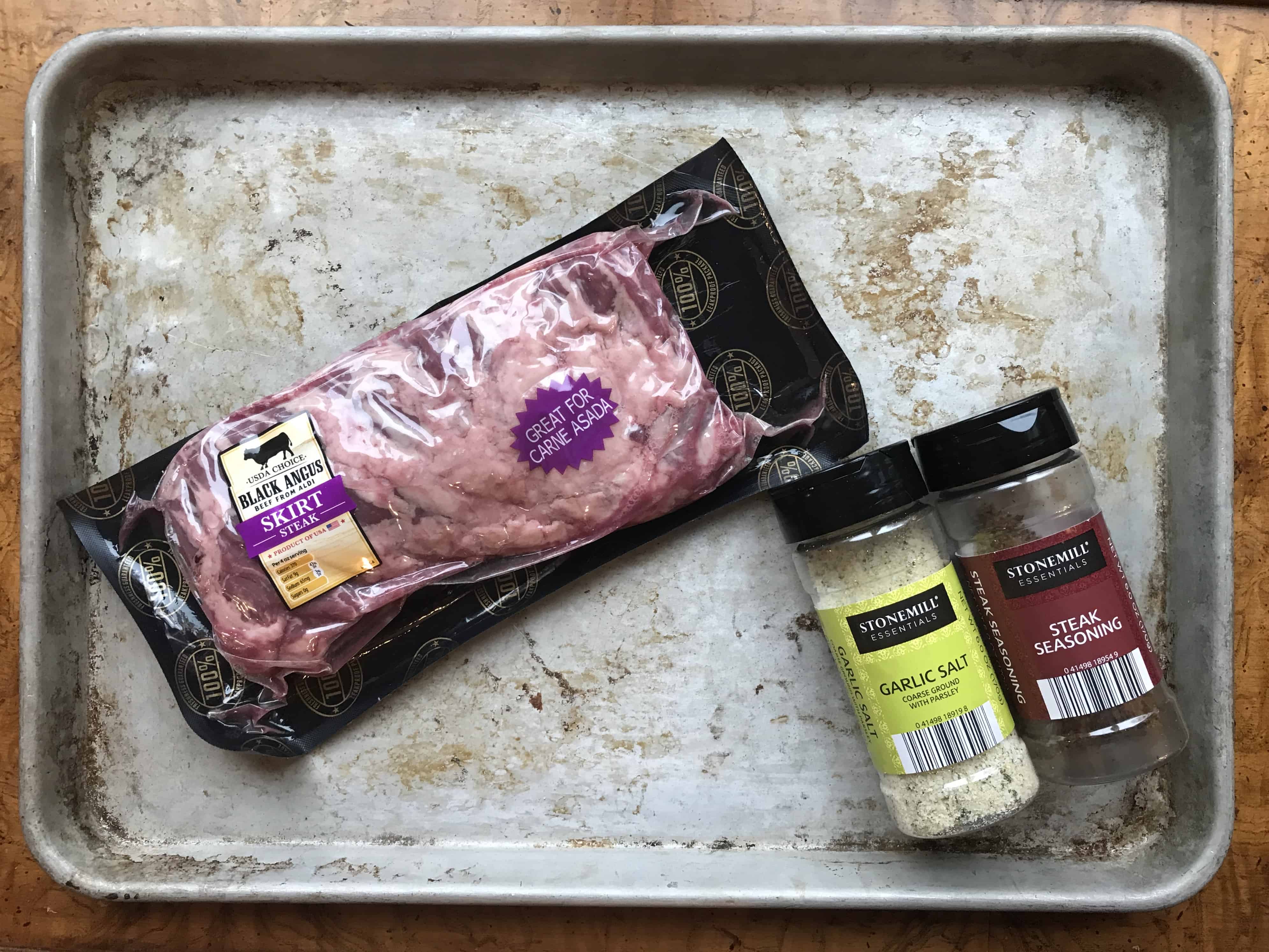 For this Thai Steak Salad recipe, I use Skirt Steak because it is super affordable and has great flavor. The cook time is fast and I find it is great for feeding my family of four when I make fajitas or steak salad. I like to season the Skirt Steak with Garlic Salt and Steak Seasoning. Where'd I get everything? Aldi, my favorite affordable grocery store!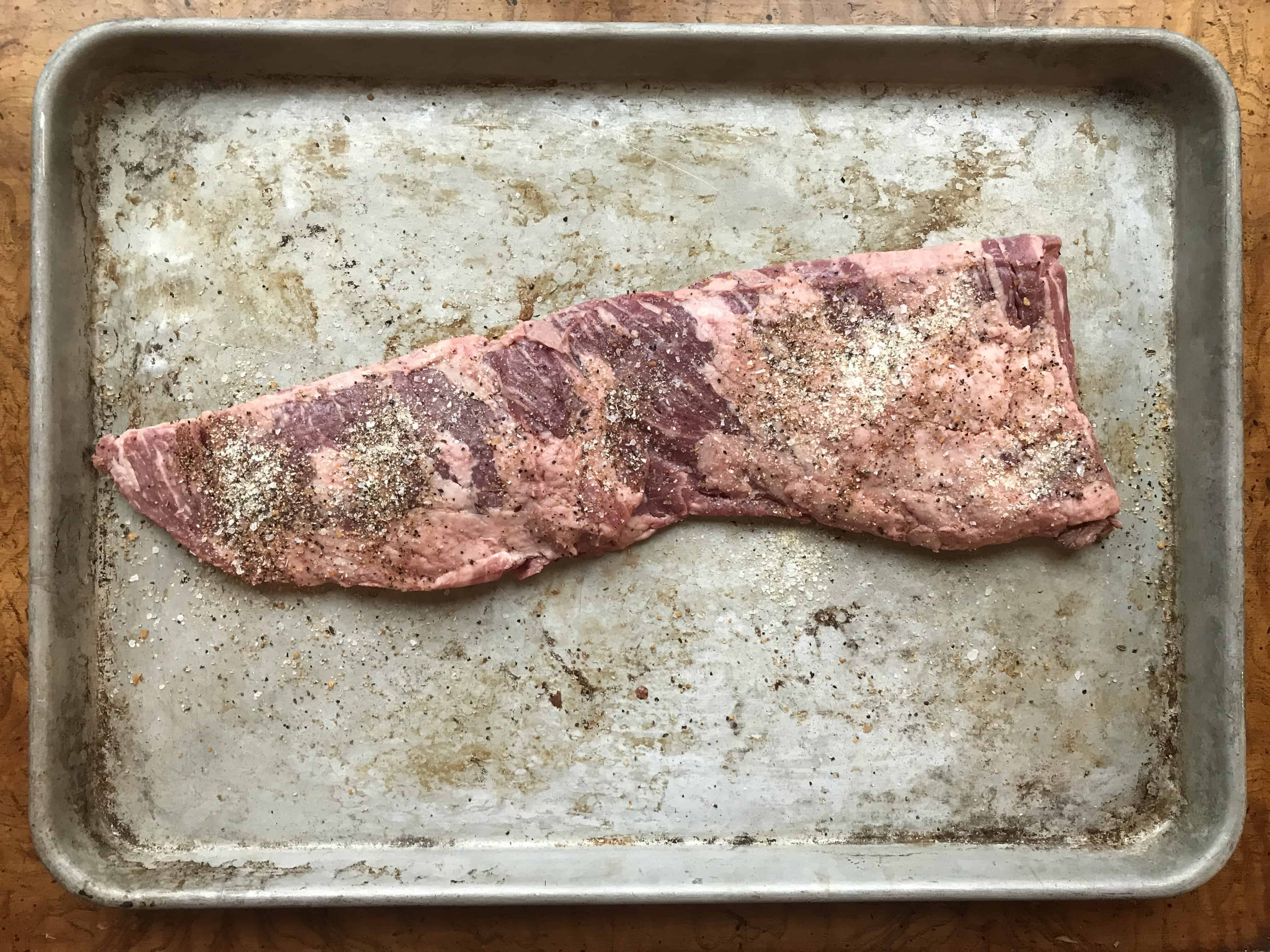 I've told you this before, but my Jelly Roll pan is one of my favorite kitchen items. It is perfect to use for seasoning the steak in this recipe.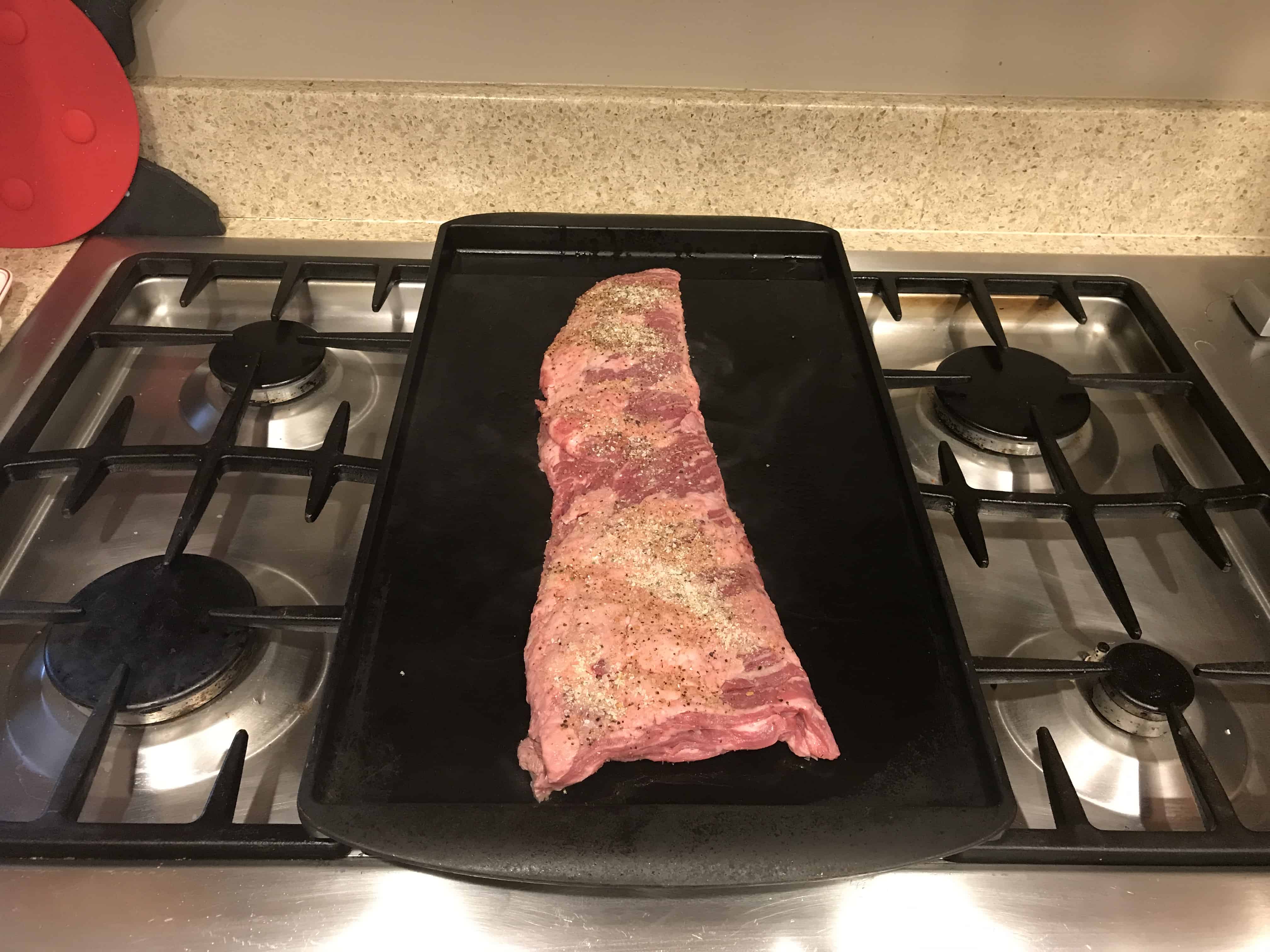 Not just for weekend breakfast, my stovetop griddle is awesome at grilling up a steak when the weather is unpredictable or say, the grill is covered in a foot of snow!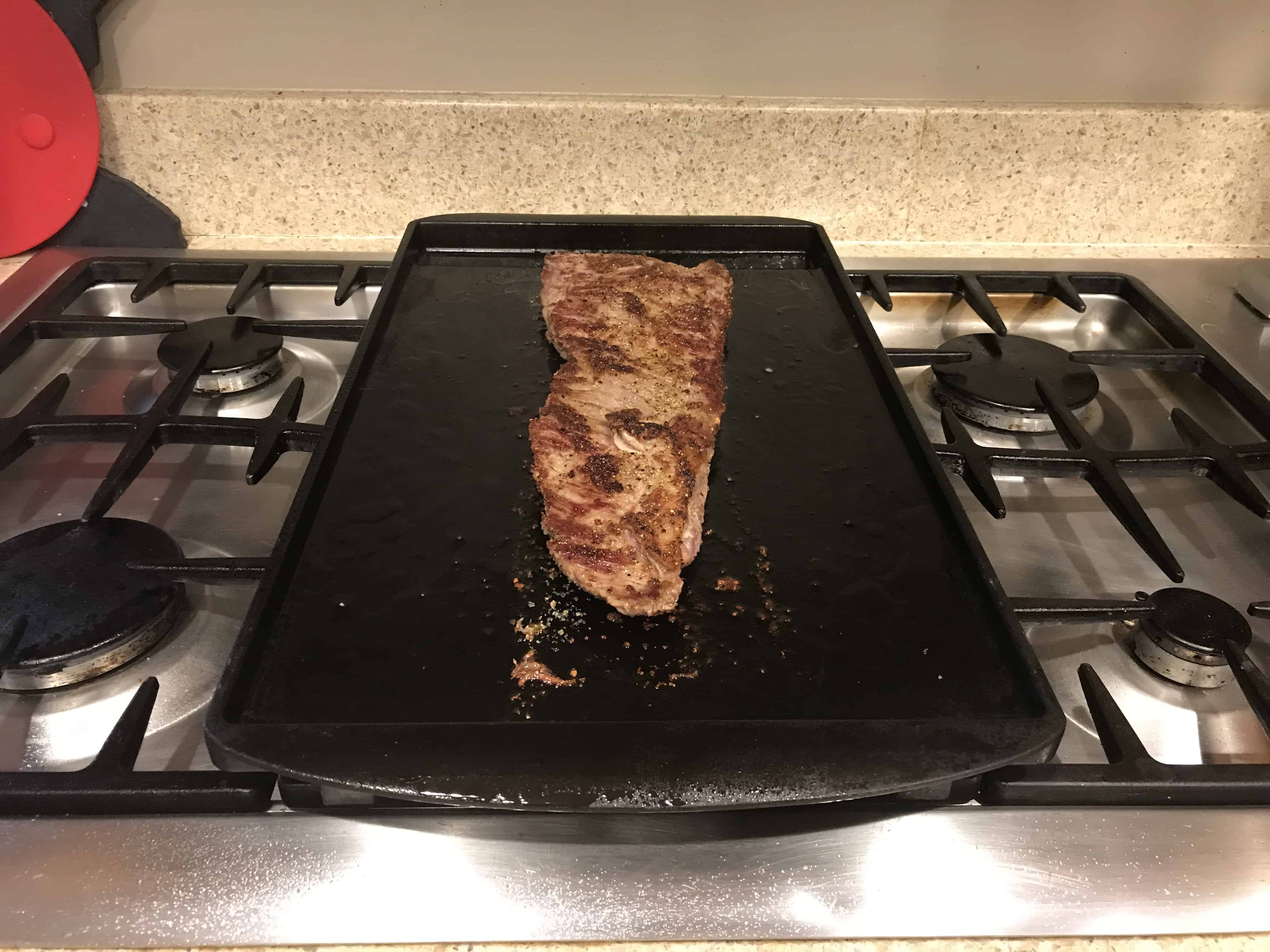 I cook the steak 4-5 minutes on each side and if you like your steak more well done, just leave it on longer. Or you can grill it, let it rest for a few minutes, slice it up and return the sliced meat for a quick sear. I always wash the Jelly Roll pan before putting the cooked meat back on it.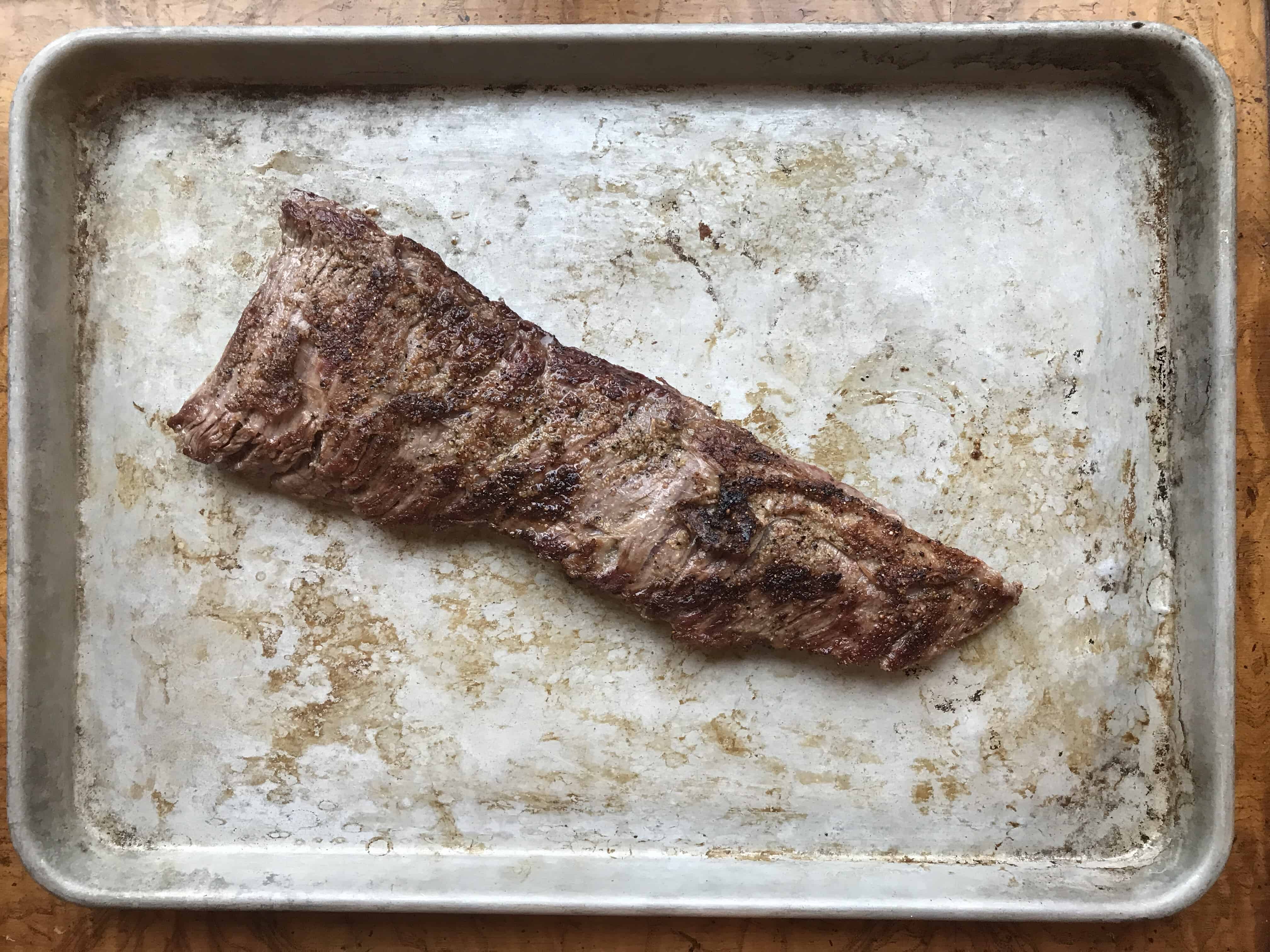 Once rested for a few minutes, I slice the steak up and serve it with mixed greens, sliced mango, honey peanuts, fresh mint, and a variety of chopped peppers. I drizzle on my favorite Cilantro Sauce and serve it for dinner or pack it away for a quick dinner or lunches for the week. You could also add some crunchy Asian noodles, sliced pea pods, or other favorites your family enjoys. I hope this helps bring some sunshine to your week and make meal prep easier and give you time to enjoy with your family! Even if it is playing in all the snow and making a snow fort!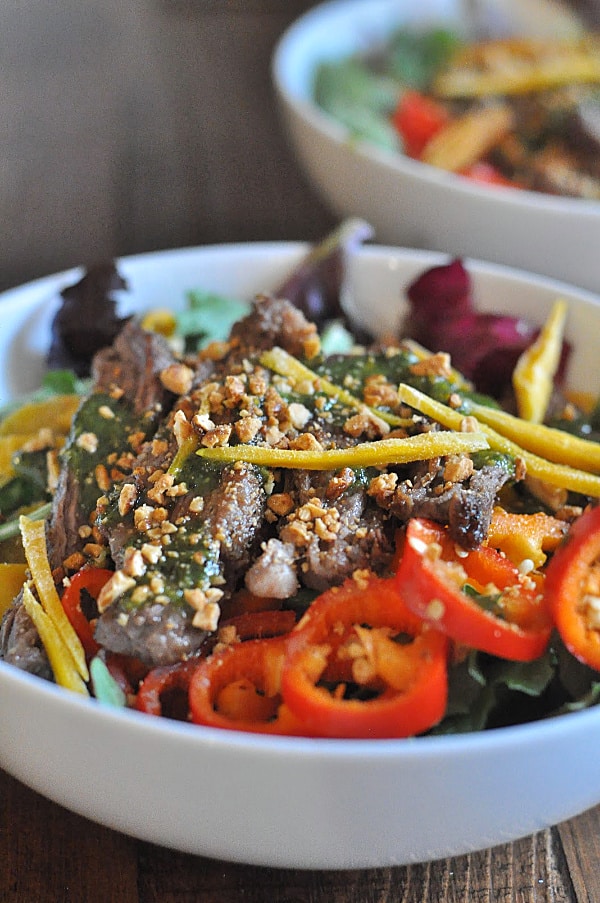 My Favorite Kitchen Tools for Making Thai Steak Salad
These are affiliate links for my favorite tools for making this recipe. You can also visit my Amazon store to see all my kitchen gadget recommendations.
My Jelly Roll Pan is a perfect pan for seasoning the Skirt Steak. Think of a Jelly Roll pan as a cookie sheet with sides. I like using it for seasoning meats like ribs (great for seasoning and broiling), pot roast, and steaks so I can make sure all of the seasoning stays on the meat and not on my counter or other places. I also love making bacon in the oven and this is the best pan for that. I also make a giant Sheet Pan Pancake in my Jelly Roll Pan!
I love my Stovetop Griddle for making this Steak Salad recipe because I can easily grill regardless of the weather or season. I like using a larger griddle like this versus a griddle pan because I can grill a large steak like the Skirt Steak or do big batches of grilled chicken (great for weekly meal prep) or big batches of burgers. And of course, Rainbow Pancakes.
I use my Food Scissors to finely slice the dried Mango I use in this recipe. This is a super handy kitchen tool and great for many uses like finely chopping fresh herbs (I recommend adding fresh mint to this recipe) or even to cube up meat like chicken.
Tips for Making Thai Steak Salad
I love the flavors that Mango brings to this salad. Fresh Mango is delicious but I often use Dried Mango and finely slice it up when fresh Mango isn't available.
I like to top this salad with my Cilantro Sauce but you could also top it with a Peanut or Citrus dressing.
Grocery stores sell bags of small mixed peppers and those peppers are perfect for this recipe. I like to use my food scissors and just slice them up! Don't be afraid to try Shishito Peppers as mentioned in the recipe. I found them at Aldi and they are a sweet East-Asian variety of pepper and are great in this Thai Steak Salad.
Garnish your salad with some chopped Honey Peanuts, Fresh Mint, fresh lime, and some crunchy Asian noodles if desired.
Steak Salad
Ingredients
1.34 lbs (approximate) Skirt Steak (I like the Black Angus Steak from Aldi)
2 tsp Steak Seasoning
1 tsp Garlic Salt with Dried Parsley
1 TB Oil
1 cup Dried or Fresh Mango (finely sliced if dry or chopped if fresh)
2 cups Red/Yello/Green and/or Shishito Peppers (sliced)
4-6 cups Mixed greens
Garnish with crushed Honey Peanuts, Fresh Mint, Fresh Lime, crunchy Asian noodles, and Cilantro Sauce
Instructions
On a jelly roll pan, season steak with steak seasoning and garlic salt. Set aside.
Place stovetop castiron griddle on range and heat over medium heat. Brush griddle with olive oil.
Once heated, add steak allow to cook on the first side (without turning for 4-5 minutes). Once browned, flip over and heat for remaining 4-5 minutes. This is medium-rare to medium. If you like your steak temperature higher, one trick I like to do is let the steak rest, slice up the steak and return the pieces to the griddle one more time. Once you have finished cooking the steak, turn off heat and remove steak from griddle and set aside.
Prepare each salad bowl with mixed greens, sliced mango, and peppers. Top each steak salad with chopped honey peanuts and cilantro sauce.