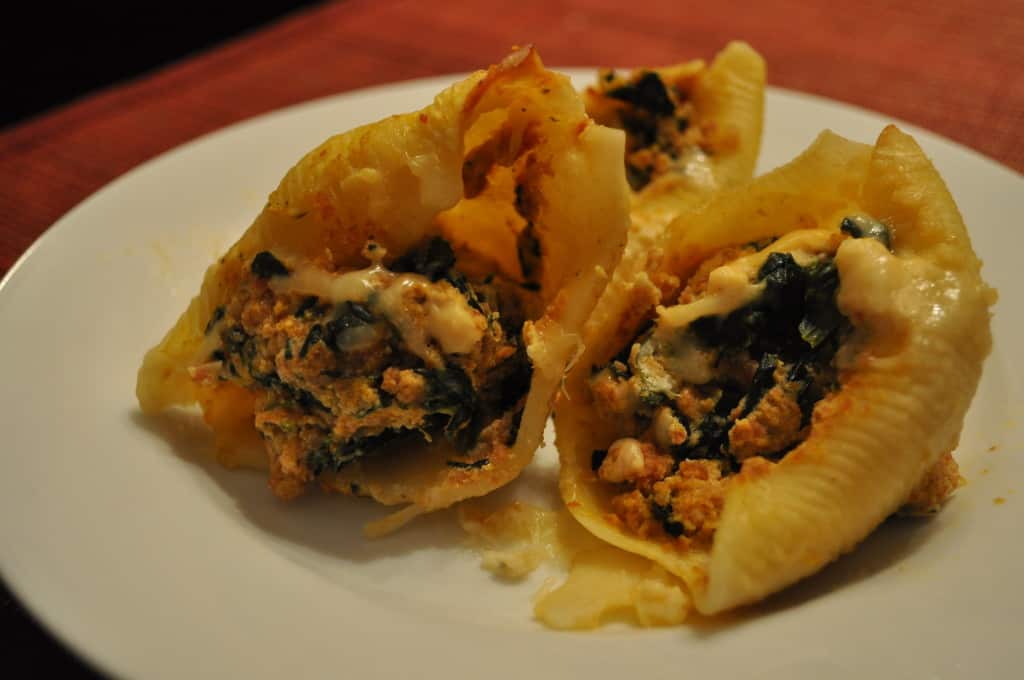 I love stuffed shells.  I remember when I was in college and went home to my friend Jaime's house and her mother made them.  They were amazing, I actually still think about it.  Jaime made them for Thanksgiving a few years ago when we visited. I know, shells on Thansgiving, yum, right?  I don't make shells very often, maybe it's because it takes a bit of time to stuff all the shells.  But everytime I make them, I remind myself they are worth it.
When I made these it wasn't the most idyllic picture of family meals.  Wes was running around and doing what I call the "teradactyl."  Picture if you will a young baby screaming with screeching teradactyl calls while I make dinner, only satisfied when I throw raisins or bits of cheese into his baby beak.  Yep, that's Wes.  And, Stella well, she was demanding to be my "helper."  So dinner took longer to prepare than expected.  I ended up giving the kids the filling mixture and pasta noodles deconstructed. And all of sudden it was quiet.  I peaked into the dining room and what was happening? Shoveling. The kids were shoveling this dinner into their mouths.  Success.
Click here to watch the October 18, 2013 Twin Cities Live segment when I made this recipe.
Ingredients:
1 package Jumbo Shells (12 ounces)
1 jar Alfredo Sauce
4 Chicken Apple Sausages (cooked)
1 cup Frozen Spinach (defrosted, chopped)
1 can Pure Pumpkin (15 ounces)
¼ cup Brown Sugar
1 tsp Pumpkin Pie Spice
1 container Ricotta(16 ounces)
8 ounces Mozzarella Cheese (shredded)
Garnish: Pepita Seeds (roasted and salted)
Directions:
Preheat oven to 350.
Prepare shells according to package directions.  Set aside.
Drizzle ½ cup alfredo sauce on the bottom of a 9×13 pan.
Grind chicken sausage.  Combine with spinach, pumpkin, brown sugar, pumpkin pie spice and ricotta.  Transfer mixture to a 2-gallon sealable plastic bag and clip one on the corners.  Fill shells with pumpkin sausage mixture. Place filled shells into pan and cover with alfredo sauce and mozzarella cheese.
Bake covered for 30 minutes and 15 minutes uncovered.
Garnish with pepita seeds.
Makes 8 servings