Easy Red Velvet Cookies perfect for cookie swaps and holiday celebrations.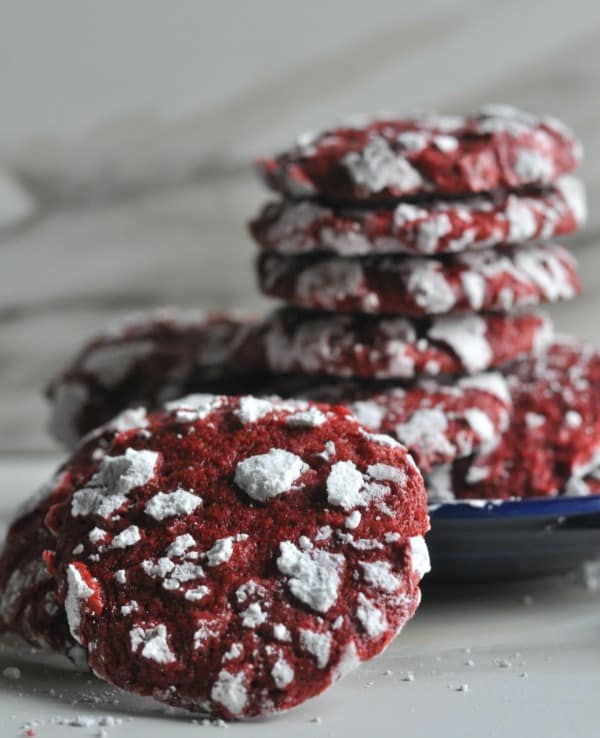 Crispy on the outside and chewy on the inside, these bright Red Velvet Cookies will be the star at your cookie swap and holiday gatherings. Dusted with powdered sugar, these cookies have the delicious chocolate flavors that everyone loves and expects from Red Velvet. Prepare the cookie dough the day before you plan to bake and the recipe makes plenty to share in cookie swaps or to package for holiday gifts. This beautiful bright red cookie will become a new favorite during the holidays.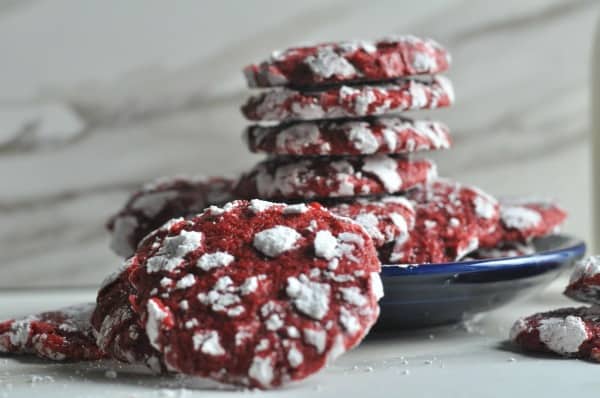 Each year I'm honored when the television show Twin Cities Live asks me to be in their 12 Days of Cookies program. I get super nervous about baking and feel way more confident cooking up a comfort food main dish! I like to make cookie recipes that are simple, fun and creative. This year I thought it would be fun to make Red Velvet Cookies, I've made Red Velvet Cupcakes and knew the base of what makes those cupcakes perfectly red and rich in chocolate flavor. Ghirardelli Sweet Ground Cocoa and Chocolate Extract give the Red Velvet Cookies the rich chocolate flavor you expect. Most baking areas of your grocery stores will carry the Ghirardelli Sweet Ground Cocoa (you can also substitute hot cocoa mix or make a mix of 1/4 cup unsweetened cocoa and 1/2 cup white sugar), the Chocolate Extract is more tricky to find, if you are in the Twin Cities, you can find it at Cooks of Crocus Hill or order online here (affiliate link). Watch my Twin Cities Live television segments here.
[bctt tweet="Red Velvet Cookies from @LandOLakesKtchn @twincities_live 12 Days of Cookies"]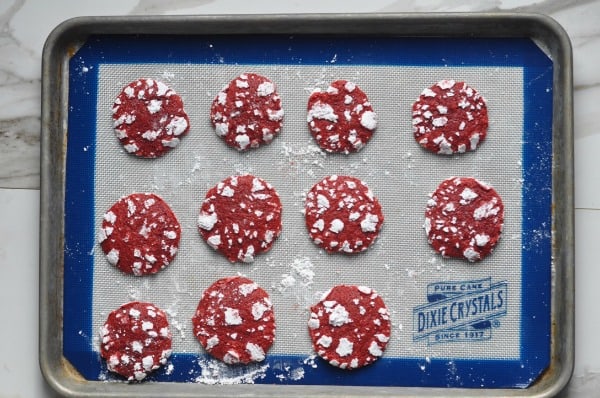 This is the third year that I've participated in the Great Food Blogger Cookie Swap. And I thought these beautiful Red Velvet Cookies would be perfect for the swap. The Great Food Blogger Cookie Swap is a great way to get to know other food bloggers from around the country, raise money for Cookies for Kids' Cancer and try a variety of holiday cookies!
[bctt tweet="Easy Red Velvet #Cookies bright red with rich chocolate flavor #fbcookieswap #recipe "]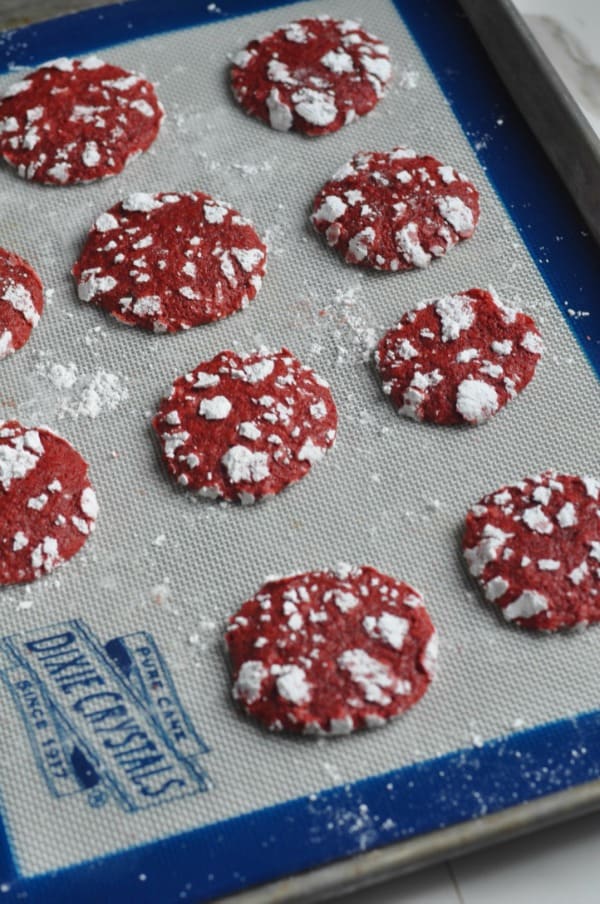 More about the Great Food Blogger Cookie Swap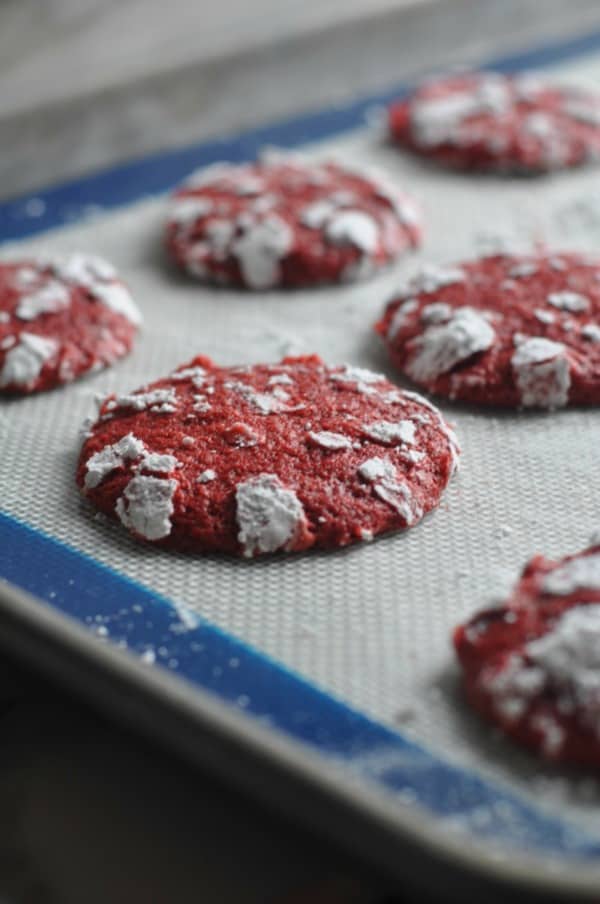 When you are baking these cookies, plan on allowing the dough to chill overnight in the fridge. When you make the batter it will be really sticky so it needs time to chill. Perfect for cookie swaps, holidays or a special gift for someone special! Enjoy!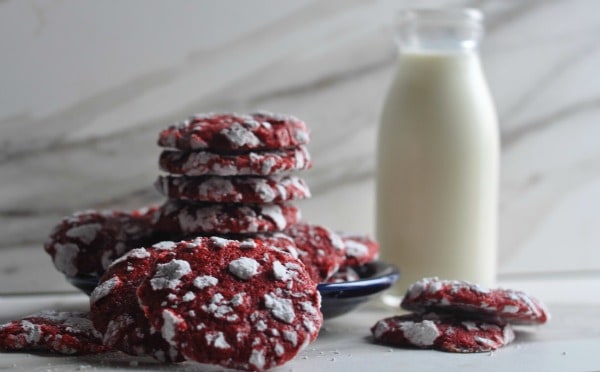 Red Velvet Cookies
Note: Dough needs to chill in the fridge overnight before baking.
Ingredients
¾ cup Land O'Lakes Butter (salted, melted)
¾ cup Ghirardelli Sweet Ground Cocoa
1 ¾ cups White Sugar, plus ¾ cup for rolling
2 tsp Chocolate Extract
4 Eggs
1-ounce bottle Red Food Coloring
2 cups Flour
2 tsp Baking Powder
¾ cup Powdered Sugar
Instructions
In a mixer, combine melted butter, cocoa, sugar and chocolate extract. Then add eggs one at a time. Once mixed, add food coloring.
In a separate bowl, add flour and baking powder and mix to combine. Gradually add the flour mixture to the red velvet mixture in the mixer.
Keep in fridge overnight.
Preheat oven to 350.
Put ¾ cup white sugar in a bowl. And then put ¾ cup powdered sugar in another bowl.
Scoop cookie dough and roll into a small ball. Roll first in the white sugar and then powdered sugar.
Bake for 10 minutes.
Makes 6.5 dozen (depending on size of your cookie balls will determine the amount of cookies, I prefer small ones)