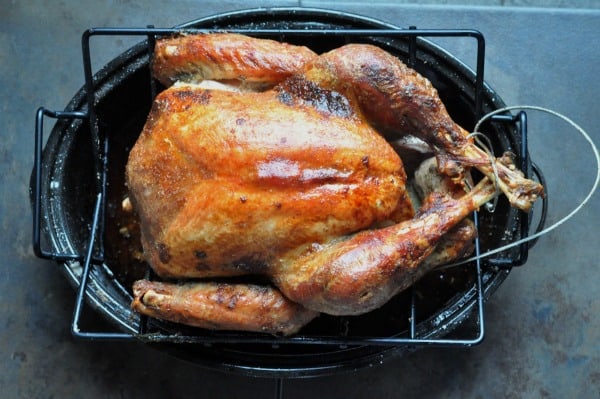 Everything you need to know about how to cook a Turkey. Simple instructions and an easy recipe for preparing Turkey and gravy for your family.
I remember the first time I cooked a turkey. Our Washington, D.C. apartment was so small you could literally bounce a super ball the distance of our place. My mom was visiting and gave over the shoulder, step-by-step instructions on how to cook a turkey. We shuffled between each other in the tiny kitchen, I had to step to the side to open the oven door or my backside would knock into the cabinets. Mom had walked me through the preparation and we put the turkey into the oven. On our first pass to baste the turkey we realized the oven wasn't working. Panic set in as we looked at the side dishes for the meal that had yet to be cooked. My mind began making a list of the potential restaurants that might be open. A desperate message was left for the maintenance man and within an hour he was at our place sprawled on the floor relighting the pilot light and with a smile and a "Happy Thanksgiving," he was on his way and our turkey hit the oven and over laughs and wine we enjoyed my first turkey.
The following instructions are for a frozen turkey that you would purchase at a grocery store. Turkeys are obviously a popular meal for Thanksgiving but keep an eye on turkey prices after major holidays because they tend to go on sale and with such a simple preparation, you can make a turkey after the holidays and use the meat for several meals.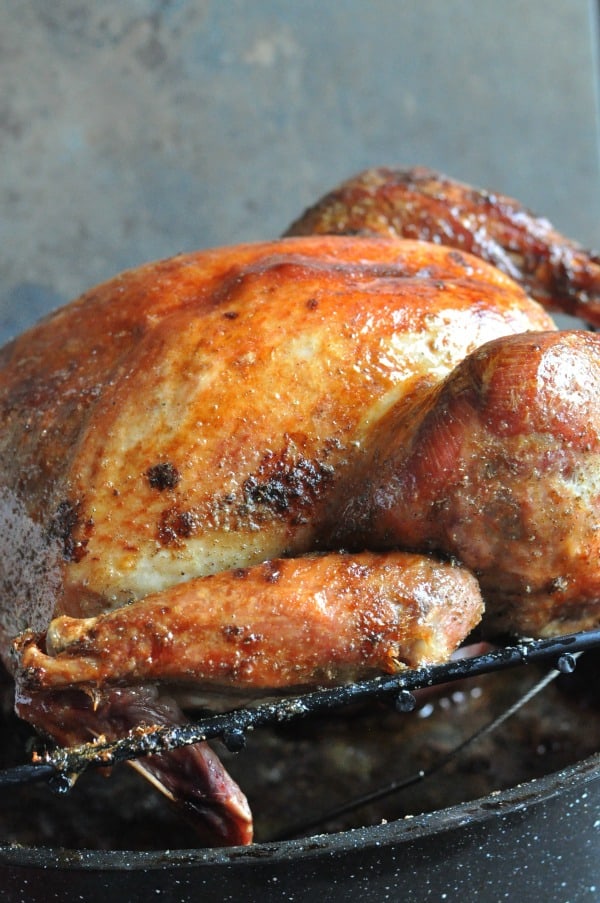 Planning to Cook a Turkey
Most frozen turkeys available at the grocery store are between 12-14 pounds For planning purposes, the recommendation for meat is one pound per person. Frozen turkeys need time to defrost. A 12-14 pound turkey needs 3-4 days to completely defrost.
An easy timeline to remember?
If you are making a 12-14 pound Turkey for Thanksgiving start defrosting the turkey in your fridge on Sunday.
[bctt tweet="Everything you need to know about how to cook a Turkey."]
If for some reason you forget to take your turkey out of the fridge or your timeline or storage doesn't allow that many days, you can do a water bath defrost (soaking the turkey in a large bowl or bucket with cold water). For a 12-14 pound turkey, you will need to change water bath turkey every 30 minutes for 6-8 hours and then the turkey will be defrosted.
Before the holiday cooking season, it is a good idea to get a manual oven thermometer (affiliate link) so that you can ensure the oven temp is correct. It is also very important to have a meat thermometer (affiliate link) that works, this will be your way of ensuring the turkey is cooked at the proper temperature.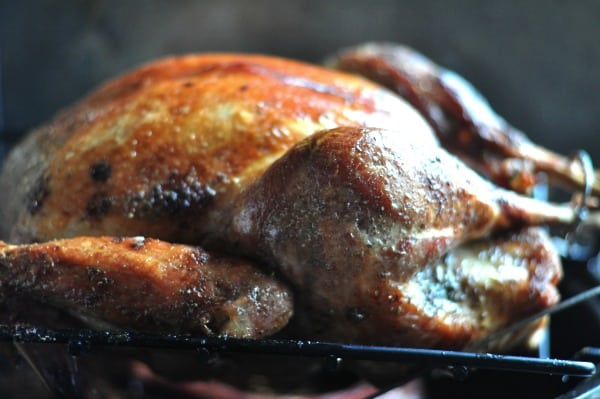 Preparing to Cook a Turkey
Take a picture or write down any important information from the Turkey label and packaging. Once you remove the plastic wrapping you will not want to keep it.
Once turkey is defrosted, remove Turkey from packaging and rinse. I like to put my turkey in a large bowl or roasting pan during this process.
Inside the turkey there will be a long object (neck), gizzards (sometimes in a packet), and there can also be a plastic leg hook (it may be left on during cooking but I like to remove it), there may also be a pop up thermometer (this can also be left in).
I recommend putting the neck and gizzards (discard packaging) into the bottom of the roasting pan or put them in your Instant Pot with 1.5 cups of broth and cook on manual high for 30 minutes and then chop meat into your stuffing.
Cooking the Turkey
For roasting, you don't want the turkey to sit right on the bottom of the roasting pan (affiliate link), so use a roasting pan rack (affiliate link) or try this roasting rack I use it elevates the meat and has handles on the side. Roasting racks are affordable and keep the turkey from sitting in the drippings that you want to use for gravy. No roasting pan rack? No problem. Line the bottom of your roasting rack with potatoes and place the turkey on top. Just remember the potatoes will soak up the drippings.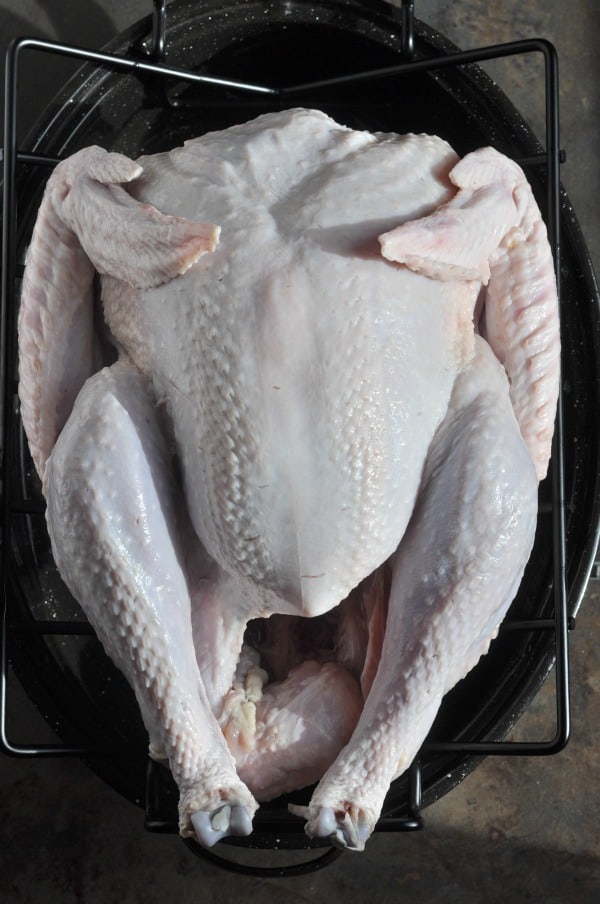 The Turkey wings and legs will be loose once out of the package. Tuck the wing behind the turkey's back. You can also tie the drumsticks together at the ankles. I use my BBQ wire or kitchen twine (affiliate links).
Save the stuffing for the side and don't put the stuffing in your bird because it unevenly cooks your turkey.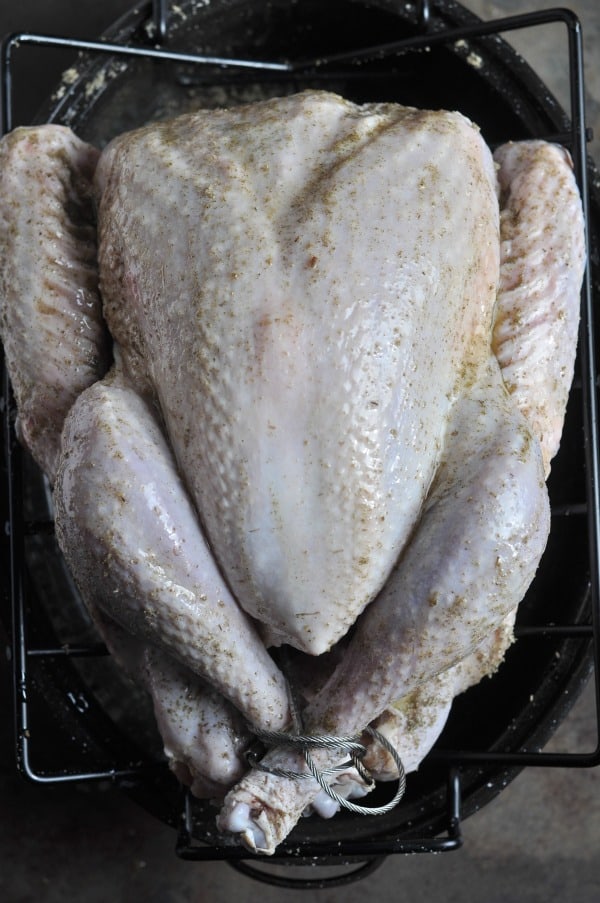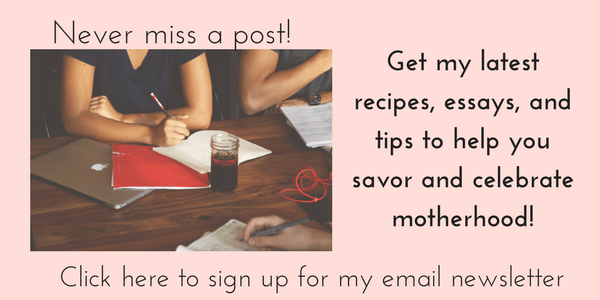 How to Cook a Turkey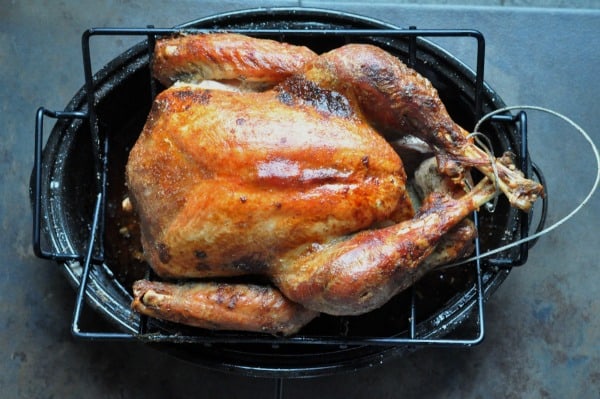 Ingredients
12-14 lb Turkey
2 TB Rubbed Sage
2 tsp Garlic Salt
2 tsp Salt
4 sticks Butter (1 lb/32 TB, divided)
Instructions
Preheat oven to 325.
Pat turkey dry with paper towels.
Rub with sage, garlic salt and salt.
Brush 8 TB of melted Butter over turkey.
Place turkey breast-side down to cook.
Make sure oven racks have been lowered so the Turkey will fit in the oven.
Note the approximate end time (3 hours for 13 lb Turkey). You want the following temperature for the meat: Thigh =165 F or Breast=170 F.
Brush turkey every 30 minutes with 4 TB of melted butter.
After you have reached your half-way point for cooking your turkey, get a friend and have them hold the turkey pan so you can flip your turkey breast-side up. This helps make juicy meat and crispy skin all around the turkey.
Once turkey has finished cooking, brush with final 4 TB of melted butter. Remove turkey and rack from the roasting pan and set on a cutting board. Cover turkey with aluminum foil and allow to rest for 15 minutes. Slice as desired, many guests appreciate if you separate white and dark meat.

Turkey Gravy
While your turkey is resting you can prepare turkey gravy.
Over two burners, place the roasting pan and over medium heat. In a sealable plastic container, combine 6 TB cornstarch and 2 cups of Chicken Broth, seal and shake until combined. Add the mixture to the roasting pan and bring to a boil until thickened. Serve with turkey.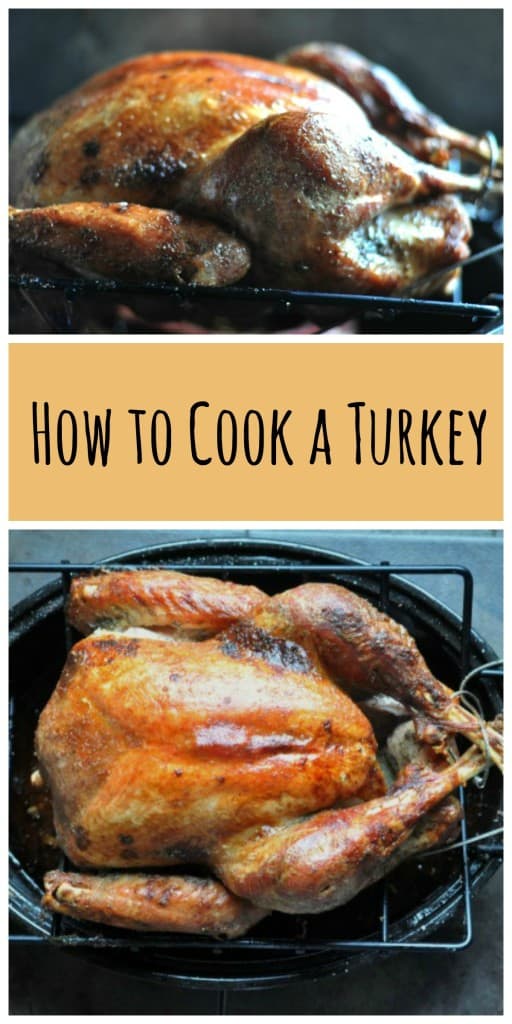 SaveSave
SaveSave
SaveSave
SaveSave