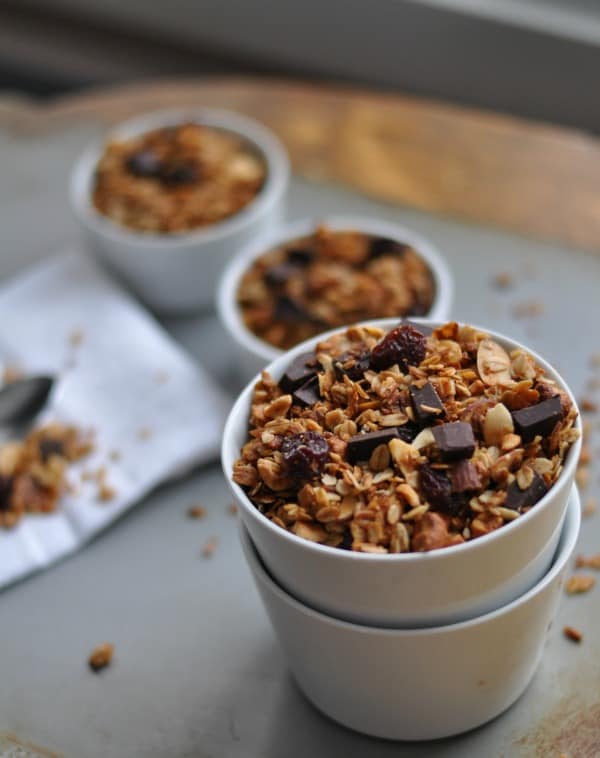 Just eight ingredients for Gluten Free Cherry Chocolate Granola.
It's the New Year.
We're supposed to be good.
But it's hard to be good.
So I found a compromise, how about a healthy granola with a little bit of something bad?
Bad as in dark chocolate bad.
I'm speaking your language?
This Gluten Free Cherry Chocolate Granola is one of our very favorite recipes.  I make this base granola recipe over and over again. Here's my Homemade Granola Recipe.  I change up the dried fruit and nuts and it is perfect to put on yogurt, eat like a cereal, top on ice cream or cake frosting.
Oh wait. We were supposed to be good.
Yes.  Healthy granola and then I added dark chocolate chunks.  And honey, sweet sweet honey.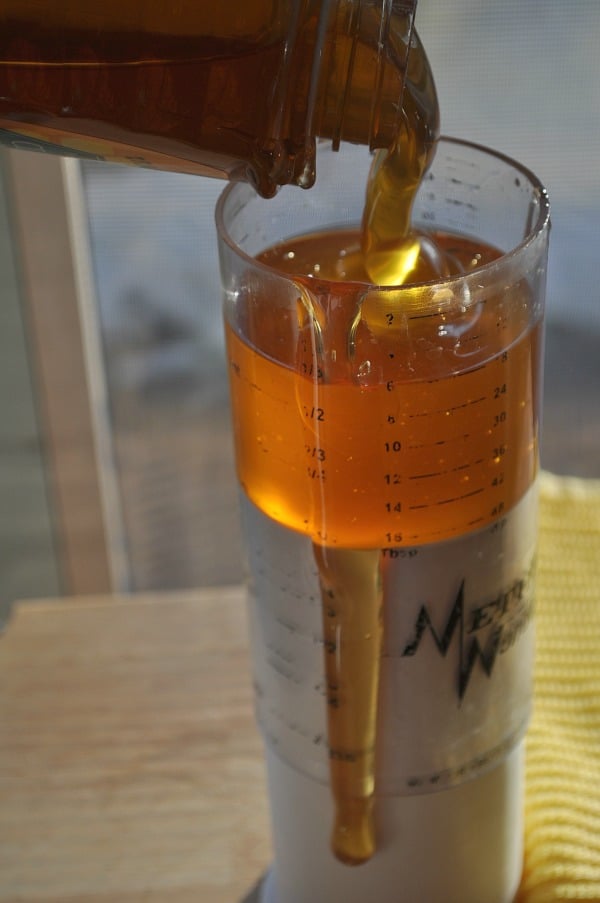 Remember when I told you about my Wonder Cup in my Nutella Buckeye post? Check this out my Wonder Cup Adjustable Measuring Cup (Two Cup Size) filled with Honey! This is an affiliate link (I will receive a percentage of sales if you purchase it). I seriously love it, it is an essential tool in my kitchen and it makes measuring sticky ingredients a breeze. Especially Honey.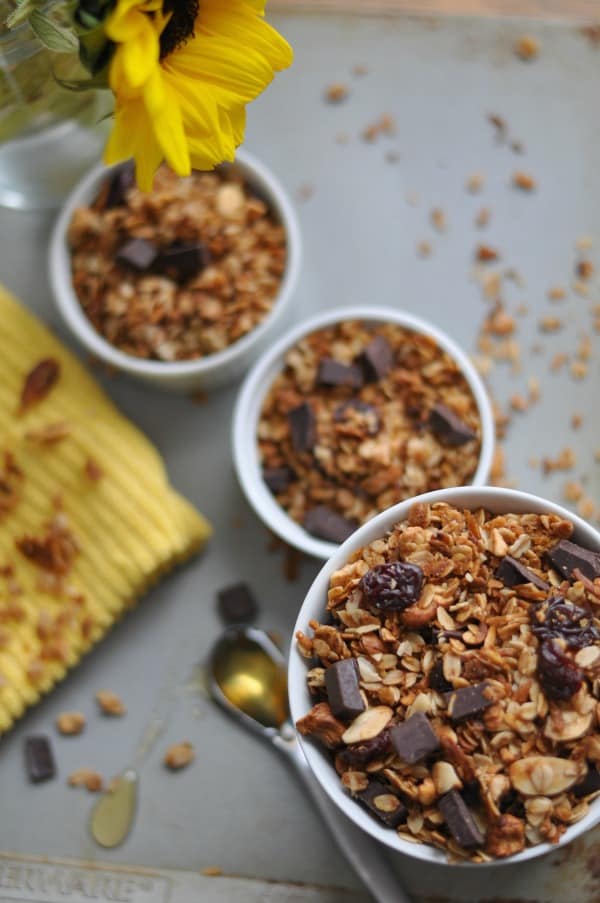 Ok back to the granola. Now if you like breakfast for dinner as much as we do, you can add a cup of this yummy granola to pancake or waffle batter.  I usually add about 1 cup of the granola to a double batch of batter.  You can also add granola (without the chocolate) to meatloaf. Say what??
Yes. I said meatloaf.
Seriously.  Here's my Turkey Meatloaf Cupcake recipe.  Just substitute a cup of my homemade granola in for the muesli.  Don't forget the cherry jam.
Gluten Free Cherry Chocolate Granola
This is an adapted version of Ina Garten's Homemade Granola.
Ingredients
4 cups Gluten Free Oats
2 cups Flaked or Shredded Coconut
¾ cup Oil (Coconut or Olive Oil)
½ cup Honey
1 cup Cashews (chopped)
1 cup Sliced Almonds
1 (8 ounce) bag Dried Cherries
1 (6 ounce) bag Chocolate Pieces (Scharffen Berger is gluten-free)
Instructions
Preheat oven to 350.
In a large bowl, combine oats, coconut, oil, honey and nuts. Spread in a jelly roll pan lined with parchment paper and bake for 20 minutes, stir and return to the oven for another 5-8 minutes until golden brown (keep an eye on it, in case your oven cooks hot, decrease the time). Allow the granola to cool and then add dried fruit and chocolate.