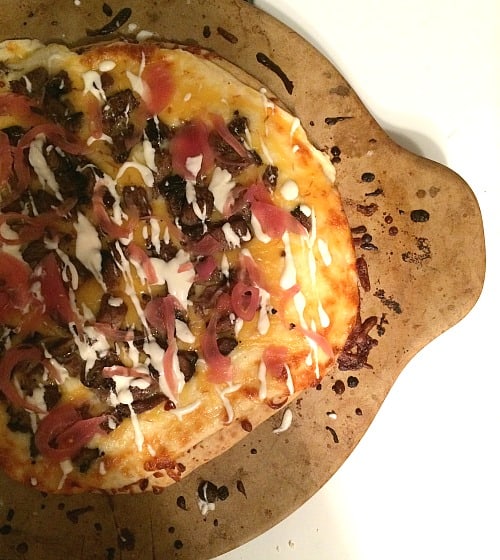 Winter is here and my crock pot has been tracking some serious mileage.  What has been slow cooking these days? Pot Roast. I love making Pot Roasts.  They are the perfect comfort food and great to make in the crock pot. My husband also thinks I am the best wife ever when I make them. Truth be told, I also really feel like the best wife ever.  It's all American comfort food, right?
We always love the first night of pot roast.  You get home, the crock pot worked hard all day and dinner is served.  I hate when I make a small roast and don't have leftovers.  So I always buy 3.5+ lb roast.  After a day though I'm ready for something else with the pot roast leftovers.
I had an idea for my pot roast leftovers and went to the grocery store.  The cashier scanned my pizza crust, alfredo sauce and cheeses.
"Are you making a white cheese pizza?!?" The cashier excitedly asked me.
"Yes, I'm going to make a pot roast pizza with alfredo sauce, shredded mozzarella and smoked gouda, top it with leftover pot roast and then drizzle it with Mexican Crema and pickled red onions!"
His jaw was open and he was staring at me.  Did I say the wrong thing? I know, I'm not normal. #foodbloggerproblems
"Wow." Was his sole reply.
And so I went home and put my pot roast pizza together.
It was cheesy and savory and the Mexican Crema and pickled onions made it all the more exciting. Who needs pot roast sandwiches when you can make pot roast pizza. I might just start making pot roast so I can make this pizza.
Pot roast pizza is great using the leftovers from my Crock Pot Coffee Pot Roast. A must-have topping for this pizza is my Pickled Onions. Perfect for topping the pizza and so awesome for sandwiches or just to just snack on right out of the jar-what? They are that good!

Pot Roast Pizza
Ingredients
1 Pizza Crust (full-cooked, Boboli)
1 cup Alfredo Sauce
2 cups Mozzarella (shredded)
4 ounces Smoked Gouda (shredded)
2 cups Pot Roast (cooked, cubed)
Garnish: Pickled Onions and ⅓ cup Mexican Crema
Instructions
Preheat oven to 450.
Spread alfredo sauce on pizza crust. Top with mozzarella, gouda and pot roast.
Bake for 10-15 minutes until cheese is melted and lightly browned.
Top pizza with mexican crema and pickled onions.